3rd April 2004
ITG Railtours Limited
The Galway Galloper
| | |
| --- | --- |
| Locos Used | IE: 124, 145, 153 & 170 |
| Stock Used | IE: 3180+1544+1532+1507+1508 |
Route:
B700 : Dublin Connolly to Galway
B701 : Galway to Athlone
B800 : Athlone to Claremorris
B801 : Claremorris to Dublin Connolly
| | |
| --- | --- |
| Locos | Route |
| 124 + 145 | Dublin Connolly - North Strand Jn - Drumcondra - Glasnevin Jn - Islandbridge Jn - Inchicore - Newbridge - Kildare - Portarlington - Tullamore - Athlone - Athlone Midland - Ballinasloe - Athenry - Galway |
| 145 + 124 | Galway - (reverse of outward route) - Athlone |
| 170 + 153 | Athlone - Roscommon - Castlerea - Claremorris |
| 153 + 170 | Claremorris - (reverse of outward route) - Athlone - (reverse of outward route) - Dublin Connolly |
Source & photos : Gary Thornton (on the train throughout)



Tour Review
(from Gary Thornton)
On a number of previous occasions I've found myself wanting to go to Ireland to do an ITG tour but, for various reasons, never quite made it. A call from a friend a few months ago however got us set-up and booked on this tour, possibly the last to have a IE class 121 on it as the class is close to complete withdrawal. No traction was advertised but everyone was probably hoping for "small GM's", including me!
The weekend started about 8pm on the Friday night - away from home and up to Birmingham to meet up with Pete and Jonathan. Away from their place at 10pm we got to Holyhead just a few minutes before 1am where we met another couple of friends who we were booked with on the train.
Our transport to Dublin was the 02.50 Irish Ferries departure which was the ferry "Ulysses". With the foot passengers being allowed on very late all the best seats and dossing area were taken so we settled into the bar area for a couple of pints and an attempt at sleep. I ended up under two chairs near the bar (to sleep, not caused by the alcohol consumption I hasten to add!).
We made Dublin Connolly shortly before 7am and the cafe on the station did good business in coffee etc before we wandered down the platform to find 124 & 145 at the head of the train. Found our seats in coach A (second coach behind the steam generator van, an ex-BR BSK) then got some photos in the early morning light before settling back to enjoy the journey. Unfortunately 145 didn't want to talk to 124 so our departure was delayed until it was convinced otherwise by a fitter.
The late running at least gave us a few unexpected photo-stops as we were out-of-path on the single line from Portarlington to Galway. The best (in terms of weather) was at Athenry. All day was a mix of sunshine and heavy showers, typical of what we've experienced in the UK and on other mainland European tours of late!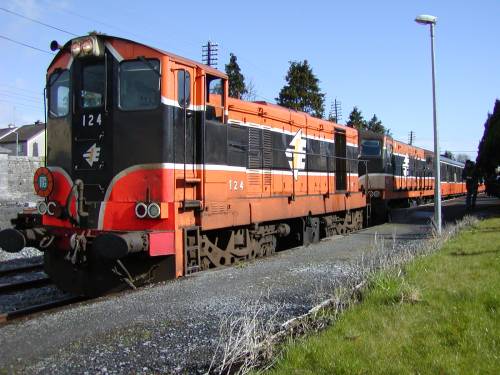 124 leads 145 during an unscheduled photostop at Athenry, waiting a path.
At Galway it was a case of "everyone off" as the stock had to be propelled back to allow 124 & 145 to run-round. We re-traced our outward route to Athlone where 153 & 170 were waiting to take over. As I am pretty much "empty-book" when it comes to Ireland there was no surprises that I'd scored a full house for required haulages! From Athlone we headed to Castlerea where there was an opportunity to go and visit "Hell's Kitchen", the home of a withdrawn A class diesel loco, now part of the pub/restaurant. As the weather was still very unsettled I chose to stay on the train for the run to Claremorris. I have to say the thrash along this stretch was probably the best we had all day.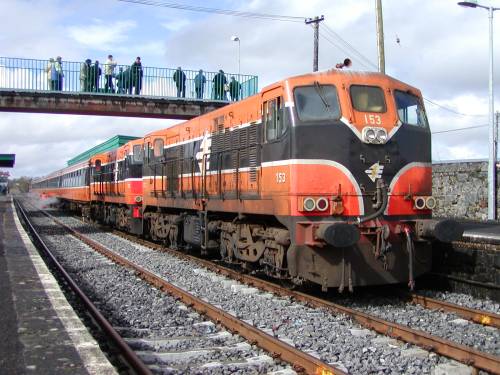 153 & 170 at Claremorris, waiting to start out back to Dublin.
Being at the back of the train the return journey was fairly quiet, a chance to catch-up on z's after the night on the ferry! Arrival back into Dublin Connolly was on-time, giving the opportunity to watch the stock being taken away (by 186, a "biggie" for many but they were refused the opportunity to ride the ECS the short distance to the sidings) before our bus back to the ferry.
Ulysses again, 21.05 from Dublin back to Holyhead. A much quieter sailing, seats obtained in the lounge area and a couple of hours sleep achieved before the long run home. I made it through my front door a little before 5am on Sunday - tired, but a worthwhile trip...will certainly consider going again for future tours.
Gary Thornton.



Timings (Booked & Actual)
M.C
Location
Booked
Actual
Booked
Actual
M.C
0.00
Dublin Connolly
07.20d
07.50
19.00a
19.02
142.08
0.24
Ossary Road Jn
?
07/51
?
19/00
141.64
0.44
North Strand Jn
07/24
07/52
18/56
18.56a ~ 18.59d
141.44
1.22
Drumcondra
?
07/54
?
18/53
140.66
2.07
Glasnevin Jn
?
07/55
?
18/51
140.01
2.74
Cabra
07/26
07/57
?
18/48
139.14
4.62
Islandbridge Jn
07/40
08.03a ~ 08.10d
18/40
18/45
137.26
5.69
Inchicore
07/43
08/14
18/36
18/43
136.19
7.18
Cherry Orchard & Parkwest
?
08/16
?
18/41
134.70
8.41
Clondalkin
?
08/17
?
18/40
133.47
10.42
Lucan South
?
?
?
18/37
131.46
14.09
Hazelhatch & Celbridge
07/54
08/24
18/29
18/34
127.79
22.01
Sallins & Naas
08/03
08/32
18/22
18/27
120.07
29.47
Newbridge
08/11
08/40
18/15
18/21
112.41
31.49
Curragh
08/13
08/43
18/13
18/19
110.39
34.09
Kildare
08.15a ~ 08.16d
08.46 ~ 08.47
18.00a ~ 18.10d
18.09 ~ 18.15
107.79
36.44
Cherryville Jn
08/20
08/50
17/58
18/06
105.44
40.63
Monasteraven
?
08/54
?
18/01
101.25
45.59
Portarlington
08/29
09/01
17/49
17/55
96.29
45.64
Portarlington Jn
?
09/02
?
17/55
96.24
49.59
Bord Na Mona Bridge
?
09/07
?
17/50
92.29
54.33
Geashill
08/38
09.13a ~ 09.22d
17/39
17.33a ~ 17.44d
87.55
62.00
Tullamore
08/45
09.44a ~ 09.49d
17/25
17/21
80.08
68.73
Clara
08.54a ~ 09.00d
09/58
17/15
17/12
73.15
76.73
Clonydonnin
09.09a ~ 09.18d
10/05
17/06
17/05
65.15
See table below for timings from Athlone to Claremorris & return
84.46
Athlone
09.27a ~ 09.29d
10.15 ~ 10.16
12.19a ~ 16.56d
12.57 ~ 16.57
65.15
49.15
84.73
Athlone East Jn
?
10/17
?
12/56
48.68
84.78
Shannon Bridge
?
10/17
?
12/55
48.63
85.13
Athlone Midland
?
10/18
?
12/55
48.48
85.32
Athlone West Jn
?
10/18
?
12/54
48.39
98.61
Ballinasloe
09.45a ~ 09.54d
10/31
12/04
12/42
35.00
108.46
Woodlawn
10/06
10/40
11.45a ~ 11.54d
12/32
25.15
114.23
Attymon Jn
10/12
10/45
11/39
12/27
19.38
120.49
Athenry
10.19a ~ 10.26d
10.52 ~ 11.17
11/33
12.20a ~ 12.20d
13.12
128.40
Oranmore
?
11/25
?
12/10
5.21
13.61
Galway
10.41a
11.31
11.20d
12.04
0.00
| | | | | | | | |
| --- | --- | --- | --- | --- | --- | --- | --- |
| M.C | Location | Booked | Actual | | Booked | Actual | M.C |
| 0.00 | Athlone | 13.10d | 13.21 | | 16.51a | 16.49 | 57.42 |
| 0.27 | Athlone East Jn | ? | 13/22 | | ? | 16/48 | 57.15 |
| 0.32 | Shannon Bridge | ? | 13/22 | | ? | 16/47 | 57.10 |
| 0.47 | Athlone Midland | ? | 13/23 | | ? | 16/47 | 56.75 |
| 0.66 | Athlone West Jn | ? | 13/24 | | ? | 16/46 | 56.56 |
| 10.62 | Leacarrow | ? | 13/35 | | ? | ? | ? |
| 12.42 | Knockcroghery | 13/28 | 13/38 | | 16/34 | 16.33a ~ 16.33d | 45.00 |
| 18.68 | Roscommon | 13/36 | 13/47 | | 16/26 | 16/24 | 38.54 |
| 30.36 | Ballymoe | ? | 13/59 | | ? | ? | 27.06 |
| 35.37 | Castlerea | 13.54a ~ 13.58d | 14.05 ~ 14.39 | | 15.48a ~ 15.57d | 16.04 ~ 16.07 | 22.05 |
| 41.22 | Ballinlough | ? | 13/45 | | ? | ? | 16.20 |
| 46.61 | Ballyhaunis | 14.12a ~ 14.21d | 14/53 | | 15.24a ~ 15.34d | 15.44 ~ 15.49 | 10.61 |
| 57.42 | Claremorris | 14.35a | 15.09 | | 15.10d | 15.28 | 0.00 |