27th March 2004
Past Time Rail
The Sarum Flyer
Route:
1Z56 : Finsbury Park to Salisbury
1Z96 : Salisbury to Finsbury Park
| | |
| --- | --- |
| Loco | Route |
| 56095 | Finsbury Park - Freight Terminal Jn - Camden Road - Mitre Bridge Jn - North Pole Jn - Kensington Olympia - Clapham Junction - Balham - Selhurst - East Croydon - Purley - Redhill - Gatwick Airport - Heywards Heath - Preston Park - Hove - Ford - Havant - Cosham - Fareham - St Denys - Southampton Central - Romsey - Dean - Salisbury |
| 56095 | Salisbury - Dean - Romsey - Redbridge - Southampton Central - St Denys - Eastleigh - Winchester - Basingstoke - Farnborough - Woking - Virginia Water - Staines - Twickenham - Richmond - Barnes - Clapham Junction - (reverse of outward route) - Finsbury Park |
Notes :
(1) 56059 also booked to haul the train but was failed prior to the start.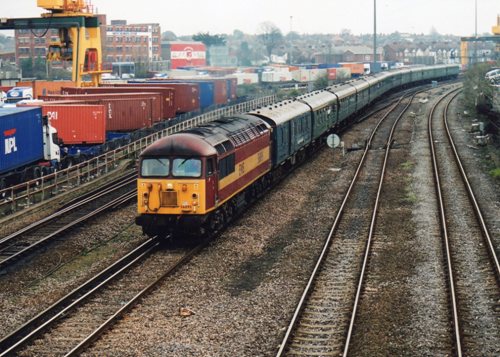 56095 is seen passing Millbrook on the outward leg (photo: Steve Clark)
Sources : various



Tour Review
(By Mark Honey)
I'd only decided to do this tour a few weeks before it ran, not knowing what other commitments I would have workwise. I knew I had to go to Glasgow on business on the Friday before it ran, so I wasn't holding my breath. But - things came together as they often do, to form a plan. I would fly from East Midlands to Glasgow, do the couple of meetings and hope I got out in time to get the 12.40 Glasgow-Fort William to it's destination. I would meet up with a friend who was on holiday up in that area for a few beers and a meal and get the 19.50 Fort William-Euston sleeper to London that would have me in position to cover the tour from it's starting point at Finsbury Park. One problem however, raised it's head - there was an engineering blockade on the WCML between Milton Keynes and Hemel Hempstead, so what was the sleeper doing? As the blockade was short term and nobody at Scotrail knew what effect it would have on the sleepers, I took a deep breath and booked it.
I flew to Glasgow, had two very successful meetings and this gave me 30 minutes to wander over to Queen Street for the pair of 156's to Fort William and Oban. I won't bore you with the details as the journey takes 3 hours and 40 minutes, but it was actually quite pleasant. It wasn't full, the atmosphere on board was convivial as these sorts of services often are and I also got a bit of work done! We arrived on time and I was pleased to see that the sleeper was already in platform 1 with 37427 ticking over. I met up with my friend and we spent a few hours in the pub who then saw me off onto the sleeper. I stowed my stuff and made my way to the lounge car for a nightcap at the front of the train - and to savour the thrash! There were a couple of other enthusiasts on board because of the Class 37 leg and so we foolishly stayed up until midnight to savour it as far as Edinburgh. I was exhausted by the time we pulled into Waverley, so I hit the sack - only to be woken (as was the rest of the train) by a rough shunt as we were marshalled into the rest of the formation.
The next thing I knew was the lack of movement at about 4 in the morning. I looked out and tried to recognise where we were. I thought we were in Preston (looked vaguely familiar) but it transpired to be York! We'd come down the ECML to get round the blockade. So - back to bed. I woke up about 6.45 to find the train racing. Peering out, I deduced we were between Grantham and Peterborough. It transpired that we had rolled into York at about 3.30 (having been given 2 hours from Newcastle!) and the replacement driver wasn't due out until 5.15 - even though he'd booked on at 4.30. The running times said simply 'get to Finsbury Park by 08.07' and now we were having to storm to make sure we did. Typical, apparently....
We belted through Peterborough and I spied 56095 and 059 in the yard. Thats' the pair for the tour confirmed! I got up and went to the lounge car for some breakfast. We crawled through Finsbury Park and the guard talked me through what happened next. As King's Cross could not accommodate a 16 carriage train, we crawled up the North London line, through Camden Road and left at Camden Road Junction to drop onto the WCML at Primrose Hill. We cleared the tunnel and stopped to be drawn back into Euston. The other sleeper (which had left Glasgow earlier) would draw out ECS and the train loco that had worked it from Glasgow would draw us in. This left our train loco on the back to work the ECS to Wembley. After about 15 minutes, 90027 came out with the first sleeper and this was shortly followed by 90037 which hooked on and pulled us into Euston. Our train engine, 90026, stayed on the back. Top and tailed by 90's! We finally pulled into a graveyard of a Euston at 9.15 - 13 and a half hours after setting out from Fort William.
Over to Finsbury Park to find that the 56's wouldn't multi up and 059 was left behind. What a complete farce - did somebody not think to check before they were nominated? Many people flagged the train and disappeared in disgust - me very nearly included. but I was meeting some colleagues at Clapham Junction, so I stayed put. We set off about 15 late and retraced (for me anyway) the North London Line to Camden Road Junction, turning right instead of left to rattle through Hampstead and Kenny O. There were some good shots to be had of '095 curving round and this bode well for the return from Salisbury where we would be right behind it.
To be honest, there wasn't much to say about this tour that was of any real substance. It started late (10.00), finished early (20.20) and we had one grid instead of two. We were well out of path and stop-started all the way to East Croydon and were checked again through Gatwick Airport. A pleasant enough run around the Preston Park - Hove avoider was undertaken (yes - I needed this!!) and we made halting progress along the coastway route to Havant where we changed crew and contemplated a 30 minute late arrival into Salisbury.
There was time for a few photos in the drizzle where the 56 deposited it's stock and ran round. Then it was off to the pub for a couple of beers before departure at 16.34
The return was via Southampton and Winchester towards London with a deviation through Virginia Water and Staines to get to Clapham Junction. The return was much better, with a some good high speed running and some hard thrash. There was even an element of 'playing to the gallery' with much horn blowing and opening up through stations, accompanied by the bellowing brigade! That's a bit more like it!
bailed at Clapham Junction and picked up a Juniper to Waterloo so I could make the 20.00 St.Pancras-Manchester - which I did by the skin of my teeth. I upgraded to first class and listened to 43166 (ex Virgin and very ropey!) get brutally hammered to make up a 15 minute late start from St.P by Leicester. By dint of good fortune, the vestibule doors were open between the carriage and the power car and you could hear all the hell breaking loose. Getting away from Wellingborough was sheer hell as '166 kept slipping and the driver couldn't care less! A nice end to a heavy couple of days. I changed into a Turbostar connection for Loughborough at Leicester and got a taxi to East Midlands Airport to retrieve my car.
Verdict? A intensive couple of days, marred by only one 56 instead of two. The return made up for the lethargy of the outbound leg and there was just about enough in it to make doing it worthwhile. The final showdown is on Wednesday 31st. I am hoping for nothing less than a rousing send off...
Mark Honey



Timings (Booked & Actual)
(from various including John Clifford)
| | | |
| --- | --- | --- |
| Location | Booked | Actual |
| Finsbury Park | 09.59d | 10.09 |
| Holloway South Jn | 10/02 | 10/12 |
| Freight Terminal Jn | 10/04 | 10/18 |
| Camden Road East Jn | 10/07 | 10/19 |
| Camden Road | 10/14 | 10/25 |
| Kensal Green Jn | 10/23 | 10/31 |
| Willesden Jn HL | 10/25 | 10/37 |
| Mitre Bridge Jn | 10/27 | 20/40 |
| North Pole Jn | 10/28 | 10/42 |
| Kensington Olympia | 10.32a ~ 10.34d | 10.43 ~ 10.48 |
| Latchmere Jn | 10/40 | 10/53 |
| Clapham Junction | 10.43a ~ 10.47d | 10.56 ~ 10.59 |
| Balham | 10/52½ | 11/03 |
| Streatham Common | 10/55 | 11/06 |
| Selhurst | 11/01 | 11/13 |
| Windmill Bridge Jn | 11/05 | 11/16 |
| East Croydon | 11/07 | 11/16 |
| South Croydon | 11/09 | 11/19 |
| Purley | 11/12 | 11/25 |
| Stoats Nest Jn | 11/13 | 11/30 |
| Redhill | 11/21 | 11/37 |
| Earlswood | 11/22½ | 11/38 |
| Gatwick Airport | 11/31 | 11/47 |
| Three Bridges | 11/34 | 11/52 |
| Balcombe Tunnel Jn | 11/42 | 11/54 |
| Haywards Heath | 11/47½ | 12/00 |
| Keymer Jn | 11/50 | 12/04 |
| Preston Park | 12/00½ | 12/16 |
| Hove | 12/03½ | 12/19 |
| Shoreham-by-Sea | 12/09 | 12/26 |
| Worthing | 12/14 | 12/33 |
| West Worthing | 12/15½ | 12/35 |
| Arundel Jn | 12/27 | 12/48 |
| Ford | 12/29 | 12/50 |
| Barnham | 12/32½ | 12/55 |
| Chichester | 12/39 | 13/05 |
| Havant | 12.54a ~ 12.55d | 13.25 ~ 13.28 |
| Farlington Jn | 12/59½ | 13/33 |
| Cosham | 13/02 | 13/36 |
| Fareham | 13/09 | 13/42 |
| St Denys | 13/27 | 14/01 |
| Northam Jn | 13/29 | 14/04 |
| Southampton | 13/31½ | 14/07 |
| Redbridge | 13/35 | 14/12 |
| Romsey | 13/51 | 14/20 |
| Dean | 14/01 | 14/28 |
| Tunnel Jn | 14/11 | 14/37 |
| Salisbury | 14.14a ~ 16.34d | 14.39 ~ 16.34 |
| Tunnel Jn | 16/38 | 16/38 |
| Dean | 16/48 | 16/48 |
| Romsey | 16/55 | 16/55 |
| Redbridge | 17/02 | 17/02 |
| Southampton | 17.06a ~ 17.17d | 17.05 ~ 17.17 |
| Northam Jn | 17/20 | 17/20 |
| St Denys | 17/22 | 17/22 |
| Eastleigh | 17/31 | 17/30 |
| Shawford | 17/38 | 17/38 |
| Winchester | 17/43 | 17/43 |
| Worting Jn | 18/00 | 17/57 |
| Basingstoke | 18/02½ | 17/59 |
| Fleet | 18/12 | 18/08 |
| Farnborough | 18/15½ | 18/10 |
| Pirbright Jn | 18/19½ | 18/14 |
| Woking Jn | 18/24 | 18/20 |
| Woking | 18/24½ | 18/22 |
| Byfleet & New Haw | 18/29 | 18/28 |
| Addlestone Jn | 18/31 | 18/30 |
| Virginia Water | 18/38½ | 18/37 |
| Staines | 18/46 | 18/45 |
| Feltham Jn | 18/53 | 18/52 |
| Twickenham | 18/57 | 18/57 |
| Richmond | 19/03½ | 19/04 |
| Barnes | 19/10 | 19/10 |
| Clapham Junction | 19.15a ~ 19.17d | 19.15 ~ 19.19 |
| Latchmere Jn | 19/20 | 19/22 |
| Kensington Olympia | 19.26a ~ 19.28d | 19.27 ~ 19.30 |
| North Pole Jn | 19/33 | 19/33 |
| Mitre Bridge Jn | 19/34 | 19/35 |
| Willesden Junction HL | 19/36 | 19/40 |
| Kensal Green Jn | 19/39 | 19/43 |
| Gospel Oak | 19/53 | 19/55 |
| Camden Road | 19/56 | 19/58 |
| Finsbury Park | 20.20a | 20.14 |