20th March 2004
P.F.T.
Salut AFB
| | |
| --- | --- |
| Locos Used | 202.020, 204.004, 5401, 5403 & CFL 909 |
Route:
ZZ18638 : Bruxelles-Midi to Marbehan
ZZ18639 : Marbehan to Valvert
ZZ18640 : Valvert to Croix Rouge
ZZ18641 : Croix Rouge to Stockem
ZZ18642 : Stockem to Luxembourg
ZZ18643 : Luxembourg to Bruxelles-Midi
| | |
| --- | --- |
| Loco(s) | Route |
| 202.020 + 204.004 (1) | Bruxelles-Midi - Bruxelles-Nord - Bruxelles Schuman - Ottignies - Rhisnes - Namur - Ciney - Jemelle - Libramont - Marbehan (2) - Croix Rouge (3) |
| 204.004 | approx 2 chain set-back at Croix Rouge |
| 204.004 | run-forward to end of line |
| 202.020 (4) | Croix Rouge - Marbehan |
| 5403 + 5401 | Marbehan - Stockem (station) |
| 5401 | Stockem (station) - Stockem depot |
| 5403 (5) | Stockem depot - Stockem (station) |
| 5401 (6) | Stockem (station) - Autelbas - Kleinbettingen - Luxembourg Hollerich - Luxembourg (station) |
| 5403 | Luxembourg (station) - Luxembourg depot |
| 909 | Luxembourg depot - Luxembourg (station) |
| 202.020 + 204.004 (1) | Luxembourg (station) - Luxembourg Hollerich - Dippach-Reckange - Petange - Rodange - Virton - Bertrix - Dinant - Namur - (reverse of outward route) - Bruxelles-Midi |
Notes :
(1) It is questionable just how much 204.004 worked during the day as it was believed not to be in a very healthy condition, though there were certainly periods when it did work.
(2) Loco change booked, but was made upon return to Marbehan.
(3) Tour was booked to traverse the Valvert branch prior to Croix Rouge but didn't.
(4) 204.004 on rear.
(5) 5401 on rear.
(6) 5403 on rear.
Source : Gary Thornton (on the train throughout)



Tour Review
(by Gary Thornton)
Yet again it is time to say goodbye to another class of locomotive on a national railway system. This time it is the Belgian built AFB (Nohab) type diesels. Maybe not accurate to call this a farewell tour as some examples survive on with track maintenance companies, so maybe more accurate to call this a tribute tour. The Belgian preservation group PFT chose to say goodbye in their own way with a run from Brussels to Luxembourg, taking in a couple of freight branches in the Stockem area. Preserved 202.020 [ex-CFL 1602] & 204.004 were the main tour locos with the promise of AFB Nohab line-ups during the depot visits at Stockem and Luxembourg. Though organised by PFT, UK-based railtour organiser Mercia Charters were allocated 80 seats, which sold very quickly.
My own route to the tour was via Friday mornings 07.48 Silverlink service from Northampton to London then the 10.42 Eurostar to Brussels. Meeting a few others in the terminal at Waterloo we re-arranged our seating allocation to be in the same coach and a few Duvals were enjoyed on the way to Brussels in dud (for me) Eurostar set 3001/3002. Arrival was on-time at 14.05 and I was checked-in to my hotel within minutes and back over at Midi station, day-piece purchased and ready for the afternoon rush-hour. It proved to be very successful with 1324, 2105, 2506, 2513 and 2620 all being scored for haulage. The day was finished off with a curry near Grand Place and a few beers in a nearby bar which claimed to have over 2,000 beers on offer! Got back to the hotel just before 1am...
Saturday started with a 6.30am alarm-call and breakfast was taken in one of the cafes in Midi station - €2.40 comparing well against the €9 the hotel wanted! The train was in well ahead of the booked 08.10 departure and 202.020 plus 204.004 looked superb in early-SNCB green with matching livery stock. 204.004 was on a Mercia Charters railtour last November but disgraced itself by failing early on and limping home assisted by a pair of type 62's...so how would it perform today? Initial indications were not good as its engine was dead when the train pulled in! It as started before departure but it was difficult to tell just how much it was actually working whilst they were double-heading.
Our route was north out of Midi via Schuman then south on line 161 to Namur, with pick-ups at Ottignies and Namur. We then continued via Jemelle to Marbehan where we were booked to traverse the Valvert and Croix Rouge branches.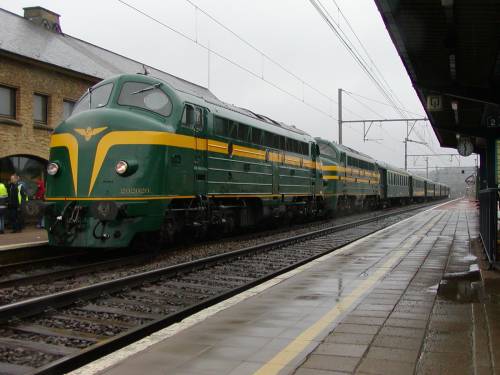 202.020 leads 204.004 at Marbehan (in the rain!).
Unfortunately were running about half an hour late and it was also pouring down with rain. We were supposed to swap our pair of AFB's here for two others (one TUC Rail, the other still SNCB, but stored) to run top-and-tail down the branches but this did not happen and we carried on with the preserved pair instead. Presumably because of the late running we bypassed the Valvert line and went straight to Croix Rouge instead - though it may also have been because we now needed to be able to run 202.020 round to the other end of the train. This was duly achieved (in abysmal weather) in the same place the Mercia tour reached but the train was then run forward to about a locos length from the end of the line. At least the move involved 204.004 working the train on its own so there was no doubt it had worked the train (we suspect it was not doing much/anything whilst in the double-header).
Back at Marbehan we found 5401 and 5403 waiting for us and these replaced the preserved duo which proceeded to run light engine to Luxembourg whilst we made a visit to Stockem depot. What an excellent visit it proved to be too, with a line-up of AFB's and a number of recently withdrawn single-car units all lined up for easy photography...just a shame it was still rather wet!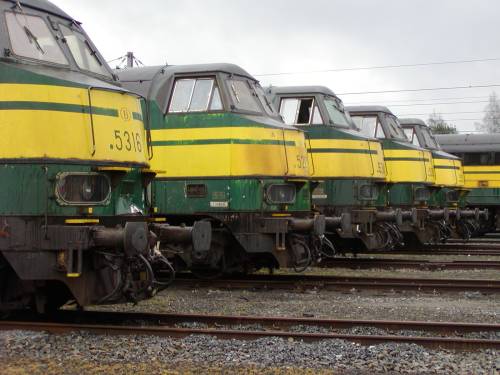 AFB "cabines flottantes" line-up in Stockem depot.
It was quite difficult keeping up with the shunt movements to get us in and out of the depot, but at the end we had 5403 on the front and 5401 on the rear for the run to Luxembourg. As access to the depot in Luxembourg is from the north we reversed in Luxembourg station. Thank heaven it had pretty-well stopped raining for the depot visit. Highlight for most was the line-up if AFB's [our four plus CFL 1604] at the roundhouse. There was also time to look round the rest of the depot and get some other photos. Four brand-new class 185's [520-524] and a Dispolok attracted a fair amount of attention.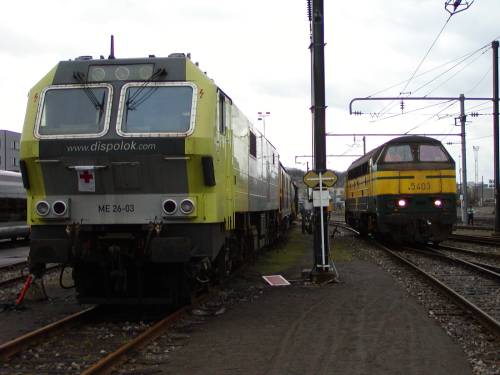 5403 passes Dispolok ME26-03 in Luxembourg depot.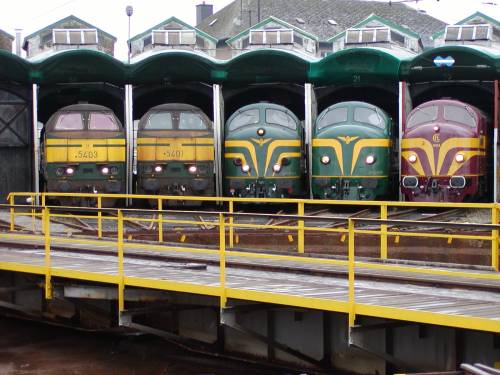 What's there to say - except...what an absolutely brilliant line up!
Our late arrival meant a shorter than planned stay at the depot and this caught-out a couple of passengers as they walked around the corner just in time to see our tail-lamp as we left back to the station hauled by CFL loco 909. There was a wait for our correct departure time which gave the chance to grab some food from the station buffet which was good news as we weren't due back into Brussels until quite late.
Being close to the front on the way back meant it was time to enjoy the thrash however as the rain and wind had set-in big-style it was a brave crank who tried to stick their head out of a window! On returning to Brussels, those still on board after the set-down at Nord enjoyed the now traditional thrash through Central station - both AFB's wide-open was simply awesome!!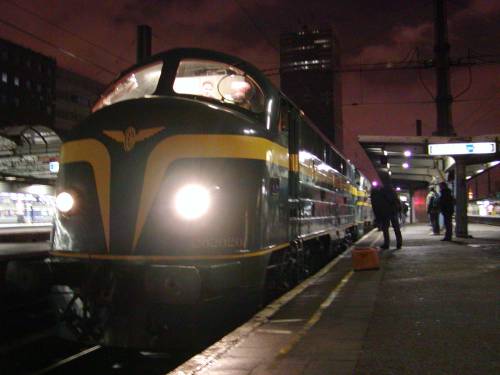 Back at Bruxelles Midi - and farewell to another loco type!
All-in-all it was a superb tour and well worth making the effort to travel over for. The poor weather was a shame when it came to photography but at least it was not too bad at Luxembourg depot for the "Parade a Gros Nez" - a fitting tribute to this well loved loco type.
My journey home on the Sunday was not without incident. A long wait at the entrance to the Channel Tunnel (in dud Eurostar 3107/3108) put us 45 minutes late into Waterloo (caused by the Le Shuttle ahead of us tripping a "hot box detector" I was told). Having thus missed the 15.09 Euston to Northampton service, Silverlink then made my day by routing the 15.39 via the mainline, not Northampton, thus I had to wait for the 16.09 all-shacks to finally get home. The internal state of the class 321 unit confirmed Silverlink still appear to be bottom of the league for train cleanliness (a comment I recall making before) - it was absolutely full of discarded newspapers and other rubbish. A cleaner did walk through which improved it a fair bit, but the stock could really do with a wash-down internally too! At Bletchley another cleaner came on, but didn't find much rubbish left to collect - maybe Silverlink should re-think how they roster their cleaners to more effect?
Gary Thornton



Timings (Booked & Actual)
(from Gary Thornton)
| | | |
| --- | --- | --- |
| Location | Booked | Actual |
| Bruxelles-Midi | 08.10d | 08.17 |
| Bruxelles-Nord | 08.17a ~ 08.20d | 08.25 ~ 08.27 |
| Ottignies | 08.49a ~ 08.51d | 08.57 ~ 08.58 |
| Namur | 09.16a ~ 09.18d | 09.26 ~ 09.29 |
| Jemelle | 10.03a ~ 10.04d | 10.35 ~ 10.37 |
| Marbehan | 10L50a ~ 11L10d | 11.28 ~ 11.42 |
| Valvert | 11.50a ~ 12.00d | DIV |
| Croix-Rouge | 12.40a ~ 12.50d | 12.34 ~ 13.10 |
| Marbehan | ??.??a ~ ??.??d | 13L50a ~ 14L08d |
| Stockem depot | 13.39a ~ 14.20d | 14.44 ~ 15.06 |
| Stockem (station) | ??.??a ~ ??.??d | 15.12a ~ 15.15d |
| Luxembourg (station) | ??.??a ~ ??.??d | 15.46 ~ 15.51 |
| Luxembourg depot | 15.07a ~ 15.55d | 15.55 ~ 16.50 |
| Luxembourg (station) | ??.??a ~ 17.09d | 16.53 ~ 17.13 |
| Virton | 18.05a ~ 18.20d | 18/14 |
| Namur | 20.20a ~ 20.26d | 20.21 ~ 20.26 |
| Ottignies | 20.52a ~ 20.54d | 21.03 ~ 21.04 |
| Bruxelles-Nord | 21.22a ~ 21.24d | 21.39 ~ 21.42 |
| Bruxelles-Midi | 21.30a | 21.49 |