5th - 6th March 2004
Along Different Lines
Belgian Depot & Docks Tour
Locos Used
SDP: 8463 & 8509
DMU's Used
SNCB: 4150
PFT: 4333 & 4506
Route: 5th March
| | |
| --- | --- |
| DMU | Route |
| 4333 + 4506 | Antwerpen Noord - Vilvoorde - Muizen - Mechelen Works (Works Visit) |
| 4333 + 4506 | Mechelen Works - Muizen - Leuven - Landen - Voroux - Kinkempois Yard - Angleur |
| 4333 + 4506 | Angleur - Y Garde-Dieu - Chertal |
| 4333 + 4506 | Chertal - Kinkempois Yard - Zoning d' Engis |
| 4333 + 4506 | Zoning d' Engis - Y Val St. Lambert |
| 4333 + 4506 | Y Val St. Lambert - Flemalle-Haute - Statte - Line 127 to Moha |
| 4333 + 4506 | Moha - Statte - Huy |
| 4333 + 4506 | Huy - Statte |
| 4333 + 4506 | Statte - Line 126 to Marchin |
| 4333 + 4506 | Marchin - Statte - Namur - Charleroi Sud Quai (Depot Visit) - Luttre - Manage - Braine le Comte - Halle - Line 26 - Delta - Schaarbeek Vorming - Brussels Noord |
Route: 6th March
| | |
| --- | --- |
| Traction | Route |
| 4150 | Antwerpen Berchem - Antwerpen Dam, Line 27A - C1, C2 - Line 226 - Berendrecht - Starbroek |
| 4150 | Starbroek - Y Walenhoek - B1, B2, B3 - Y Ekerse Dijk - Far West - Straatsburgdok |
| 4150 | Straatsburgdok - Far West - Y Ford - Y Leopold - Angola |
| 4150 | Angola - Blok 6 (Line 220/1) |
| 4150 | Blok 6 - Y Leopold - Wilmarsdonk |
| 4150 | Wilmarsdonk - Line 27A - Y Ekerse Dijk - Line 27C - Line 222 - Oorderen |
| 4150 | Oorderen - Line 224 - Lillo - Line 226 - Berendrecht |
| 4150 | Berendrecht - Line 226 - Y Lillo - B1, B2, B3 - Antwerpen Dam - Antwerpen Berchem - Line 59/1 - Boom - Puurs |
| 4150 | Puurs - Boom - Industrial Siding |
| 4150 | Industrial Siding - Boom |
| 4150 | Boom - Antwerpen Zuid - Line 59 - Antwerpen Berchem - Antwerpen Oost |
| 4150 | Antwerpen Oost - Line 27 - Mechelen - Dendermonde |
| 4150 | Dendermonde - Line 52 - Basroode Noord |
| 8463 (1) | Basroode Noord - Puurs |
| 8509 (2) | Puurs - Basroode Noord |
| 4150 | Basroode Noord - Dendermonde |
| 4150 | Dendermonde - Lokeren - Sint Niklaas - Antwerpen Berchem - Antwerpen Noord (Depot Visit) |
| 4150 | Antwerpen Noord - Antwerpen Dam - Antwerpen Berchem |
Notes :
(1) 8509 on rear.
(2) 8463 on rear.
Source & photos : Stuart Smith (on the tour throughout)



Tour Review
(by Stuart Smith)
5th March
Today's tour was utilising preserved 'PFT' DMU's, 4333 and 4506. (We had seen these units on-route to Brussels the previous afternoon, so knew what to expect in advance).
The tour started Northwards along the main lines past Schaarbeek Depot and Yards to Weerde. Turning right, we left the main lines and took line 27B to Muizen and used the connection at the back of the yard to access Mechelen Yard. The train appeared to travel through various allotments and gardens as it approached the boundary gates. Once through the entrance , we travelled right up to the main workshops and stopped just short of the traverser. Due to the large area to be covered whilst here, the group was led by Dirk Faas through the site. (Dirk is ADL's regular contact and 'go-between' on all Belgian tours). This was a fascinating tour past a multitude of EMU's in various stages or repair and rebuilding. The most severe I noticed was 'Break' unit 388, which was literally just bogies and very little else above them. Outside was visited last, which in places resembled a wreckers yard full of 'crash damaged' units. Most noticeable were 170, 709, 716 and 932.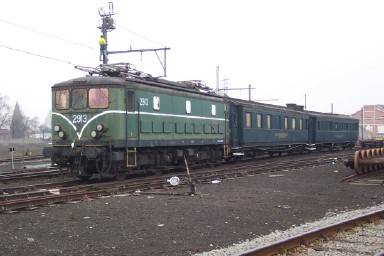 2913 in Mechelen works.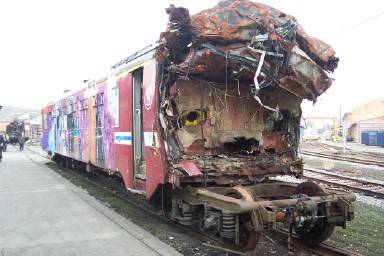 Accident victim 709 in Mechelen works.
Back on board our train, we headed South-East via Leuven and Landen to Voroux before taking line 36A through Kinkempois Yard to Angleur. From here we reversed over the single line curve (East to North to Bressoux and the freight only line 214 to Chertal. This line was traversed to the exchange sidings where SNCB loco 7757 and an industrial 'master and slave' pair were seen shunting with the in-famous 'torpedo' trains.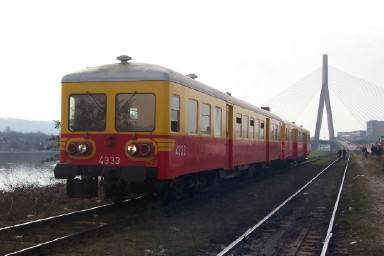 4333 & 4506 at Chertal.
From Chertal we returned through Kinkempois Yard and across to line 288. I don't know the exact distance travelled down this line, (probably about 200 yards short of a factory producing a white substance), but it is safe to say the Mercia tour in June 2002 (The Collaboration Railtour) travelled significantly further than we did on this occasion. After yet another photo stop, we returned to the junction at Val-Saint-Lambert before heading through Flemalle-Haute to Statte and the freight only braches to Moha and Marchin (Lines 127 and 126).
The first (Moha) was a steeply graded line and clearly the units were finding it heavy going. The line used to continue through to Landen, but now terminates in a field of sheep immediately beyond a tunnel. I couldn't help but think that if this was in the UK, Network Rail would have severed the line short of the tunnel to alleviate the upkeep on it.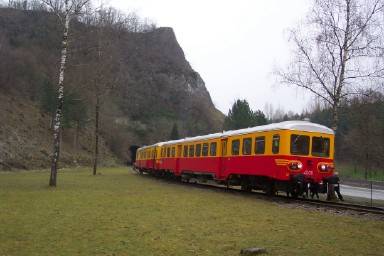 4506 & 4333 at Moha.
The units then had an easy 'roll' back down the hill before a strange double reversal at Huy and Statte in order to access the second branch. This (Marchin) was another steep climb, terminating at a warehouse complex. (It was later indicated that the lack of suitable crossovers at Statte prevented direct running from branch to branch).
Next it was a depot visit at Charleroi Sud Quai. By now the rain had started to fall, however, potentially worse was the news that SNCB staff in the Charleroi and Monceau areas had gone on strike since we had arrived at the depot. Could this prevent us completing the tour as planned ????
For this visit, we were split into two groups. Half were led around the workshops, whilst the other half went around the loco's and units outside. Fortunately, I was in the group that went inside first and although very little was here, it made an interesting visit. By the time we ventured outside it had virtually stopped raining. Numerous withdrawn class 91's were dumped here, along with about 30-40 loco's of various types and classes. A few class 41 DMU's were also stabled.
Fortunately again, the strike had now finished and we were on our way around 20 minutes late. In order to get back to Brussels Noord, we had a very 'in-direct' route to follow. This was via Charleroi (pathing stop), Braine-le-Comte, Halle, line 26, Delta and Schaarbeek Vorming. As it was now dark and all 'dud' track from here, I took this time to enjoy the social elements that always accompany 'European' tours. Due to extremely slack timings and virtually non-stop running, we arrived back around an hour early.
6th March
In order to access this tour, we used a service train from Brussels Noord to Antwerpen Berchem. (Unfortunately, SNCB ban all group booking on the 'Benelux' services, so a standard EMU had to be used to get there).
Ever since I did the last ADL tour into the Antwerpen Noord complex, I couldn't wait to get back to experience the sheer scale of it again. Not to mention the 200+ loco's that would be there to spot. This tour was formed of a class 41 DMU, 4150 (The same unit as used on their last tour with this type).
Our route around the docks and yards was complicated to say the least, and involved numerous reversals. Upon entering the main loco stabling area, we noticed the countless lines of locos that this place is noted for. However, these would have to wait until we returned later that afternoon. Most of the branches we traversed were identical, being surrounded by countless stacks of containers and no end of shunters busily moving trainloads of wagons for onward movement. The different dock areas are named after the destinations that the ships used to sail to and from. (Some of the 'exotic' locations we didn't visit were- Rhodesia, Congo, West Siberia, Alaska and Greenland).
Having spent over 4 hours going literally around and around in circles we left the docks complex and headed via Antwerpen Berchem and line 52 to Puurs. Here we had been due to travel over the near-by industrial line to Prayon, which serves a local factory. However, we were then informed that staff from the factory were unable to oversee our visit and so access had to be denied. Much to the credit of Dirk Faas, SNCB and ADL, a hastily arranged substitute was organised back at Boom.

4150 in Boom industrial siding.
To say this was a branch line was a severe understatement, more like just a siding and surely no more than 150 yards in length. Although no doubt everyone on board needed the 'replacement' track. However, two cargowagons had been left there for the weekend and so this reduced the line by approximately a third. Needless to say, those in the back of the unit would have scored only about 50 yards of the siding.
After this, we headed back to Antwerpen Oost via line 52 and 59 to reverse. This time we took the main line down to Mechelen, before turning West to Dendermonde and the 'preserved' line that runs to Puurs. The SNCB unit took us to the first station on the branch, where we transferred to a three coach train, top n tailed by ex-SNCB loco's 8463 and 8509. (Only recently acquired by the SDP group). One of the coaches was 'open plan' and the seating consisted of garden style picnic furniture. Having traversed the line up to Puurs, a quick photo stop took place before heading back to Basroode Noord.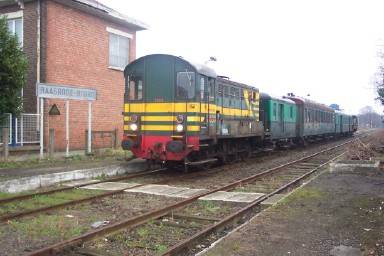 8509 (&8463) at Bastroode Noord.
Their was then time to check out the various stock on show and visit the book shop on the station. After this we headed back to Dendermonde aboard our class 41 unit. A quick reversal, then we headed back to Antwerpen Noord, via Lokeren, Sint Niklaas and Antwerpen Berchem.
Although now in darkness, the depot floodlights illuminated everything we needed. An hour was allowed to wander around 'at will' and get all those elusive numbers we had seen from a distance earlier in the day. Of particular interest to most were the 'new' class 77 and 78 loco's and the stored class 51's. I would guess that between 200 - 250 loco's were in the vicinity. Classes represented were 13, 15, 20, 21, 22, 23, 25, 26, 27, 51, 54, 55, 59, 62, 72, 73, 74, 77, 82, 91 and CFL 3000.
After this, all that remained was for a quick run back to Antwerpen Berchem, and our onward train back to Brussels Noord.