28th February 2004
Past Time Rail
The Cumbrian Mountain Flyer
| | |
| --- | --- |
| Locos Used | 37676, 37896 & 90027 |
Route:
1Z50 : Kings Cross to Carlisle
1Z51 : Carlisle to Kings Cross
| | |
| --- | --- |
| Loco(s) | Route |
| 90027 | London Kings Cross - Hertford North - Stevenage - (via ECML) - Doncaster RMT |
| 37676 + 37896 | Doncaster RMT - Adwick - Hare Park Jn - Turners Lane Jn - Engine Shed Jn - Whitehall Jn - Skipton - (via S&C) - Carlisle |
| 37676 + 37896 | Carlisle - Hexham - Norwood Jn - Low Fell Jn - Durham - York |
| 90027 | York - (via ECML) - London Kings Cross |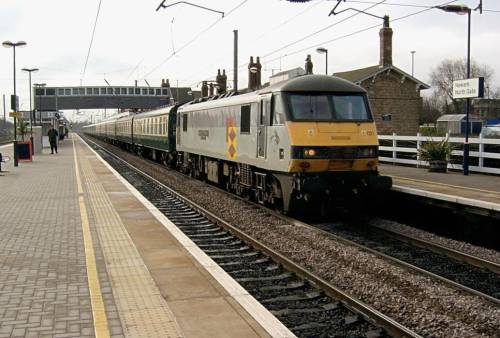 90027 pulls into Newark North Gate (photo: Dave Burton)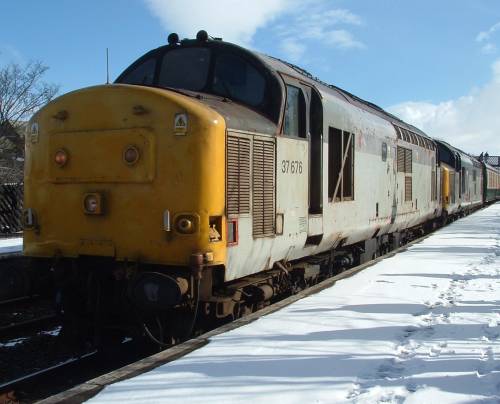 37676 leads 37896 at Appleby (photo: "Bad Monkey")
Sources : various including Dave Burton
& Steve Goulden (joined/left the train at Stevenage)



Tour Review
(by Mark Honey)
In 2004, I'd always resolved to get back out on a few more enthusiast tours. Over the last couple of years, I'd got 'railtour lag' (I put it down to the commute I do between Rugby and London). When you have been on trains all week, you don't really feel in the mood to climb out of bed at some ungodly hour to face 15 hours of it all over again. Let's face it - I've done many of my own 'mini' tours over the last few years with Virgin, with diversions, failures and the like, so I started to do a few more steam tours to break the monotony. Trouble is - they get subjected to the same hassles and farces as all the others. Plus the lead in and out of the main part of the tour is covered by some sort of electric or diesel which have cost me as well in terms of late running, failures, diversions etc etc. Why do we do it??
Anyway, back to the plot. I hadn't covered a Past Time tour in ages - not since I covered a handful of 'Spinnin Staites' some time back and definitely a good couple of years since I did one of their steam tours. So £38 quid for a potential thrash over the S & C, across Hadrian's Wall and a storm down the ECML with a couple of bonnet-bangers on borrowed time seemed like a good idea. I doubted whether I would score anything as I only needed a couple of those that were left (and to be fair, I'm not sure about those either), so it would be a case of sit back and enjoy them for what they're worth. I also managed to talk a very old mate of mine into doing them. Dyed in the wool steam man, but blows you away with his stories of covering York to Leicester Central with an 'A2' which was replaced by a 'Hall' for the run to Banbury. Plus all the syphons he had on the Great Central while covering the Bournemouth-York when it switched over to diesel...When you try and take him through all the renumberings and refurbs he comes out with "wasn't that D67-something-or-other?" I'm afraid I am not worthy. I was born too late...
So - we pitched up at Peterborough for 08.39 - pretty sociable really. Armed with the gen from the excellent Class 37 Group website that the allocated pair would be 37676 & 896 (both dud, mind, I had them as 37126 and 37231 and I don't do renumberings) we waited for the train to arrive. 90027 (they should paint this GNER blue instead of 90024, it spends so much time on the ECML) turned up 10 minutes early, not difficult on the very slack times and we got underway. We spent much of the time on the slow line where possible, dodging GNER expresses and it wasn't until south of Grantham that the two track section allowed some real progress. The next pick up was Newark and soon we were pulling in to Doncaster RMT to effect the loco change. An announcement that we were not to detrain was met with some jocularity - the platform at the terminal is higher than a standard station platform so you couldn't get the doors open if you tried!
We were on the right side of the train to watch a very decrepit pair of 37's rattle past. 37676 was especially bad, and carried it's D6826 number amongst the flaking paint and rust. Anyway, we got underway and made sprightly progress along the line to Wakefield. To avoid a run round at Leeds, we took the time honoured route via Normanton which brings you into Leeds past Midland Road depot. The syphons then put in what I thought was the best performance of the day by storming towards Skipton at an impressive rate of knots. Quite surprising really, given the number of units threading their way to and from Skipton. The sprinkling of snow was getting thicker as we headed north and rumours started getting more earnest that there had been a derailment at Gargrave. We stopped briefly at Skipton for what many thought was a pathing stop for a single line. This proved unfounded, but we passed a slow moving 60090 heading south with a gypsum train, which had apparently got into trouble earlier by spreading part of the track.
That behind us, we headed for the S & C. It didn't live up to it's 'Stagger & Crawl' nickname today - we passed no freight or got held at any block sections whatsoever. The day was superb - clear blue skies, dustings of snow and clear air that added to the acoustics of the two machines as we climbed northwards. The load was quite heavy - 13 coaches and although we were at the back, we could hear the tractors thrashing quite nicely. Someone once said to me, many years ago, that Class 37's were no good for a line like the S & C as the route layout and climbs made them unsuitable. Well today our pair seemed to have a good command of the climb to Ais Gill, although we settled around the 40 mph limit to do this. We stopped briefly at Appleby at 13.00 to 13.18 for a quick photostop and continued on to Carlisle. We arrived on time and had two hours to wander round. Well - we wandered as far as the local Wetherspoons pub for a couple of pints and some food. We went back to the station via Pikey-Save for some bottles of ale for the trip back, which took us along the 'wall' to Newcastle. At 16.05 (our departure time) the train turned up (having waited for 87004 and it's train to get out of the way) and set off along the Carlisle-Newcastle line. We were now a couple of coaches behind the pair which really sounded throaty as we got away towards Petteril Bridge Junction and away to the east. The syphons rattled along at about 50 mph, giving everyone time to soak up the delights of the Carlisle-Newcastle line. The speeds must have been in line with the timings as we didn't lose any minutes really.
It was around the Wylam area that the good weather deteriorated and we turned right at Low Fell Junction straight into a blizzard! Having pottered past the RMT we skirted Tyne Yard and drew up alongside a Class 66 on a ballast working, both trains now waiting for a slot south on the ECML. The reason for our wait was to let the inevitable GNER flash by first, plus we were a few minutes ahead of time. The 37's got away and sounded superb as they lifted the 13 coach train into the climb towards Chester-le-Street. By Durham, we were cruising at about 80 mph and held this for a non eventful run to York. If there was any highlight en-route, it was storming through the avoiding roads through Darlington. We must have looked and sounded good to an observer! We were checked outside York for a few minutes to allow a Voyager out and pulled in a few minutes late for the locos to be changed. 90027 did the honours, departing 10 minutes late. The only point of note was being stopped in Doncaster, but making the time up between there and Newark with a storming run, arriving 15 early (yeah, OK the timings were slack, but who cares?). We should have been looped, one thinks, at Newark, but a CT unit was in the way so they let us go. The run to Peterborough saw us run straight through for a 15 minute early arrival.
Verdict? Fantastic! Simple day out, good weather (well, where it counted), good performances all round and plenty of space to spread out! Tours for me these days aren't about seeing how many miles you can clock up behind certain machines, or whether it's a 'winner' or 'dud'. I did all that many years ago. However, it's whetted the appetite for the Grid showdown on the 31st March...
Mark Honey



Timings (Booked & Actual)
Location
Booked
Actual
Booked
Actual
Kings Cross
07.10d
07.10
22.30a
22.01
Belle Isle
07/12
07/12
22/26
21/59
Finsbury Park
07/16
07/15
22/22
21/56
Alexandra Palace
07/20
07/20
22/20
21/53
Gordon Hill
07/27
?
22/15
21/45
Hertford North
07/36
?
22/07
21/38
Stevenage
07.48a ~ 07.51d
?
21.55a ~ 21.57d
21.26 ~ 21.29
Hitchin
07/56
07/56
21/48
21/21
Sandy
08/07
08/03
21/32
21/11
Huntingdon
08/18
08/12
21/18
21/03
Holme LC
08/27
08/18
?
?
Peterborough
08.36a ~ 08.38d
08.31 ~ 08.38
21.03a ~ 21.05d
20.45 ~ 20.50
Helpston Jn
08/45½
08/45
Tallington Jn
08/52
08/50
20/56
20/38
Stoke Tunnel
09/06½
09/06
20/47
20/29
Grantham
09/11
09/09
20/43
20/26
Barkston South Jn
09/13½
?
20/40
20/23
Newark North Gate
09.21a ~ 09.23d
??.?? ~ 09.23
20.20a ~ 20.30d
20.11 ~ 20.15
Retford
09/35½
09/36
19/56
19/59
Loversall Carr Jn
09/46
?
19/43
19/51
Doncaster RMT (sig S249)
09L53a ~ 10L23d
09.53 ~ 10.23
Doncaster
10/27
10/29
19.37a ~ 19.39d
19.43 ~ 19.47
| | | |
| --- | --- | --- |
| Location | Booked | Actual |
| Adwick | 10/33 | ? |
| South Kirkby Jn | 10/39 | ? |
| Hare Park Jn | 10/45 | ? |
| Altofts Jn | 11/02 | ? |
| Methley Jn | 11/04 | ? |
| Engine Shed Jn | 11/15 | ? |
| Whitehall Jn | 11/16 | ? |
| Armley Jn | 11/17 | ? |
| Apperley Jn | 11/24 | ? |
| Shipley | 11/31 | 11/30 |
| Keighley | 11/38 | 11/37 |
| Skipton | 11/53 | 11/51 |
| Hellifield | 12/04 | 12/06 |
| Kirkby Stephen | 12/48 | 12/48 |
| Appleby | 13.00a ~ 13.18d | ? |
| Petteril bridge Jn | 13/53 | 13/48 |
| Carlisle | 13.58a ~ 16.05d | 13.51 ~ 16.07 |
| Petteril Bridge Jn | 16/08 | 16/12 |
| Haltwhistle | 16/38 | 16/41 |
| Hexham | 16/58 | 16/58 |
| Gateshead Metro Centre | 17/21 | 17/22 |
| Low Fell Jn | 17/34 | ? |
| Birtley | 17/42 | 17/43 |
| Durham | 17/49 | 17/52 |
| Ferryhill South Jn | 17/58 | 18/00 |
| Darlington | 18/08 | 18/10 |
| Northallerton | 18/20 | 18/21 |
| Thirsk | 18/28 | 18/28 |
| Tollerton | 18/38 | 18/37 |
| Skelton Jn | 18/45 | 18/44 |
| York | 18L48a ~ 19L13d | 18.52 ~ 19.18 |
| Colton Jn | 19/18 | 19/24 |
| Hambleton North Jn | 19/23 | 19/29 |
| Temple Hirst Jn | 19/26½ | 19/32 |
| Shaftholme Jn | 19/32 | 19/38 |