7th February 2004
Pathfinder Tours
The Valley Vostock
| | |
| --- | --- |
| Locos Used | 47197, 56038, 57007, 60021 & 66614 |
| Stock Used | 6310+3068+3069+3148+17056+1842+5350+5275+5307+5364+5378+5365 |
Route:
1Z70 : Crewe to Margam TC
1Z42 : Margam TC to Crewe
| | |
| --- | --- |
| Loco(s) | Route |
| 47197 | Crewe - Norton Bridge - Stafford - Bushbury Jn - Portobello Jn - Bescot Stadium - Perry Barr North Jn - Soho South Jn - Birmingham New Street - Proof House Jn - Bordesley Jn - Kings Norton - Bromsgrove DGL - Stoke Works Jn - Abbotswood Jn - Cheltenham Spa - Gloucester - Lydney - Severn Tunnel Junction Down Relief - East Usk Yard |
| 66614 | East Usk Yard - Newport - Cardiff Central - Penarth Curve North Jn - Pontyclun - Bridgend - Margam TC |
| 56038 (2) | Margam TC - Bridgend - Aberthaw - Barry - Cogan - Penarth Curve North Jn - Ninian Park - Radyr |
| 60021 (3) | Radyr - Ninian Park - Penarth Curve North Jn - Cardiff Central - Ebbw Jn - Park Jn - Machen |
| 56038 (2) | Machen - Park Jn - Gaer Jn - Newport - Maindee East Jn - East Usk Yard |
| 57007 (4) | East Usk Yard - Severn Tunnel Junction - (reverse of outward route) - Abbotswood Jn - Worcester Shrub Hill - Droitwich Spa - Stoke Works Jn - Bromsgrove - Selly Oak - Birmingham New Street - Aston - Perry Barr North Jn - (reverse of outward route) - Norton Bridge - Stoke-on-Trent - Kidsgrove - Alsager - Crewe |
Notes :
(1) Tour originally advertised to feature 2x DRS 20's to Gloucester for a 66/5 to Bridgend. A trip to Aberdare using an EWS class 56 & 60 was also advertised, the 56 taking the train back to Gloucester for the 20's home.
(2) 60021 on rear.
(3) 56038 on rear.
(4) Plus 47197 (not powering).
(5) The tour brochure gave the return working as 1Z42 however some advance timing information gave it as 1Z71.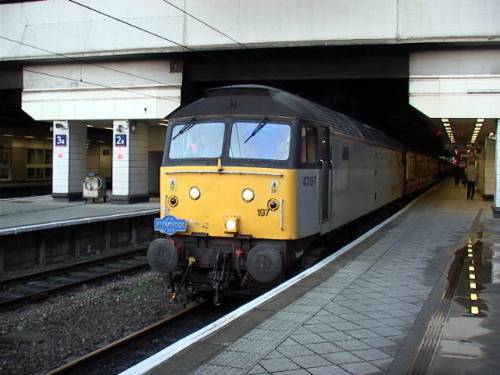 47197 at Birmingham New Street (photo: Kevin Law)
Sources : Mark Honey & Alan Sheppard



Tour Review
(by Mark Honey)
The highlight of this tour was to be the use of 2 x 20's that would handle the outbound and return leg from Crewe to South Wales, thus giving the tour participants a 'Spin & Win' style loco-fest with a few bits of red track thrown in around South Wales for the track scratchers. The locos in between the 20's were a 56, a 60 and a Freightliner 66 which would add the variety. However the 20's were the main pull for many. It was with a degree of trepidation then, that I decided to stick with it after it was announced the 20's would not be making an appearance (TPWS was mentioned, but I never did find out the real reason). Freightliner moved in and offered a 47/0 for the outbound leg and the return was to be powered by a 57/0.
The tour kicked off from Crewe and I joined at Birmingham New Street, having travelled in from Narborough. Having met one of our tour group, we sauntered down to platform 1 at a most acceptable 08.10 to find the tour in at 08.00 with a scruffy 47197 on the front. All remaining Freightliner 47's are dud for me, so I wasn't too perturbed. What did lighten my spirits was finding that we were booked on the front bays of coach A, so we would sample the thrash at various stages during the day. Not right now though as we were right at the back as we set off on time and took the southbound exit through the tunnels out of New Street and took the Camp Hill line to join the Bristol route. After picking up at Barnt Green (the rest of our shower joined here) we rattled southwards at a sedate 75 mph and picked up again at Cheltenham. We then turned right for Gloucester and picked up again there. It was sad to see the remains of the depot and just realise what a desert Gloucester now is in railway terms. The next few miles were spent sampling a few beers in the buffet and taking an interest in the route to Newport via Chepstow. We passed the Dean Forest railway connection and spotted 73002 lurking in the sidings.
Pulling into East Usk Yard we pulled up alongside 66614 - a winner all round, I believe. We swapped locos and carried on at a brisk pace, negotiating the Ninian Park route round the back of Canton depot. It was sad to note the derelict Syphons - especially 37413. Was that really the same loco I had had on the West Highland line all those years ago? We sped on to Bridgend where we arrived around 30 minutes early. The option was to break here for an hour and a half or stay on board to Margam Yard and witness the switch to the 56 and the 60. We chose the former and headed to the Wetherspoon's pub for some lunch.
Back at Bridgend and we encountered the only real upset of an otherwise good natured day. One of the station staff was extremely rude to many of the tour participants waiting to board, threatening them with transport police intervention, removal from the station etc etc if they didn't stand behind yellow lines or obey his very personal rules. First Great Western take note - this is unacceptable and genuinely upset people who had done nothing wrong. Yet another case of treating enthusiasts like second class citizens. (Stuart Smith comments : I suggest this was actually someone from "Wales & Borders" or "Arriva" as Bridgend is not a Great Western operated station).
The tour arrived back with 56038 leading (again, dud) but a certain 60021 was tailing (surprise, surprise). After it's no-show on the Joint Line Jester a few weeks previously, I thought it might play a hand in the day's proceedings...
We were now at the sharp end and the 'grid' sounded superb as it took the right hand spur off round the coast past Aberthaw Power Station and Barry towards Cardiff. We were heading for Radyr where we duly reversed and allowed the 60 to lead as it then took us up the Machen Quary branch. This was an excellent example of Buffer Stop Kissing as we managed to pass the loop at the end of the line (passing a smart looking 03 shunter D2199 parked under the bridge) and made it to within half an engine length of the end of the line.
Back down towards Newport and we crawled through Newport station to East Usk Yard where we arrived early. We had a 40 minute loco change here and 57007 was waiting with 47197 in tow to take us back north. We were let out 30 minutes early and the 57 showed us what it could do with a dozen coaches and a ticking-over 47 in tow. Eyebrows were raised as we passed non-stop through Gloucester and straight on to the main line. We has expected to wait time, but it was not to be. We carried on northwards, set down at Cheltenham and diverted through Worcester as before where we were checked a few times, but still running 10 minutes in front of time.
The highlight for many now was the climb of the Lickey Incline. We got a fair run at it, but the pace slackened off alarmingly and there were sounds of slipping coming from the loco. It appeared the fans were actually slipping, which made the engine spew out a heavy burst of exhaust and slow up. Bizarre. We were down to about 20 mph, but managed to make it over the top. From here it was straight through to Birmingham via a set down at Barnt Green where we said goodbye to most of our party. Arrival in New Street was a few minutes ahead of schedule.
Verdict? Good day out - good company and one or two locos made it interesting for me. Always nice to be at the sharp end and listening to the 57 climbing the Lickey was entertaining to say the least.
Can't help wondering what a pair of 20's would have sounded like though....
Mark Honey



Timings (Booked & Actual)
(from various including Alan Sheppard & Simon Cross)
M.C
Location
Booked
Actual
Booked
Actual
M.C
0.00
Crewe
06.26d
06.27
22.30a
22.11
159.02
-
North Stafford Jn
22/27
?
?
-
Barthomley Jn
22/24
?
?
-
Alsager
22/21
22/01
152.69
-
Kidsgrove
22/16
21/58
150.30
-
Stoke-on-Trent
22.05a ~ 22.07d
21.49 ~ 21.49
143.79
-
Stoke-on-Trent Jn
22/03
21/48
?
-
Stone
21/56
21/39
136.71
?
Basford Hall Jn
06/32
06/30
8.06
Madeley
06/39
06/37
19.08
Norton Bridge
06/50
06/46
21/50
21/33
133.15
24.37
Stafford
06.57a ~ 06.59d
06.56 ~ 07.01
21.33a ~ 21.43d
21.19 ~ 21.25
127.66
?
Stafford No.4
07/00
?
21/31
?
?
38.14
Bushbury Jn
07/14
07/20
21/16
21/05
114.09
40.62
Portobello Jn
07/21
07/24
21/03
21/01
111.41
?
Darlaston Jn
07/25
07/26
21/01
20/58
?
44.79
Bescot Stadium
07/26
07/29
21/00
20/57
107.24
49.36
Perry Barr North Jn
07/36
07/34
20/53
20/51
102.67
-
Aston
20/47
20/49
100.45
-
Proof House Jn
20/44
20/45
98.45
?
Perry Barr West Jn
07/37
?
?
Soho East Jn
07/41
07/38
52.27
Soho South Jn
07/54
07.40a ~ 07.49d
54.28
Birmingham New Street
08.00a ~ 08.15d
07.53 ~ 08.15
20.39a ~ 20.42d
20.41 ~ 20.44
97.69
-
Selly Oak
20/32
20/30
94.38
55.02
Proof House Jn
08/18
08/19
55.79
St Andrews Jn
08/21
08/22
56.25
Bordesley Jn
08/22
08/23
61.40
Kings Norton
08/28
08/31
20/29
20/25
92.24
?
Longbridge
08/31
08/36
20/26
20/23
?
66.48
Barnt Green
08.35a ~ 08.37d
08.42 ~ 08.43
20.20a ~ 20.22d
20.18 ~ 20.19
87.16
70.11
Bromsgrove
08/44
08/50
20/14
20/08
83.53
72.24
Stoke Works Jn
08*49a ~ 09*04d
08.54 ~ 09.05
20/11
20/05
81.40
-
Droitwich Spa
20/06
19/56
77.25
-
Tunnel Jn
20/00
19.42a ~ 19.47d
72.13
-
Worcester Shrub Hill
19/58
19.39 ~ 19.40
71.46
-
Norton Jn
19/53
19/22
68.41
83.41
Abbotswood Jn
09/16
09/17
19/52
19/19
67.59
94.28
Ashchurch
09/25
09/25
19/42
19/09
56.72
101.39
Cheltenham Spa
09.38a ~ 09.40d
09.33 ~ 09.40
19.29a ~ 19.32d
18.58 ~ 19.02
49.61
107.02
Barnwood Jn
09/48
09/48
19/21
18/50
44.18
?
Horton Road Jn
09/50
09.50a ~ 09.52d
19/20
18/49
?
107.79
Gloucester
09.53a ~ 09.55d
09.55 ~ 09.58
19/19
18/48 (UM)
43.21
122.17
Awre Jn
10/11
10/12
19/04
18/34
29.03
127.32
Lydney
10/16
10/18
18/59
18/29
23.68
135.28
Chepstow
10/26
10/27
18/49
18/20
15.72
142.56
Severn Tunnel Junction
10/36
10/38
18/40
18/10
8.44
145.07
Magor
10/40
10/44
?
18/08
6.13
151.20
0.00
East Usk Jn NY
10L55a ~ 11L25d
11.00 ~ 11.19
17L38a ~ 18L28d
17.26 ~ 17.55
0.00
8.47
?
Maindee East Jn
?
11/21
17/35
17.21a ~ 17.22d
7.78
1.25
Newport
11/30
11/23
17/33
17/18
7.22
-
Gaer Jn
17/27
17/16
6.39
-
Park Jn
17*18a ~ 17*20d
17.12 ~ 17.13
5.48
-
Machen
16.48a ~ 16.58
16.32 ~ 16.41
0.00
22.39
-
Park Jn
16*26a ~ 16*28d
16.01 ~ 16.02
16.71
-
Ebbw Jn
16/23
15.54a ~ 15.56d
16.09
6.35
Marshfield
11/38
11/32
16/19
15/47
11.36
13.05
Cardiff Central
11/52
11.43a ~ 11.44d
16.01a ~ 16.09d
15/35
4.66
?
Radyr Branch Jn
11/54
11/47
15/56
15/33
?
13.68
Penarth Curve North Jn
11/57
11/49
15/55
15/31
4.03
14.04
Ninian Park
11/58
11/49
15/54
15/30
3.67
14.36
Leckwith Loop North Jn
12*00a ~ 12*11d
11/51
-
Radyr
15.39a ~ 15.44d
(platform 2)
15.16 ~ 15.21
platform 3
0.00
39.73
-
Ninian Park
15/21
15/05
36.06
-
Penarth Curve North Jn
15/20
15/04
?
-
Penarth Curve South Jn
15/18
15/03
35.45
-
Cogan Jn
15/13
14.57a ~ 14.58d
33.63
-
Barry
14/53
14/44
28.05
-
Aberthaw
14/41
14/36
22.40
24.21
Pontyclun
12/23
12/01
33.26
Bridgend
12.34a ~ 12.37d
12.12 ~ 12.15
14.10a ~ 14.12d
14.10 ~ 14.15
8.59
41.45
Margam Moors Jn
12/50
12/30
13/56
13.52a ~ 13.55d
0.40
42.05
Margam TC
12.55a
12.39
13.50d
13.50
0.00