24th January 2004
Pathfinder Tours
The East Lancs Envoy
| | |
| --- | --- |
| Locos Used | 37667, 37893, 40135 & 40145 |
| Stock Used | 5365+5378+5364+5307+5275+5350+1842+17056+3148+3069+3068+6310 |
Route:
1Z40 : Rawtenstall to York
1Z41 : York to Scarborough
1Z42 : Scarborough to Rawtenstall
| | |
| --- | --- |
| Loco(s) | Route |
| 40145 (1) | Rawtenstall - Ramsbottom - Bury Bolton Street - Heywood |
| 40145 | Heywood - Castleton Hopwood GF - Castleton East Jn - Rochdale East Jn - Littleborough - Hebden Bridge - Greetland Jn - Heaton Lodge Jn - Dewsbury - Leeds - Cross Gates - Church Fenton - Colton Jn - York |
| 40145 | York - Hambleton North Jn - Hambleton East Jn - Selby - Brough - Anlaby Road Jn - West Parade North Jn - Bridlington - Seamer - Scarborough |
| 40145 | Scarborough - Malton - York - Church Fenton - Milford Jn - Castleford - Wakefield Kirkgate - Horbury Jn - Heaton Lodge Jn - Huddersfield - Stalybridge - Ashton Moss North Jn - Miles Platting - Manchester Victoria - Eccles |
| 37893 + 37667 (2) | Eccles - Manchester Victoria - Thorpes Bridge Jn - Vitriol Works - Castleton East Jn - Castleton |
| 40145 (3) | Castleton - Castleton East Jn - Castleton Hopwood GF |
| 40135 + 40145 (3) | Castleton Hopwood GF - Heywood - Bury Bolton Street |
| 40135 + 40145 | Bury Bolton Street - Ramsbottom - Rawtenstall |
Notes :
(1) 40135 on rear.
(2) 40145 on rear.
(3) 37893 + 37667 on rear.
(4) Andy Pullar suggests the 37's were removed at Heywood (Hopwood?) GF - confirmation anyone?
Source & photo : Gary Thornton (on the train throughout)



Tour Review
(by Gary Thornton)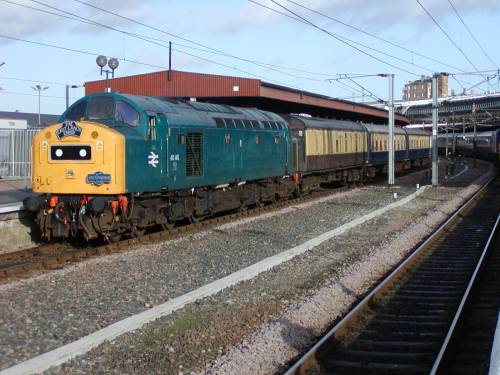 40145 waits to leave York for Scarborough.
40145's 6th major outing since going back on the mainline was to be one to break new ground with the train originating on the East Lancashire Railway and traversing the link at Castleton onto Network Rail. With a trans-Pennine 40 bash in prospect as well as the new track I didn't hesitate in getting a ticket for this tour.
Having committed to doing the tour I then began to look at the logistics - 07.15 from Rawtenstall and 22.35 back....allowing travelling time from and back to Northampton that would mean a day out of just over 24 hours! As it worked out, two of us drove from Northampton to Birmingham where we swapped to another colleagues car for the rest of the journey. Though it added on some time it was certainly more efficient and gave time for doss to/from the ELR.
And so we set off from Northampton a little before 2am, arriving into Kings Heath just after 3am. Away from there about 03.20 we were on the ELR between 05.15 and 05.30, plenty of time to spare but needed to be done in case of any early-hours motorway farces. Leaving Bury at about 06.15, the stock arrived into Rawtenstall on the approaches to 7am, 40135 leading in with 40145 on the rear. It was reported that the run from Bury to Rawtenstall was quite impressive with 40135 doing all the work, 12 coaches and 40145 being the equivalent to about 17 coaches.
I was allocated a seat in coach A which was leading out of Rawtenstall. As it turned out I was sat in the leading bay of seats too, so couldn't get a better grandstand seat than that for the entertainment to follow! We set off at 07.15 exactly but only got a few yards before stopping but after a couple of minutes pause we were then on our way "proper". Having experienced 40145 on most of the previous mainline railtours the ELR cannot really compare, but the driver did his best to get the day off to an entertaining start, the heavy trailing load meaning much thrash could be had before the line speed limit was reached.
Stops at Ramsbottom, Summerseat and Bury saw the train basically full, with a final contingent of passengers joining at Heywood. Whilst here 40135 was removed from the rear of the train...shame we couldn't have taken it along for the day, a pair of 40's on the mainline....just imagine it!
History was then made as we became the first passenger train to cross over from ELR metals to Network Rail. A time-consuming task with a lengthy pause either side of Hopwood ground frame. The tour brochure records "New 'red tape' means there will be a thirty minute delay whilst the train is inspected by EWS before we can proceed over the connection onto the national rail network". Heywood to Castleton East Jn took 51 minutes for 1¼ miles!
The run to York was absolutely superb - it may have been a cold day but that did not deter coach A's passengers from getting the full effect of the thrash with full-open windows! Of particular note were Summit & Morley tunnels where the power handle was fully open most/all of the way through! Lax timings meant we were about half an hour early by Brighouse but this was lost with a very long pause at Heaton Lodge East Jn. Opportunity for a non-stop thrash through Leeds was lost as we paused in the platform for a couple of minutes.
Once in York passengers had either a 100 minute break or most of the day, depending if they had booked up for the Scarborough circular part of the tour. I had but there was still time for a quick look round the railway museum. D200 was tucked away in "The Depot" - shame the NRM couldn't have had it out on this particular Saturday with there being another of the class calling through the station.
For the run to Scarborough (via Selby, the Anlaby Road curve and Bridlington) we were in the rearmost vehicle so it was time for some much-needed z's - with a pre-2am start I had not bothered to go to bed on the Friday night! Just under an hour at the seaside resort and it was a case of dodging the heavy police presence to get a bite to eat. The police were there not for our arrival but because Chelsea had been playing Scarborough that afternoon in an FA Cup qualifier. For the record I understand the score was 1:0 to Chelsea.
An on-time departure was lost owing to the late arrival back in of the tour stock. It was further delayed by a visit from the local police who were chasing a suspect from an assault in the town who was believed to have run into the railway station to avoid capture. Satisfied he wasn't trying to leave the scene using our train (he should have known he'd have never got away with it - Muppet would have caught and 'chinged' him!) we departed just over 30 minutes late. Not a problem really as there was some particularly lax timing on the way back, especially once we got back into the Manchester suburbs.
Huddersfield - what can I say. Highlight of the day for me I think - a slow approach then 40145 was opened-up through the station and away through the tunnels towards Mardsden. With the predominantly rising gradient all the way to Standedge it was an impressive performance (and loud too!). Trying to hold a conversation as we passed through Standedge Tunnel was simply pointless!
As expected we began to recover a lot of the lateness as we approached Manchester Victoria. A short pause there to set-down then we carried on to Eccles where an EWS loco was to take over for the run to Castleton. Originally booked for a class 66, on the day 56104 became rumoured, but in the event we arrived into Eccles to find 37667 & 37893 waiting for us - snout-nosed EE power all the way then! No complaints (particularly as 37893 was a winner for me).
Once at Castleton we experienced a similar time-consuming effort to get us back on to the ELR - I think it is fair to say if the link is ever to be used regularly then a simplified procedure will probably need to be adopted. We were met at the ground-frame by 40135 and this was added to 40145 to give us the pair back to Rawtenstall. The 37's remained on the rear to Bury where they were removed as the paperwork/insurance precluded their use on the ELR. We arrived back into Rawtenstall just in time to miss last-orders. The ELR staff then had to take 40135 off and on to the other end of the train before the ECS could be taken back to Bury and both 40's put to bed after what was an absolutely brilliant day out. As usual, I must say thanks to all those involved in making the day happen - the hanging around at junctions and yards is soon forgotten, the sound of 40145 tackling the Pennine gradients probably never will be...and that's what it is really all about at the end of the day, simply enjoying historic traction being put through its paces on the "real" railway.
For the record I arrived back home at 02.55, some 25¼ hours after leaving!
Gary Thornton



Timings (Booked & Actual)
(from Gary Thornton)
M.C
Location
Booked
Actual
0.00
Rawtenstall
07.15d
07.15/07.17
4.03
Ramsbottom
07.30a ~ 07.35d
07.30 ~ 07.35
5.30
Summerseat
07.41a ~ 07.44d
07.38 ~ 07.43
8.00
Bury Bolton Street
07.55a ~ 07.58d
07.54 ~ 08.00
12.15
Heywood
08.15a ~ 08.25d
08.12 ~ 08.25
12.26
Castleton Hopwood GF
08*35a ~ 09*06d
08.27 ~ 08.52 (ELR side)
08.56 ~ 09.07 (NR side)
13.35
Castleton East Jn
09*16a ~ 09*17d
09.15 ~ 09.16
15.45
Rochdale East Jn
09/24
09/21
18.47
Littleborough
09/28
09/25
24.43
Hall Royd Jn
09/35
09/31
28.38
Hebden Bridge
09/39
09/35
34.04
Milner Royd Jn
09/48
09/44
35.59
Greetland Jn
09/59
09/47
40.41
Bradley Wood Jn
10/13
09/51
42.31
Heaton Lodge East Jn
10/25
09.54 ~ 10.22
43.14
Mirfield East Jn
10/28
10/25
46.19
Dewsbury
10/32
10/30
50.61
Morley
10/36
10/38
54.57
Whitehall Jn
10/46
10/42
55.25
Leeds
10/50
10.46a ~ 10.48d
56.78
Neville Hill West Jn
10/54
10/52
59.61
Cross Gates
10/58
10/56
65.03
Micklefield
11/03
11/02
70.13
Church Fenton
11/07
11/06
75.30
Colton Jn
11/12
11/10
80.71
0.00
York
11.18a ~ 13.03d
11.18 ~ 13.07
5.41
Colton Jn
13/10
13/13
13.45
Hambleton North Jn
13/16
13/23
14.11
Hambleton East Jn
13/17
13/24
17.58
Selby
13/22
13/30
31.61
Gilberdyke
13/35
13/44
38.19
Brough
13/41
13/51
46.63
Hessle Road Jn
13/52
14/01
47.64
Anlaby Road Jn
13/55
14/03
48.08
West Parade North Jn
14/01
14/04
55.32
Beverley
14/11
14/17
66.54
Driffield
14/20
14/32
78.08
Bridlington
14*32a ~ 14*56d
14.45 ~ 14.58
88.67
Hunmanby
15/11
15.17a ~ 15.18d
91.46
Filey
15/15
15/23
98.13
Seamer
15/23
15/32
101.02
0.00
Scarborough
15.28a ~ 16.32d
15.38 ~ 17.01
2.69
Seamer
16/37
17/06
20.74
Malton
16/53
17/31
42.06
York
17.18a ~ 17.21d
17.58 ~ 18.03
47.47
Colton Jn
17/26
18/10
52.64
Church Fenton
17/30
18/14
57.13
Milford Jn
17/39
18/18
63.05
Castleford
17/49
18/30
65.63
Altofts Jn
17/53
18/33
69.56
Wakefield Kirkgate
17/59
18/40
72.00
Horbury Jn
18/05
18/44
78.03
Mirfield East Jn
18/19
18/56
80.09
Heaton Lodge Jn
18/25
18/58
84.03
Huddersfield
18/31
19/03
91.09
Marsden
18/41
19/15
95.04
Diggle Jn
18/45
?
97.17
Greenfield
18/47
?
102.11
Stalybridge
18/53
19/25
104.22
Ashton Moss North Jn
18/57
19/33
107.24
Baguley Fold Jn
19/01
19/40
108.33
Miles Platting
19/14
19/42
109.63
Manchester Victoria
19c17a ~ 19c19d
19.46 ~ 19.49
110.75
Ordsall Lane Jn
19/32
19/53
113.54
0.00
Eccles
19L45a ~ 20L01d
20.04 ~ 20.24
2.59
Ordsall Lane Jn
20/05
20/31
3.71
Manchester Victoria
20/10
20/37
5.21
Miles Platting
20/13
20/41
6.12
Thorpes Bridge Jn
20*19a ~ 20*29d
20/43
8.53
Vitriol Works
20/36
20/46
12.58
Castleton East Jn
20.42a ~
20.55a ~ 20.55d
?
Castleton
DIV
20.58a ~ 21.02d
0.00
Castleton East Jn
~ 20.52d
21.06a ~ 21.09d
1.09
Castleton H0pwood GF
21*05a ~ 21*15d
21.13 ~ 21.33 (NR side)
21.36 ~ 21.44 (ELR side)
1.20
Heywood
21.20a ~ 21.25d
21.48 ~ 21.51/21.53
5.35
Bury Bolton Street
21.38a ~ 21.44d
22.07 ~ 22.15
8.05
Summerseat
21.54a ~ 21.57d
22.23 ~ 22.24
9.32
Ramsbottom
22.04a ~ 22.08d
22.38 ~ 22.38
13.35
Rawtenstall
22.35a
22.49