30th December 2003
Hertfordshire Rail Tours
The Wey-Out
Route:
1Z73 : Waterloo to Weymouth Town
1Z93 : Weymouth Town to Waterloo
| | |
| --- | --- |
| Loco(s) | Route |
| 73136 | London Waterloo - Clapham Junction - Richmond - Chertsey - Woking |
| 73109 + 73136 | Woking - Andover - Salisbury |
| 73136 + 73109 | Salisbury - Romsey - Eastleigh - Southampton Central - Bournemouth - Weymouth Town |
| 73109 + 73136 | Weymouth Town - Bournemouth - Southampton Central - Winchester - Woking Yard |
| 73136 (1) | Woking Yard - Surbiton - Wimbledon - London Waterloo |
Notes :
(1) 47734 dead-in-tow on rear (for ECS move at Waterloo only).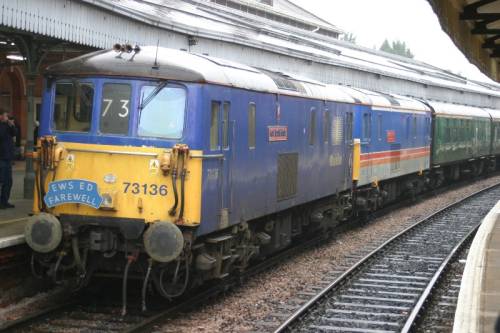 73136 & 73109 at Salisbury (photo : www.railway-images.co.uk)
Source : Steve Goulden (on the train throughout)



Tour Review No.1
(from Janet Cottrell)
This was one of those tours that did not grab my attention straight away - nothing special on the track front and two dud locos, but John (my husband) had other ideas. As somebody who was born and brought up on the Southern, he viewed it as a last chance to bid farewell to something that he had grown up with and so suggested that we book the tour up. Being quite fond of these charismatic little locos, I soon came round to his way (Wey?) of thinking so the day off work and tickets were booked.
Just before Christmas, news filtered through that 73133 was out of service and would not be repaired, this left 73136 as the sole surviving US class 73. As the itinerary involved a spell of running under diesel power a partner would have to be found for it. Various rumours circulated and finally settled on 73109 (required), an unexpected bonus.
Despite the promise of some sunshine the day dawned dull and drizzly. Silverlink and the Northern Line behaved themselves for once and deposited us at Waterloo with plenty of time to spare, the stock was not due in until around 20 minutes before departure with 47734 doing the honours. We had asked for a seat in the front coach out of habit and were slightly surprised to find that we were in the first bay - at least we might get to hear some action on the diesel section between Worthing Junction and Salisbury.
73136 was on it's own at the sharp end as expected and attracting a lot of attention from a myriad of cameras despite the dull weather. For some reason we left 10 minutes late, but this would not matter as the timings looked to be very slack indeed. We left Waterloo in the time honoured fashion on diesel power (to avoid a rough ride and arcing on the gaps in the 3rd rail), but once the train was moving well the shoes were put down and we shot off. However it was noticeable that there was still a large amount of arcing emanating from the front end accompanied at times by a noticeable smell of burning. In fact being a matter of feet from the loco we were treated to a fine display of sparking as we rattled at speed via Feltham, only slowing down to negotiate Staines and Virginia Water.
At Woking, 73109 was waiting in the bay to go on the front although only 8 minutes (official timings) to attach and multi up were rather ambitious. The two minutes quoted in the tour brochure were even more unlikely. After a few problems, the two locos were eventually persuaded to talk the same language and we set off either 17 or 11 minutes late depending on which set of timings you were following. Negotiating Basingstoke without stopping, we kept going to Worting Junction where the object of the exercise appeared to be to leave the "juice" with as much momentum as possible in order to get a good start on the diesel section. Having had experience of pairs of 73's working coal trains to Cricklewood on diesel power I know how underpowered they are working in that mode, a good job that the line to Salisbury is fairly flat. Following a brief thrash up the bank to Grateley, we had 50 minutes to take some photos and savour the delights of Salisbury in the rain before heading for Eastleigh. Our train was displayed on the station monitor as the 1339 to Weymouth "Shoe Box Special" which caused some amusement, at least some people on the railway have been around long enough to remember the old nicknames.
We were now at the back of the train so there was no more diesel thrash to be had, the shoes went back down at Eastleigh in any case and speed increased again as we rocketed towards Weymouth. The slack timings enabled us to arrive a little early at the seaside town despite a stop at Bournemouth to try and batter the train heating into operation. We had been warned that there would be no heating whilst running on diesel power, but it appeared that 73109 did not want to heat the train whilst on electric power either. Despite being next to the vestibule with people leaning out of the windows for a large part of the journey I donít think that anybody around us got really cold as we were careful to make sure that the internal sliding door was kept closed.
The master plan was to raid the nearest chip shop on arrival, but a large number of people had already beaten us to it so we went to find another one, only to be faced with the choice of Wimpy, McDonalds or one other dubious looking shop. However, as we returned to the station a couple of spare seats were spied inside our original target and we were treated to some of the best fish and chips that we have sampled for a long while.
Back at the station, the information monitors were billing us as ďShoe Boxes on TourĒ, 73136 was next to the train once again and some semblance of heat was percolating through the coaches. Apart from a 10 minute stop at Bournemouth (enough time to raid the station buffet for more tea) a spirited run was enjoyed back to Woking. The diesel engines were given another brief blast from Brookwood into the Number 1 reception at Woking Up Yard (rather strangely shown as Woking Down Yard in the official timings but correctly shown in the tour brochure) where we were booked a loco change. In reality this consisted of dropping 73109 off back at itís ďhomeĒ and attaching 47734 to the rear for the ECS move out of Waterloo. Woking Yard was left 14 late after all this activity both ends of the train, although our late departure may have had something to do with the MPV that was too-ing and fro-ing on the adjacent lines.
Now on itís own and with 120 extra tons of dead weight on the rear, 73136 proceeded to try and make up the lost time. The arcing from the front increased again, not sure if the loco was trying to provide itís own fireworks display as a send off or was celebrating the New Year a bit early. We eventually slowed and crossed right over to the far left hand track after Vauxhall, a fairly unusual bit of track to cover and it is shown separately in Bakerís Atlas. There we waited for what seemed like an eternity as Eurostars and 455ís and the like rattled past before we slowly moved off for the final lap into the same platform that we left from this morning. A few mournful honks from the engine as we glided towards the buffer stops and it was all over, for the EWS 73ís at least. Well not quite over as later investigation revealed that 73136 had a final fling that night on itís usual job, the Dover Postal Vans.
In the end I was glad that I did the tour, the only slight beef being that it took 11 hours to cover only 328 miles Ė but that appears to be the way of the world at the moment at least as far as producing railtour timings go.
Janet Cottrell



Tour Review No.2
(from Neil Evans)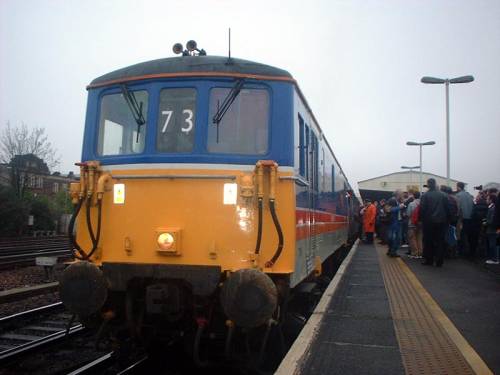 73109 leads at Woking (photo : Neil Evans)
The day started with a flap at Bedford-I forgot my tour ticket and had to walk back home to pick it up, thus missing the 0755 MML HST to St Panc which was allegedly due in at 0806. On returning to Bedford in time to make the 0825 Turbostar it became apparent that the 0755 had not stopped at Bedford but gone storming through! Many highly disgruntled punters! A fast run to St Pan followed with arrival at 0911. 1hr 3 min to cross London-the Victoria & Jubilee lines obliged by getting me to Waterloo at 0936. Looking at the new plasma displays, not easy at the best of times, revealed that the stock was not platformed yet so a breakfast burger was slotted in.
On returning to the concourse the plasma displays now helpfully informed me that the 1014 departure to Weymouth, "The Wey Out" was in platform 19. Sure enough, 47734 was sitting smugly on the end of 9 mk1's and a mk2a (the green EWS ex-RCS set from Bounds Green). I found my seat and wandered off for a couple of photos. The obligatory photographic scrum at the sharp end hid Mainline liveried 73136 at the head of 1Z73. But wait-wasn't there supposed to be 2 ED's on this train? Is 600hp going to be sufficient on the 1-in-220/165 10 mile climb to Grateley, or the even more ferocious hills west of Bournemouth to Weymouth? A query with one of the HRT stewards revealed that due to EWS's other two 73's having conked out in the last week or two, SWT's Woking thunderbird 73109 was coming out to play and would be joining us at Woking. A couple of photos were snapped and I rejoined the train with about 3 min to spare. However, 1014 came and went and no movement-for reasons unexplained we didn't set off until 10:23:08.
A fairly slow exit followed from Waterloo, taking 13 secs short of 7 min for the first 2.5 miles to Queenstown Rd. At Clapham we turned right and headed through the leafy London suburbs of Barnes, Richmond, Staines & aptly-named Virginia Water (it was by now raining). Speed was in the 50-60mph range. Regaining the main line at Addlestone Junction, we were routed slow line for a reasonable trot into Woking. A 1 second early arrival into Woking saw dozens of hardy souls brave the rain for some photos of 73109 being attached. The actual attachment was fairly quick-we had the road by about 1122 and at 1124 we were told to get back on the train. We then got held for the 1130 Yeovil Sprinter (159020 for those who are really interested), finally getting away at 11:34:28. A reasonable run to Basingstoke saw us a mere 5min 52s late and we were routed onto the fast line.
Now off the juice we had 2 x 600hp diesels moving us and it showed in a slow climb to the summit at Battledown, but then we romped down to Andover, for the slog up to the summit at Grateley. Another romp down the hill into Salisbury saw us arrive 15min early at 1244. Most people got off for a few photos of the run-round but it was raining still, so I doubt if very many took the opportunity for a stroll into the town.
66031 ran through LE two minutes before we departed at 1340 this time with 73136 leading. The 1 in 150 climb to Alderbury took it's toll-we spent 15min covering the 10 miles or so to Dean. But then we picked up speed and stormed through Dean at an estimated 80mph+. Turning left at Romsey we entered the freight only section to Eastleigh, then ran through Southampton, where the new liner Queen Mary 2 is currently berthed. Several 57's and 47's were noted lurking in the yard.
As we toddled on towards Bournemouth it became obvious that either there was something wrong with the heating or someone had forgotten to turn it on. An unscheduled stop was made in Bournemouth where 73109 was investigated. Apparently class 73's have their heating controlled from the rear cab of the train engine. The attempts to get the heating working were unsuccessful so of we set onwards to Weymouth. So we have the bizarre situation that 73136, the EWS freight only machine due for withdrawal in 2 days time, could heat our train perfectly well, whereas SWT's 73109, far more likely to be seen on a passenger train, can't!
An uneventful run to Weymouth followed, with arrival 6 minute early at 1553. There was then the spectacle of a crowd of people gathering round the front of the train, flashguns going off all all over the place. This caused a certain amount of amusement to some of the locals. 3 girls, on realising that this was a bunch of "trainspotters", were heard to remark "You can have my number!"
A quick visit to a local coffee shop followed in an attempt to keep warm and out of the freezing sea-breeze, then back to the train in time to catch a few photos in the darkness. Walking back to my seat the automated station announcement was heard announcing that the train in platform 2 (i.e. ours) was the 1730 Thameslink City-Flier service to London Waterloo!
The run back to Waterloo was uneventful and punctual up until Woking where we stopped in the Up Yard to detach 73109 and attached 47734 to the rear ready to extract the ECS from Waterloo. After the driver had finally pulled us far enough for 47734 to be attached, 73109 was detached and we then spent a dull 15 min watching some sandite/de-icer glide up and down on the adjoining running lines before crawling into Woking, no doubt having caused some missed connections for a few unlucky souls.
Departure from Woking was 8 late and we had a good run SL to Hampton court where we regained the fast lines. Again 73136 on it's own and with 115 tons deadweight on the rear made a good account of herself but a potentially good storm was spoiled by a check at Wimbledon. We never regained the pace from there and a 10 min check outside Waterloo on the Eurostar arrival line saw us 23 late into platform 19.
Another end-of-tour photographic scrum followed with the English Electric crowd much in evidence. I took a few shots then headed for the Jubilee line only to get caught at Green Park for 15 min awaiting a Victoria Line train, thus missing my HST home. So ended a very enjoyable day out on a near-faultless tour. Thanks to the chaps at HRT, EWS, SWT etc.....I'll be back for the SWT Thunderbird Farewell tour! Lets hope 73109 has it's heating fixed by then!
Neil Evans



Timings (Booked & Actual)
(from John Clifford)
M.C
Location
Booked
Actual
Booked
Actual
M.C
0.00
Waterloo
10.14d
10.23
21.02a
21.26
328.03
1.78
Nine Elms Jn
10/19
10/28
20/56
21/07
326.05
2.50
Queenstown Road
10/20
10/30
20/55
21/05
325.33
3.74
Clapham Junction
10/23
10/33
20/51
21/02
324.09
7.07
Barnes
10/25
10/38
9.57
Richmond
10/31
10/41
11.22
Twickenham
10/34
10/43
13.35
Feltham Jn
10/36
10/45
19.02
Staines
10/43
10/52
23.15
Virginia Water
10/53
10/57
28.06
Addlestone Jn
11/04
11/06
-
Wimbledon
20/47
20/57
320.64
-
New Malden
20/44
20/55
318.21
-
Surbiton
20/42
20/52
316.00
-
Hampton Court Jn
20/41
20/51
314.56
-
Weybridge
20/34
20/46
308.71
29.06
Byfleet & New Haw
11/09
11/08
20/31
20/44
307.51
33.01
Woking
11.15a ~ 11.17d
11L15 ~ 11L35
20.23a ~ 20.26d
20.36 ~ 20.39
303.56
-
Woking Up Yard
20L02a ~ 20L21d
20.11 ~ 20.34
303.33
36.53
Brookwood
11/24
11/41
38.22
Pirbright Jn
11/26
11/43
41.71
Farnborough
11/30
11/46
19/51
19/54
294.66
45.12
Fleet
11/34
11/49
56.35
Basingstoke
11/54
12/02
19/37
19/38
280.22
58.75
Worting Jn
12/00
12/05
19/34
19/36
277.62
74.73
Andover Jn
12/37
12/20
91.10
Tunnel Jn
12/53
12/41
92.17
Salisbury
12.57a ~ 13.37d
12.43 ~ 13.40
93.24
Tunnel Jn
13/40
13/45
101.15
Dean
13/53
13/56
108.58
Romsey
14/01
14/03
115.63
Eastleigh East Jn
14/15
14/12
-
Winchester City
19/20
19/21
261.44
-
Shawford
19/15
19/16
258.33
115.70
Eastleigh
14/16
14/14
19/07
19/08
254.48
119.45
St Denys
14/21
14/19
19/03
19/04
250.73
120.50
Northam Jn
14/26
14/20
19/01
19/01
249.68
121.54
Southampton Central
14/29
14/22
18/59
18/59
248.64
124.75
Redbridge
14/33
14/27
18/56
18/56
246.13
135.21
Brockenhurst
14/43
14/38
18/46
18/46
235.17
150.37
Bournemouth
15/05
14.55a ~ 15.03d
18.20a ~ 18.30d
18.20 ~ 18.31
220.01
153.06
Branksome
15/10
15/09
18/15
18/16
217.32
156.17
Poole
15/19
15/14
18/10
18/10
214.21
163.25
Wareham
15/27
15/23
18/02
17/58
207.13
168.24
Wool
15/32
15/28
17/53
17/53
202.14
172.59
Moreton
15/37
15/32
17/48
17/49
197.59
178.25
Dorchester South
15/43
15/38
17/42
17/43
192.13
178.50
Dorchester Jn
15/45
15/39
17/41
17/42
191.68
185.19
Weymouth
15.59a
15.53
17.30d
17.31
185.19