27th December 2003
Pathfinder Tours
Settle & Carlisle Circular 1
| | |
| --- | --- |
| Locos Used | 56078, 56106 & 66560 |
| Stock Used | 6310+3068+3069+3066+3148+3112+17056+1842+5350+5275+5307+5364+5365 |
Route:
1Z73 : Crewe to Carlisle
1Z74 : Carlisle to Crewe
| | |
| --- | --- |
| Loco(s) | Route |
| 56106 | Crewe - Alsager - Kidsgrove - Stoke-on-Trent - Uttoxeter - Derby - Ambergate Jn - Chesterfield - Tapton Jn - MP147 |
| 66560 (1) | MP147 - Beighton Jn - Masborough Jn - Swinton - Moorthorpe - Hare Park Jn - Calder Bridge Jn |
| 56078 | Calder Bridge Jn - Altofts Jn - Engine Shed Jn - Shipley - Skipton - Hellifield - Settle Jn - (via S&C) - Carlisle |
| 56078 | Carlisle - (reverse of outward route) - Crewe |
Notes :
(1) Plus 56106 dead-in-tow. 66560 was added because of TPWS & braking problems (the latter believed to be as a result of the TPWS problem). On the return leg 56078 suffered a similar problem, nearly leading to its replacement by 47789 which was close to being despatched from Crewe to assist.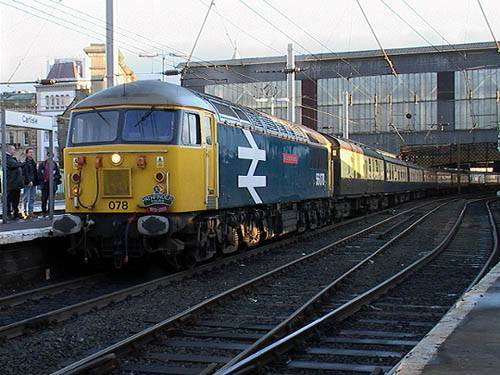 56078 at Carlisle (photo : Kevin Law)
Sources : Pathfinder Tours, Roger Elliott & Janet Cottrell



Tour Review
(by Kevin Law)
Pathfinderís Xmas Settle and Carlisle No.1 charter was originally planned, as last year, to commence at Derby, pick up at stations to Crewe and then head northwards. Due to engineering work on the WCML the starting itinerary was reversed and for those of us joining at Derby, although we surrendered some class 56 mileage, we did enjoy an extra two hours in bed.
At 09.00 1Z73 pulled effortlessly into platform one at Derby behind the 56106 with its thirteen coach load and seasonal occupants totally unaware that this was to become a mini spin-and-win! Departure from Derby is eight minutes late at 09.06 and our steed pulls up no trees to Chesterfield where we approach on "yellows" and eventually get a "red" and come to a stand at Hasland. After a few minutes the signal pulls off and we glide gingerly through Chesterfield and cross over the ladder onto the goods line at Tapton Junction, we should now be experiencing some serious 56 thrash to Barrow Hill - we are not! In fact, 56106 is quite subdued and the driver decides to end its misery by bringing the train to a stand at the signal at Lockoford Lane, the location immediately before the main and goods lines physically diverge.
No amount of banging and hammering by a posse of yellow-jacketed railwaymen can coax our failed friend back to life and after a prolonged spell of proverbial head-scratching assistance is summoned. Surprisingly, in this climate of privatisation, our rescue locomotive has been despatched from Barrow Hill, it was just like old times, I immediately recalled an early day in November 1981, when 56084 had been despatched from Barrow Hill to assist 45120 which had failed at Chesterfield on the 11.53 St.Pancras-Sheffield, a quick hop to Sheffield behind the 56 and back on the Manchester-Harwich Parkeston Quay "Boat Train" behind 47581 "Great Eastern", happy days, but I digress.
In an atmosphere of heightened anticipation our patience is rewarded when Freightlinerís 66560 comes round the curve and into view "bang road" from Barrow Hill. It announces its arrival by setting off the first "det" protecting our train and no sooner has the resultant wisp of smoke dispersed off goes the second and then the third and 66560 slowly couples up to 56106.
After standing for around 50 minutes and brake test satisfactorily completed we were on our way again at 10.39. Full marks to the EWS power controller for his swift action though it must have cost his company a few bob, perhaps neither Toton nor Worksop could provide a spare man?
But letís praise them and not bury them, we are on our way and there is a further surprise in store. After Masborough and Moorthorpe we join the electrified Leeds-Doncaster line at South Kirkby Jn and then diverge right at Hare Park Jn and waiting for us at Calder Bridge Jn just to the south of Wakefield Kirkgate (itís OK, I had to look it up too!) was blue liveried 56078 adorned with "Doncaster Enterprise" nameplates and large logo, the same livery as 56084 mentioned above, marvellous.
Another delay but the enthusiast fraternity are unconcerned, it is turning into a good day. 66560 removes 56106 from our train and heads into the distance possibly to Healey Mills and then 56078 crosses from the up line to the down and sets back to couple up. We are on our way once more running 84 minutes late but who cares? Itís already a good day.
We are booked in Carlisle from 14.08 to 15.30, a mere 82 minutes, at this stage giving us a minus two, but Pathfinder have been busy behind the scenes and the tannoy stutters into life to announce that departure from Carlisle has been put back to 16.05, well done Pathfinder, who wants to spend minus two minutes in Carlisle? Seriously though, there were many non enthusiast passengers on our excursion and credit to the organisers for the extra time, as it turned out we actually had fourteen minutes longer in Carlisle than we would have had originally. What actually happened was that we followed the 15.51 Leeds service out of Carlisle instead of it following us.
We negotiate the curve past Engine Shed Jn., Leeds, and race through the Aire Valley, pausing at Skipton for a crew change and forego our booked 25 minute "leg stretch" at Hellifield. Up until now the weather, though bitterly cold, has been intervals of sun and cloud but that is about to change dramatically, after all, we are approaching the S & C! Dark clouds have congregated and as we pass Settle Junction for the climb to Blea Moor it starts to snow. Penyghent is clouded in, well, cloud, but the snow doesnít last long and by the time we pass Ais Gill and drop down towards Kirkby Stephen we are treated to the vista of bright sunshine enlightening a snow-topped Mallerstang Common.
We arrive at our destination at 14.33 just 15 minutes late, so after photographs of 56078 are taken we have time for a quick pint in a nearby pub and a bite to eat and weíre ready to go back home.
The empty stock arrived back from Kingmoor at around 15.45 and five minutes later a charming young lady in a charming red coat made vain attempts to get the train away with bouts of strenuous whistle blowing obviously not having been made aware of its retiming, to her deep consternation nobody took any notice.
We departed Carlisle at 16.09, a few minutes late on our new schedule and ran around 20-30 minutes late throughout back to Derby. The only event worthy of note was the generator in the van at the rear ran out of fuel somewhere around Moorthorpe and with each passing mile the train got a colder and colder, still, a minor inconvenience and arrival back in Derby was 20.06, eighteen minutes down on our original timings. Two 56's and a Freightliner 66, I hadnít expected that when I woke up this morning, it was definitely a good day.
If you would like to travel along the Settle and Carlisle from the comfort of your armchair the scribe has a website about the S & C at www.railwayphotos.net There is an option for broadband users to view in widescreen format.
Kevin Law



Timings (Booked & Actual)
(booked timings courtesy of Pathfinder Tours)
| | | | | | | | |
| --- | --- | --- | --- | --- | --- | --- | --- |
| M.C | Location | Booked | Actual | | Booked | Actual | M.C |
| 0.00 | Crewe | 07.20d | 07.26 | | 22.00a | 22.28 | 238.49 |
| 6.13 | Alsager | 07.31a ~ 07.33d | 07.37 ~ 07.39 | | 21.47a ~ 21.49d | 22.15 ~ 22.16 | 232.36 |
| 8.52 | Kidsgrove | 07.40a ~ 07.43d | 07.43 ~ 07.46 | | 21.37a ~ 21.39d | 22.10 ~ 22.12 | 229.77 |
| 15.03 | Stoke-on-Trent | 07.54a ~ 07.56d | 07.55 ~ 07.59 | | 21.15a ~ 21.26d | 21.15 ~ 21.22 | 223.46 |
| 20.58 | Blythe Bridge | 08.08a ~ 08.10d | ? | | 20.54a ~ 20.57d | ? | 217.71 |
| 31.68 | Uttoxeter | 08.23a ~ 08.25d | ? | | 20.36a ~ 20.39d | ? | 206.61 |
| 39.52 | Tutbury & Hatton | 08.36a ~ 08.38d | 09.39 ~ 08.44 | | 20.22a ~ 20.25d | 20.31 ~ 20.35 | 198.77 |
| 50.77 | Derby | 08.56a ~ 08.58d | 09.00 ~ 09.06 | | 19.48a ~ 20.02d | 20.06 ~ 20.12 | 187.52 |
| 60.70 | Ambergate Jn | 09/08 | 09/22 | | 19/35 | 19/55 | 177.59 |
| 75.08 | Chesterfield | 09/23 | 09/48 | | 19/21 | 19/41 | 163.41 |
| 91.12 | Masborough Jn | 10/03 | ? | | 18/49 | ? | 147.37 |
| 95.41 | Swinton | 10/09 | 11/07 | | 18/42 | 19/13 | 143.08 |
| 103.38 | Moorthorpe | 10/17 | 11/16 | | 18/26 | 19/04 | 135.11 |
| 110.14 | Hare Park Jn | 10/28 | 11/26 | | 18/18 | 18/54 | 128.35 |
| 111.43 | Crofton West Jn | 10/31 | ? | | 18/14 | ? | 127.06 |
| 112.55 | Calder Bridge Jn | 10/33 | 11.45a ~ 11.57d | | 18/12 | ? | 125.74 |
| 113.25 | Turners Lane Jn | 10/35 | 12/04 | | 18/10 | ? | 125.24 |
| 116.47 | Altofts Jn | 10/39 | 12/08 | | 18/05 | 18/38 | 122.02 |
| 118.04 | Methley Jn | 10/41 | 12/10 | | 18/02 | 18/35 | 120.45 |
| 125.67 | Engine Shed Jn | 11/10 | 12/17 | | 17/49 | 18/27 | 112.62 |
| 126.19 | Whitehall Jn | 11/16 | 12/19 | | 17/47 | 18/25 | 112.30 |
| 136.36 | Shipley | 11/31 | 12/33 | | 17/33 | 18/13 | 102.13 |
| 142.51 | Keighley | 11/38 | 12/40 | | 17/26 | 18/06 | 95.78 |
| 141.66 | Skipton | 11c56a ~ 11c58d | 12.51 ~ 12.53 | | 17c12a ~ 17c14d | 17.51 ~ 17.56 | 86.63 |
| 161.60 | Hellifield | 12*11a ~ 12*26d | 13.05 ~ 13.06 | | 17/01 | 17/41 | 76.69 |
| 165.05 | Settle Jn | 12/31 | ? | | 16/57 | ? | 73.44 |
| 177.65 | Ribblehead | 12/47 | ? | | 16/44 | ? | 60.64 |
| 179.04 | Blea Moor | 12/50 | ? | | 16/41 | ? | 59.45 |
| 187.20 | Garsdale | 13/01 | ? | | 16/32 | ? | 51.29 |
| 197.05 | Kirkby Stephen | 13/11 | 13/48 | | 16/20 | 17/00 | 41.44 |
| 207.67 | Appleby | 13/22 | ? | | 16/08 | ? | 30.62 |
| 215.20 | Culgaith Crossover | 13/31 | ? | | 15/58 | ? | 23.29 |
| 230.20 | Low House SB | 13/46 | ? | | 15/48 | ? | 8.29 |
| 237.57 | Petteril Bridge Jn | 14/04 | 14/30 | | 15/33 | 16/11 | 0.72 |
| 238.49 | Carlisle | 14.08a | 14.33 | | 15.30d | 16.09 | 0.00 |