6th December 2003
Past Time Rail
The Christmas Edinburgh Flyer
| | |
| --- | --- |
| Loco Used | 90027 |
| Stock Used | 3144+3131+80041+3132+3100+3110+1671+4996+4949+5008+4915+21245 |
Route:
1Z90 : 07.13 Kings Cross to Edinburgh Waverley
1Z19 : 18.03 Edinburgh Waverley to Kings Cross
| | |
| --- | --- |
| Loco | Route |
| 90027 | 07.13 London Kings Cross - (via ECML, Darlington station) - Edinburgh Waverley |
| 90027 | 18.03 Edinburgh Waverley - (via ECML, Darlington station avoiding lines) - London Kings Cross |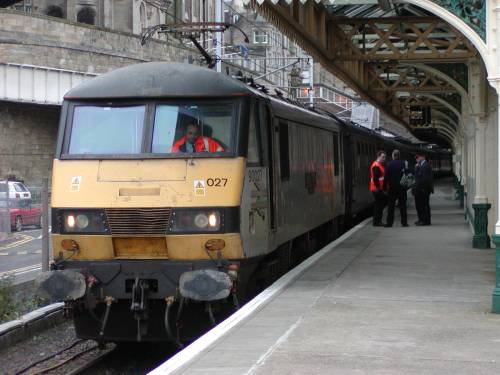 90027 waits to leave Waverley for Craigentinny with the stock.
Source & photo : Gary Thornton (joined/left the train at Peterborough)



Tour Review
(by Gary Thornton)
Another Saturday, another railtour, another trip to Edinburgh! After last weeks soaking in the Scottish capital I was truly hoping for a dry trip this time! This was the fairly traditional family outing, though this years trip was routed East Coast rather than West Coast so a drive to Peterborough was required to pick up Past Time Rails "Christmas Edinburgh Flyer".
Watching 90027 pull in with the train at about 08.20 was satisfying for two reasons, firstly 90027 was a required haulage and secondly I was getting hungry and breakfast has just arrived.
Other than noting large-logo blue 47635 on the stabling point the next 90 minutes or so were spend demolishing the Great British Breakfast;
Fresh Orange Juice
Porridge Oats with Fresh Cream
The Grill Tray (Egg, Bacon, Sausage, Tomato, Fried Bread, Hash Brown, Baked Bens & Sauté Mushrooms)
...all washed down with lashings of coffee and several rounds of toast.
By this time it was York where we collected some more passengers (and, I believe, a new crew). The sight of D200 outside the NRM reminding me of last weekends trip to Edinburgh with 40145. Unusually we were routed (non-stop) through Darlington station, rather than the avoiding line as is the norm for charters.
Lunch commenced somewhere around the border and consisted of;
Baked Quiche Lorraine
Served With a Side Salad & Coleslaw
...with a bottle of Old Speckled Hen it went down rather nicely!
The first good thing to report is that the weather in Edinburgh was a vast improvement on my last two Saturdays out railtouring - overcast yes, but at least it was DRY! After 90027 ran-round the stock there was a long wait as the driver needed a conductor to take the train to Craigentinny for servicing. Hearing the stock was to be cleaned, as well as the staff coach needing to be shunted to the opposite end of the train (mark 1 regulations as, otherwise, the rear FO would have to be cleared of dining passengers!) I was hoping that five hours would be enough...or rather three and a half as the stock sat in platform 21 for almost 90 minutes before heading off.
I covered various GNER services in the hope of seeing 91125 or 43167 (my last two GNER required haulages) but I was out of luck. A walk round the German Christmas Market near the station and also Princes Street Gardens was enjoyed before heading back to the station, just in time to see 67024 departing late with a VSOE outing, back to Warrington (?) according to the departure screens. I had to smile as 67024 was one of the three 67's I still need to clear the class for sight - and in the following few minutes I also scored 170425 & 221136 for sight! My reason for smiling all the more was that I had planned to meet the family in the Guilford Arms, but had flagged that on account it was wedged so what a good decision it turned out to be in the circumstances.
Departure from Edinburgh was a little unusual in being from platform 19 rather than the more normal 20 or 21. 90027 brought the stock in then ran round to return us southwards. For those of us in Premier Class, Edinburgh to somewhere south of Doncaster consisted of;
Smoked Salmon and Breaded Tiger Prawns
Served with a Chilli Mayonnaise and Salad Garnish
Roast Norfolk Turkey
Accompanied with a Chipolata and Bacon Wrap and a Sage and Onion Stuffing
Honey Roast Carrots & Parsnips
Brussels Sprouts with Chopped Chestnuts and Cream
Thyme Roasted and Minted New Potatoes
Christmas Pudding
Served with Brandy Sauce
Cheese & Biscuits
Mince Pies
Tea & Coffee
Served with Petit Fours
....all neatly despatched with a(nother) bottle of Old Speckled Hen and also a bottle of Australian Chardonnay!
The fact our coach was not full (about 30 passengers against capacity of 42) also meant seconds were offered! A hard week in the gym beckons, especially as the Christmas period of excess is fast approaching!!
Storming through Doncaster station at line speed is another relatively unusual event, shame we hadn't got better traction up front for the experience (a Deltic, a 40 for example...)
Arrival back into Peterborough was bang on time at 10pm at the end of a superb day out. Although the dining option is expensive compared to going standard class I can recommend it for a really different day out, particularly if you are in the right company.
Gary Thornton



Timings (Booked & Actual)
Location
Booked
Actual
Booked
Actual
Kings Cross
07.13d
07.13
23.07a
23.02
Belle Isle
07/15
07/15
23/04
23/00
Finsbury Park
07/17
07/18
23/00
22/58
Alexandra Palace
07/19
07/19
22/58
22/56
Potters Bar
07.26a ~ 07.28d
07.25 ~ 07.29
22.50a ~ 22.52d
22.48 ~ 22.50
Welwyn Garden City
07/35
07/36
22/44
22/43
Woolmer Green
07/38
07/40
22/42
22/40
Stevenage
07.42a ~ 07.44d
07.43 ~ 07.46
22.35a ~ 22.38d
22.32 ~ 22.34
Hitchin
07/49
07/51
22/31
22/29
Sandy
07/58
07/58
22/24
22/22
Huntingdon
08/07
08/06
22/15
22/13
Connington South Jn
22/09
?
Holme LC
08/13
08/13
Peterborough
08.19a ~ 08.21d
08.19 ~ 08.23
22.00a ~ 22.02d
21.59 ~ 22.01
Tallington Jn
08/29
08/29
21/53
21/52
Stoke Tunnel
08/40
08/38
21/44
21/43
Grantham
08/45
08/41
21/40
21/40
Barkston South Jn
08/47
08/44
21/37
21/37
Newark Northgate
08.55a ~ 08.58d
08.52 ~ 08.58
21.28a ~ 21.30d
21.27 ~ 21.30
Retford
09/12
09/11
21/16
21/15
Loversall Carr Jn
09/23
09/19
21/07
21/07
Doncaster
09/25
09/21
21/04
21/05
Shaftholme Jn
09/28
09/24
21/02
21/02
Temple Hirst Jn
09/34
09/30
20/56
20/57
Hambleton North Jn
09/41
09/42
20/53
20/53
Colton Jn
09/49
09/51
20/48
20/49
York
09.53a ~ 09.55d
09.55 ~ 10.00
20.41a ~ 20.43d
20.39 ~ 20.44
Skelton Jn
09/58
10/02
20/39
20/36
Tollerton
10/03
10/08
20/32
20/31
Thirsk
10/11
10/15
20/23
20/24
Northallerton
10/15
10/20
20/17
20/20
Darlington
10/25
10/29
20/08
20/12
Ferryhill South Jn
10/34
10/38
19/57
20/04
Durham
10/40
10/45
19/48
19/58
Birtley
10/49
10/55
19/40
19/52
King Edward Bridge Jns
10/52
11/01
19/34
19/48
Newcastle
10.54a ~ 10.56d
11.04 ~ 11.05
19/32
19/47
Heaton South Jn
11/00
11/07
19/29
19/44
Morpeth
11/14
11/17
19/18
19/28
Morpeth North Jn
11*16a ~ 11*27d
?
?
?
Alnmouth
11/43
11/40
19/06
19/16
Belford
11/55
11/51
18/56
19/05
Berwick-upon-Tweed
12/05
12/01
18/46
18/50
Marshall Meadows
12/07
12/06
18/43
18/48
Grantshouse
12/17
12/15
18/32
18/38
Dunbar
12/25
12/23
18/23
18/28
Drem
12/32
12/31
18/16
18/21
Monktonhall Jn
12/47
12/47
18/09
18/14
Portobello Jn
12/52
12/51
18/07
18/12
Edinburgh Waverley
12.56a
12.56
18.03d
18.07