29th November 2003
Steamy Affairs
St Nicholas Fayre in York
Route:
1Z55 : Colchester to York
1Z56 : York to Colchester
| | |
| --- | --- |
| Locos | Route |
| 33103 + 33202 | (2) Colchester - Chelmsford - Ilford - Stratford - Channelsea North Jn - Dalston Jn - Canonbury West Jn - Finsbury Park - (via ECML) - York |
| 33103 + 33202 | York - (reverse of outward route) - Colchester |
Notes :
(1) Was originally booked for Deltic haulage (D9016). D9000 Locomotives Ltd Website carried the following comments : "Due to a last minute paperwork problem, D9016 'Gordon Highlander' will unfortunately not be available to work the Steamy Affairs 'St Nicholas Fayre' tour to York this Saturday November 29th. DNLL apologise for the disappointment that the non-appearance of D9016 will bring, but in spite of strenuous efforts, it was not possible to solve this problem in time for Saturday's tour."
(2) Was originally advertised to start at Clacton but this changed and a bus was used to get Clacton passengers to/from the tour at Colchester.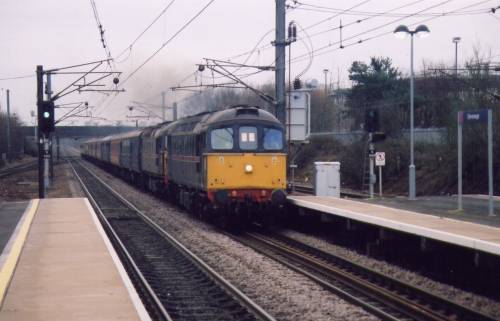 The 33's storm through Stevenage (photo: Robert Frise)
Sources : various including Solomon Riley



Tour Review
(by 'Giddy Aunt')
During the final trip of the day at the Swanage Railway Diesel Day, someone was heard to say, "Last thrash of the year!" Little did they know what was going to happen over the next few days.
Steamy Affairs had intended to use D9016, freshly painted in two-tone green, for their Colchester - York railtour on 29th November. However, the operator; Merlin Rail, had concerns about the documentation for D9016. With insufficient time to complete the missing paperwork, Merlin tried to find another loco or two to haul the train. As luck would have it, both of the mainline 50s were already engaged with Pathfinder tours that day. So, they contacted Fragonset to find out what they had spare for a weekend, expecting a 47 or pair of 31s. However, with all their examples of those classes already committed to other work, or at Derby being fitted with TPWS. It turned out that 33103 and 33202 were not required by EWS for that particular weekend.
So, I received a phone call saying that I might be interested in speaking to Alan at Steamy Affairs about their trip to York. The booking was swiftly done and the email, text and phones went into overdrive while various other people arranged themselves to get to the tour.
The three of us sharing the car journey left home at 0315. We arrived at Colchester Station in plenty of time to find the free car park and make our way to the relevant platform. The place gradually filled up with catering staff, stewards and passengers, eventually the 10 mk2 coaches rolled in from the North hauled by 33202 & 33103. The empties had ran overnight from Old Oak Common to Ipswich.
Departure was just about on time; 0615 as we found our seats. It was something of a novelty to be in a Crompton hauled train formed of ex Virgin Cross Country Mk2f air conditioned stock. Riviera Trains had included a generator van, so there was no danger of the 33s being expected to try to heat the wrong sort of coaches.
We travelled up the Great Eastern mainline to Stratford, diverged right onto the North London Line, joining the ECML at Finsbury Park. The timings had not been altered, despite the change from a 100mph Deltic to 85mph Cromptons. As it turned out, the schedule was so relaxed that a pair of 37s could have just about kept up. There was a booked crew change at Peterborough and we continued our journey to York, arriving on time at 1131. Despite the horizontal rain, many Crompton aficionados savoured the moment while the locos ran round the train, ready to haul it off to Holgate Reception Sidings. 33202 had managed to be the first 'Slim' to York on a passenger train.
After lunch and beers, a group of us met up at the NRM. I had last been there in 1989, so had not seen the enlarged museum or 'The Works'.
We returned to York Station to be greeted with the news that 33103 had failed to start after being shut down at Neville Hill Depot for fuel. However, Fragonset had arranged for a couple of fitters to attend the loco when they returned to York.
There had been some other problems with a NENTA charter from Norwich, 47739 had hauled an Anglia set from Norwich that morning. Its engine shut down several times during the journey to York and was failed at York. EWS arranged to provide 56091 to haul the NENTA tour round the Harrogate Loop and back to York while another ETH loco was found. Unfortunately, the 'grid' failed at Healey Mills and the promised 60091 never materialised! Meanwhile 47732 'Restormel' in its tatty RES livery was taking more than 3 hours to run from Peterborough, a light engine being low priority for the ECML signallers!
There was more fun when 50049 & 50031 came spluttering into York Station for a crew change, en route to Swindon. They made a characteristically smoky exit to much derision from the crowds on the platforms.
47732 finally arrived and was coupled to its cold train. There seemed to be a problem with the ETH, until a passenger from the Crompton train told the EWS guard how to plug the coach plug into the loco receptacle! Restormel then strummed merrily away to itself, busily pumping warmth into its train.
Finally, the 2 33s came into sight on Holgate Curve and brought our train into platform 10. Only 33202 was running at this stage but the Fragonset fitters got to work and 33103 was up and running by the time the locos had run round the train.
We finally departed an hour and 20 minutes late, because they had decided to run the 2 33s round each other at NH. Apparently there were problems with 103's buffers but it attached to the train with no problem.
Our coach was now at the business end, and despite the cold November weather, a few of us hardy souls took up the tour organisers suggestion to lower the drop lights in the front vestibule! The southbound timings were much more tightly scheduled, but the Cromptons managed to claw back nearly an hour by the time we got back to Colchester.
An enjoyable day out, despite the early start and late finish. The £69 fare for standard class was somewhat chingtastic. But the train was nearly full, so Steamy Affairs must know what they are doing... After a dearth of Crompton mainline action since 'The Rhins & Machars' in May 2002, it was too much to resist this high mileage tour. Coming only a week after Pathfinder's 'Sussex Sulzer' also hauled by 33202.
'Giddy Aunt'



Timings (Booked & Actual)
Location
Booked
Actual
Booked
Actual
Colchester
06.15d
06.15
22.03a
23.14
Marks Tey
06/20
06/21
21/57
23/09
Witham UPL
06/27
?
Witham
06.29a ~ 06.38d
06.29 ~ 06.41
21/51
23/02
Chelmsford
06.47a ~ 06.50d
06.50 ~ 06.54
21.39a ~ 21.42d
22.51 ~ 22.54
Shenfield
07.02a ~ 07.05d
07.04 ~ 07.07
21.17a ~ 21.26d
22.40 ~ 22.41
Gidea Park
07/11
07/13
21/06
22/33
Ilford
07/17
07/17
20.48a ~ 20.51d
22.22 ~ 22.24
Forest Gate Jn
07/19
07/19
20/43
22/20
Stratford
07.21a ~ 07.23d
07.24 ~ 07.28
20.28a 20.40d
22.08 ~ 22.18
Channelsea North Jn
07/28
?
20/25
?
Dalston Jn
07/41
07/36
20/17
21/56
Canonbury West Jn
07/45
07/39
20/09
21/54
Finsbury Park
07/48
07/43
20/05
21/49
Alexandra Palace
07/58
07/55
20/01
21/44
Potters Bar
08/14
08/12
19/56½
21/37
Welwyn Garden City
08/19
08/19
19/52
21/31
Woolmer Green Jn
08/22
08/22
19/48
21/29
Stevenage
08/25
08/26
19/45
21/25
Hitchin
08/28
08/30
19/41
21/23
Sandy
08/38
08/39
19/33
21/12
Huntingdon
08/50
08/50
19/23
20/57
Connington South Jn
19/18
?
Holme LC
08/59
08/59
Peterborough
09/13
09/08
19/12
20/42
Helpston Jn
09/27½
09/20
Tallington Jn
09/44
09/26
19/04
20/25
Stoke Tunnel
10/08
10/12
18/55
20/12
Grantham
10/22
10/18
18/51
20/07
Barkston South Jn
10/26
10/21
18/48
20/00
Newark North Gate
10/33
10/29
18/42
19/52
Retford
10/44
10/43
18*12a ~ 18*21d
19.38 ~ 19.38
Loversall Carr Jn
10/52
10/52
18/02
19/26
Doncaster
10/55
10/58
17/57
19/22
Shaftholme Jn
10/59
11/02
17/53
19/13
Temple Hirst Jn
11/05
11/09
17/47½
19/07
Hambleton North Jn
11/11
11/13
17/44
19/03
Colton Jn
11/20
11/19
17/38
18/57
York
11.31a
11.26
17.32d
18.51