22nd November 2003
Hertfordshire Rail Tours
The Wymondham Willows
| | |
| --- | --- |
| Locos Used | 67008 & 67009 |
| Stock Used | 17015+3114+3127+1696+3124+3119+5007+5023+4986+1832+5027+5482 |
Route:
1Z66 : Kings Cross to Norwich
1Z67 : Norwich to Kings Cross
| | |
| --- | --- |
| Loco(s) | Route |
| 67009 (1) | London Kings Cross - (via ECML) - Hitchin - Royston - Cambridge - Ely - Thetford - Wymondham |
| 67008 (2) | Wymondham - Dereham |
| 67009 (1) | Dereham - Wymondham - Norwich |
| 67008 (2) | Norwich - Wymondham - Thetford - (reverse of outward route) - London Kings Cross |
Notes :
(1) 67008 on rear.
(2) 67009 on rear.
Source : Gary Thornton (joined/left the train at Potters Bar)



Tour Review
(by Gary Thornton)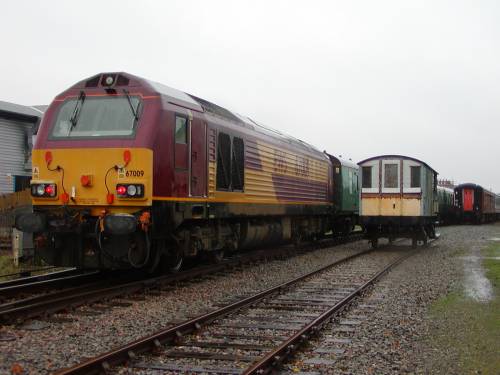 67009 at Dereham on the Mid Norfolk Railway
(photo taken with consent of the MNR)
It seems hard to believe that it has been over three months since I have been on a UK railtour! Maybe that is just a reflection on the general level of my interest in what has been on offer of late... (not that this should necessarily be taken as a criticism of the tour operators I hope you'll understand).
Todays railtour, whilst relatively simple in format, was a good choice for me as it was due to travel over one of the last lengthy pieces of track I need in the Country, that from Wymondham to Dereham, now of course part of the Mid Norfolk Railway (MNR).
Having gone to bed on the Friday night with a thick fog outside it was a bit of a surprise to wake up on Saturday morning to find it raining heavily. An hour by car found me at Potters Bar where it was still raining heavily. Departure time came and went with no sign of the train even though the screens gave it as on time and departing from platform 3 (the fast line platform). A few minutes later and the triangular headlights of a class 67 appeared and the train promptly pulled into the slow lines platform (as against the fast platform as advertised). Lead loco was 67009 and 67008 was on the rear - 9 was dud but 8 a winner.
Despite departing 11 minutes late and absolutely staggering, we were still held outside Stevenage waiting time! As this was the last pick-up point I used the opportunity to move to an empty 4-bay as the train was not full. A couple of friends also joined me from another coach. We wended our way to Wymondham (in the rain) wondering if the weather would improve as the day wore on (question : just how many w 's can I get into one sentence?).
At Wymondham we reversed direction and I scooped 67008 as a result. A reasonable run along the line of the Mid Norfolk Railway saw us arrive into Dereham some 7 minutes early. It was still raining! With over two hours to explore we had a look at some of the MNR's stock including D8069, 31235, 31538, 50019, 55006, 55009 and various other DMU's including 141108. Oh, in case you are wondering the two 55's were bubble cars, not Deltics! Soon time to get back on to the train, not because departure time was imminent but because a drying out session was required.
Bumping into someone I knew who worked on the MNR proved very useful at this point as neither 67 was easy to photograph from the public areas on and around the station.... Thanks Roger!
Departure was bang on time at 13.37 (still raining incidentally...) for the run back to Wymondham then on to Norwich where a 5 minute early arrival was achieved despite being held on the final approach to Thorpe station. One of my travelling companions was a bit upset to see 90018 pulling out on the 14.30 to London as he required it for haulage (and so did I for that matter!).
So, what to do in Norwich for three hours in the pouring rain? The problem was soon solved as required 90017 was on the 15.30 to London. This was duly taken to Diss for 86227 back to Norwich. I did debate waiting an hour for the following loco-hauled service as one of the station staff suggested 90016 (which I also needed) had earlier gone south so might be soon heading back north. Sorry Diss but a wet Norwich seemed a better option (but only just!) . Scoring 170271 & 170272 for sight made it appear the right move...until that is 90016 rolled into the station on the hour-later service!! Decided my goal is to have 90016 for haulage before the end of the year (90018 currently on hire to Anglia is also required so an out and back winning spin should be order of the day next time I get the chance).
The journey home in the dark was nothing special and by Cambridge we were 15 minutes early but this didn't last and we were held to time, mainly to give the dining passengers enough time to complete their meals! We arrived back into a still very wet Potters Bar bang on time - it having rained solidly ALL day!
Verdict: As the phrase goes "it did exactly what it said on the tin" and I scored my required track. Getting one of the tour locos was an added bonus. Whatever else I may try and blame tour operators for I cannot hold them responsible for the weather, though John Farrow did apologise over the PA for the atrocious conditions we'd had to endure all day!
Gary Thornton.



Timings (Booked & Actual)
(from various including Gary Thornton)
M.C
Location
Booked
Actual
Booked
Actual
M.C
0.00
Kings Cross
07.48d
07.48
21.08a
20.58
275.54
2.41
Finsbury Park
07/52
07/54
20/57
20/53
273.13
4.78
Alexandra Palace
07/54
07/57
20/54
20/51
270.56
12.57
Potters Bar
08.02a ~ 08.04d
08.13 ~ 08.15
20.42a ~ 20.44d
20.42 ~ 20.44
262.77
20.25
Welwyn Garden City
08/16
08/24
20/33
20/33
255.29
21.20
Digswell Jn
08/19
08/25
?
20/28
?
23.73
Woolmer Green Jn
08/21
08/27
20/29
20/26
251.61
27.45
Stevenage
08.35a ~ 08.37d
08.36 ~ 08.38
20.20a ~ 20.22d
20.18 ~ 20.21
248.09
31.74
Hitchin
08/42
08/44
20/13
20/11
243.60
34.50
Letchworth
08/45
08/50
20/09
20/06
241.04
44.72
Royston
08/54
08/57
19/57
19/56
230.62
55.26
Shepreth Branch Jn
09/09
09/07
19/42
19/43
220.28
57.75
Cambridge
09/14
09/14
19/37
19.22a ~ 19.36d
217.59
58.74
Coldham Lane Jn
09/17
09/17
19/34
19/18
216.60
72.22
Ely Dock Jn
09/32
09/28
19/12
19/04
203.32
72.53
Ely
09/34
09/29
19/10
19/03
203.01
74.15
Ely North Jn
09/37
09/34
19/07
19/02
201.39
88.55
Brandon
09/54
09.52a ~ 09.54d
18/49
18/44
186.79
95.73
Thetford
10/00
10/02
18/41
18/37
179.61
110.42
Attleborough
10/14
10/16
18/27
18/24
165.12
116.15
Wymondham
10.20a ~ 10.27d
10.22 ~ 10.28
127.50
Dereham
11.15a ~ 13.37d
11.08 ~ 13.37
139.05
Wymondham
14/25
14.18a ~ 14.20d
18/20
18/18
159.39
148.13
Trowse Lower Jn
14/39
14/31
18/08
18/08
150.31
148.44
Trowse Swing Bridge Jn
14/41
14.33a ~ 14.37d
18/06
18/07
150.00
149.22
Norwich
14.45a
14.40
18.03d
18.06
149.22
All distances (in miles & chains) are taken from the tour booklet, no attempt has been made to verify them.



Back to "The Railtour Files"