15th October 2003
Timken Rail Services
(no name)
| | |
| --- | --- |
| Loco Used | steam GWR 4141 |
| Stock Used | 34393+4922+1695+4982+25366+14026+94286 |
Route:
| | |
| --- | --- |
| Loco | Route |
| 4141 | 15.30 Loughborough Central - Leicester North |
| 4141 | 16.xx Leicester North - Loughborough Central |
Brief Review :
Challenged to provide an afternoons entertainment for the European railway sales team of my company at the end of our annual business planning meeting, what better way than to have a ride behind a steam loco! One call to the Great Central Railway and details were obtained, a quick chat with my boss and a train was duly chartered. A check of the GCR Website on the morning of the trip confirmed the rostered loco to be 63601, but in the event this had been failed on the Tuesday evening and GWR Prairie 4141 substituted - not that I was complaining as 4141 was a required loco for haulage, 63601 wasn't!
I wonder when the last time a train ran on the GCR with people from so many different countries (at least: UK, France, Germany, Spain, Italy, Norway, Czech Republic, USA & Russia!).
With the bar open and a tab running an enjoyable journey was certainly had by all on board (good job we had finished our work for the day)! A spirited run back (non-stop through Quorn) and all too soon we were back in Loughborough. Shame it had to end so soon - maybe next time I'll organise for two round trips...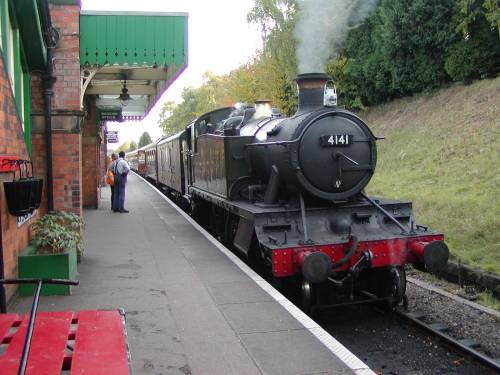 4141 at Rothley on the way back to Loughborough.
Source : Gary Thornton (organiser, on the train throughout)



Back to "The Railtour Files"