11th October 2003
Hertfordshire Rail Tours
The Fisherman Grim
(Pride of the Nation Series)
| | |
| --- | --- |
| Loco Used | 67020 |
| Stock Used | 17015+3124+3127+1696+3114+5037+4925+5007+1832+4986+5027+5278 |
Route:
1Z67 : Kings Cross to Cleethorpes
1Z68 : Cleethorpes to Kings Cross
| | |
| --- | --- |
| Loco | Route |
| 67020 | London Kings Cross - (via ECML) - Newark Northgate - Boultham Jn - Lincoln Central - Market Rasen - Wrawby Jn - Habrough - Immingham loop - Habrough - Grimsby Town - Cleethorpes |
| 67020 | Cleethorpes - Grimsby Town - Habrough - Wrawby Jn - (reverse of outward route) - London Kings Cross |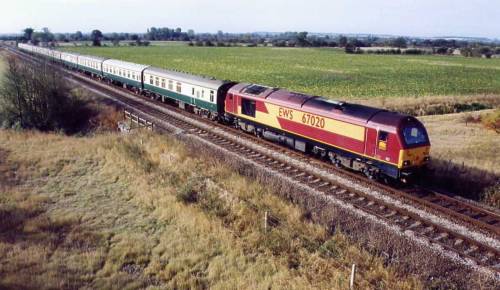 67020 approaches Collingham (photo : Dave Burton)
Sources : various



Tour Review
(by Alan Costello)
On a sunny morning, my wife and I drove to Stevenage to have a day out at the seaside and to visit the Cleethorpes Coast Light Railway for the first time. As we arrived at the car park, a Eurostar liveried set passed through on the White Rose. This was followed by the Edinburgh 225 hauled by 91130. At 0858 our train arrived at Platform 4 with 67020.A steady run up the slow line got us to a crew stop at Peterborough. Whilst there 66002 Lafarge Quorn on a Lafarge hopper train passed on our left whilst 91102 arrived from Newcastle on our right.
The stabling point had at least 8 locos -37688/694/709/521/712/695, 47727 and 60073.In the yard, 66701 was moving towards the station with 66242 and another EWS 66 at the head of a line of wagons. Outside the GBRF shed were 66703/709.These were to be the last locos I saw until Immingham depot.
We left a few minutes late,but started running early after missing out the crew stop at Newark. Despite another stop for a crew change at Lincoln we left 5 minute early and by Wrawby Junction we were 15 minutes up. Barnetby and its display of semaphore signals was next A five minute stop was made at Marsh Junction before we started going round the Immingham loop.
After a minute's stop at Immingham East Junction we reached Immingham depot. we first passed 60082/66,then a large number of mostly Class 56's,including 56059/113/32/27/88/44/37/86/45/128/21/82 and 37677. In the middle of the shed yard was a class 86. stored locos. Humber Road oil terminal had some Freightliner Class 66's but they all seem to behind the oil tankers. Habrough was then passed for the second time before reaching Grimsby Town 30 minutes early. After stopping to let a large number of passengers who had elected to visit the town, the train moved onto Cleethorpes.
We then transferred to a pair of Stagecoach double-deckers and were taken to the Lakeside terminus of the Cleethorpes Coast Light Railway. When we got there, the train waiting to go to the other end of the line at Kingsway was full, so instead we got in a 2 car DMU that was running shuttles to the engine shed and back. After the visit, we joined the next train to Kingsway for a return trip. The service was being worked by 2 trains and 3 engines with a swap at Lakeside. The engines used were two 4-4-2 steam locos - No 1 Sutton Belle and No 2 Sutton Flyer together with a Bo-Bo diesel with the shape of a GWR railcar. After we returned, we had a cup of tea and a sticky bun before walking up to the Meridian line. When we got back, we joined the bus. Just after 1600 John Farrow told the driver to go. Unfortunately the engine wouldn't start and after fiddling about at the back of the bus,it was decided it had a flat battery. The control room was called and a replacement bus ordered. After 20 minutes it arrived and we left at 1645 giving us plenty of time to get back for the train.
At 1712 we left and took 10 minutes to get to Grimsby to pick up the rest of the party. An easy schedule made us 30 minutes early at Langworth so we came to a halt outside Lincoln to wait nearer to our arrival time for the programmed crew change. This enabled us to have our dinner in a civilised manner. This was the first meal I had had with the Premier Train Catering Limited and was very impressed. A starter of Cream of Wild Mushroom Soup was followed by grilled Scottish salmon with a White Wine & Creamy Butter Sauce and fresh chives, Mange Tout tossed in garlic and ginger, Honey & Cinnamon Carrot, Sauté & New Potatoes. Then Peach & Champagne Tart.
Getting back to the tour, we passed Lincoln without stopping - still early. Crew change was taken at Newark. A fast run down Stoke bank ended with fierce braking as we approached Peterborough. Stabled at the GBRF shed was 66715/708/702 and at the Peterborough stabling point were 66060/087/182.After stopping for another crew change we left 3 minutes early but soon came to a halt to let a 225 pass, but a fast run got us to Stevenage 9 minutes early. A good day out but this was probably our last railtour as we are hoping to move to Weymouth shortly - not the best of places to pick up a tour.
Alan Costello



Timings (Booked & Actual)
(from various including Alan Costello)
Location
Booked
Actual
Booked
Actual
Kings Cross
08.18d
08.18
21.05a
21.10
Belle Isle
08/20
08/20
21/03
21/08
Finsbury Park
08/22
08/23
20/59
21/06
Alexandra Palace
08/24
08/26
20/57
21/03
Potters Bar
08.31a ~ 08.34d
08.35a ~ 08.39d
20.48a ~ 20.51d
20.52 ~ 20.56
Welwyn Garden City
08/42
08/46
20/42
20/42
Woolmer Green
08/50
08/52
20/39˝
20/39
Stevenage
08.54a ~ 08.56d
08.56 ~ 08.59
20.32a ~ 20.35d
20.31 ~ 20.34
Hitchin
09/00˝
09/03
20/25
20/27
Sandy
09/10˝
09/13
20/18
20/20
Huntingdon
09/25
09/28
20/08
20/11
Connington South Jn
20/03
20/05
Holme LC
09/32
09/36
Peterborough
09.38a ~ 09.40d
09.44 ~ 09.49
19.53a ~ 19.56d
19.49 ~ 19.53
Tallington Jn
09/54
10/00
19/45
19/43
Stoke Tunnel
10/08
10/13
19/34
19/33
Grantham
10/22
10/21
19/30
19/30
Barkston South Jn
10/26
10/24
19/27
19/26
Newark North Gate
10.34a ~ 10.37d
10/32
19.17a ~ 19.19d
19.12 ~ 19.14
Newark Crossing East Jn
10/39
10/37
19/15
19/09
Boultham Jn
10/58
10/54
18/58
18/49
West Holmes Jn
10/59
10/55
18/57
18/47
Lincoln Central
11.02a ~ 11.04d
10.57 ~ 11.00
18.52a ~ 18.54d
18/42
Pelham Street
11/06
11/01
18/47
18/43
Langworth
11/15
11/08
18/37
18/07
Wickenby LC
11/21
11/12
18/22
?
Holton-le-Moor
11/33
11/21
18/02
17/53
Wrawby Jn
11/45
11/29
17/41
17/41
Barnetby
11/47
11/32
17/39
17/42
Brocklesby Jn
11/52
11/37
17/32
17/36
Habrough
11/54
11/40
Marsh Jn
12/04
11.49a ~ 11.54d
Great Coates No.1
12/11
11/58
Pyewipe Road LC
12/19
12/04
Immingham East Jn
12/38
12.17a ~ 12.18d
Humber Road Jn
12/47
12/26
Ulceby
12/54
?
Habrough
12/57
?
17/29
?
Grimsby Town
13.09a ~ 13.12d
12.47 ~ 12.51
17.16a ~ 17.19d
17.21 ~ 17.24
Cleethorpes
13.20a
13.00
17.11d
17.11