4th October 2003
Wessex Trains / Steam Railway Magazine
The Atlantic Coast Express (Okehampton Line)
| | |
| --- | --- |
| Locos Used | 37308 & steam: 34067 'Tangmere' |
| Stock Used | load 10 including 1800 |
Route:
1Z90 : Waterloo to Okehampton
1Z91 : Okehampton to Exeter St Davids
1Z92 : Exeter St Davids to Paddington
| | |
| --- | --- |
| Loco(s) | Route |
| 34067 | London Waterloo - Clapham Junction - Wimbledon - Surbiton - Woking - Farnborough - Basingstoke - Salisbury - Yeovil Pen Mill - Yeovil Junction - Honiton - Exeter Central - Exeter St Davids - Exeter Riverside Yard |
| 34067 (2) | Exeter Riverside Yard - Cowley Bridge Jn - Crediton - Okehampton |
| 37308 (3) | Okehampton - Crediton - Cowley Bridge Jn - Exeter St Davids |
| 34067 | Exeter St Davids - (via Tiverton loop) - Cogload Jn - Castle Cary - Frome - Westbury - Newbury - Southcote Jn - Reading - Twyford - Slough - Southall - London Paddington |
Notes :
(1) Train was originally advertised as routed : Exeter St Davids to Barnstaple (rev) - Eggesford (rev) - Okehampton but revised due to pathing constraints.
(2) 37308 on rear (assisting where required on the uphill grades).
(3) 34067 on rear.
(4) Gordon Jakes comments: Some fast running was recorded by 34067 on the downward journey with 75mph being achieved in the areas of Andover, Sherborne and Pinhoe. The loss of time between Yeovil Junction and Chard Junction was unaccounted for but was responsible for the 8 minutes late arrival in Exeter St Davids. Thereafter the ongoing time loss between Riverside and Crediton accounted for the 50% reduction in layover time in Okehampton. This was unfortunate because much activity had been laid on Okehampton station for the arrival of the ACE which therefore could not be done justice! The attachment of 37308 in Riverside Yard, Exeter was required in order to facilitate the return journey from Okehampton, there being no run-round loop available at Okehampton. An announcement was made on the train to the effect that 37308 would not be used to assist 34067 up the gradients from Crediton to Okehampton. I cannot comment as to whether or not 37308 was used but the very slow progress up the grade and the significant loss of time from Exeter would suggest that 34067 did work alone!
Sources : various including Mark Herriott (viewed the train at Basingstoke), Andy Pullar
& Gordon Jakes (on train from Waterloo to Exeter [on the return journey])



Photo Review
(all photos: Gordon Jakes)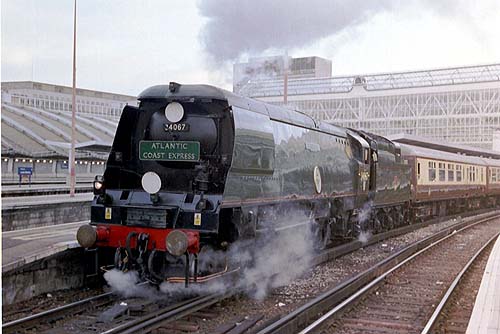 34067 waits to leave London Waterloo.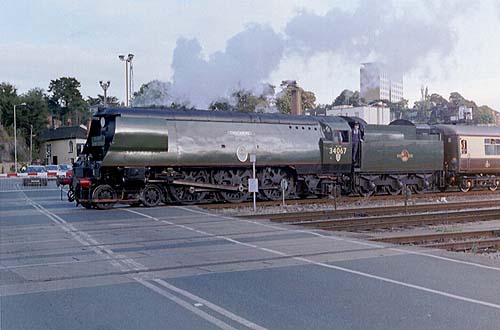 34067 departs St Davids station around 5pm, for servicing in Riverside Yard.


Timings (Booked & Actual)
(from Terry Jackson & Gordon Jakes)
M.C
Location
Booked
Actual
0.00
Waterloo
08.00d
08.02
3.74
Clapham Junction
08/09
08/14
7.19
Wimbledon
08/13½
08/19
9.62
New Malden
08/16
08/22
12.03
Surbiton
08/18½
08/24
13.27
Hampton Court Jn
08/19½
08/26½
24.27
Woking
08/29½
08/35
24.56
Woking Jn
08/30
08/36
33.17
Farnborough
08/39
08/43
47.61
0.00
Basingstoke
08.54a ~ 08.57d
08.58 ~ 09.02
2.40
Worting Jn
09/02
09/07
18.38
Andover
09/22
09/24
34.55
Tunnel Jn
09/41
09/41½
35.62
0.00
Salisbury
09w45a ~ 10w21d
09.46 ~ 10.19
1.66
Wilton Jn
10/26
?
2.40
Wilton
10/28
?
12.02
Tisbury Loop
10/40
10/38½
21.47
0.00
Gillingham
10*53 ~ 10*58
10.49 ~ 11.06
6.64
Templecombe
11/08
11/17
12.66
Sherborne
11/15
11/24
17.30
0.00
Yeovil Junction
11w22a ~ 11w48d
11.29 ~ 11.51
16.68
0.00
Chard Junction
12*10 ~ 12*15
12/20
15.20
Honiton
12/37
12/45
29.08
Pinhoe
12/51
12/58
30.65
Exmouth Jn
12/52
13/00
31.74
Exeter Central
12/56½
13/03
32.56
0.00
Exeter St Davids
13.00a ~ 13.03d
13.06 ~ 13.16 [P1]
0.72
0.00
Riverside Yard
13L07 ~ 13L45
13.21 ~ 13.48½
0.28
Cowley Bridge Jn
13/48½
13/55
5.78
0.00
Crediton
13.59½a ~ 14.01½d
14.12 ~ 14.22
18.05
0.00
Okehampton
14.48a ~ 15.28d
15.20 ~ 15.50
18.05
Crediton
16.12a ~ 16.18d
16/31
23.55
Cowley Bridge Jn
16/29
16/44½
24.75
0.00
Exeter St Davids
16.33a ~ 18.37d
[P3] 16.49 ~ 18.42 [P4]
1.20
Cowley Bridge Jn
18/42
?
16.44
Tiverton Parkway
19/02
?
30.60
Taunton
19/18
19/48
35.49
Cogload Jn
19/22
19/52
58.25
Castle Cary
19/43
20/13
71.33
Blatchbridge Jn
19/59
20/28
72.41
0.00
Frome
20w02a ~ 20w30d
20.30 ~ 20.57
1.00
Clink Road Jn
20/34
21/01
4.26
Fairwood Jn
20/40
21/04
5.60
0.00
Westbury
20*44 ~ 20*49
21.07 ~ 21.37
1.03
Heywood Road Jn
20/53
21/40
7.42
Lavington
21/03
21/47
16.55
Woodborough
21/13
21/55
29.15
Bedwyn
21/30
22/10
42.42
Newbury
21/46
22/22
54.38
0.00
Theale Loop
22w02 ~ 22w22
?
3.28
Southcote Jn
22/29
23/02
5.12
0.00
Reading
22.33a ~ 22.36d
23.08 ~ 23.12 [P8]
4.77
Twyford
22/45
23/37
11.59
Maidenhead
22/52½
23/35
17.42
Slough
22/58½
23/39
24.64
Airport Jn
23/08
23/48
26.72
Southall
23/12
23/50
30.78
Acton West
23/17
23/55
34.05
Ladbroke Grove
23/22
00/02
35.73
Paddington
23.27a
00.07