9th August 2003
Pathfinder Tours
The Metropolis Meanderer
| | |
| --- | --- |
| Locos Used | 37521, 37694, 56113, 60029, 66703 & 92039 |
| Stock Used | CP01: 5275+4902+4963+5040+5009+1863+3098+3140+3122+21272+1692 |
Route:
1Z70 : Crewe to Kettering
1Z71 : Kettering to Crewe
| | |
| --- | --- |
| Loco(s) | Route |
| 92039 | Crewe - Stafford - Lichfield Trent Valley - Nuneaton |
| 60029 | Nuneaton - Hinckley - Leicester - Melton Mowbray - Manton Jn - Corby - Kettering |
| 66703 (1) | Kettering - Bedford - Bletchley - Watford Jn - Wembley - Acton Canal Wharf Jn |
| 37521 + 37694 | Acton Canal Wharf Jn - Neasden Jn - South Ruislip - High Wycombe - Banbury - Tyseley - Bordesley Jn - Landor St. Jn - Water Orton - Nuneaton |
| 56113 | Nuneaton - Lichfield TV - Stafford - Crewe |
Notes :
(1) 37521 + 37694 on rear.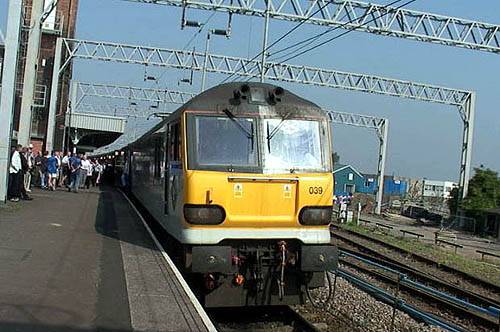 92039 at Nuneaton (photo : Kevin Law)
Sources : Rick Hughes (on the train throughout) & Steve Cassidy



Tour Review
(by Rick Hughes)
Getting to railtours often involves, for me, leaving home at times some people don't even know exist, and usually arriving back at similarly antisocial hours. So the Metropolis Meanderer had an immediate attraction in that the Crewe departure/arrival times were much more amenable than usual. With the prospect of a few required locos as well, it had to be done, and I booked for myself and four friends. On the morning of the tour, I caught an early train from Blackpool to Leyland, where I met up with my friends for the normally easy drive along the M6 to Crewe. We allowed a generous 90 minutes or so for this, given that the summer holiday traffic can be heavy even at 07.00am. Big mistake. Still some way before Crewe, we met three lanes of solid traffic, barely moving. After a while of getting nowhere fast, it became increasingly clear that emergency measures would need to be taken. We were only half a mile from an exit, and a perusal of a road atlas revealed an alternative route... if we could get off the motorway. I'd better draw a discreet veil over what happened next, but, should an account of the solution ever come to be written, the words "hard" and "shoulder" might possibly figure.
We reached Crewe with a few minutes to spare, but I know that many others who were caught in the jam didn't, and some phoned up Pathfinder stewards to try to get them to delay departure. In the event, departure was late, but this was down to late appearance of the railtour stock, which pulled into the platform behind 37308, accompanied by a burst or two of thrash! 92039 was attached on the other end, and we took our seats in Coach A, right behind the loco, and left Crewe behind, and were then informed over the PA that the reason for the delay was that the ECS had been booked to be electrically-hauled into the platform, but from a non-wired siding. The announcer didn't mince his words, blaming "EWS incompetence" for the mix-up, a phrase he used more than once! He also apologised for the use of 92039, just 3 weeks after its last stint on a Pathfinder train. No problem, mate, I didn't do the Grampian Gyrator, 92039 was a scratch for me. Shame though for my companions, who were all on the latter train! We had an uneventful run to Nuneaton, picking up at Stafford, Lichfield and Tamworth. At Stafford we were joined by another member of our little party, who had been forced to drive a bit further than expected when it became clear he wasn't going to make the train at Crewe, this was despite being ahead of the rest of us on the motorway earlier on!
At Nuneaton we had our first engine change, to 60029, which met with approval as it was required by all of our entourage. We exceeded the time allowed for the engine change, and departed half-an-hour down, heading towards Leicester. We passed Leicester non-stop, on the Goods Lines as booked, noting 66703 lurking, which was to be our next haulage a little later. We took the Melton Mowbray line at Syston, to Manton Jn, where there was a 4 minute signal stop before we branched onto the Corby line, and ran without fuss to Kettering, arriving 12 minutes adrift. Before arrival, an announcement told us of an alteration to the itinerary: our booked run into Acton Yard was to be cut short, because the track there had suddenly become unsafe for a passenger-carrying train. Although it was apparently OK until three days earlier, said the steward, leaving the rest of his sentiment unspoken. As a consequence of this, we would be running only to Acton Canal Wharf Jn to reverse, and our departure from Kettering would be put back until 13.00 so as to arrive at our destination at the right time.
So we had a bit longer than expected to savour the delights of Kettering station in the blazing sunshine, or to wander off into town for those who could muster up the energy. 60029 was removed, and 66703, which had beaten us to Kettering, took its place. The 37s, originally to have been attached at Acton Yard, also had to be tagged onto the back at Kettering, to facilitate reversal at Acton Canal Wharf Jn, but these didn't turn up for some time, and consequently we left later than the revised timing, and exactly an hour later than the original time. Heading south to Bedford, we turned off towards Bletchley, plodding rather slowly along the Marston Vale line, losing more time, and stopped for a few minutes at Bletchley before continuing south along the WCML, wishing we could go a bit faster, if only to get some air circulating through the coaches in the sweltering heat. Running through Wembley Yard, we dived under the WCML and turned south to reach our new destination of Acton Canal Wharf Jn, arriving 104 minutes down by the timings in the itinerary. Here the 66 was swiftly removed, and it was chance to shine for the 37s.
The reversal meant Coach A was now the rear vehicle for the first time, so we were a bit too far from the 37s than we would have liked, but I suppose the First Class passengers deserved their share of the thrash for their money! A commendably quick reversal and the excision of a couple of miles of route saw our deficit reduced to less than 50 minutes on departure, but a chunk of this recovered time was blown immediately, when we stopped for 20 minutes after Neasden Jn to allow a Chiltern Trains fast service out of Marylebone to go ahead. Once away, the 37s opened up and gave us a good performance on our way back northwards, with just a couple of short signal checks at Princes Risborough, Aynho and Banbury to stop us regaining much time. There was an unscheduled 4 minute stop at Leamington, and we were informed that there was a 30mph restriction to Hatton, enforced due to the excessive heat potentially affecting the stability of the track, a feature of many routes during the previous week as the heatwave took its toll on Britain's fragile railways! I suppose we were lucky that this was the only such restriction we encountered, as we were informed around this point that the day's temperature had reached the highest ever recorded in Britain. I don't know where Pathfinder's announcer got this gen, which I never heard again afterwards, but it was certainly ****** hot!
Passing slowly past Hatton, we were then surprised to see a local stopper had been looped to allow us ahead, something you don't see very often. Running unchecked through Tyseley and onto the Camp Hill line, it happened again at Landor St. Jn, where a 158 was waiting to let us ahead on the Nuneaton line. With this unexpected outbreak of common sense, the 70 minute deficit at Hatton was reduced to 48 minutes by Nuneaton, where our second reversal and last traction change was booked. Earlier gen had suggested 56096 or 56113 would be the grid chosen, and as both were required by me and most of my companions, we couldn't lose. It was 56113's destiny to be given the honour, and it buffered up to the rear of the stock almost as soon as we stopped. The 37s hung around just long enough for those who wished to get their photographs, and then it was all aboard for the run back to Crewe, after a quick 12 minute turnround.
56113 thrashed out of Nuneaton in fine style, and returned us whence we came. Crewe was reached about 40 minutes down, with the obligatory crawl from Basford Hall into the station, and the day's entertainment came to an end. On a sweatiness rating, I can't give this railtour anything less than 10/10, but it was pretty good anyway. I know many were disappointed with the early repeat performance of 92039, but most of the other engines were popular choices. Personally, all but the 37s were winners for me, so I'd call that a good score.
Rick Hughes (on the train throughout)



Timings (Booked & Actual)
(from Rick Hughes)
M.C
Location
Booked
Actual
0.00
Crewe
08.10d
08.33
8.06
Madeley
08/19
08/42
19.18
Norton Bridge
08/30
08/51
24.37
Stafford
08.37a ~ 08.39d
08.59 ~ 09.00
30.71
Colwich
08/48
?
36.50
Armitage
08/53
09/16
41.58
Lichfield Trent Valley
08.59a ~ 09.01d
09.22 ~ 09.24
47.69
Tamworth LL
09.10a ~ 09.12d
09.32 ~ 09.33
60.70
0.00
Nuneaton
09L26a ~ 09L42d
09.50 ~ 10.12
4.19
Hinckley
09/51
?
15.50
Wigston South Jn
10/03
10/32
17.24
Knighton Jn
10/16
10/35
18.66
Leicester (goods lines)
10/24
10/42
23.57
Syston South Jn
10/32
10/51
33.63
Melton Mowbray
10/51
11/02
45.24
Oakham
11/06
11/15
48.62
Manton Jn
11/14
11/27
59.35
Corby
11/33
11/46
65.00
Kettering North Jn
11/41
11/52
66.79
0.00
Kettering
11L45a ~ 12L22d
11.57 ~ 13.22
1.21
Kettering South Jn
12/25
?
6.70
Wellingborough
12/33
13/35
15.36
Sharnbrook Jn
12/46
13/47
22.16
Bedford
12.59a ~ 13.01d
14.08 ~ 14.09
22.76
Bedford St Johns
13/05
14/13
28.77
Millbrook
13/11
14/27
32.17
Ridgmont
13/17
?
34.66
Woburn Sands
13/22
14/42
37.64
Fenny Stratford
13/27
14/49
39.01
Bletchley
13/30
14.57a ~ 15.02d
47.31
Ledburn Jn
13/40
?
53.74
Tring
13/47
15/23
68.12
Watford Junction
14/06
15/45
74.17
Harrow & Wealdstone
14/13
15/52
77.43
Wembley Central
14/16
15/59
77.63
Sudbury Jn
14/23
16/05
78.66
Wembley Yard South Jn
14/26
?
79.55
Willesden No.7
14/30
16/08
80.10
Acton Canal Wharf Jn
14/33
16.17a
80.50
Acton Wells Jn
14/36
DIV
81.50
0.00
Acton T.C.
14L41a ~ 15L06d
DIV
1.00
Acton Wells Jn
15/30
DIV
1.40
Acton Canal Wharf Jn
15/37
16.25d
2.77
Neasden Jn
15/47
16/30
4.53
Wembley Stadium
15/53
16/57
9.60
South Ruislip
15/59
17/03
11.41
West Ruislip
16/02
?
18.52
Gerrards Cross
16/08
17/09
27.62
High Wycombe
16/22
17/20
36.02
Princes Risborough
16/37
17/31
54.48
Bicester North
16/55
17/53
62.50
Aynho Jn
17/08
18/07
67.54
Banbury
17.17a ~ 17.25d
18.15 ~ 18.17
76.34
Fenny Compton
17/35
18/27
87.63
Leamington Spa
17/45
18.41a ~ 18.45d
93.52
Hatton
17/52
19/01
100.33
Dorridge
18/00
19/08
107.43
Tyseley
18/18
19/15
109.49
Bordesley Jn
18/20
19/19
109.75
St Andrews Jn
18/21
19/20
110.33
Landor Street Jn
18/25
19/22
115.78
Water Orton West Jn
18.35a ~ 18.43d
19/28
116.39
Water Orton
18/45
19/29
119.24
Whitacre Jn
18/49
19/35
129.68
0.00
Nuneaton
19L03a ~ 19L27d
19.51 ~ 20.03
13.02
Tamworth LL
19.27a ~ 19.40d
20.03 ~ 20.19
19.13
Lichfield Trent Valley
19.51a ~ 19.56d
20.29 ~ 20.30
24.25
Armitage
20/02
20/37
30.04
Colwich
20/08
20/42
36.33
Stafford
20.14a ~ 20.16d
20.50 ~ 20.53
41.62
Norton Bridge
20/22
20/59
52.64
Madeley
20/31
?
60.70
Crewe
20.42a
21.22
Timings are as shown in the Pathfinder itinerary, and do not take account of the late revision between Kettering and Acton. Distances are also as shown in the booklet, including the short section between Acton Canal Wharf Jn and Acton Yard, which was not traversed, and have not been verified.



Back to "The Railtour Files"