9th August 2003
Past Time Rail
The Royal Duchy
| | |
| --- | --- |
| Loco Used | D1015 |
| Stock Used | 21246+4991+4956+5002+4994+4999+3131+3133+3132+1671+3144+1800 |
Route:
1Z52 : Paddington to Penzance
1Z53 : Penzance to Paddington
| | |
| --- | --- |
| Loco | Route |
| D1015 | London Paddington - Slough - Reading - Newbury - Westbury - (via Frome avoider) - Castle Cary - Cogload Jn - Exeter St Davids - Dawlish Warren - Newton Abbot - Totnes - Plymouth - Par - Penzance |
| D1015 | Penzance - (reverse of outward route) - London Paddington |
Source : Gary Thornton (joined/left the train at Slough)



Tour Review
(by Gary Thornton)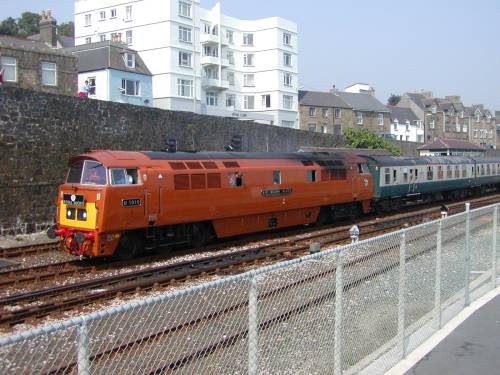 D1015 sets-back to Long rock for fuelling and to allow watering of the stock.
D1015 throughout from London to Penzance and back - the "Western" equivalent of a Deltic between Kings Cross & Edinburgh, no real decision as to where I'd be on this particular summer Saturday then!
Timings were such that I opted for joining the train at Slough...being on throughout from Paddington to Penzance was very tempting but the recent hot weather and distinct lack of sleep I've had as a result made the slightly (!) later start preferred.
6am - and one of my travelling companions arrived at my place from where we set off to Slough via the A43, M40 & M4, arrival being well in time for the 07.53 booked departure time.
Maybe it was the weather but many waiting on the platform were heard to make comments like "todays Summer Saturday extra to Penzance, wonder if it'll be 52 hauled or a just spoon?".
Soon enough the question was answered as D1015 "Sir Misha Black (Western Class Locomotive Designer)" rolled into the platform. We took our places in the third coach from the front and were soon enjoying the Western thrash westwards.
Approaching Reading and we ground to a rapid halt a mile or so outside the station. A repeat rapid stop on the final approach to the platform suggested a possible TPWS problem but after a slightly longer than planned stop at Reading we were on our way again. A PA announcement blamed track circuit problems (I think they were causing interference problems with D1015's TPWS equipment).
All told it was a superb run to Penzance with a lot of high speed running and the obvious climbs over the devon banks. Before we got to enjoy these however there was the very rare experience of two "Western" hauled passenger trains passing each other - D1010 was sat at the end of the line on the West Somerset Railway with one of their service trains...staged, yes obviously, but well appreciated by those on board both trains including the crews judging by the amount of horn blowing!
For the record, we topped Whiteball at 55mph, Dainton at 31mph and Rattery at 45mph...the latter from a standing start at Totnes too. Yes, a superb performance. The only thing of note was that D1015 seemed to me smoking quite heavily on taking power, a symptom of the hot weather (high 20's/low 30's Celcius) and I understand the drivers were told to take a little easy on occasions "just in case...".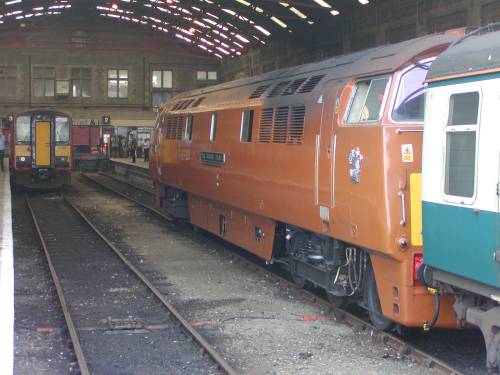 Arrival into Penzance. Evidence of how smoky D1015's exhaust had been
on the westward leg can be seen clearly in this photograph.
Mark Alden of the Diesel Traction Group comments : A diesel engine performs at its best when it has the correct air / fuel mixture. The air is compressed by the turbo blower to get as much air into the cylinders as possible for better combustion and bigger 'BANG'. The turbos on D1015 are driven by the engine exhaust gases so opening up on full power means the air is pumped in, the engine speeds up, pumps out the exhaust gases progressively faster and the turbo starts to spin faster, pumping in more air, by volume. Until the turbo 'catches up' the air / fuel mixture is in favour of fuel, thus black smoke. This is called 'turbo lag'. The problem on Saturday was that the air being sucked in by the turbo was very hot. Hot air is more expanded than cool air and so the volume of air being sucked in is less dense than cool air. Therefore the amount of air being compressed and pushed into the cylinders is, by volume, less and therefore even more in favour of fuel resulting in even more black smoke than normal. So it was purely 'physics' that causes the dense black smoke. There was no problem. As for telling drivers to 'ease up' this is indeed the case. The main reason for saying it was, because of the hot weather, we didn't want to run the risk of overheating the engines and risk cracked cylinder heads. Replacement heads are mega-expensive and our decision proved wise as we did not suffer any damage at all. (remember it was HOTTER than 1976!)
Although a long day out, at least the timings gave a "proper" chance to see Penzance, though a 20 minute late arrival reduced our visit here a bit. I waited to see D1015 propel the stock back to Long Rock (only decent chance for a photo!) before wandering off along the promenade then in search of somewhere to stock up on drinks (definitely non-alcoholic on account of the heat!) for the journey home.
For us at the back of the train the return journey was much quieter, though the views of D1015 working hard en-route home were frequently afforded, especially on the very curvy track in Cornwall. What was looking like a potential early arrival back home was scuppered by another example of EWS incompetency at Westbury - a potential 20 early was turned into 10 late as the guard was still en-route in a taxi from Banbury! Not sure anyone was too bothered though as it gave a few minutes for a leg-stretch and escape from the almost unbearably hot train. Getting back on you soon realised the interior had taken on a somewhat fetid odour, the combination of some 400+ sweaty bodies - I'll not elaborate any further!
Despite the heat this was definitely a tour to have been part of. Jokes about maybe we should have had air-conditioned stock were made but me I was happy to suffer a bit to have the windows full open for the thrash. Thanks DTG, EWS, Past Time etc for another excellent days wizzo bash.
Gary Thornton



Timings (Booked & Actual)
(from various including Gary Thornton)
| | | | | | |
| --- | --- | --- | --- | --- | --- |
| Location | Booked | Actual | | Booked | Actual |
| Paddington | 07.25d | 07.25 | | 22.16a | 22.34 |
| Ladbroke Grove | 07/28 | 07/30 | | 22/13 | 22/31 |
| Acton West | 07/32 | 07/34 | | 22/08 | 22/27 |
| Southall | 07/35 | 07/38 | | 22/03 | 22/20 |
| Heathrow Airport Jn | 07/37 | 07/40 | | 22/01½ | 22/17 |
| Dolphin Jn | 07/49 | ? | | ??/?? | ? |
| Slough | 07.51a ~ 07.53d | 07.54½ ~ 07.56 | | 21.50a ~ 21.53d | 22.09 ~ 22.11 |
| Maidenhead | 07/58 | 08/02 | | 21/45 | 22/02 |
| Twyford | 08/03 | 08/07½ | | 21/39 | 21/57 |
| Reading | 08.09a ~ 08.10d | 08.19 ~ 08.29 | | 21.30a ~ 21.33d | 21.48 ~ 21.51½ |
| Southcote Jn | 08/15 | 08/35 | | 21/27 | 21/40 |
| Newbury | 08.30a ~ 08.32d | 08.55 ~ 08.56 | | 21/14 | 21/24 |
| Bedwyn | 08/46 | 09/09 | | 1/03 | 21/11½ |
| Woodborough | 08/57 | 09/18½ | | 20/52 | 21/01 |
| Lavington | 09/03 | 09/26 | | 20/44 | 20/54 |
| Heywood Road Jn | 09/09 | 09/31½ | | 20/36 | 20/48 |
| Westbury | 09c11a ~ 09c13d | 09.34 ~ 09.36 | | 20.33a ~ 20.35d | 20.26 ~ 20.45½ |
| Fairwood Jn | 09/16 | 09/39 | | 20/30 | 20/12½ |
| Clink Road Jn | 09/21 | 09/44 | | 20/26 | 20/09 |
| Blatchbridge Jn | 09/23 | 09/45 | | 20/24 | 20/08 |
| Castle Cary | 09/34 | 09/55 | | 20/13 | 19/58 |
| Cogload Jn | 09/53 | 10/12 | | 19/56 | 19/42 |
| Taunton | 09/57 | 10/15 | | 19/53 | 19/38½ |
| Tiverton Parkway | 10/10 | 10/27 | | 19/41 | 19/28 |
| Cowley Bridge Jn | 10/23 | 10/37 | | 19/17 | 19/15 |
| Exeter St Davids | 10.25a ~ 10.27d | 10.40 ~ 10.47 | | 19.20a ~ 19.24d | 19.10½a ~ 19.13 |
| Dawlish Warren | 10/56 | 10/56 | | 19/05 | 19/00½ |
| Newton Abbot | 10/48 | 11/07 | | 18/54 | 18/51 |
| Totnes | 11*02a ~ 11*07d | 11.19 ~ 11.25½ | | 18/43 | 18/41 |
| Ivybridge | 11/36 | 11/45 | | 18/30 | 18/27½ |
| Hemerdon | 11/42 | 11/50 | | 18/25 | 18/22 |
| Lipson Jn | 11/46 | 11/54½ | | 18/18 | 18/15 |
| Plymouth | 11c48a ~ 11c50d | 11.58 ~ 12.00½ | | 17c59a ~ 18c15d | 18.07 ~ 18.11½ |
| St Budeaux Jn | 11/55 | 12/06 | | 17/52 | 18/02 |
| Saltash | 11/59 | 12/09½ | | 17/48 | 17/58½ |
| St Germans | 12/05 | 12/15½ | | 17/41 | 17/52 |
| Liskeard | 12/16 | 12/25½ | | 17/32 | 17/42 |
| St Pinnock Viaduct East | 12/21 | 12/31 | | 17/25 | 17/35½ |
| Largin | 12/22 | 12/32 | | 17/24 | 17/34 |
| Lostwithiel | 12/30 | 12/40 | | 17/16 | 17/24 |
| Par | 12/36 | 12/45½ | | 17/11 | 17/19 |
| St Austell | 12/43 | 12/51 | | 17/04 | 17/14 |
| Burngullow Jn | 12/47 | 12.55a ~ 12.56d | | 17/01 | 17/05 |
| Probus | 12/55 | 13/06 | | 16/53 | 16/54 |
| Truro | 13/00 | 13/12 | | 16/45 | 16/48 |
| Cambourne | 13/15 | 13/28 | | 16/32 | 16/33½ |
| St Erth | 13/24 | 13/38 | | 16/22 | 16/23 |
| Long Rock | 13/32 | 13/51 | | 16/18 | 16/19 |
| Penzance | 13.35a | 13.55 | | 16.15d | 16.15 |