31st May 2003
Hertfordshire Rail Tours
Return of the Legends
(Merrymaker series)
| | |
| --- | --- |
| Locos Used | 56102 & 92031 |
| Stock Used | 5482+4986+5037+1832+4925+3146+1698+3097+3120+3141+1680+2834 |
Route:
1Z50 : Euston to Crewe
1Z51 : Crewe to Euston
| | |
| --- | --- |
| Loco | Route |
| 92031 | London Euston - (via ECML) - Northampton - Rugby - Nuneaton - Tamworth - Stafford - Norton Bridge - Crewe |
| 56102 | Crewe - Norton Bridge - Stafford - Rugeley - Bushbury Jn - Portobello Jn - Pleck Jn - Walsall - Park Lane Jn - Water Orton West Jn - Nuneaton - (reverse of outward route) - London Euston |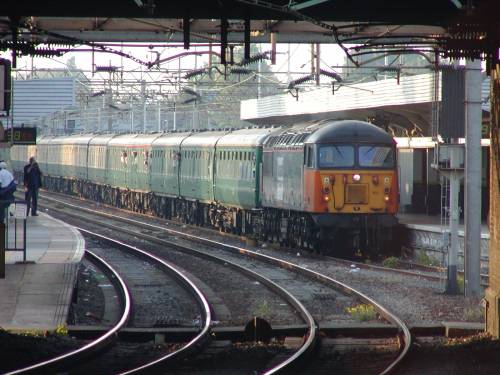 56102 pulls into Northampton on the way back to London.
Sources : various



Tour Review
(from Alan Costello)
On arrival at Euston at 0830 the announcer stated that the Charter train for Crewe was now ready for boarding at Platform 16. I went down the slope to the platform and saw 67001 at the buffers.A walk up the platform found our engine was to be 92031. Whilst waiting I noticed that there was little movement apart from Silverlink.1 Virgin train came in but nothing left. After getting on the train we were told that the overhead line on the up slow had been brought down near Ledburn Junction and the West Coast line was closed. Unfortunately the fast lines were also closed due to engineering works. As we waited, there was a continuous stream of Tannoy messages from the station announcer, which in true railway fashion were mostly unintelligible. I think they were advising people to go to St Pancras or use a Silverlink train as far as Tring? where coaches would take them to Milton Keynes. At 0930 the overnight sleeper arrived behind a Class 90.
To help pass the time us first class passengers were served breakfast (how many people have had a full English breakfast served in a coach at Euston?). As the time approached 1000 we were told that the engineering works had been cancelled and the fast lines would soon be open then we could leave. So at 1011, we departed (first train out), and made our way up Camden bank. We passed Willesden shed with D9016 inside and 66714/715 outside. There were a few Class 66's in the yards as well as 31128 and 31190 top/tailing a Serco train. We reached Watford J for the first pick up leaving 71 minutes late. Soon after Tring we started to slow down and were passed by a south bound Virgin train hauled by a EWS liveried Class 47. Then we passed 47828 L/E on the down slow. We stopped short of the broken down train. After 4 minutes we moved off and passed the Virgin train with 87009 on the back with its pantograph tangled in the wire. We then accelerated (passing Thunderbird 57302 approaching the 87 on the up slow) and continued to our next pick up points at Milton Keynes and Northampton, leaving the latter 75 down.
37607/612 plus a EWS shunter were at the DIRFT. A 16 minute pathing stop at Rugby was missed out cutting our deficit to 50 mins. Stabled in the north bay were 66508,66515 and 66716. A steady run up the line continued but no more time was recovered. Just short of Crewe we were passed by 66561 and 47270 top/tailing a charter. Arrival was 51 minutes late. Because of our late arrival it was announced that our return would be put back to around 1730.
I won't say much about the Open Day itself, apart from the fact that a number of promised modern traction were missing including DRS Class 20 and 33, Fragonset Class33 and 73 and anything from Freightliner.
Around 1720 our train arrived at Platform 12 behind Loadhaul liveried 56102. Soon after departure at 1733 we passed the returning Freightliner charter again. At the LNWR shed Ian Riley's 37197 was outside and 47853 was sticking out of the shed. All went well at first and at Stafford we took the Wolverhampton line, turned left at Bushbury J and Darlaston J before passing through Walsall to take the Sutton Park line eventually reaching Water Orton and then stopping at Nuneaton (where 57304 was in bay) for a crew change. Departure was 14 mins late but easy timings put us 1 minute early at Long Buckby. As we approached Northampton with John Farrow announcing that we were back on schedule things started to go wrong. We braked and stopped short of the station as we had been signalled onto the through line. After resetting the route, arrival was 6 mins late. We then went on to Milton Keynes with a departure 9 down. Soon after leaving we started stopping at most signals. We were told that there was severe signalling problems between Berkhamsted and Hemel Hempstead, the 4 miles between them was being treated as 1 section and we were in a queue of trains. At Bletchley we were down 19 then took 55 mins for the 15 miles to Tring and another 53 mins were to pass before we cleared the problems at Hemel (just over 6 miles). The final 24 miles (including a 4 minute stop at Watford J. took 33 minutes with the arrival at Euston at 2306 - 101 minutes down.
Alan Costello



Timings (Booked & Actual)
(from Alan Costello)
M.C
Location
Booked
Actual
Booked
Actual
M.C
0.00
Euston
08.57d
10.11
21.25a
23.06
332.41
1.54
Camden Jn
09/02
10/14
21/18
??/??
330.47
5.23
Willesden West London Jn
09/06
10/18
21/15
??/??
326.78
8.04
Wembley Central
09/11
10/21
21/13
22/55
324.17
11.30
Harrow & Wealdstone
09/14
10/24
21/09
22/53
320.71
17.35
Watford Junction
09.21a ~ 09.23d
10.30 ~ 10.34
20.59a ~ 21.00d
22.41 ~ 22.45
314.66
24.39
Hemel Hempstead
09/32
10/41
??/??
22/33
307.62
31.53
Tring
09/42
10/50
20/37
21.35a ~ 21.40d
300.48
38.16
Ledburn Jn
09/50
11/04
20/30
20/51
294.05
46.46
Bletchley
09/59
11/17
20/21
20/40
285.55
49.65
Milton Keynes Central
10.07a ~ 10.09d
11.21 ~ 11.23
20.14a ~ 20.16d
20.22 ~ 20.25
282.36
46.47
Hanslope Jn
10/16
11/29
20/06
??/??
275.54
65.68
Northampton
10.27a ~ 10.29d
11.42 ~ 11.44
19.53a ~ 19.55d
19.59 ~ 20.02
266.33
75.37
Long Buckby
10/42
11/53
19/44
19/43
256.64
84.67
Rugby
10*56a ~ 11*12d
12/02
19/28
19/31
247.34
99.37
Nuneaton
11/26
12/17
19c00a ~ 19c02d
19.14 ~ ??.??
232.64
112.37
Tamworth Low Level
11/38
12/27
118.50
Lichfield Trent Valley LL
11/43
12/39
123.58
Armitage Jn
11/48
??/??
129.35
Colwich Jn
11/52
12/48
131.58
Milford & Brocton
11/57
12/51
Whitacre Jn
18/46
18/57
222.20
Water Orton
18/41
18/53
219.35
Water Orton West Jn
18/36
18/52
218.74
Park Lane Jn
18/34
18/49
218.05
Ryecroft Jn
18/16
18/31
206.36
Walsall
18/13
18/29
205.74
Pleck Jn
18/10
18/27
205.09
Darlaston Jn
18/02
18/24
204.08
Portobello Jn
17/59
18/20
201.09
Bushbury Jn
17/53
18/16
198.41
135.70
Stafford
12/07
12/55
17/41
17/59
184.64
141.19
Norton Bridge
12/11
13/04
17/33
17/54
179.35
152.21
Madeley
12/20
13/13
17/16
17/44
168.33
158.43
Basford Hall Jn
12/28
13/19
17/10
17/37
162.11
16.027
Crewe
12.32a
13.23
17.04d
17.33
160.27