18th May 2003
Pathfinder Tours
The Clacton Avoider
Route:
1Z71 : Crewe to Clacton
1Z72 : Clacton to Crewe
Third attempt by Pathfinder to get to Clacton - first time (26/08/02 'Bone Breaker') saw the train terminated at Walton-on-Naze after it collided with the buffers. Attempt no.2 (27/10/02 'Gratis Grids') only made it from Crewe to Stafford owing to atrocious weather conditions.
| | |
| --- | --- |
| Loco(s) | Route |
| 56032 | Crewe - Norton Bridge - Stafford - Bushbury Jn - Portobello Jn - Bescot Yard |
| 56018 + 56032 | Bescot Yard - Perry Barr North Jn - Soho South Jn - Birmingham New Street - Proof House Jn - St Andrews Jn - Bordesley Jn - Small Heath South Jn - Tyseley - Dorridge - Leamington Spa - Banbury - Aynho Jn - Princes Risborough - High Wycombe - West Ruislip - Greenford West Jn - West Ealing - Ealing Broadway - Acton Main Line - Acton Wells Jn - Willesden Junction (HL) - Kensal Green Jn - Gospel Oak - Camden Road - Dalston Jn - Channelsea Jn - Stratford - Ilford - Chelmsford - Marks Tey - Colchester Down Goods |
| 56032 (1) | Colchester Down Goods - Colchester - Colchester Town |
| 56018 (2) | Colchester Town - Thorpe-le-Soken - Clacton |
| 56018 + 56032 | Clacton - Thorpe-le-Soken - Colchester - Marks Tey - (reverse of outward route) - Stratford |
| 56018 (2) | (3) Stratford - Maryland (3) |
| 56032 (1) | Maryland - Stratford - (reverse of outward route) - Soho South Jn - Dudley Port - Wolverhampton - Bushbury Jn - (reverse of outward route) - Crewe |
Notes :
(1) 56018 on rear.
(2) 56032 on rear.
(3) Train incorrectly routed to Stratford platform 9 however this did not allow access to the North London Line hence 56018 was run-round and the train ran back to Maryland to gain the correct route. 56018 was not run-round back to the front, leaving 56032 to power the train back to Crewe.
Source : various including Alex Cunningham



Tour Review
(from Geoff Middleton)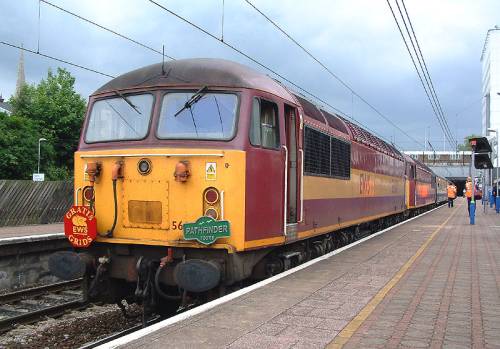 Mark Sawyers photo of the pair at Ealing Broadway.
Call me foolhardy, but I just had to do the 'Clacton Avoider' if only to see what would go wrong.
After all, this Pathfinder Tour has a pretty impressive pedigree. It started life on the 2002 August Bank Holiday as the infamous 'Bone Breaker'. Nobody will need reminding that this was the tour that lived up to its name by trying to turn Walton-on-the-Naze into a through station, a deed that saw the tour caped before reaching Clacton and brought the world's media out in force to view the worst ever railway accident in an Essex seaside town on a Bank Holiday Monday.
The re-run - billed the 'Gratis Grids' because we didn't have to pay - ran, if that's the word, last October, but didn't make it any further than Stafford when gale force winds brought most of the network to a standstill. Incidentally, I needed both grids on that day, 038 and 041, and managed to get them when the charter stormed back to Crewe in an impressive 3hrs 37mins for the 24 miles. The countryside was a blur.
So what would the 'Clacton Avoider' offer? Well, not the booked pair of grids, for a start. I arrived at Stafford to find the stock hadn't even made it into Crewe. Things went from bad to worse when I discovered the reason - failure of grid 113, the only one of the rostered pair I required.
Eventually, grid 32 arrived on its own about 45 minutes down. Further delay ensued with an unscheduled stop at Bescot up goods loop to add an unsuspecting grid 18 - again not required - and off we went.
Things proceeded in a boringly normal fashion on the run via the Chiltern Line, North London Line and Great Eastern main line and the grids even managed to pick up a little bit of time. Meanwhile all those on board who had been on the original 'Bone Breaker' were enjoying a free 'goody bag' courtesy of EWS and containing a specially-commissioned mug and plenty of edibles - not bad at all.
After a right turn at Colchester and a quick detour to the short Colchester Town branch, we reached the Promised Land - cunningly disguised as an Essex seaside town. Everyone disembarked for a 40-minute break and descended on the nearest chip shop. Back at the station, it became obvious that Essex humour is alive and well with the message on the screens proclaiming: 'Warning - through train approaching'.
And so for home and having made it to Clacton, what could possibly go wrong now? Well, nothing at first, as the grids started to eat into the fairly relaxed schedule on the great eastern. Pathfinder stewards handed out certificates commending us all on our dedications above and beyond the call of duty in sticking with it and we all congratulated ourselves on a job well done.
And then we reached Stratford, where control in their wisdom decided we should be heading not for the North London Line, but for Liverpool Street like every other passenger train heading west. So after stopping in a platform where access to the NLL was impossible, we all got out for an unexpected leg stretch while the powers that be decided what to do. The answer was a fairly impressive version of the hokey-cokey - you put your front grid in, your front grid out, etc, etc. So a rather bemused grid 18 was detached to run round the train to drag us back over a cross-over to Maryland to regain our correct path. It was then decided to leave 18 on the back in case it got dizzy.
So with the usual snail pace stagger across the NLL and saunter back up the Chiltern, we were around 1hr 30 down at one stage. But some spirited running north of Banbury and foregoing the usual game of snooker outside New Street (you know the one - have to get a red before a colour), we were only just over an hour late back into Stafford.
All in all and even despite the disappointment of (for me) dud grids, I thoroughly enjoyed the day. Everyone entered into the spirit of the occasion and even the Stratford Shuffle failed to elicit more than the usual moan at Notwork Rail's imitation of the Keystone Cops. We must do it again sometime.
Geoff Middleton



Timings (Booked & Actual)
(from Alex Cunningham)
Location
Booked
Actual
Booked
Actual
Crewe
08.45d
09.43
23.10a
00.23
Madeley
08/56
09/52
22/58
00/07
Norton Bridge
09/06
10/00
22/49
00/00
Stafford
09.14a ~ 09.16d
10.05 ~ 10.07
22.41a ~ 22.43d
23.53 ~ 23.54
Bushbury Jn
09/28
10/20
22/07
23/41
Wolverhampton North Jn
22/21
23/39
Wolverhampton
22/19
23/37
Galton Jn
22/07
23/27
Dudley Port
22/10
23/31
Portobello Jn
09/33
10/25
Darlaston Jn
09/37
10/27
Bescot Stadium
09/38
10/30
Perry Barr North Jn
09/43
11/00
Perry Barr West Jn
09/44
??/??
Soho East Jn
09/48
11/03
Soho South Jn
09/51
11/04
22/04
23/25
Birmingham New Street
09.56a ~ 10.13d
11.10 ~ 11.13
21.52a ~ 21.59d
23.18 ~ 23.21
Proof House Jn
10/16
11/16
21/49
23/15
St Andrews Jn
10/19
11/22
21/46
23/11
Bordesley Jn
10/20
11/24
21/45
23/09
Small Heath South Jn
10/25
11/27
21/44
23/07
Tyseley
10/26
11/27
21/43
23/06
Dorridge
10/35
11/42
21/32
23/00
Hatton
10/45
11/50
21/25
22/54
Leamington Spa
10.56a ~ 11.05d
11/57
21/16
22/48
Fenny Compton
11/18
12/09
21/05
22/39
Banbury
11.28a ~ 11.32d
12.18 ~ 12.20
20.50a ~ 20.56d
22.24 ~ 22.30
Aynho Jn
11/38
12/26
20/42
22/17
Bicester North
11/51
12/34
20/32
22/07
Princes Risborough
12/15
12/56
20/12
21/48
High Wycombe
12/28
13/03
19/58
21/37
Gerrards Cross
12/40
13/12
19/46
21/20
West Ruislip
12/47
13/18
19/39
21/09
South Ruislip
12/54
13/31
19/36
21/05
Greenford West Jn
12/58
??/??
19.15a ~ 19.30d
20/56
Greenford South Jn
12/59
??/??
19/12
20/52
West Ealing
13/13
13/50
19/04
20/44
Ealing Broadway
13.15a ~ 13.17d
13.52 ~ 13.54
18.57a ~ 19.01d
20.38 ~ 20.42
Acton West
13/19
13/56
18/56
20/35
Acton Main Line
13/20
13/58
18/54
20/34
Acton Wells Jn
13/23
14/02
18/47
20/28
Willesden Junction High Level
13/27
14/04
18/44
20/26
Kensal Green Jn
13/28
??/??
18/42
20/25
Gospel Oak
13/44
14/15
18/32
19/54
Camden Road
13/47
14/19
18/27
19/50
Camden Road East Jn
13/49
??/??
18/24
??/??
Dalston Jn
13/57
14/27
18/19
19/39
Channelsea Jn
14/05
??/??
18/11
??/??
Stratford
14.08a ~ 14.12d
14/38
18/08
18.38a ~ 19.08d
&
19.23a ~ 19.24d
Maryland
??/??
??/??
DIV
19.11a ~ 19.21d
Forest Gate Jn
14/15
14/41
18/05
18/36
Ilford
14/16
14/44
18/02
18/33
Gidea Park
14/25
14/49
17/51
18/29
Shenfield
14/33
15/02
17/45
18/23
Chelmsford
14/41
15/12
17/34
18/12
Witham
14/48
15/21
17/26
18/04
Marks Tey
14/54
15/29
17/19
17/57
Colchester Down Goods
15L01a ~ 15L16d
??.?? ~ ??.??
-
-
Colchester
15/18
15/56
17/15
17/52
Colchester Town
15.25a ~ 15.39d
16.06 ~ 16.14
-
-
Hythe
15/43
??/??
17/09
??/??
Thorpe-le-Soken
15/58
16/34
16/54
17/31
Clacton
16.07a
16.43
16.47d
17.22