27th April 2003
Hertfordshire Rail Tours
The CEP Salute
| | |
| --- | --- |
| EMU's Used | class 411's 1592 (61779+70545+70594+61778) & 1602 (61958+70565+70279+61959) |
Route:
1Z62 : Victoria to Dover Priory
1Z63 : Dover Priory to Sheerness
1Z64 : Sheernes to Gillingham
1Z65 : Gillingham to Ore
1Z66 : Ore to Victoria
| | |
| --- | --- |
| EMU's | Route (1) |
| as listed | London Victoria - Stewarts Lane Jn - (via Catford Loop line) - Brixton - Nunhead - Lewisham - Hither Green - Chislehurst - Swanley - Otford - Borough Gren & Wrotham (loop) - Maidstone East (through line) - Lenham (loop) - Ashford International - Canterbury West - Minster - Deal - Dover Priory |
| as listed | Dover Priory - Deal - Minster East Jn - Ramsgate - Margate - Herne Bay - Sittingbourne - Kemsley - Sheerness |
| as listed | Sheerness - Kemsley - Western Jn - Gillingham |
| as listed | Gillingham - Sittingbourne - Faversham - Canterbury East - Dover Priory |
| as listed | Dover Priory - Folkestone Central - (via Sevington loop) - Ashford International - Headcorn (via UGL) - Paddock Wood - Tonbridge |
| as listed | Tonbridge - Tunbridge Wells - Wadhurst - Battle - Hastings - Ore |
| as listed | Ore - Hastings - Battle - Wadhurst - Tunbridge Wells - Sevenoaks - Otford - Swanley - Bickley - Shortlands - Catford - Nunhead - Crofton Road Jn - (via Atlantic line) - Denmark Hill - Factory Jn - Stewarts Lane Jn - London Victoria |
Sources : Roger Winter & Joe Sharples



Tour Review
(by Martyn Brailsford)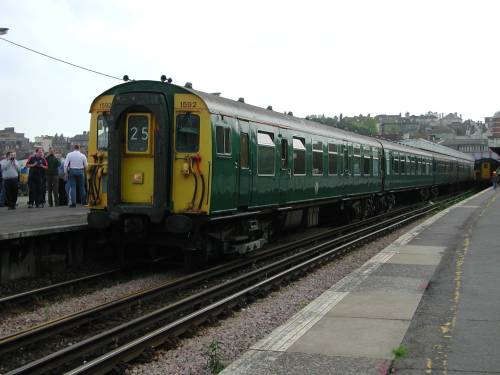 The tour at Hastings (photo : Nigel Keer)
This tour was to mark 40 years service of the 4 CEP units on the Kent Coast service and covered most of the main lines in Kent as possible (and also managed to traverse some of the rarer pieces of track as well). Being from up north, I arranged to spend the weekend at the in-laws who live in Mitcham and spent the Saturday covering many lines in Sussex and Surrey courtesy of a South Centralís £10 DaySaver railrover Ė well worth it, but only available via the internet.
Sunday arrived and I set off for Streatham Common station and arrived at about 08.00 and after viewing the thermit welding taking place on the fast lines in the platform I caught the 08.22 departure for Victoria and arrived at the London terminus just after 8.35. A quick bite to eat was obtained before checking the board to confirm a platform 1 departure. On arriving at the platform I was greeted to the sight of unit 1602 in Connex livery and 1592 in Southern green (1592 being the lead unit out of Victoria).
Departure time came and we set off out of Victoria and across the river to make our way down to Stewarts Lane depot where a solitary class 09 was on view before we made our way back up to join the Atlantic lines at Factory Junction, continuing through Wandsworth Road and Clapham High Street we crossed over to the Chatham lines at Shepherds Lane Junction and headed across south London via Peckham Rye and Nunead to reach our second pick-up point at Lewisham. After a brief stop we set off again sticking to the slow lines via Hither Green, where a number of 66s where stabled, and Grove Park to reach Chislehurst Junction where we took the single line spur down to St Mary Cray and arrived at our final pick-up point at Swanley.
Our Swanley pick-up took longer than planned due, I believe, to the route being set for Sole Street instead of Otford (I didnít actually view the offending signal aspect). We set off for Otford and turned left onto the Maidstone line, traversing the passenger loop at Borough Green and the centre reversible road at Maidstone East before we had our first view of the day of the high speed Channel Tunnel rail link. Continuing down towards Ashford we used the passenger loop at Lenham, before stopping at our first planned photo stop, of which there were many, at Lenham Station. Here a few locals looked absolutely bemused as their station was invaded by an 8-coach train of rail enthusiasts most of whom were taking photos of the units from every conceivable angle! Continuing down towards Ashford, we viewed a trackless Beechbrook Farm (except for the reception line) and then crossed the entire layout at Ashford to arrive in platform 1 where we had photo stop number 2. During this 15 minute stop we viewed a Eurostar set passing through the station.
After crossing the entire layout again to gain the Canterbury line we picked up speed before having a signal check at Wye. Arrival at Canterbury West saw the majority of the train alight for photo stop number 3 and many photos were taken of the train, signalling and stilted signalbox. 10 minutes later we were on our way and shortly afterwards we traversed the peak hour only Minster curve and then continued the tour down towards Dover viewing the remains of Richborough Power Station, the rust stub into Betteshanger Colliery before passing through Buckland Junction and arriving for photo stop number 4 and reversal number 1 in platform1 at Dover Priory. Here, at Dover, a number the railtourers decided to have a break and would rejoin us later on in the day when we returned.
After the 10 minute stop we retraced our route back to Minster South Junction and on the way had photo stop number 5 at Deal. On arrival, at Deal, the peg was off, but 30 seconds later the signalman had dropped it, I suspect so the level crossing at the north end of the station wasnít blocked whilst we had our stop. 13 minutes later we set off and after passing the Minster triangle we arrived for a brief stop at Ramsgate for a crew change and then had a fast run through Margate and Herne Bay to arrive at Faversham for photo stop number 6.
We then headed off toward Sittingbourne and turned left on to the Sheerness Branch and viewed the many industrial premises and sidings in the area and even managed to view a stabled class 66 before photo stop number 7 and reversal number 2 in platform 1 at Sheerness-on-Sea. We then retraced our route as far as Sittingbourne Middle Junction where we turned right to traverse the more difficult western arm of the Sittingbourne triangle before arriving in platform 2 at Gillingham for photo stop number 8 and reversal 3. We then headed back towards Dover Priory via Sittingbourne, Faversham and Canterbury East, with only a brief, unscheduled stop, at Faversham. Just prior to Dover it was announced that our stop at would be extended and the Folkestone West stop removed to compensate. We arrived in Dover (photo stop number 9) and picked up those who had decided to have a break earlier.
We departed Dover and viewed, in the distance, the remains of Marine Station and the derelict land where Dover Town Yard once stood. Continuing towards Ashford we passed the rusty and disconnect sidings at the Channel Tunnel construction site and then the rusty Folkestone Harbour Branch before reaching Dollands Moor where we viewed a number of class 66s and 92s before entering Saltwood Tunnel. We then headed off to Tonbridge, but not without traversing two more loops, namely Sevington and Headcorn Up Goods Loops. On arrival at Tonbridge (photo stop 10 and reversal 4 Ė the only reverse of the day where our headcode didnít change!) we had 6 minutes before we set off for a fast run to Hastings, which other than viewing 66711, stabled at Mountfield, was otherwise uneventful.
We arrived in Hastings (photo stop 11) where we had a 16 minute stop. A few of our number alighted here to have a longer break and photograph the tour arriving back from Ore, whilst the vast majority had the short journey to Ore (Photo stop 12, reversal 5) where as the reversal was in the headshunt of the former carriage sidings, we all had to alight. Now Ore station can only hold 6 carriages, has only one small footbridge and the train was 8 carriages long so as you can imagine the platforms were very full and it took at least 10 minutes for everyone to cross from one platform to the other. I suspect Ore has never had this many passengers in it history! A number of tongue in cheek comments were made about the footbridge collapsing under the weight of everybody crossing, I wonder if this (along with a very full platform) had a higher risk associated with it than running the train loaded into the headshunt and back out?
Anyway we departure Ore 5 minutes late, had a brief stop to pick up those who had alighted at Hasting before having a non-stop run back as far as Sevenoaks. Now according to the timings we were due a crew change at Tonbridge on the way back, but this obviously didnít occur Ė but did it occur on our previous visit to Tonbridge instead? At Sevenoaks we awaited a clear path to cross the Down line and headed off toward Swanley via Bat and Ball and Otford.
After the Swanley set down we took our booked route via Bromley South and at Shortland Junction turned right off the fast lines onto the Catford Loop via the new fly under that, I believe, had only been opened the previous week. After a set down at Catford, we passed through Nunhead and Peckham Rye before using the Crofton Road Junction crossover to gain the Atlantic lines and then continued along these line to Factory Junction to take the drop down to Stewart Lane Junction to climb back up to cross the Thames and arrive back at Victoria a couple of minutes early in platform 4. A quick run across to the central section of the station allowed me to catch a late running Dorking service back to Streatham Common and so a very enjoyable day came to an end.
It was a refreshing change to be on a railtour where there were a number of photstops/leg stretching opportunities, not too long but spaced out through the day. The tour did all the lines advertised and some unadvertised ones too and in essence ran on time through out the day. Well done Hertfordshire on another successful railtour and Greg Beecroft of the Southern Electric Group for devising the route.
Martyn Brailsford



Timings (Booked & Actual)
(from Joe Sharples & Daniel Bound)
| | | | |
| --- | --- | --- | --- |
| M.C | Location | Booked | Actual |
| 0.00 | Victoria | 09.15d | 09.15 |
| 0.73 | Grosvenor Bridge Jn | 09/17 | 09/17 |
| 1.36 | Stewarts Lane Jn | 09/19 | 09/19 |
| 1.68 | Factory Jn | 09/20 | 09/20 |
| ?.?? | Voltaire Road Jn | 09/20 | 09/21 |
| ?.?? | Shepherds Lane Jn | 09/21 | 09/22 |
| 3.08 | Brixton | 09/22 | 09/23 |
| 3.70 | Cambria Jn | 09/23 | 09/24 |
| 5.77 | Nunhead | 09/26 | 09/27 |
| 7.63 | Lewisham | 09.31a ~ 09.32d | 09.32 ~ 09.33 |
| 8.22 | Parks Bridge ? Jn ? | 09/33 | 09/34 |
| 9.02 | Hither Green | 09/35 | 09/37 |
| 10.64 | Grove Park | 09/37 | 09/39 |
| 13.05 | Chislehurst | 09/40 | 09/41 |
| 13.76 | St Mary Cray Jn | 09/41 | 09/43 |
| 18.10 | Swanley | 09.45a ~ 09.46d | 09.47 ~ 09.50 |
| 25.32 | Otford Jn | 09/55 | 09/58 |
| 30.25 | Borough Green & Wrotham | 10/02 | 10/05 |
| 40.55 | Maidstone East | 10/13 | 10/15 |
| 49.70 | Lenham | 10.26a ~ 10.38d | 10.26 ~ 10.38 |
| 59.76 | Ashford International | 10.49a ~ 11.04d | 10.48 ~ 11.04 |
| 64.19 | Wye | 11/10 | 11/11 |
| 74.14 | Canterbury West | 11.24a ~ 11.36d | 11.27 ~ 11.36 |
| 85.51 | Minster | 11/49 | 11/50 |
| 90.38 | Sandwich | 11/55 | 11/55 |
| 94.48 | Deal | 11/59 | 11/59 |
| 102.77 | Buckland Jn | 12/09 | 12/10 |
| 103.68 | Dover Priory | 12.12a ~ 12.23d | 12.11 ~ 12.23 |
| 104.59 | Buckland Jn | 12/25 | 12/25 |
| 113.08 | Deal | 12.36a ~ 12.49d | 12.35 ~ 12.48 |
| 117.18 | Sandwich | 12/54 | 12/54 |
| 121.75 | Minster East Jn | 12/58 | 12/59 |
| 125.45 | Ramsgate | 13.03a ~ 13.04d | 13.04 ~ 13.06 |
| 130.77 | Margate | 13/12 | 13/14 |
| 142.08 | Herne Bay | 13/23 | 13/23 |
| 152.69 | Faversham | 13.33a ~ 13.43d | 13.33 ~ 13.43 |
| 160.07 | Sittingbourne | 13/51 | 13/50 |
| 160.48 | Eastern Jn | 13/52 | 13/52 |
| 161.78 | Kemsley | 13/54 | 13/54 |
| 165.79 | Queensborough | 14/00 | 14/00 |
| 167.77 | Sheerness | 14.05a ~ 14.11d | 14.05 ~ 14.11 |
| 169.75 | Queenborough | 14/15 | 14/15 |
| 173.76 | Kemsley | 14/21 | 14/20 |
| 175.26 | Western Jn | 14/25 | 14/23 |
| 177.52 | Newington | 14/28 | 14/26 |
| 180.22 | Rainham | 14/30 | 14/28 |
| 183.21 | Gillingham | 14.34a ~ 14.43d | 14.32 ~ 14.43 |
| 192.05 | Sittingbourne | 14/52 | 14/52 |
| 199.23 | Faversham | 14/58 | 14.58a ~ 15.00d |
| 209.11 | Canterbury East | 15/09 | 15/11 |
| 219.06 | Shepherd's Well | 15/19 | 15/19 |
| 223.58 | Buckland Jn | 15/23 | 15/26 |
| 224.49 | Dover Priory | 15.25a ~ 15.29d | 15.30 ~ 15.40 |
| 232.02 | Folkestone Central | 15/40 | 15/51 |
| 232.53 | Folkestone West | 15.42a ~ 15.50d | 15/52 |
| 235.35 | Saltwood Jn | 15/54 | 15/54 |
| 245.66 | Ashford International | 16/04 | 16/04 |
| 256.55 | Headcorn | 16/14 | 16/13 |
| 267.10 | Paddock Wood | 16/23 | 16/22 |
| 272.33 | Tonbridge | 16.28a ~ 16.34d | 16.29 ~ 16.35 |
| ???.?? | High Brooms | 16/36 | 16/40 |
| ???.?? | Wells Tunnel Jn | 16/40 | 16/40 |
| 277.23 | Tunbridge Wells | 16/43 | 16/42 |
| 282.14 | Wadhurst | 16/49 | 16/47 |
| 292.38 | Robertsbridge | 16/58 | 16/55 |
| 294.69 | Mountfield | 17/01 | 16/58 |
| 298.37 | Battle | 17/05 | 17/01 |
| 303.60 | Bopeep Jn | 17/12 | 17/08 |
| 305.24 | Hastings | 17.15a ~ 17.27d | 17.12 ~ 17.28 |
| 306.16 | Ore | 17.30a ~ 17.40d | 17.30 ~ 17.46 |
| 307.08 | Hastings | 17.42a ~ 17.44d | 17.48a ~ 17.49 |
| 308.52 | Bopeep Jn | 17/47 | 17/53 |
| 313.75 | Battle | 17/54 | 18/00 |
| 317.43 | Mountfield | 17/58 | 18/03 |
| 319.74 | Robertsbridge | 18/00 | 18/05 |
| 330.18 | Wadhurst | 18/10 | 18/14 |
| ???.?? | Strawberry Hill Tunnel | 18/14 | 18/18 |
| 335.09 | Tunbridge Wells | 18/16 | 18/20 |
| ???.?? | Wells Tunnel Jn | 18/17 | 18/21 |
| ???.?? | High Brooms | 18/21 | 18/22 |
| 339.79 | Tonbridge | 18.25a ~ 18.26d | 18/26 |
| 347.32 | Sevenoaks | 18/35 | 18/36 |
| 349.48 | Otford Jn | 18/39 | 18/40 |
| 356.70 | Swanley | 18.48a ~ 18.49d | 18.47 ~ 18.49 |
| 361.04 | St Mary Cray Jn | 18/54 | 18/53 |
| 361.63 | Bickley Jn | 18/55 | 18/55 |
| 364.44 | Shortland Jn | 18/58 | 18/57 |
| 367.27 | Catford | 19.02a ~ 19.03d | 19.01 ~ 19.01 |
| 369.33 | Nunhead | 19/06 | 19/04 |
| 370.43 | Crofton Road Jn | 19/08 | 19/06 |
| 371.08 | Denmark Hill | 19/09 | 19/07 |
| 373.18 | Voltaire Road Jn | 19/12 | 19/11 |
| 373.42 | Factory Jn | 19/13 | 19/12 |
| 373.74 | Stewarts Lane Jn | 19/14 | 19/13 |
| 374.37 | Grosvenor Bridge Jn | 19/16 | 19/14 |
| 375.30 | Victoria | 19.19a | 19.17 |