5th April 2003
Pathfinder Tours
The Whistling Tynesider
| | |
| --- | --- |
| Locos Used | D345 & 90031 |
| Stock Used | 5275+5309+5009+4927+4963+4902+5029+1863+3112+3140+21272 |
Route:
1Z40 : Birmingham International to York
1Z41 : York to York
1Z42 : York to Birmingham International
| | |
| --- | --- |
| Loco | Route |
| 90031 | Birmingham International - Stechford - Aston - Perry Barr North Jn - Bescot Stadium - Portobello Jn - Wolverhampton - Bushbury Jn - Stafford - Norton Bridge - Crewe |
| D345 | Crewe - Sandbach - Wilmslow - Stockport - Heaton Norris Jn - Denton Jn - Guide Bridge - Stalybridge - Marsden - Huddersfield - Mirfield Jn - Wakefield Kirkgate - Castleford - Church Fenton - York - Thirsk - Longlands Jn - Boroughbridge LC - Eaglescliffe - Stockton Cut Jn - Norton South Jn - Ferryhill South Jn - Durham - King Edward Bridge South Jn - High Level Bridge - Newcastle - King Edward Bridge South Jn - (via ECML) - York - Church Fenton - Castleford - Wakefield Kirkgate - Hebden Bridge - Littleborough - Rochdale - Vitriol SB - Thorpes Bridge Jn - Manchester Victoria - Eccles - Newton-le-Willows - Earlestown - Winwick Jn - Warrington Bank Quay - (via WCML) - Crewe |
| 90031 | Crewe - (reverse of outward route) - Birmingham International |
Source : Gary Thornton (on the train throughout)



Tour Review
(by Gary Thornton)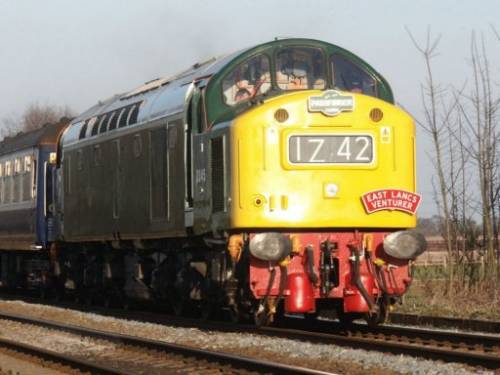 D345 looks every inch the part passing through Astley (photo: Phil Pearson)
Here are some more photos taken on the day.
Another 3.45am alarm call but some days the effort seems worth it....
This particular morning it was a case of getting to Birmingham International for 05.50 for Pathfinders 'Whistling Tynesider' tour which was to feature D345 from Crewe to Newcastle and back.
Two of my travelling colleagues turned up at my door a little before 4.30am and we collected a third in Coventry. Arrival into Birmingham International was comfortable so time to wander over to the stock and get comfortable before departure time. Being sat in coach A was particularly satisfying on this occasion as it meant being at the front all day.
90031 was our loco as far as Crewe. A kind of funny atmosphere in coach A, I guess we should all have been excited at the prospect of almost 400 miles of class 40 haulage but somehow things were subdued - maybe it still hasn't sunk in that we can now enjoy a "whistler" at work on the mainline.
At Crewe we arrived to find D345 waiting at the end of the platform and the locos were soon swapped. Some more colleagues soon arrived and a number of them were somewhat upset to discover 90031 had been our loco from Birmingham - a required haulage for them!
With D345 safely attached the fun began. Our routing was via Stockport, Stalybridge, Huddersfield & Castleford to York where there was a short break. D345 performed really well and no-one seemed to mind the lack of train heating and full-open windows in our coach...I wonder why... Standedge Tunnel was particularly entertaining with D345 working hard most of the way through - another case of not coming on this tour to talk to your travelling companions!
After York we sped northwards along the ECML but with a diversion via Eaglescliffe & Stockton (spotting loads of 31's in the scrapyard there) to Ferry Hill where we re-joined the ECML after a pause to let a GNER service past.
Although Newcastle was the furthest north we got, we didn't actually stop there, instead arriving via the High Level Bridge and departing via King Edward Bridge. A bit of thrash through the station itself was well appreciated by those within earshot. On leaving it was suggested perhaps on a future tour we could go round the loop and through the station a second time ("why Ada, that's the second class 40 to come through on a railtour in under 15 minutes...").
We passed 67017 which was sat on the King Edward Bridge. Heading away we then passed a class 90 coming in with aHertfordshire Railtours excursion - so presumably the 67 was waiting to take over the tour at Newcastle. Even though that tour was doing some track I needed in the area I know which train I was happiest to be on!
On returning to York we had about two and a half hours so a group of us went off for a look round the railway museum. 31018 looked nice freshly out-shopped in blue, though the finish didn't look quite right being semi-gloss rather than full-gloss. Newly repainted HST prototype power car 41001 also looked rather nice.
Walking towards the prototype Deltic I was surprised to se someone in the cab then I realised it was one of the Class Forty Preservation Society committee members. One of the NRM's explainers was on-hand and a quick word soon got me up into Deltic too - quite a rare experience!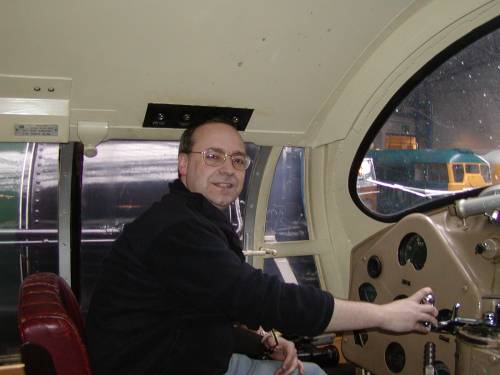 Yours truly at the controls of "Deltic" - where shall we go today then?
After a quick walk round to look at D200 a few of us took the opportunity to have a trip on the miniature railway out the back of the NRM, locos 'Helen' & 'John' being scooped in the process - definitely closely related to lawn mowers judging by the engine note! I think the driver was a bit withered when we then staged a seminar photo in front of one of the locos!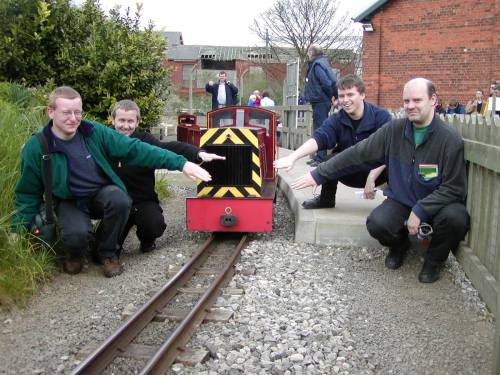 Messers Mitchell, Russell, Wilcox's & Clarke plus loco 'John'.
Back to the station and the tour stock didn't arrive back into the station until departure time, so we were about 10 late leaving by the time everyone got on board.
The thrash southwards was again absolutely superb. Manchester Victoria was, erm, simply outrageous! Entering the enclosed part of the station at walking pace D345 then erupted, to a very loud cheer from those on board....just had to be done!!
After paying homage to the Vulcan Works at Newton-le-Willows we were back on the West Coast Main Line. Interestingly a booked pathing stop at Winwick Junction was ignored, even though we arrived bang on time and a Virgin WC set was also approaching over the flyover from the Liverpool direction...for some reason we were given priority over it.
All to soon we were back at Crewe. A rather long loco changeover took place (back to 90031) but at least everyone got a good look at the 40 and got the photos they wanted. When D345 left the station it was to a large cheer and round of applause - certainly justified as the loco had performed excellently all day.
90031 whizzed us home (plus a few extras, those who'd joined at Crewe in the morning, as far as Stafford so they could "claim" 90031 for haulage). Arrival back into Birmingham International was bang on time.
Verdict : What can I say - simply one of this years top tours (so far)!!



Timings (Booked & Actual)
(from Gary Thornton)
M.C
Location
Booked
Actual
0.00
Birmingham International
05.50d
05.50
4.33
Stechford
05/54
05/56
7.26
Aston
06/00
06/01
14.03
Bescot Stadium
06/09
06/08
18.20
Portobello Jn
06/14
06/14
20.04
Wolverhampton
06.21a ~ 06.24d
06.18 ~ 06.24
21.58
Bushbury Jn
06/30
06/27
35.35
Stafford
06.47a ~ 06.49d
06.38 ~ 06.49
40.64
Norton Bridge
06/58
06/56
51.66
Madeley
07/09
??/??
59.72
0.00
Crewe
07L24a ~ 07L44d
07.14 ~ 07.41
4.50
Sandbach
07/53
07/51
18.65
Wilmslow
08/06
08/06
25.01
Stockport
08/17
08.18a ~ 08.20d
25.56
Heaton Norris Jn
08/20
08/23
29.66
Denton Jn
08/35
08/30
30.53
Guide Bridge
08/45
08/44
32.76
Stalybridge
08/51
08/51
40.03
Diggle Jn
09/02
09/01
43.78
Marsden
09/06
09/06
51.04
Huddersfield
09c15a ~ 09c17d
09.14 ~ 09.16
55.18
Heaton Lodge East Jn
09/22
09/21
63.09
Horbury Jn
09/32
09/32
65.33
Wakefield Kirkgate
09/37
09/35
69.26
Altofts Jn
09/41
09/38
72.04
Castleford
09/45
09/46
77.76
Milford Jn
09/51
09/55
82.25
Church Fenton
09/57
09/59
87.42
Colton Jn
10/03
10/04
93.03
York
10.11a ~ 10.51d
10.15 ~ 10.52
102.53
Tollerton Jn
11/01
(11/03)
115.19
Thirsk
11/12
11/15
121.74
Longlands Jn
11/20
11/21
122.75
Boroughbridge Road LC
11/22
11/22
137.55
Eaglescliffe
11/42
11/41
139.68
Hartburn Jn
11/45
11/45
142.45
Norton South Jn
11/49
(11/49)
153.37
Ferryhill South Jn
12/06
12/09
163.33
Durham
12/17
12/22
177.15
King Edward East Bridge Jn
12/29
12/36
177.45
High Level Bridge Jn
12/31
12/37
178.05
Newcastle
12/33
12/39
178.59
King Edward Bridge South Jn
12/35
12/41
192.08
Durham
12/48
12/54
202.04
Ferryhill South Jn
12/57
13/02
214.11
Darlington
13/07
13/13
228.25
Northallerton
13/17
13/25
236.05
Thirsk
13/24
13/32
248.61
Tollerton Jn
13/32
13/47
258.21
York
13.45a ~ 16.30d
14.00 ~ 16.40
263.62
Colton Jn
16/35
16/47
268.79
Church Fenton
16/39
16/52
273.28
Milford SB
16/43
16/56
279.20
Castleford
16/48
17/03
281.78
Altofts Jn
16/52
17/07
285.71
Wakefield Kirkgate
16/58
17/13
288.15
Horbury Jn
17/01
17/17
295.21
Mirfield
17c11a ~ 17c13d
17/29
304.29
Milner Royd Jn
17/30
17/39
315.43
Hall Royd Jn
17/41
17/49
321.39
Littleborough
17/48
??/??
324.30
Rochdale East Jn
18/02
18/00
335.24
Manchester Victoria
18/26
18/22
336.36
Ordsall Lane Jn
18/33
18/25
344.20
Astley
18/42
18/33
352.06
Earlestown
18/52
18/44
353.42
Winwick Jn
18/57
18.49a ~ 18.53d
356.78
Warrington Bank Quay
19/01
18.59a ~ 19.00d
358.65
Acton Grange Jn
19/03
19/03
364.67
Weaver Jn UPL
19*10a ~ 19*28d
19/10
372.23
Winsford SB
19/36
??/??
381.09
0.00
Crewe
19L52a ~ 20L16d
19.32 ~ 20.14
8.06
Madeley
20/25
??/??
19.08
Norton Bridge
20/37
20.32a ~ 20.34d
24.37
Stafford
20.43a ~ 20.45d
20.41 ~ 20.44
38.14
Bushbury Jn
21/00
(20/58)
39.68
Wolverhampton
21.06a ~ 21.08d
21.02 ~ 21.04
41.52
Portobello Jn
21/14
21/11
45.69
Bescot Stadium
21/23
21/16
52.48
Aston
21/32
21/23
55.39
Stechford
21/36
21.29a ~ 21.31d
59.72
Birmingham International
21.41a
21.41