5th April 2003
Daylight Rail Tours
Nene Valley Rambler
| | |
| --- | --- |
| Locos Used | 73096, 31452 & 31459 |
| Stock Used | load 8 |
Route:
1Z96 : Alton to Fletton Jn
1Z97 : Fletton Jn to Alton
| | |
| --- | --- |
| Loco(s) | Route |
| 73096 | Alton - Aldershot - Ash Vale - Pirpright Jn - Woking - Addlestone Jn - Virginia Water - Staines - Feltham Jn - Hounslow - Brentford - Barnes - Clapham Junction - Kensington Olympia - Mitre Bridge Jn - Willesden Junction (HL) - Kensal Green Jn - Gospel Oak - Harringay Park Jn - Harringay Jn - Alexandra Palace - Hertford North - Stevenage - Hitchin - Peterborough - Peterborough West Yard |
| 73096 | Peterborough West Yard - Peterborough - Fletton Jn - Orton Mere |
| 73096 | Orton Mere - Fletton Jn - Peterborough - Peterborough West Yard |
| 31452 + 31459 (2) | Peterborough West Yard - Peterborough - Hitchin - Stevenage - (1) - Finsbury Park - Fright Terminal Jn - Camden Road Jn - Gospel Oak - Kensal Green Jn - Willesden Junction HL - Acton Wells Jn - Kew East Jn - Brentford - (reverse of outward route) - Woking |
| 73096 | Woking - (reverse of outward route) - Alton |
Notes :
(1) Was booked via Hertford North but omitted due to late running.
(2) plus 73096 dead-in-tow.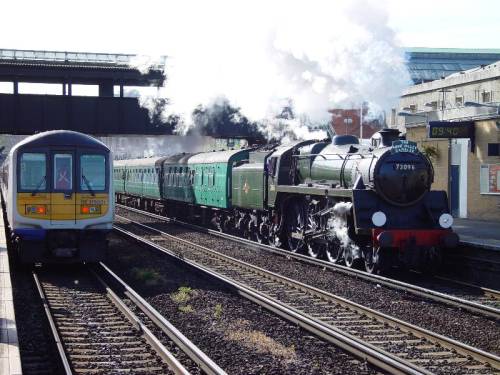 73096 passes Kensington Olympia (photo : www.railway-images.co.uk)
Sources : Roger Winter (on the train throughout)



Tour Review
(by Roger Winter)
Rail tours to preserved railway lines always seems like an interesting trip, hence my reason for doing this tour.
This tour would also support the Mid Hants Railway's main line programme.
I was up at 6:30 in the morning, very slowly, courtesy of my mains powered clock, my backup battery alarm clock is awaiting a new battery.
Having washed, shaved, had a cup of tea and set up the video recorders for the evenings programmes I set off at around 7:15 for the journey to Alton.
On entry to the car park I thought on first glance it was very full, but having driven in a bit I could see lots of spaces. I was parked at 7:38 and paid Ł3.60 for the pleasure however it did say that I would get a Ł1 refund if I was travelling on the train.
I was not sure if the rail tour ticket would qualify but if you don't ask you don't get, and certainly this was the case at Salisbury for a different rail tour.
Having got my refund I walked out on to the station and could see the tour train was already waiting with many people already seated. I appeared to be the only person heading for the train but I didn't think I was cutting it too fine.
The instructions for the tour already said that the dining coaches would be at the back so having gone over the footbridge I head in that direction being intercepted by one of the stewards enroute, I showed him my ticket and he pointed me to the very last coach.
We depart on time at 7:48 and steam down the tracks although I couldn't hear anything. We passed through Farnham slightly early and stop at Aldershot for our first pick-up.
Having been seated for ten minutes I had looked at my ticket more closely and see I should be back to the direction of travel, and so I moved before the steward checking the tickets got to me
I think this is force of habit as my preference is always sitting facing the direction of travel.
We slow to go through a housing estate though didn't stop and immediately after this we passed through Ash Vale where unfortunately I didn't make a note of the time although this was on the timing sheet.
We arrived at Woking slightly early and the SWT Thunderbird class 73 was not in its normal place and I didn't see it. The information display did show this as a Peterborough train with the correct calling points which included the water stop.
There was also a special notice with it to say it was for special ticket holders only.
There was an announcement on the train that it was fully booked and that people without tickets cannot join.
We were held for our correct departure time of 8:32 before leaving.
The route we were now taking I have been on before as a diversion from Woking to Waterloo and also on previous Daylight rail tours. The staple units on this line seemed to be the class 455's however I did see many Juniper units as well.
There were some astonished looking people on the platforms of the stations in this area when they saw this train go through.
A slight detour to the original plan, we did actually go to Clapham Junction to pick up a route conductor before continuing on the planned route around London.
A class 66 and I think a class 92 passed on a containers train beyond Kensington Olympia. Certainly the leading loco was EWS red and looked as if it was a class 66, this was a very brief look before the train passed. The following loco was Railfreight grey and I suppose may have been a class 60.
Some of the intercom announcements were rather unintelligible to begin with and sounded like traditional official announcements where the voice was all muffled and crackling, but it did eventually become clear.
I did get some new track in on this route in fact, as from Alexandra Palace to Stevenage via the Hertford North "loop" was new to me.
They did announce that at Hertford North where we were stopping for water, most of the train was likely to be out of the platform and they requested that even if "your" coach is platformed not to get off to expedite a quick getaway.
Whilst we were being watered they made a few announcements one of which was that there were problems on the East Coast mainline - the wires were down near Kings Cross and service trains may not be in the correct order. They would let us know later.
We set off four minutes early from our water stop and passed a fire tender that had been used to supply water-I was not sure if it was the Mid Hants Railways one as it was a rear view and I could not see the number plate but the overall condition of the tanker was much better than the Mid Hants one, which made me think it was a Fire brigade tender.
The train paused waiting to join the East Coast main line and a class 317 passes North bound and as we watch it a GNER HST over takes it also North Bound.
They announced that we were timed on the fast line on the East Coast main line at 75 mph but we would be on the slow line and may be delayed by a unit - they hoped we would have a faster run back.
If that class 317 is what they had in mind by a unit it would easily outpaced as and I can't think we would be delayed by one of these, or any of the overhead power EMU's for that matter, knowing how fast they accelerate. There are not that many stations for them to stop and start from between here and Peterborough.
As we attempted to race down the East Coast mainline even at the back of the train I could hear the steam engine as it worked hard to hustle the train along the tracks.
As if to prove the point about the speed of the EMU's at 11.38 we were overtaken by a class 365 which was going significantly faster than we were.
We switched to what we believed was the fast line North of Huntingdon and the steam engine sounded as if it was working even harder, and a quick look at the gradient profile confirmed that the train was now climbing a gradient and it became obvious once the summit had been passed and we were heading downhill. On the downhill run the train was shrouded in smoke, almost like a personalised fog.
As we pass North of Huntingdon there looked to be some extensive sidings that have now been taken up which I don't recall seeing before but must have done.
At Peterborough people could go off and spend their time in the city rather than do the trip to the Nene Valley Railway, and stewards announced that for the return we were due on platform four and to check the screens to see which platform the train would be. As there are few "green" liveried trains and probably no other steam engines out on the network that day, one hopes it should be pretty obvious where the tour train is in the station.
On approach to Peterborough Station there was class 56 060 in some sidings actually south of Peterborough with a smoking exhaust.
We set off North of Peterborough, as our announcer put it "to what is called the West yard which is actually to the East of Peterborough".
Locos stabled were 47 778, some 56 and 66's, a shabby 37 and some class 60s.
There was a lot of messing around in the sidings and it seemed to take them a long time to uncouple the Standard five from the front of the train and run it round.
I was going to get a picture from one of the vestibule windows of the loco as it waited ahead of us to back on, but they were all occupied.
Eventually the loco was attached to our coach.
66 234 on a train of ARC short wheelbase hoppers passes under power North bound.
We moved then stopped again and then moved again getting underway properly this time with much slipping of wheels initially. We go slowly through Peterborough and travel South to Fletton Junction where we would go through onto the Nene Valley railway.
We stopped at 13:26 perhaps at the boundary gate, I could see a road bridge from where I was sitting.
At 13:30 we set off after a few whistle blows.
We were 31 minutes late arriving at Orton Mere on the Nene Valley Railway then after a pause we set off and down the railway properly for Wansford which is the motive power depot for the line.
At this station they were holding a service train for us, although realistically it may not have been able to move until our train got there as I'm not sure how the line is for passing places.
This service train would be hauled by an LNER B1 4-6-0 class – "The Mayflower", its first public run since a major rebuild and it did look positively splendid.
Once I was back on the tour train the steward made an announcement that there had been a fire on the East Coast main line and that our steam engine was being held responsible. York control were not happy for the steam engine to continue and as a result we were going to be diesel hauled on the return journey, and two class 31s had been dispatched from Hornsea to take us back and they were expected to arrive at Peterborough in time for our scheduled departure.
The Mid Hants Railway were contesting that saying the wind was blowing East to West and the sparks would have to have blown against the wind to be the cause.
They would keep us updated but that was the current expectation.
We would go back into Peterborough Station, pick up the travellers and go on to the West goods yard for our standard 5 to run round and then the diesels would attach for the journey back.
As a bit of a class 31 fan I was wandering whether they would be in earshot.
They announced that there was a problem starting one of the diesels, and they were now expected to join us at 17:20. We were not now go around the Hertford North loop and would run straight down the East Coast Main line and thus save our water stop and would recover some time.
We were moving at 16:33 to go back to Peterborough however we do not stop at Peterborough - we slowed and then continued accelerating through which caused some confusion and probably some alarm among those that were waiting to reboard the train.
At 17:00 hours they announced the class 31's will be with us within 30 minutes.
A Freightliner class 66 on a container train passes South bound.
At 17:20, under steam, the train was backed up some distance, the assumption was that we were making way for the two class 31's to be attached to the front of the train and that we remain behind the signal.
Having moved back our coach was now parallel to an Intercity liveried 37 685, which was between us and the main running line.
At 17:26 the sound of loco horns broke the comparative silence and as we were expecting the class 31 about now, thought they were announcing their arrival, however a pair of GB Rail freight class 66's pass on the inside of us in the goods yard hauling rails and hoppers.
The last report suggested that the 31's would arrive by 17:30, which came and went, and the steward then announced that they were reported somewhere North of Hitchin which does cover rather a lot of ground.
It had now been established that our steam locomotive was not responsible for the line side fire however York control had decided we will be diesel piloted and are sticking to it.
One of the stewards did comment that these class 31's were due to be at Eastleigh on Sunday morning...
Of course the class 31s would by now be most of the way here and sending them back light engine a waste.
At 17:55 they announced the diesels would be here in fifteen minutes and confirmed that no water stop would be required so we would save half-an-hour straightaway, plus the time it would have taken to detour around Hertford.
It wasn't until 18:21 that they announced that the class 31's were at Peterborough and just waiting for authority to crossover and attach to our train.
The locos came over and attached up eventually after much hissing of brake pipes and we finally pulled out of Peterborough yard at 18:31 which was an hour and twenty seven minutes late.
As we left the yard we passed an EWS class 66 whose driver was facing us and gave us a very bemused look.
We were finally able to pick up the rest of our passengers at Peterborough, and indeed service of the dinner had been largely delayed until they were back on board.
We departed Peterborough 90 minutes late at 18:37 finally on our way home.
The 31's splutted away but the journey was very jerky at the start, drinks in cups were oscillated in to their saucers and beyond!
This seemed to smooth out once we were travelling in excess of about 50 mph, but this proved a problem whenever the
train was accelerated from a speed below that.
As someone with a slight soft spot for the class 31's I was happy for the windows to be slightly open and to hear the noise of those engines, unfortunately vociferous complaints by some about the fumes meant the windows were closed and I couldn't then hear much as there was a support coach and the steam loco and tender between me and the 31's.
A GNER class 91 express overtakes us just before 19:00, 5 minutes past Huntingdon.
Good news at 20:25, we were told by one of the dinner stewards that the diesels would be taken off at Woking as there is a weight restriction on a bridge on the Alton line which would not take the three locos together.
This was dependant on us having enough water however - they believed so.
As we were running late an additional stop was made at Finsbury Park to allow some to leave the train and have an easier journey home.
After what is sadly the usual crawl around London, where some tourer's took to shouting "we haven't failed" to people waiting at stations, which may or may not have meant something to them, arrival at Woking was at 21:38, 39 minutes late.
As they have done throughout this trip the stewards requested those not leaving at a station to remain on the train and this was a pity at Woking because I really did want to get out and watch them uncouple the '31s. Sadly I could not photograph them as I had no film in my camera now.
I could hear some very distant clangs and bangs and escaping air which suggested the 31s had been removed.
The tour train was at platform five and I was somewhat surprised to see the class 31's backing into the bay platform where the SWT Thunderbird Class 73 is usually stabled.
It was probably around 21:45 by now and the platform displays showed a 21:50 service train to Alton, which was running slightly late, being scheduled at 21:52, but I expected us to have to wait for that to pass us before we could leave.
A Basingstoke stopping service had a platform change to number four, and had departed at 21:42 which would of course share the same track up to and just beyond Brookwood.
A Portsmouth Harbour service was next, and had been due at 21:46 which would cut across us but would be out of the way quite quickly. This service departed at 21:53 and looking out of the carriage window the headlights of the Alton service could be seen on the line to platform four.
We were let out ahead of it at 21:55
Now under steam power for the first time since Peterborough the train accelerated slowly then slowed and we were overtaken by an EMU which I suspected was the Alton service before we reached Brookwood.
When I did the journey to London a few days later in the daylight, I did have a look at the track work and there is a crossover West bound from the fast line to slow line just before Brookwood so it could have got in front of us there.
By now we were about an hour late, and a deciding factor on the return journey is the single track beyond Farnham where we have to pass the up service from Alton, and the driver seemed to keep us to that hour late, so our pathing stop was merely an hour later – the following up service from the scheduled one.
In fact arrival at Bentley was 65 minutes late, but since we couldn't proceed until the up service had passed, it makes little difference.
When the up service stopped at Bentley it had four people on it.
I didn't note the number of the EMU that overtook us before Brookwood, but I suspect that this was the same one.
Certainly there was no other train at Alton.
Arrival at Alton was at 22:52 which was exactly an one hour late.
I had no more film in my camera for an end of tour photograph, but it is the same train, in the same position, in poor light, as I have previously taken, so it would not really be worth doing.
I promptly left the train and managed to get out slightly ahead of the main rush, and made for my car and set off as soon as I could, after a very very quick look at the two sides and front for damage.
Such was my haste I actually went slightly counter to the road markings which I think wanted us to go "clockwise" around the car park, rather than my making a bee line for the exit, however I managed to get out and get myself away fairly promptly, playing perhaps slightly appropriately, "In through the Out door" by Led Zeppelin for my journey back, where I got home at 23:15.
Roger Winter



Timings (Booked & Actual)
(from Roger Winter)
Miles
Location
Booked
Actual
Booked
Actual
M.C
0.00
Alton
07.48d
07.48
21.51a
22.51a
136.01
4.69
Bentley
07/57
-
21x234a ~ 21x41d
22.39 ~ 22.41
131.12
8.60
Farnham
08/03
08/02
21/27
22/29
127.21
11.66
Aldershot
08.09a ~ 08.11d
08.08 ~ 08.09
21.18a ~ 21.20d
22.20 ~ 22.22
124.15
13.26
Aldershot North Jn
08/14
-
21/15
-
122.55
14.28
Ash Vale
08/18
-
21/13
22/15
121.53
17.27
Pirbright Jn
08/23
-
21/08
22/10
118.54
??.??
Woking Jn
08/29
-
21/02
-
113.67
22.39
Woking [P1 / P5]
08.30a ~ 08.32d
08.27 ~ 08.32
20.59a ~ 21.01d
21.38a ~ 21.55d
113.32
26.34
Byfleet & New Haw
08/38
08/37
20/52
21/31
109.37
27.34
Addlestone Jn
08/41
-
20/50
21/30
108.35
32.25
Virginia Water
08/51
08/50
20/41
21/20
103.44
36.38
Staines
09.00a ~ 09.01d
09.02 ~ 09.04
20.30a ~ 320.32d
21.09 ~ 21.11
99.31
42.05
Feltham Jn
09/10
-
20/21
-
94.64
43.05
Hounslow
09/13
09/15
20/09
20/55
93.66
45.73
Brentford
09/19
09/19
20/05
20/49
90.78
Kew East Jn
20/01
-
89.65
South Acton Jn
19/58
-
89.00
Acton Wells Jn
19/53
-
87.18
49.38
Barnes
09/22
09/26
52.51
Clapham Junction [P3]
09/27
09.31a ~ 09.32d
53.14
Latchmere Jn
09/30
-
55.65
Kensington Olympia
09/36
09/40
57.55
North Pole Jn
09/40
-
58.09
Mitre Bridge Jn
09/41
-
58.61
Willesden Junction (HL)
09/46
09/46
19/50
20/30
86.33
59.10
Kensal Green Jn
09/50
-
19/46
-
85.74
63.08
Gospel Oak
10/03
10/03
19/35
20/22
81.74
Camden Road Jn
19/28
20/15
81.00
Camden Road East Jn
19/22
-
80.52
Kings Cross Freight Jn
19/19
-
80.08
Holloway South Jn
19/16
-
79.19
Finsbury Park
19/14
20.05a ~ 20.06d
78.21
63.66
Junction Road Jn
10/06
-
64.24
Upper Holloway
10/09
-
65.39
Harringay Park Jn
10/13
-
65.61
Harringay Jn
10/16
-
67.30
Alexandra Palace
10/19
10/14
19/09
20/01
75.64
72.21
Gordon Hill
10/26
10/26
??/??
DIV
??.??
82.00
Hertford North
10w37a ~ 11w04d
10.44 ~ 11.04
??/??
DIV
??.??
90.47
Langley Jn
11/16
-
??/??
DIV
??.??
91.33
Stevenage
11/18
11/21
17/54
19/35
53.17
95.62
Hitchin
11/25
11/27
17/50
19/29
48.68
107.78
Sandy
11/36
11/38
17/39
19/13
36.52
122.58
Huntingdon
11/36
11/38
17/26
18/55
21.72
-
Connington South Jn
17/17
-
13.47
133.00
Holme Jn
11/59
-
140.17
Peterborough
12.12a ~ 12.14d
12.19 ~ 12.25
17/08
18.35a ~ 18.37d
4.33
140.70
West Yard
12.19a ~ 12.46d
12.27 ~ 13.00
16.39a ~ 17.04d
16.51 ~ 18.31
3.60
141.43
Peterborough
12/49
13/11
16.30a ~ 16.34d
16/48
3.07
142.70
Fletton Jn
12/51
-
16/22
-
1.60
144.50
NVR Boundary
-
-
-
-
0.00
???.??
Orton Mere
13.00a
13.31
16.15d
??.??
?.??