8th December 2001
Branch Line Society
The Secondary Crewe
| | |
| --- | --- |
| DMU Used | 101680 (53163 & 53204) |
Route : 2Z40 throughout
| | |
| --- | --- |
| DMU | Route |
| as listed | Manchester Piccadilly - Slade Lane Jn - Heald Green - Wilmslow - Sandbach - Sydney Bridge Jn - Salop Goods Jn - Gresty Lane - Nantwich |
| as listed | Nantwich - Crewe Up & Down Loop - Crewe Steel Works |
| as listed | Crewe Steel Works - Salop Goods Jn - Basford Hall S.S. North - Basford Hall Jn - Stafford |
| as listed | Stafford - Basford Hall Jn - Basford Hall S.S. North - Gresty Lane - Nantwich |
| as listed | Nantwich - Gresty Lane - Salop Goods Jn - Sydney Bridge Jn - Sandbach - Stockport (via Down Main) - Slade Lane Jn - Manchester Piccadilly |
Notes :
Long awaited, what had now metamorphasised into the BLS's "Secondary Crewe" railtour, a visit to the freight lines, curves and connections in and around the Crewe complex. This railtour, originally scheduled to have run on August 4th 2001 but cancelled by dint of First North Western not having (or forgetting) either crew or rolling stock in the right place at the right time (even though, just like every other railtour, over fourteen weeks notice having been given), had grown to two excursions in December 2001. This one, on the 8th, and a re-run on the 15th - both almost (but not quite) full even though the price was £70.00 for the trip.
Track requested and/or scheduled (and not covered on the day):
(a) Stockport Carriage Sidings (not covered on the day due to the requirement of excessive point-clipping times and associated blocking of the Down Goods, Down Main and Down Slow lines).
(b) Chelford D.P.L. (omitted from the December specification to ease the burden on the FNW restriction on continuous driving [5hrs. max before a P.N.B.] and for pathing requirements).
Gas Hill (Branch Line Society) also makes the following comments:
(1) regarding the curve between Gresty Lane and Basford Hall S.S. North : "Special dispensation for use of the 'difficult' curve related only to one 2-car 101 in the down direction. Railtrack has consistently...made it clear that no dispensation would be given for the up track and that was not even requested for the December tours".
(2) "The British Salt siding at Middlewich, which was included in the tour of August 4th which did not run, was never part of the specification for the re-runs because that was adjusted to reflect the use of Longsight-based stock rather than a set stables at Chester".
Source : Phil Pearson (on train throughout)
With some additional information from Gas Hill



Tour Review :
by Phil Pearson
A Class 101 was scheduled for the railtour for several reasons - their early demise (Class 175s permitting) - more importantly, the need for short length rolling stock on a certain (achingly, for some) required section of the route. Approx. half an hour before departure the usual miscreants could be seen assembling on what currently passes for a concourse at Manchester Piccadilly, and on the announcement of the train (the announcer trailed off audibly when he'd said Crewe about four times and Crewe Steel Works just about finished him off!!) had us rushing around to Platform 8 to be greeted by the sight of a customarily dirty Class 101680. Coincidently 101685 (the green one) re-entered service that day, following its overhaul - well it would've been nice if... !!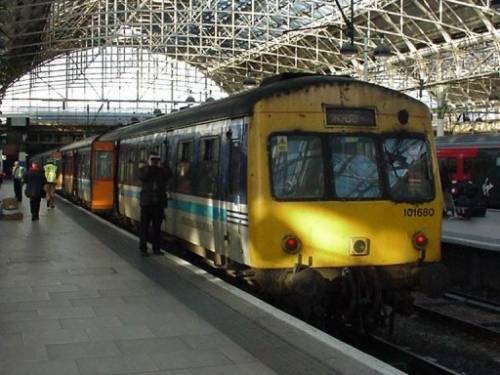 Class 101680 prior to departure at Manchester Piccadilly.
(Photo : Phil Pearson)
Departure was slightly late at 11:06 and we set off crossing to the slow lines to head for Slade Lane Jct. and the Styal line. With the first generation DMUs maximum speed restricted to 70mph, our driver had his work cut out to maintain progress on the otherwise 100mph rated main line to Crewe, and we moved at a cracking pace whenever we were able. Speeds noted on the tour (by GPS) never exceeded 67 mph, perhaps the DMU was showing its age (it was built in 1955), or the speedometer was over reading slightly. We passed through Wilmslow and Alderley Edge, and on into the Cheshire countryside, which was positively glowing on an exceptionally clear midwinter day. Having not seen the sun for over a week, for me this particular weather was most welcome.
Arrival at Sandbach enabled travellers from the south to join the railtour, and of course the EWS conductor crew, having local knowledge of the Independent lines, to help our driver through the maze of connections. A pleasant trundle down the slow lines to Sydney Bridge Jct. followed, most of this length from Sandbach being restricted to 20 mph due to the adverse effect of salt mining in the area. After Sydney Bridge Jct., we descend towards the tunnel (394 yds) under Crewe North junction, emerging on the western side of the station, then cross to the Liverpool Independent lines to access the connection to the Salop lines at Salop Goods Jct., (for the uninitiated, Salop is a corruption of Shropshire, but railway usage includes Shrewsbury in this context). Purple liveried Deltic D9016 is seen, as we pass along the rarely viewed, rear side of Crewe Diesel Depot. Rising up and turning westwards, we reach Gresty Lane, then accelerate quickly past a long line of withdrawn Freightliner Class 47s to reach Nantwich and our first reversal.
With this accomplished we return to Gresty Lane taking the main line forwards towards the station, but then we are routed via the Up & Down Loop, adjacent to Platform 12. We're scheduled to take a 25 minutes break here - and we do.
Off again on the Down Chester line to Crewe Steel Works, passing first the Heritage Centre then the BREL, ABB, Adtranz, Bombardier Works to the right and Crewe Electric Traction Depot to the left. Interestingly both connections into the ETD at the eastern end are well rusty, but on arrival at the Steel Works signal box, the western connections are quite shiny. We cross over to the Up Chester line following the passing of a service train. On the return, the reason for the rusty rails can be seen (and as to why we didn't reverse there either). One of the electric gantries in the depot appears to have collapsed, certainly headroom is much reduced - this must be quite a problem operationally. We return to the Heritage Centre, and turn on to the Chester Independent line. This cuts past Platform 12 (and the old Platform 6 North) and drops down to meet the Manchester Independent line traversed earlier.
This time we head for Basford Hall Yard, ducking under the Shrewsbury line to do this. At this point the through lines bifurcate (...do what? We'll have none of that on my Website if you don't mind ... Webmaster) and the up independent lines swing to the east to run parallel to the main line. I must add at this point that our passage of the whole of the Crewe Independent Lines was at 10 mph. The virtual quarry is seen, virtual is a good name has it virtually hides everything else along here - maybe the residents of Hinksey (Oxford) know a thing or two, having objected to a VQ there!! Trains noted in the yard included two rakes of vacuum braked Clams with Sharks (guaranteed Class 37 haulage) and a rake of Autoballasters.
We emerge from the yard at Basford Hall Jct. and embark on a dash to Stafford to reverse. Why we were not permitted to reverse at Basford Hall (probably point clipping problems) or at Madeley (on the old Silverdale branch) I don't know. Interestingly a very recent embankment repair could be seen on the Silverdale branch to the west of the WCML, I wonder how they got the stone in? Reversal at Stafford is accomplished at the extreme end of Platform 6, with Stewards posted to repel boarders. We set off back and arrive at Basford Hall. This time we use the Down Fast Independent (at 10 mph!!) and are able to view the ballast trains again and some stabled Freightliner trains previously hidden by the virtual quarry. Another line of stored Class 47s are passes to the left on the Back Road. Freightliner Class 66s and 86s can be seen all around the yard too.
We get to Basford Hall Sorting Sidings North signal box and turn westwards, on to what is for some their most wanted track, around the corner to Gresty Lane signal box - last traversed by a passenger train in 1967 it's said (a friend disputes this - he reckons a 01:XX Stafford - Cardiff train did the move during the Crewe remodelling in 1985 - does anyone know for sure??). Gas Hill of the Branch Line Society comments : "...the December 8th train was indeed, as per the tour publicity, the first passenger train traversal of it since the Stephenson & Manchester Locomotive Societies "Shropshire" railtour, couplings slackened, came slowly round it at 12.07 on Saturday 11th September 1965..."
Two minutes later and the curve is duly scored. Someone produces a bottle of Premier Cru wine (the original railtour was named the "Premier Crewe") and the organiser is duly toasted. Off to Nantwich again and another reversal.
We retrace our outward move now back to Salop Goods Jct. and on to the Manchester Independent line to Sydney Bridge Jct., then we crawl along to Sandbach, here losing the EWS conductor staff and our southern passengers and pootle off on our way to Manchester. We are making good progress so the Chelford pathing stop is omitted. However progress slows at Wilmslow, and after a signal stop, we encounter a youth calmly making his way along the cess as though out for a Sunday stroll. I wonder if he realises the delays he's causing? Someone makes the observation that Alan Williams "well aimed lump of coal" (Modern Railways - December 2001 issue) would be useful now. I agree.
We should have made a reverse move into Stockport Carriage sidings but it had been refused due to having to shut the station down for periods of 25 and 40 minutes to get us in and out for point clipping purposes. Needless to say the move was refused!! We continue on the slow lines to Slade Lane Jct. and eventually cross to Platform 10 to terminate in Manchester Piccadilly station.
A well organised (Railtrack permitting) and well run event, with the main highlight of the day happening. A re-run of this trip will/did occur on the following Saturday, I'll let another budding correspondent write this one up!!
With many thanks to the officers of the BLS and the railway personnel involved with this railtour - your efforts were most appreciated.
Phil Pearson.



Timings (Booked & Actual)
(from Phil Pearson)
M.C

Location

Booked
Actual

0.00
Manchester Piccadilly [P8]

11.03d

11.06d

0.54
Ardwick Jn
11/06
11/09
2.24
Slade Lane Jn
11/08
11/11
8.31
Heald Green
11/15
11/17
8.55
Heald Green N. Jn
11/16
11/17
9.18
Heald Green S. Jn
|
11/18

11.50
Wilmslow
11/21
11/20
13.20
Alderley Edge
11/23
11/22
16.24
Chelford
?
11/25

20.06
Goostrey
?
11/28
22.04
Holmes Chapel
?
11/30
25.71
Sandbach
11U36a~11U38d
11U34a~11U37d
29.45
Sydney Bridge Jn
11/50
11/49
30.50
Salop Goods Jn
11/56
11/56
31.07
Gresty Lane
11/59
11/59
34.68
Nantwich
12R04a~12R12d
12R05a~12R10d
38.49
Gresty Lane
12/17
12/19
39.02
Crewe South Jn
?
12:21a~12:22d
39.32
Crewe Station (Up & Down Loop)
12*22a~12*47d
12*25a~12*47d
39.40
Crewe North Jct.
?
12/48
40.63
Crewe Steel Works SB
12R52a~13R00d
12R52a~12R59d
41.76
Crewe Heritage Centre GF
13/04
13.06a~13.09d
42.33
Salop Goods Jn
13/07
13/13
43.01
Basford Hall S.S. North
13/15
13/17
44.01
Basford Hall Jn
13/18
13/24
50.30
Madeley S.B.
13/25
13/32
61.36
Norton Bridge S.B.
13/40
13/41
66.56
Stafford [P6]
13R52a~13R57d
13R49a~13R52d
71.76
Norton Bridge

14/03

13/59

83.02
Madeley

14/15

14/10

89.31
Basford Hall Jn
14/25
14/18
90.31
Basford Hall S.S. North
14/29
14/25
90.68
Gresty Lane
14/35
14/28
94.45
Nantwich
14R40a~14R48d
14R36a~14R41d
98.26
Gresty Lane
14/53
14/49
98.63
Salop Goods Jn
14/58
14/54
99.68
Sydney Bridge Jn
15/02
15/02
103.42
Sandbach
15D12a~15D13d
15D15a~15D16d
107.29
Holmes Chapel
?
15/21
109.27
Goostrey
?
15:23
112.46
Chelford Down Passenger Loop
15*24a~15*37d
15:25
113.09
Chelford
?
15/26
116.13
Alderley Edge
15/42
15/30
117.63
Wilmslow
15/44
15/35
121.43
Cheadle Hulme
15/48
15/51
122.38
Adswood Road Jn
15/49
15/53
123.28
Edgeley South Jct. (No.2)
15/52
15/55
123.73
Stockport (via Down Main)
15/53
15/58
124.55
Heaton Norris Jn
15/55
16/01
127.38
Slade Lane Jn
16/00
16/04
129.08
Ardwick Jn
16/05
16/07
129.62
Manchester Piccadilly [P10]

16.08a

16/11a
All distances, in miles and chains (M & C) have been extrapolated from Quail/SA.
Other than this, no attempt has been made to verify the mileages given (best estimates in italics).



Back to "The Railtour Files"