7th December 2001
Pathfinder Tours
Dunster by Candlelight
Route :
1Z41 : Crewe to Minehead
1Z28 : Minehead to Crewe
| | |
| --- | --- |
| Loco | Route |
| 56119 | Crewe - Stafford - Bushbury Jn - Bescot Stadium - Aston - Birmingham New Street - Galton Jn - Stourbridge Junction - Kiddermisnter - Droitwich Spa - Worcester Shrub Hill - Cheltenham Spa - Bristol Parkway - Filton Jn - Dr Days Jn - Bristol Temple Meads - Taunton - Norton Fitzwarren - Bishops Lydeard - Williton - Minehead |
| 33048 (1) | Minehead - Williton - Bishops Lydeard |
| 56119 | Bishops Lydeard - (reverse of outward route) - Crewe |
Notes :
(1) plus 56119, not powering.
Source : David Clark
(Joined/left the train at Crewe)



Tour Review
by David Clark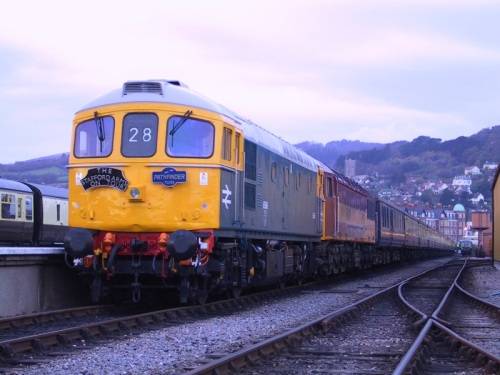 33048 & 56119 at Minehead. (photo : Duncan Jennings)
After the Spinning State last weekend, this weekend was to feature two normal trips for the Christmas Markets at Dunster and Lincoln. Both of which (according to Pathfinder) have proved popular before. And living near Lincoln yep, it most certainly is popular. But this year they were to feature something which is just about as popular, and provides a lot more entertainment than screaming kids, moaning women and people asking if you've got any spare change, that being Class 56 haulage on both tours.
So, with the prospect of two Class 56s, and having never been to Minehead before that tour was booked (and at £29.50) it was pretty cheap too. The Lincoln tour was going to be a pay on the day (either from Crewe / Lincoln).
Thursday saw 56119 (Friday) and 56099 for Saturday along with 60014. However, Fridays tour also had the rumour of 33048 quoted to take the train from Minehead down to Bishops Lydeard, something which had Crompton bashers asking whether it was true....
Thursday night, saw my dad and I drive across to Crewe, and stopped in the hotel. Friday morning came, and we drove to the station, where coach A was at the back, and the grid 119 was at the front. Oh well, full thrash on the return, and the Crompton too. Our coach turned out to be full of Class 56 enthusiasts, and so it turned out to be a lively occasion! Oh we also had to listen to the generator car, which made quite a bit of noise!!! Well it would probably out thrash the Crompton later on!
We departed Crewe at 0826 and saw numerous Freightliner 66s, EWS 37s, 47s all sat awaiting their next duty, or their next route to Wigan! We picked up at Stafford (0857-0901), and took the line to Bushbury Jct, Darlaston and through Bescot where 60081 was noted and numerous Class 66s, 37s, and some 47s.
We arrived through the tunnels at Birmingham New Street at 0942, and departed at 0949 with the other Paxman motive power were seen departing heading towards Proof House Jct. Much better than Virgin Voyagers surely? Well Virgin don't think so obviously! Well the passengers / station staff on the platforms at New Street were shocked by what they saw as the train departed. But what happened, was just normal Railtour behaviour!
We departed Birmingham New Street out towards Soho South Jct, Stourbridge Jct (1012-1024), Kidderminster (1034-1035), Worcester Shrub Hill (1034-1035) and then came on to the Main Line at Abbotswood Junction (1106) and we picked up passengers at Cheltenham Spa (1124-1129) but by Westerleigh Jct we were held for pathing reasons (1205-1217), before heading down to Bristol Parkway, where staff were in their lovely purple uniforms. Yuk!
We arrived at Temple Meads at 1241 (6 early) and so, with us not departing till booked time of 1256 we had a bit of a leg stretch which was taken. Here, there was a full set of the FGW new HST livery (43032) (or fag packet livery as someone did call it. At 1256 we departed Bristol, and took the main line down to Taunton where we were put in to the platform, and on the adjacent platform a Virgin 47 was noted, and bellowed at (and the sole Spoon crank!). We departed Taunton at 1338 by means of the Down / Up Relief, and the 47 came powering past (well it passed us) as we waited for access to the West Somerset Railway at Norton Fitzwarren Junction.
From now on to Minehead was required track for me. So it was going to be interesting. At this point someone from the West Somerset Railway pointed out to one of the grid enthusiasts, that sticking out his head with his orange hat looked like a flag, and that the drive would mistake it for a red flag. Hmm. Okie.
Well the branch was long, slow and in places pretty nice. We came through the West Somerset / Railtrack (can we call them that now?) boundary, and stopped at Bishops Lydeard where Crompton 48 was waiting, and two kettles making tea. We picked up the token, and carried on. At Williton the DEPG depot was seen with two Hymeks, a Rat seen. At Watchet we skirted along with the coast, and at Dunster the first bunch of passengers were detrained. We finally arrived at Minehead at 1508 with the platform long enough to accommodate our Class 56, 13 coach rake with space too for one more vehicle! According to a Southern Crank, on the Chemical Coaster, it was due to the fact it was an ex Southern Station.
So, the first ever grid arrival at Minehead was accompanied with the weather being fair. Now we saw the loco run round, went walkies down the High Street, and most places didn't serve food till 5.30pm. Hmm. A lot of people commandeered taxis and went to Porlock for a good beer guide recommended pub (and a tour of the cellars too!). May have been the top move in all fairness!!!
Instead, we took a bus to Dunster with sat behind me one of those whinging women, who moaned about everything, ranging from the fact a bus hit a branch of a tree, and the bus wouldn't leave. And when we got to Dunster she was first off the bus. IN fairness to Dunster, we only saw it before it got dark, and so we saw very little. The Streets were just getting busy when we left. The shops looked snug and reminded me of Grassington (not the ill fated Hertfordshire tour, but the 1999 visit!).
We got there, and found out it was a lot of one-way streets, junctions and so forth. So traffic was a plenty! So, well done for those that organised that buses should run from Minehead to Dunster and back / forth. Allowing people to travel in by bus, and also the railway was operating special services along the line as a result of the market.
We went back to the bus, back in to Minehead, found that 33048 was sat on the front of the train along with 56119, and had a nice meal at Tescos, and made our way back to the station via the Sea Front. Where some inline-skaters decided as I walked past to fall over. If only they had been taught by someone who knows!
Back at the station the Board said "no Skating, Skateboarding, Cycling etc is allowed on the platform". So what is ETC then??? That means anything!!!!
With Crompton / Grid on front, we expected some hellfire noise. But that was exceeded when the Grid clang, fresh from more alcohol at Porlock, brought back more merriment for our return journey. Up to this point, I was going to go back to Crewe, stop in the waiting room, and do the Class 56 again in the morning, from Crewe. But due to my dad having to drive home on his own, I decided for my sanity, and my dads safety I'd go back with him.
We could have scored a 03 for haulage, as it did an ECS movement, in which quite a few Pathfinder Stewards did the move too! My Lords!!!!!! At 1904 the train departed Minehead but with just the Crompton powering. Hmm. We picked up the most of the normal folk at Dunster and carried on down the branch. Just on departure from Washford the grid was heard for the first time.
By the time we left Bishops Lydeard with the Crompton having been taken off, the Grid was on its own. And when grids are on a train, noise can be heard. So, the noise trebled as we came on to the main line at Norton Fitzwarren (2014-2022). At Taunton we stopped, and then took the main line to Bristol Temple Meads (2113-2116), but was pathed behind a Class 158, and basically we were crawling all the way to Filton Junction, where we were held again for a 158. We arrived at Bristol Parkway (2147/2148) and departed (6 late). We dropped off passengers at Cheltenham Spa, and arrived at Worcester Shrub Hill, but only half way down the platform. Hmm. Had the Worcester Farce Struck again??
Unfortunately, it turned out that a Fellow Enthusiast, who had wanted the 56 (it was one of his last), and came to Worcester to take it. But unfortunately he was ill on the platform, and collapsed. I just hope he recovered well in the hospital. Webmasters note : Sadly not, it is with regret that I have to inform that John (Jonathan) Stacey died on the way to hospital after suffering a heart attack. He was just 42. My sympathy goes to his family and those who knew him.
So we departed Worcester 12 down, and went round Droitwich, Kidderminster, Stourbridge, and stormed in to Birmingham New Street. We departed Birmingham NS at 0005 (6 late) and stormed through the tunnels, in to Aston, Bescot where lots of 66s were seen waiting for their next bunch of engineers trains (including 66028), and arrived at Stafford at 0049 (just 3 late). At Stafford 3 people had come in Car from (get this) Skipton to Crewe, for a train to Stafford for grid to Crewe!! We departed at 0051 (5 early) and by the time we got to Crewe we had arrived at 0119 (11 early). We then departed Crewe by means of the car, and arrived at Scunthorpe 0400, from which I got 4 hours kip before the next tour.
Verdict: A well-organised tour, with a good mixture of normals and Cranks, and a lovely time in Minehead, and a Class 33 thrown in. Well done everyone again! And the timings were well kept too.
David Clark



Timings (Booked & Actual)
(by David Clark)
M.C
Location
Booked
Actual
Booked
Actual
M.C
0.00
Crewe
08.25d
08.26
01.30a
01.19
204.60
?.??
Basford Hall Jn
08/31
08/32
01/27
01/12
???.??
?.??
Madeley
08/40
08/40
01/20
01/05
???.??
??.??
Norton Bridge
08/51
08/50
01/05
00/57
???.??
24.37
Stafford
08.59a ~ 09.02d
08.57 ~ 09.01
00.46a ~ 00.56d
00.49 ~ 00.51
180.03
38.14
Bushbury Jn
09/16
09/17
00/27
00/34
166.26
??.??
Portobello Jn
09/21
09/20
00/21
00/28
???.??
??.??
Darlaston Jn
09/24
09/24
00/18
00/24
???.??
44.79
Bescot Stadium
09/25
09/25
00/17
00/22
159.61
49.36
Perry Barr North Jn
09/30
09/29
00/11
00/15
155.04
??.??
Aston
09/35
09/32
00/06
00/12
???.??
??.??
Proof House Jn
09/40
09/38
00/02
00/08
???.??
54.34
Birmingham New Street
09.43a ~ 09.48d
09.42 ~ 09.49
23.55a ~ 23.59d
00.01 ~ 00.05
150.06
??.??
Soho South Jn
09/52
09/55
23/49
23/56
???.??
58.13
Galton Jn
09/55
09/58
23/47
23/54
146.27
??.??
Stourbridge Junction
10.23a ~ 10.25d
10.12 ~ 10.24
23.29a ~ 23.32d
23.39 ~ 23.40
138.03
73.16
Kidderminster
10.33a ~ 10.35d
10.34 ~ 10.35
23.17a ~ 23.20d
23.28 ~ 23.30
131.24
??.??
Hartlebury
10/44
10/40
23/10
23/23
???.??
82.52
Droitwich Spa
10/49
10/46
23/05
23/17
121.88
??.??
Worcester Tunnel Jn
10/54
10/52
23/00
23/11
???.??
88.31
Worcester Shrub Hill
10.56a ~ 10.59d
10.54 ~ 10.58
22.55a ~ 22.58d
22.57 ~ 23.07
116.09
??.??
Norton Jn
11/04
11/03
22/49
22/50
???.??
92.18
Abbotswood Jn
11/10
11/06
22/48
22/48
112.22
103.05
Ashchurch
11/20
11/16
22/38
22/39
101.55
110.16
Cheltenham Spa
11.27a ~ 11.30d
11.24 ~ 11.29
22.28a ~ 22.30d
22.29 ~ 22.32
94.24
115.59
Barnwood Jn
11/38
11/37
22/20
22/19
88.81
116.46
Gloucester Yard Jn
11/39
11/38
22/14
22/18
87.94
122.56
Standish Jn
11/44
11/44
22/08
22/13
81.84
136.01
Charfield
11/55
11/54
21/57
22/02
68.59
144.14
Westerleigh Jn
12*05a ~ 12*18d
12.05 ~ 12.17
21/48
21/55
60.26
148.64
Bristol Parkway
12.27a ~ 12.32d
12.28 ~ 12.30
21.40a ~ 21.42d
21.47 ~ 21.48
55.76
150.03
Filton Jn
12/35
12/33
21/29
21/33
54.57
???.??
Stapleton Road
12/40
12/36
21/25
21/25
??.??
154.00
Dr Days Jn
12/41
12/37
21/19
21/21
50.60
154.46
Bristol Temple Meads
12.47a ~ 12.55d
12.41 ~ 12.56
21.13a ~ 21.17d
21.13 ~ 21.16
49.94
171.31
Worle Jn
13/12
13/15
20/56
20/52
33.09
174.24
Uphill Jn
13/14
13/17
2/50
20/48
30.16
187.67
Bridgwater
13/25
13/27
20/38
20/38
16.73
194.29
Cogload Jn
13/32
13/32
20/33
20/32
10.11
199.32
Taunton
13*38a ~ 13*40d
13.37 ~ 13.38
20*24a ~ 20*27d
20.26 ~ 20.27
5.08
201.28
Norton Fitzwarren
13*46a ~ 13*48d
13/47
20*15a ~ 20*18d
20.10 ~ 20.12
3.12
204.40
Bishops Lydeard
14.03a ~ 14.05d
13.59 ~ 14.00
19L55a ~ 20.00d
19.57 ~ 20.00
19.51
0.00
222.41
Dunster
14.55a ~ 14.58d
14.58 ~ 15.00
??.??a ~ ??.??d
19.11 ~ 19.13
1.51
224.11
Minehead
15.05a
15.08
19.00d
19.04
0.00
Timings continued in first table.
Key;
a : arrival time
c : crew change
d : departure time
L : loco change
/ : passing time
All distances, in miles and chains (M & C), are taken from the timing sheet given out on the train. No attempt has been made to verify the mileages given.



Back to "The Railtour Files"