20th October 2001
Deltic Preservation Society
The Dereham Deltic
(main line tour no.8)
| | |
| --- | --- |
| Locos Used | D9009 'Alycidon' & 55019 'Royal Highland Fusilier' |
Route :
| | |
| --- | --- |
| Loco(s) | Route |
| D9009 | Preston - Bolton - Manchester Victoria - Diggle - Huddersfield - Wakefield Kirkgate - Castleford - Milford Jn - Church Fenton - York |
| D9009 | York - (via ECML) - Peterborough |
| D9009 (1) | Peterborough - Ely |
| 55019 (2) | Ely - Thetford - Norwich (3) |
| D9009 (1) | Norwich - Acle - Great Yarmouth |
| 55019 (4) | Great Yarmouth - Berney Arms - Wensum Curve - Ely Avoider - Peterborough |
| 55019 + D9009 | Peterborough - (reverse of outward route) - York |
| D9009 + 55019 | York - (reverse of outward route) - Preston |
Notes :
(1) 55019 on rear.
(2) D9009 on rear.
(3) was booked via Wensum curve but reversed in Norwich station instead.
(4) D9009 dead-in-tow.
Sources : Ralph Barrett (joined/left the train at Wakefield Kirkgate)
& Solomon Riley



Tour review :
(by Ralph Barrett)
David Maxey said that a double headed Deltic railtour would never happen. Double-headed Deltics were very rare in BR days, and surprisingly never appeared on any railtours. So it was left to the DPS to run the first ever double-Deltic hauled railtour on Saturday October 20th 2001. Deltic 9 was the primary railtour locomotive, and an opportunity was seized to move Deltic 19 from the Nene Valley back north. What better way to move a locomotive, than on a railtour ?
Although the railtour was primarily organised by the DPS, some of coaches were occupied by Railtours Northwest customers. Fate decreed that the Railtours Northwest passengers would end up right next to 6,600hp of throbbing Napiers as we cleared Stoke bank at 100mph. I do hope that they appreciated that 'thrash' from the front !
I joined the tour at a very wet and desolate Wakefield Kirkgate station. A once proud Lancashire and Yorkshire ediface, now reduced to an almost derelict unmanned station. However Westgate still remains a certain dignity that most modern stations lack in my opinion. Once seated in the second coach behind Deltic 9, I quickly worked out that as the train was booked to reverse at Ely on the outward run only, that I would be at the rear of the train for the double-headed ECML thrash. Oh dear.
Special mention needs to made of our Mk1 First Open coach 'Julia'. Owned by the West Coast Railway Co the stock provider and operating company. Interior of FO 'Julia' has been modified by an interior designer, I reckon. Normal sliding saloon/vestibule doors have been replaced with hinged doors and household handles. People walking through the train with rucksacks get 'snagged' on the handles. Worst feature of this coach is that all of the luggage racks had been removed. Nowhere to put a wet bag or a wet coat. Luckily there were a few empty seats around which were used for luggage, although the train appeared mostly well loaded.
Alycidon had to run around the train at York, a process delayed by a late running Virgin Cross-Country HST on an adjacent platform. Delay in running round caused a 7 minute late start from York. Train was booked 85 minutes York to Peterborough, which is quite a fast timing for a Deltic+11. We just about maintained the schedule to Peterborough, although we were slightly checked from Little Bytham onwards as we appeared to be following a 90mph Norwich bound 158 on the up fast. Highlight of this run was probably the 100mph dash thought Doncaster station.
At Peterborough we were routed into Platform 5, as we had to depart on via March line. Deltic 19 was noted on the adjacent 'fly-ash' siding awaiting our arrival, and quickly found her way onto the rear of our train. Platforms 4 and 5 at Peterborough are extremely busy, so its a credit to Railtrack that they allowed such a complex operation at such a busy location.
With Deltic 9 up front, and Deltic 19 shut down on the rear, we proceeded across the fens to Ely. Lots of photographers were noted by the lineside, despite the overcast dark skies. For some reason the Ely avoiding line is 'out-of-use' in the up direction towards Norwich. This necessitated going into Ely station to reverse. Driver stopped slightly short, which resulted in Deltic 19 fouling the level crossing at the north end of the station. After much fussing about, Deltic 19 eventually reversed the train back about 50 yards, so that we were behind the starter signal protecting the crossing. This enabled the gates to be raised, to the relief of the irate motorists, not used to having to wait for long at this CCTV controlled crossing.
After waiting for a down WAGN to Kings Lynn to arrive and then depart, we departed ourselves towards Norwich. Quite a scenic line, especially around Brandon and Thetford. Lots of interesting semaphores and signal boxes remain. This is one of the few stretches of line in the UK that still has 'telephone' wires on poles connecting some of the signal boxes.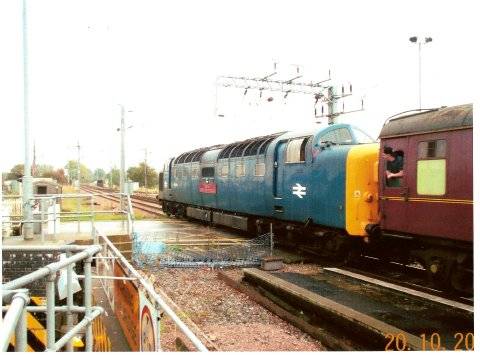 55019 leaves Ely with D9009 bringing up the rear (photo : Stewart Levett)

As we approached Norwich I was expecting the train to get severely checked or stopped altogether, to take the Wensum curve. In the event we passed Crown Point at some speed, and turned towards Norwich station. A cheer sounded in our coach, as we immediately realised that this gave us a good chance of being next to the locomotives on the return from Yarmouth to York. Nobody appeared to be quite sure why we'd not taken the Wensum Curve, although rumours persisted about a grumpy controller not allowing the movement. Would we be able to use the Wensum curve on the return?
At Norwich Thorpe, Deltic 19 was switched off and Deltic 9 burst into life again. As we departed from Norwich it ominously started to rain. Then ran to Yarmouth via Acle, only pausing at Brundall to await the arrival of a Liverpool Street bound class 170 multiple unit. We were now running about 40 minutes down, and way-out of our booked path. Yarmouth was reached, where we were greeted by heavy drizzle Rain got heavier and heavier, the longer we stayed.
We arrived at Yarmouth in platform 3. Given that Deltic 9 had to shunt release from the buffer stops, and given that the shunt release turnout was on platform 2, I had expected us to arrive in platform 2. It took a considerable time to shunt release Deltic 9 and then get the two Deltics in the correct order on the front of the train.
Deltic 19 was uncoupled and headed off 'blocked back' towards Acle. Deltic 9 then reversed the stock back towards Acle, but was unable to pass the platform starter signal which was showing danger. If passed then this would be treated as a SPAD, and driver and signalman would be removed from duty for drug testing etc. etc. etc. Deltic 9 had to go far enough back down the platform to clear the blades of the shunt-release turnout, to be able to use the shunt release (the wrong way!) and move onto platform 2. Yarmouth still has several carriage sidings. Not sure why carriage sidings were not used to get the train formation correct? Not as if there are many Saturday 'extras' arriving at Yarmouth these days :-(
Visibility from a Deltic cab is *very* restricted and driver could not see exactly where the front wheel was in relation to the switch-blade of the shunt release turnout. Also driver had to ensure that the rear coach did not pass the platform starting signal (at danger). I guess that there was only a few feet to spare. When Deltic 9 eventually was uncoupled and drew forward onto the shunt release right up to the buffers on platform 2, there was only about 9 inches to spare between 9's front wheel and the crossover blade. However, at least we knew that Deltic 22 had used this shunt release recently, so Deltics do fit at Yarmouth. Just.
Despite having 2 hours to perform the shunting of the stock/locomotives, these shunting manoeuvres were not started until about 40 minutes before departure time. During the manoeuvres, the coaching stock remained in platform 3, and the stewards locked the doors of the coaches. Shunting was only completed a few minutes before departure time. This meant that many returning passengers were unaware that the carriage doors were locked, and consequently had to stand in the heavy pouring rain on the open platform for some considerable time. Many passengers got soaked to the skin !
With Deltic 19 leading, and Deltic 9 switched off (to conserve fuel?) we departed Yarmouth on time at 16:11. Approaching Norwich, all eyes in our coach were on the Wensum curve. In the event a new shift had started in Anglia control, and the new controller relented and allowed us to take our booked path. Alternative would have been to run around two large locomotives in Norwich station, which would not have been a good idea. At Ely we took the avoider as booked, which afforded a good view of the two Deltics, as this curve is *very* tight. At Peterborough we once again arrived at platform 5, where Deltic 9 was fired up.
We had a very poor 'booked' path back to York along the ECML. Three down GNER's were due to overtake us, although the first of these did so at Peterborough in the adjacent platform 4. After some loud discussion about whether we were meant to be picking up passengers at Peterborough, and what time we were scheduled to leave, we eventually left on schedule on headed down the slow lines. Yuk.
First ever double-headed Deltic railtour, and we were sent onto the slow lines. However, in the event I believe that Peterborough power box had no choice, as they had to clear platform 5, and there was nowhere else to put us. Another GNER was booked to overtake us before Grantham, and a second GNER was booked to overtake us in Grantham station.
Despite being on the down slow, the two drivers entered into the spirit of the occasion, and Peterborough depot disappeared under a cloud of thick white smoke. The line speed of 75mph was reached very quickly, before we were slowed for Helpston junction, and then stopped altogether at Tallington junction where we waited for the second down GNER. Not that we minded, as this meant that we were going to be put back onto the down fast for the crucial ascent of Stoke bank. At Tallington we eventually crossed back onto the down fast. Then with 144 pistons throbbing away, we quickly accelerated to 100mph and held this speed all the way up Stoke bank. Stoke summit was cleared at 102mph.
We had been booked to stop at Grantham to allow the 3rd down GNER to overtake. In the event we were checked approaching Grantham but were not recessed into the loop platform as expected. We remained on the down fast, but stuck behind a Skegness-bound Sprinter as far as Barkeston South junction. We again rapidly achieved 100mph before being checked approaching Newark. At Retford we were looped onto the down slow to allow the 3rd down GNER to overtake. Whilst all this stop-starting was bad news for some, it was actually good news for many at it produced plenty of double headed thrash. You don't need two Deltics to maintain 100mph for most of the ECML.
We were checked again at Doncaster by a Sheffield bound sprinter, which meant that we could 'open-up' in the station, and pay our respects to the town long associated with the ECML Deltic fleet. Wonder if the clag has cleared yet?
York witnessed the rare event of a double headed Deltic running around a train on the mainline. We then headed south again towards Castleford at a more sedate pace. I believe that both Deltics were still manned and the second Deltic was helping on an 'as required' basis.
Then we appeared to stop in the middle of nowhere. Nobody got up, nobody looked out. Luckily I had a hunch that this might be Wakefield Kirkgate station, so I grabbed my (still) wet coat and bag, and headed for the door. I looked out the droplight window and saw nothing. After a few seconds I could just make out a derelict platform, so I opened to door and baled out. I noted that the rear coach was well off the end of the platform altogether. Platform was totally unlit apart from the front couple of coach lengths. Platform surface was covered in debris, and weeds ! I quickly made my way passed the Budlias and rubble towards the dim light in the distance, and arrived just in time to watch Deltics 9 and 19 powering away west. Appears that both locos were still being used, although Deltic 19 (train engine) was not on full power.
I hope Deltic 9 did not run out of fuel on the way back to Preston. She had less than half a tank at Yarmouth.
In conclusion a very enjoyable day for Deltic bashers, although the Railtours NorthWest contingent must have been disappointed by a soggy Yarmouth in heavy driving rain. Well done DPS and all concerned.
Ralph Barrett



Back to "The Railtour Files"