4th August 2001
Hertfordshire Rail Tours
The Ebbw Vale
| | |
| --- | --- |
| Locos Used | 58037, 66118, 67008 & 67012 |
| Stock Used | 5037+4977+4925+5023+5027+4986+17023+1679+3127+3124+3150+1696+3123 |
Route :
1Z92 : Finsbury Park to Cardiff Central
1Z93 : Cardiff Central to Finsbury Park
| | |
| --- | --- |
| Loco(s) | Route |
| 67008 | Finsbury Park - Kings Cross Freight Terminal Jn - Camden Road East Jn - Gospel Oak - Kensal Green Jn - Willesden Junction HL - Acton Wells Jn - Acton Main Line - Slough - Reading |
| 58037 (1) | Reading - Didcot - Swindon - Chippenham - Bath Spa - North Somerset Jn - Bristol Temple Meads |
| 66118 (2) | Bristol Temple Meads - Filton Jn - Filton West Jn - Hallen Marsh Jn - Bristol Bulk Terminal |
| 67012 (3) | Bristol Bulk Terminal - Filton West Jn - Patchway - Severn Tunnel Junction - Cardiff Central |
| 66118 (2) | Cardiff Central - Ebbw Jn - Park Jn - Ebbw Vale |
| 67012 (3) | Ebbw Vale - Park Jn - Gaer Jn - Newport |
| 67012 | Newport - Severn Tunnel Junction - Patchway - Filton - North Somerset Jn - (reverse of outward route) - Finsbury Park |
Notes :
(1) 58037 added after 67008 was failed with a broken speedometer. 67008 reported "dead-in-tow" from Reading.
(2) 67012 on rear.
(3) 66118 on rear.
Source : David Clark (on the train throughout) & Andy Hoskins



Tour review :
(by David Clark)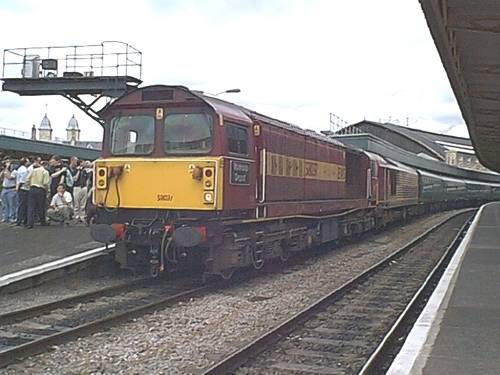 58037 & 67008 at Bristol Temple Meads (Photo : Daniel Bound)
During the early part of the year when I was last in South Wales (06/01/01) the British Steel Industry (sorry Dutch Corus), there were concerns about the closures of steel operations in South Wales, with various plants threatened. Then when the closure of Ebbw Vale was announced, I was longing for some tour operator to go up / down the branch. Then in March I read about Hertfordshire were going to Ebbw Vale in August and booked on the tour, and then in May Chingfinder announced that since that they couldn't go to Onllwyn they would go there instead. Well if it doesn't rain it pours!!!!!
Well the Pathfinder came and went (I was in Edinburgh at the time) and our tour was also heading to Avonmouth. Lovely!!!
Tickets arrived for the tour and we had to be at Finsbury Park for 0815. Well come the Saturday, can early morning departure / late night (0330 am) saw us drive down the A1 encountering one minor and one major diversion and being stuck behind two caravans and one slow moving car and nearly ending up in Bedford!!! We arrived at Cockfosters at (previous tour was the Southampton Docker) hoping to beat the Cockfosters hoodoo!!! No taxis please at 1.30am!!! We arrived at Finsbury Park way too early, but decided to have a lovely walk from Arsenal to Finsbury Park. But unfortunately no Deltics were in sight / sound....
Whilst waiting for the tour, 90029 brought a set of VSOE stock with 47798 on the rear. The Spoon was to go to Peterborough, from where Flying Scotsman would take the train forward to York via the Joint Line through Lincoln.
The stock arrived at about 0805, and so did two usual suspects. One of whom only just made it in time due to Engineering work on the district line (probably scoring a new crossover somewhere!!!! 67008 was on the front, and had worked the previous weeks tour to Skipton. I wasn't on that though, and so the loco was required. We departed at 0814, but due to pathing, we were held on the approach to the North London Line, and headed out to Gospel Oak, Acton Wells Junction and descending Acton Bank and joining the slow lines, picking up at Slough and arrived at Reading at 0945.
At this point someone told me that 58037 was being attached to the front of the train, but I didn't believe him... It had in fact been attached due to a defective speedo on the 67. 58037 = 1,000 miles+! Including this years Sheffield to Margate train from June 30th. I looked out the window and noticed a lot of clag on departure from the front loco, and my thoughts were that it was not a 67!!! 47727 was seen on the Redhill to Minehead charter too with the BR Blue / Grey stock, together with one of the Hertfordshire Charter set!!!!
So with 58037 and 67008 DIT we set off for Bristol, via Didcot and Swindon. On Didcot were numerous 60s and a few 66s as well as some 37s. We passed Swindon 11 down, but with numerous allowances the schedule was not taxing even for a 58.
We passed through Box Tunnel, another Brunel masterpiece. And heard a rumour that the tunnel and what you can see on April 9th his birthday. 59103 was seen at Wootton Bassett Junction together with 390612/390613 (no not vermin Pendolinos!!!) (I only know them as a friend requested to know what they were when he was down there cranking).
We arrived at Bristol TM at 1113 (only 4 late) with the 58 / 67 detached, and Virgin up to their old tricks with trains being over an hour late. Typical Virgin time isn't it??? 47806 had a nice big black patch all over its body side, and looked more like a Fragonset 47!!!
47787 pulled in with the pride of the nation train. It happened to be a group of Methodists who were touring historic English Cities (and Gloucester too!). 67012 was attached at the rear (Bristol Bath Road End) and 66118 at the front (London end). We departed at 1135 (7 late) and headed out to Avonmouth. Both locos for me were required, although the shed had worked for Pathfinder a few years ago.
We passed the BAE factory at Filton, and took the branch to Avonmouth, which we did on the Yankie Sidewinder tour of 2000??? We thought though when we got to Avonmouth that we hadn't got as far as last time. The train pulled out of Avonmouth (with 67012 leading) at 1209. We awaited our path just before Filton Junction, before taking a required curve to join the Bristol to Cardiff line. The two other lines leading to Avonmouth were covered in the Yankie Sidewinder too. All is needed is for me to traverse the line from Stapelton Road (the passenger branch) on a tour!!!! (I've covered it on a passenger train). At this point the weather was fine in england, but once through the Severn Tunnel the weather looked different. We passed through Newport at 1309 and the heavens opened!!!! We arrived at Cardiff at 1324 and only two options were available (if the Head of Steam had been open - a new one is to be built there) that would have made 3. We could either stay on the station or go out and discover the city (or what there is to see).
We took the lunch / city option and in doing so got drenched to the skin. Just one point, the English Capital is London, the Scottish Capital is Edinburgh, and the current Welsh Capital is Cardiff. 2 very historic cities with lots of good buildings, and the other has a Rugby stadium and not much else.
We bought our lunch at Greggs, and made our way back to the station. While we were there, we saw 33s on Crewe / Portsmouth to Cardiff services (mixed with 47s), 3x37s on Iron Ore, and loads of other locos on coal and steel trains, as well as the petroleum products out of West Wales.
Well you can dream can't you!!!!
Well the stock arrived with 67012 at Cardiff Canton end (it had been out to Newport ADJ) and as soon as we boarded, the sun came out!!!
We departed at 1450 with shed 118 leading. We passed Wentlog, and came off the main line at Ebbw Junction, and passed Park Junction Box, where we exchanged tokens. The branch itself was pretty and quite interesting, with numerous old branches visible to old collieries (and burnt out cars too!!!). I would love to have traversed the line in the early 1980s when the collieries and such were in full swing. We reached the RT limit at 1558 and departed at1608 heading back to Newport. Quite a few locals were out to photo the tour, with some people naughty and trespassing.
We descended in to Newport and were put on to the far side of the station which stopped people leaving!! Some people nearly became part of the railings!!! A kettle was also seen.
The train departed at 1726 and we passed Usk Yard, Llanwern (but not over the Bishtop Flyover), and descended in to the depths of the Severn Tunnel where the train suddenly ground to a halt!!! But the train restarted soon after. Was the Cockfosters jinx to strike again???
Our route back was through Dr Days Junction and then the same as the outward Journey. We passed through Bath, got pathed behind two FGW HST's at Swindon, and sat down passengers at Reading from 1921-1925. We departed on the fasts, switched to the slows at Twyford West, switched back to the fasts at Slough West before setting down passengers again. We stayed on the fasts until Acton West, where we made our way over to the Slow lines. We were running early on our schedules at this point, and all the way back to Finsbury Park (2043).
We caught the tube back to Cockfosters, and started off home thinking the jinx had been defeated. Well that was until we found that the A1 was shut northbound off the M25. Damn!!! So via the M1 we finally arrived back in to Scunthorpe at 0130. Bedtime, not before finding out England had lost the Ashes, but Yorkshire had gained a good draw at Surrey.
VERDICT:
A good interesting tour, pity about the weather in Cardiff. A different 58 would have been nice!!! And some of the scenery was excellent. And the company was good too. Well I had to say that didn't I??? BUT, I wish I knew about the Road works earlier!!!
David Clark (2001)



Route, Distances and Timing's (Booked & Actual)
(by Nigel Benning & Alan Vickers)
| | | | | | | | |
| --- | --- | --- | --- | --- | --- | --- | --- |
| M.C | Location | Booked | Actual | | Booked | Actual | M.C |
| 0.00 | Finsbury Park | 08.13d | ? | | 20.47a | ? | 370.70 |
| 1.57 | KX Freight Jn | 08/19 | ? | | 20/43 | ? | 369.13 |
| 2.11 | Camden Road East Jn | 08/28 | ? | | 20/40 | ? | 368.59 |
| 3.47 | Gospel Oak | 08/36 | ? | | 20/36 | ? | 367.23 |
| 5.32 | West Hampstead | 08/41 | ? | | 20/29 | ? | 365.38 |
| 7.54 | Kensal Green Jn | 08/48 | ? | | ??/?? | ? | ? |
| 7.76 | Willesden Junction HL | 08/50 | ? | | 20/22 | ? | 362.74 |
| 8.61 | Acton Wells Jn | 08/52 | ? | | 20/19 | ? | 362.09 |
| 9.33 | Acton Main Line | 08/55 | ? | | 20/17 | ? | 361.37 |
| 10.30 | Acton West | 08/57 | ? | | ??/?? | ? | ? |
| 14.18 | Southall | 09/02 | ? | | 20/10 | ? | 356.52 |
| 16.37 | Heathrow Airport Jn | 09/06 | ? | | 20/09 | ? | 354.33 |
| 23.48 | Slough | 09.20a ~ 09.22d | ? ~ ? | | 20.00a ~ 2.02d | ? ~ ? | 347.22 |
| 29.31 | Maidenhead | 09/28 | ? | | 19/48 | ? | 341.39 |
| 36.13 | Twyford | 09/34 | ? | | 19/39 | ? | 334.57 |
| 41.10 | Reading General | 09.41a ~ 09.44d | ??.?? ~ 09L55d | | 19.31a ~ 19.33d | 19.21 ~ ??.?? | 329.60 |
| 58.22 | Didcot Parkway | 10/01 | 10/14 | | 19/09 | 19/07 | 312.48 |
| 69.12 | Challow | 10/13 | ? | | 18/56 | ? | 301.58 |
| 71.51 | Uffington | 10/15 | ? | | 18/52 | ? | 299.19 |
| 82.35 | Swindon | 10/25 | 10/35 | | 18/44 | 18.40a ~ 18.46d | 288.35 |
| 88.19 | Wootton Bassett Jn | 10/31 | 10/40 | | 18/36 | 18/33 | 282.51 |
| 99.08 | Chippenham | 10/42 | 10/51 | | 18/29 | 18/26 | 271.62 |
| 101.22 | Thingley Jn | 10/44 | ? | | 18/27 | ? | 269.48 |
| 109.67 | Bathampton Jn | 10/52 | 10/57 | | 18/20 | ? | 261.03 |
| 112.03 | Bath Spa | 10/56 | 10/59 | | 18/17 | 18/14 | 258.67 |
| 122.62 | North Somerset Jn | 11/06 | ? | | 18/07 | 18/04 | 248.08 |
| | | | |
| --- | --- | --- | --- |
| M.C | Location | Booked | Actual |
| 123.14 | Bristol East Jn | 11/08 | ? |
| 123.38 | Bristol Temple Meads | 11L12a ~ 11L28d | 11.13 ~ 11.35 |
| 123.62 | Bristol East Jn | 11/30 | ? |
| 125.01 | Stapleton Road | 11/36 | 11/40 |
| 128.17 | Filton Jn | 11/43 | 11/47 |
| 128.72 | Filton West Jn | 11/46 | 11/50 |
| 134.36 | Hallen Marsh Jn | 11/56 | 12/01 |
| 134.78 | Bristol Bulk Terminal | 12.00a ~ 12.10d | 12.02 ~ 12.08 |
| 141.04 | Filton West Jn | 12/23 | ? |
| 141.68 | Patchway | 12/40 | 12/48 |
| 145.34 | Pilning | 12/45 | 12/43 |
| 152.30 | Severn Tunnel Junction | 12/54 | 12/59 |
| 162.19 | Newport | 13/04 | 13/09 |
| 173.79 | Cardiff Central | 13.24a ~ 14.48d | 13.24 ~ 14.49 |
| 184.22 | Ebbw Jn | 15/01 | 15/04 |
| 185.04 | Park Jn | 15t04a ~ 15t10d | 15/08 |
| 202.60 | Ebbw Vale | 16.00a ~ 16.10d | 15.57 ~ 16.07 |
| 220.36 | Park Jn | 16t58a ~ 17t00d | 16/57 |
| 221.27 | Gaer Jn | 17/03 | 17/03 |
| 222.10 | Newport | 17L09a ~ 17L22d | 17.07 ~ 17.26 |
| 229.38 | Magor | 17/35 | ? |
| 231.79 | Severn Tunnel Jn | 17/38 | ? |
| 238.75 | Pilning | 17/44 | ? |
| 242.41 | Patchway | 17/48 | 17/53 |
| 243.68 | Filton Jn | 17/59 | ? |
| 246.68 | Stapleton Road | 18/03 | 17/59 |
| 247.65 | Dr Days Bridge Jn | 18/05 | ? |