21st July 2001
Past Time Rail
The Edinburgh Explorer
| | |
| --- | --- |
| Locos Used | 67015, 90030 & 90036 |
| Stock Used | 4998+21246+3148+3115+3110+3100+1671+3144+3119+80041+3132+3133 |
Route :
1Z88 : Harrow & Wealdstone to Edinburgh Waverley
1Z89 : Edinburgh Waverley to Harrow & Wealdstone
| | |
| --- | --- |
| Loco(s) | Route |
| 90030 (2) | Harrow & Wealdstone - Milton Keynes - Northampton - Rugby - (via WCML) - Crewe |
| 90036 | Crewe - (via WCML) - Carstairs South Junction - Carstairs East Junction - Haymarket - Edinburgh Waverley |
| 90036 | Edinburgh Waverley - (reverse of outward route) - Northampton |
| 67015 | Northampton - Milton Keynes - Watford Junction - Harrow & Wealdstone |
Notes :
(1) The planned Euston start and finish was not possible due to engineering works. The engineering works also resulted in the use of 67015 from Northampton on the return journey.
(2) The tour was used to get 90030 to Crewe where it was removed as it was due an exam.
Source : Gary Thornton (joined the train at Northampton/left at Milton Keynes)



Tour Review
(by Gary Thornton)
The Tour locos :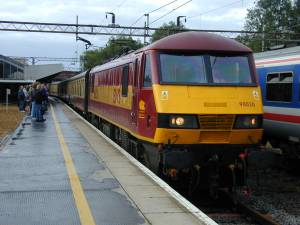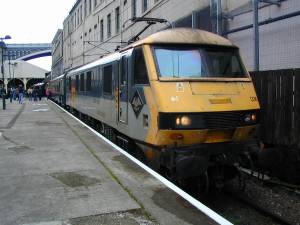 90030 arriving into Northampton & 90036 waiting to leave Edinburgh Waverley.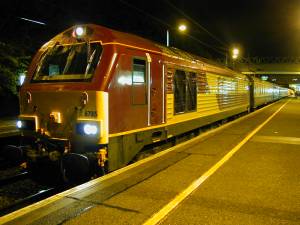 67015 at Milton Keynes Central.
The time comes round once again for the twice-yearly Past Time Rail charter to Edinburgh. As a good value day out from Northampton I've travelled on a few of them now. With my original plans for this weekend not working out I was left at a relative loose-end so decided to have an outing to Edinburgh. It's a straight "out-and-back" with little chance for any unusual track to be traversed and most probably a 90 for haulage throughout. This trip however was just a little more interesting...
I walked on to the platforms at Northampton a touch before 7am, just as an announcement was made that the train was about 5 minutes late and would be departing from platform 3. I wandered over and promptly bumped into a colleague, "JJC", who had decided to come along and pay-on-the-day as he'd been told there were still seats. I soon found out the loco was 90030 "Crewe Locomotive Works", not one of the 90's I required for haulage. Oh, well...
A rumour was also doing the rounds that the train was due to swap locos at Northampton on the way back - to a class 67. Hmm, interesting if proven to be true...
When 90030 pulled in I was quite surprised to find just one standard class coach in the formation - the rearmost one. I found my seat in it and waited for JJC to appear having paid been allocated a seat. By Rugby he hadn't appeared and as we passed through the station and yards I noted (in order) 66606, 47793, 47746, 87027, 66009, 09103, 66234, 92008, 92034, 92022, 66028, 92013, 66237 & 66078! Thought the presence of a 66/6 was very unusual and also pleasing as I needed it for sight.
Went for a wander and found JJC sat in one of the first class coaches, which he almost had to himself. With the opportunity for a more comfortable ride I decided it worth it to upgrade on this occasion. On pulling in to Crewe I was pleased to note 66241, one of the few EWS examples I was still looking to see. A chance to escape the train for a few minutes as we'd been told we'd be loosing 90030 here in favour of another 90, our first example having "high hours" and needing to be stopped for an exam. 90036 was our replacement - another one I didn't need!
Whilst at Crewe I also scored 175110 & 175113 for sight, so it was turning into a reasonable day out already. The remainder of the run was quite uneventful and we arrived into Edinburgh at 12.50 against the booked 12.37 arrival time.
With departure at 16.51 there was a reasonable amount of time to go and do whatever. I chose to have a trip over to Glasgow and in doing so I succeeded in scoring 170423, 170471, 334019 & 334022 for sight. Managed a few good photos too, so well worth the £7.50 return fare. Passing the remains of Eastfield depot was quite sad - I well remember years ago looking out for 20's, 25's, 26's, 27's, 37's & 47's as we shot past! Also much prefer the days when the shuttles were loco hauled rather than Turbostars....
The only other thing of note was the Porterbrook Turbostar 170399 which was in Queen Street station when I arrived, though it left before I managed to get a photo of it! On arrival back into Waverley however I found it lurking on platform 20 so it was photographed before we left.
90036 hurtled us southbound but we lost some time courtesy of pathing stops at Abington and by the DRS depot at Carlisle. At least the latter gave a chance for firing off some photos of the 20's, 33's & 37's stabled there.
As we headed south it was confirmed that 67015 was due to replace 90036 at Northampton - good, a required haulage...though it would mean staying on to Milton Keynes and a later return home as a result. Still, needs must and all that...
Leaving Crewe on the slow we passed no end of Freightliner 66's on engineers trains on the fast lines - 66524 was one of them, another sight score for me and my third new 66 of the day.
We pulled into Northampton almost half an hour early and 67015 was passed as we approached the station. It took 40 minutes to get it on as the station was very busy with units and Virgin expresses passing through. Booked departure was at 23.03 and in the event we departed at 22.59 for points south. A stagger as we headed away from Northampton then past some engineers trains north of Hanslope junction screwed our chance of catching the 23.13 back to Northampton and we passed it near Wolverton. Next departure would be the 00.08 then. No sooner had we arrived at MKC than the station wedged out - the aftermath of a Robbie Williams concert at the MK Bowl.
What then went on was a complete farce - proof that Silverlink couldn't organise the proverbial in a brewery. We saw 321 units come and go, being loaded then promptly unloaded again and trains being announced for one platform but coming in on another. Our train then got held up over 20 minutes as an empty 8-car 321 was sat on the down slow waiting access to platform 1 which was occupied by a 12 car rake on an additional service to London. The icing on the cake was our train itself - the platform was 10 deep from end to end and the 00.08 was....a 4-car unit!!
To call it wedged would be an understatement!! We eventually arrived back into Northampton a touch before 1am - yawn. Still, well worth it to score the 67 for haulage - and out of my home station too. I got home, tired but more than happy with the results of my day out.
Gary Thornton.



Timings (Booked & Actual)
(from Gary Thornton)
| Location | Booked | Actual | | Booked | Actual |
| --- | --- | --- | --- | --- | --- |
| Harrow & Wealdstone | 06.05d | ? | | 23.55a | ? |
| Watford Junction | ??.??a ~ 06.13d | ? | | 23.48a ~ ??.??d | ? |
| Hemel Hempstead | ??.??a ~ 06.24d | ? | | 23.36a ~ ??.??d | ? |
| Milton Keynes | ??.??a ~ 06.48d | ? | | 23.08a ~ ??.??d | 23.24a ~ 23.25d |
| Hanslope Jn | ? | ? | | ? | 23/16 |
| Northampton | ??.??a ~ 07.11d | 07.24a ~ 07.26d | | 22.43a ~ ??.??d | 22L23a ~ 22L59d |
| Long Buckby | ? | 07/37 | | ? | 22/11 |
| Rugby | ? | 07/48 | | ? | 22/01 |
| Nuneaton | ? | 08.03a ~ 08.05d | | ? | 21.46a ~ 21.48d |
| Tamworth | ? | 08/16 | | ? | 21/36 |
| Litchfield Trent Valley | ??.??a ~ 07.56d | 08.22a ~ 08.25d | | 21.29a ~ ??.??d | 21.28a ~ 21.30d |
| Rugeley | ? | ??/?? | | ? | 21/20 |
| Colwich Jn | ? | 08/42 | | ? | 21/18 |
| Stafford | ? | 08/50 | | ? | 21/13 |
| Norton Bridge | ? | 08/55 | | ? | ??/?? |
| Madeley | ? | ??/?? | | ? | 20/48 |
| Crewe | ??.??a ~ 08.46d | 09L12a ~ 09L29d | | 20.34a ~ ??.??d | 20.31a ~ 20.39d |
| Winsford SB | ? | 09/39 | | ? | 20/23 |
| Hartford LNW Jn | ? | 09/42 | | ? | 20/20 |
| Weaver Jn | ? | 09/45 | | ? | 20/15 |
| Acton Grange Jn | ? | 09/49 | | ? | 20/10 |
| Warrington Bank Quay | ? | 09/51 | | ? | 20/07 |
| Winwick Jn | ? | 09/53 | | ? | 20/01 |
| Golbourne Jn | ? | ??/?? | | ? | 20/00 |
| Springs Branch Jn | ? | 09/58 | | ? | 19/57 |
| Wigan North Western | ? | 09/59 | | ? | 19/56 |
| Euxton Junction | ? | ??/?? | | ? | 19/50 |
| Preston | ? | 10/10 | | ? | 19/45 |
| Lancaster | ? | 10/26 | | ? | 19/31 |
| Morecambe South Jn | ? | 10/28 | | ? | 19/30 |
| Carnforth | ? | 10/31 | | ? | 19/27 |
| Oxenholme Lake District | ? | 10/43 | | ? | 19/19 |
| Penrith | ? | 11/06 | | ? | 18/57 |
| Carlisle | ? | 11.20a ~ 11.21d | | ? | 18.39a ~ 18.43d |
| Lockerbie | ? | 11/39 | | ? | 18/05 |
| Beattock Summit | ? | 11/54 | | ? | 17/48 |
| Carstairs South Jn | ? | 12/10 | | ? | 17/21 |
| Slateford Junction | ? | 12/42 | | ? | 17/01 |
| Haymarket East Jn | ? | 12/46 | | ? | 16/59 |
| Edinburgh Waverley | 12.37a | 12.50a | | 16.51d | 16.53d |