24th June 2001
SteamRanger
The Southern Encounter
| | |
| --- | --- |
| Loco Used | steam: Rx207 'Dean Harvey' |
Route:
Loco
Route
Rx207

Mount

Barker – Philcox Hill – Strathalbyn – Black Swamp – Goolwa – Middleton – Victor Harbor

Rx207

Victor Harbor – (reverse of outward route) –

Mount

Barker
Source : Stuart Smith



Tour Review
(by Stuart Smith)
Two weeks later (see Junction Jogger on 11th June) I found myself back at Mt. Barker station for the second of their winter railtours. Don't forget this is South Australia, so June is well and truly winter for them!
This trip was with steam haulage to the coastal port at Victor Harbor, via the historic towns of Strathalbyn and Goolwa.
'Kettle' Rx207 (named Dean Harvey) was at the head of the 5 wooden coaches when I arrived and there were plenty of families and enthusiasts already gathered ready for the journey ahead. Sorry, but I don't do kettles in the UK – let alone Australia, so I can't tell you which type/class it was, although the tour brochure did say they owned and operated two of this class.
Heading south from Mt. Barker we almost immediately started up the 1 in 45 climb through the Philcox Hill Ranges. The climb was fairly spectacular, even if I say so myself, with plenty of 'clag' being produced by the crew. The decent down into the Lower Murray region followed, with wide-open plains stretching all the way to Lake Alexandrina and the Coorong Peninsula. At Strathalbyn, the impressive station building has been fully restored by volunteers, although trains don't actually stop here. (P-Way gangs now use the old goods shed here though).
Passing through Sandergrove, the remains of the disused branch to Milang forks off to the left. Milang station, at the far end of the branch, has again been restored and some rolling stock has been secured for a potential future reopening!
The line continues towards the coast at Goolwa, where SteamRanger has it's main operating base and workshops. A brief water stop was made here before continuing along the shoreline to Middleton and Victor Harbor.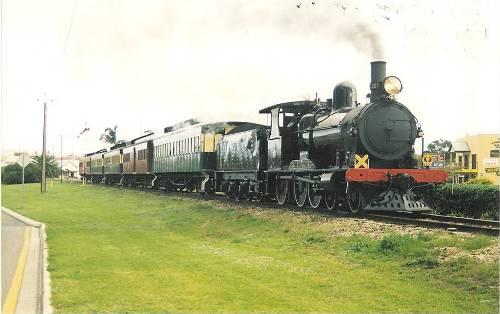 Rx207 'Dean Harvey' at Victor Harbor (photo: Stuart Smith)
Reaching the end of the line, time was available to watch the loco run round before lunch and a horse-drawn tram ride across the Causeway to Granite Island. (It had rails, so it just had to be done)!!!!
All too soon it was time to board the train again, and we set off back to Goolwa (another water stop), then back through to Mt. Barker.
So that concluded two unusual tours in two weeks.
Having been using the SixBellsJunction website whilst abroad for the year, I had seen many interesting tours run back home in the UK (including the infamous Ayr Liner – at it's third attempt), so I was pleased to finally be doing some railtouring in one form or another.