11th June 2001
SteamRanger
The Junction Jogger
Route:
| | |
| --- | --- |
| DMU | Route |
| 428 | Mount Barker - Mount Barker Junction |
| 428 | Mount Barker Junction - (reverse of outward route) - Mount Barker |
Source : Stuart Smith



Tour Review
(by Stuart Smith)
During my gap-year in Australia (between jobs, rather than between college and university), I was able to continue my railway pursuits and travelled fairly extensively around the country. Several visits were also made to railway museums and such like, but when asking about people about railtours, I always seemed to get told, "We don't have things like that here".
So by chance whilst in Adelaide, I came across a heritage railway (they don't use the term preserved railway like we do) that also did a few trips onto the national network using their own locos and units.
Now before we go any further, I must stress that they are not in the league of Pathfinder or Hertfordshire (as they were called back then), so no 4am starts with pairs of Class 56's and countless hours spent trundling up and down Colliery branch lines for a few desperate miles of track – but hey, this was railtouring 'down under style'.
The first of the two trips was a very basic 'Railcar' tour (for just under 3 hours) over a disused line that links the heritage railway with the national network. Well, I say 'links', but I actually mean 'meets' as they are different gauges. The heritage line, including the disused link, being broad gauge (1600mm) with the national network as standard gauge (1435mm).
The main rail network in South Australia (linking Sydney, Melbourne and Alice Springs) used to be broad-gauge, and SteamRanger had their base at Dry Creek (a Northern Suburb of Adelaide). However, following the track changes they were forced to move the 60km's south to Mt. Barker, which had retained it's wide tracks.
The starting point for the tour was Mt. Barker itself, and despite it being a weekday lunchtime, there was a reasonable crowd in attendance. The tour was utilising a single 'Red Hen' Railcar - number 428, which is one of 4 owned by SteamRanger.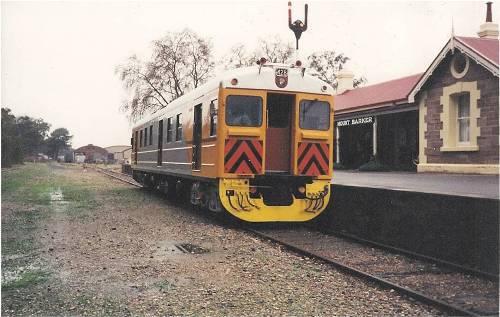 Railcar 428 at Mount Barker (photo: Stuart Smith)
The first manoeuvre was directly over the turntable (now that wouldn't happen in the UK), before slowly trundling down the very rusty track ahead. The stationmaster gave a running commentary as glasses of orange juice were freely handed out along the way to the 'junction'.
Passing through open farmland and scenic countryside the railcar bounced its way along the disused line. The speed was never more than 30mph judging by the Speedo that was clearly visible through the open cab door!
All to quickly, the quirky single-car unit swung alongside the mainline to Melbourne (subsequently done on "The Overland" service operated by Great Southern Railway) and terminated in the now single platform halt of Mt. Barker Junction station.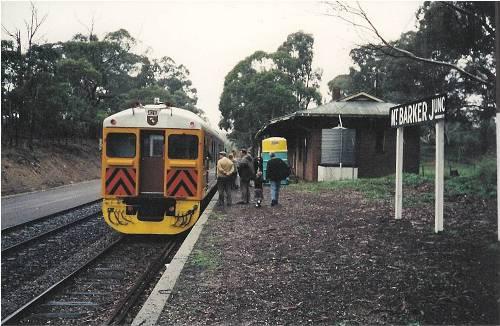 Railcar 428 at Mount Barker Junction (photo: Stuart Smith)
A brief stop was made here, witnessing a couple of triple-headed freights powering up the gradients away from Adelaide.
The return journey was a straightforward trip back along the branch, which ended back at Mt. Barker.
Well, it certainly was an unusual kind of trip, but it gave me immense pleasure to be railtouring again!