3rd June 2001
Branch Line Society
The Salopian Railtour
| | |
| --- | --- |
| DMU Used | 156423 (52423 + 57423) |
Route :
2Z94 : Chester - Shrewsbury
2Z95 : Shrewsbury - Chester
DMU
Route
as listed

Chester - via Siding - Hooton (Run Round Sdgs)

as listed

Hooton (Run Round Sdgs) - via RR Loop - Chester (North - South Jcts) - Wrexham - Gobowen (Up Platform)

as listed
Gobowen (Up Platform) - x-over to Down Line - Gobowen North
as listed
Gobowen North -

Gobowen Coal Yard Sdgs (Down / Up Branch)

as listed

Gobowen (Coal Yard Sdgs Run Round) - Gobowen North (Down Line)

as listed
Gobowen North (Down Line) - x-over to Up Line - Shrewsbury [P4]
as listed
Shrewsbury - Coton Hill Yard (Siding 7 (ex- Up 'A' Siding))
as listed
Coton Hill Yard - Shrewsbury - English Bridge Jn
as listed
English Bridge Jn - Shrewsbury [Bay P5]
as listed

Shrewsbury [P4] - Crewe Bank Down Sdg

as listed

Crewe Bank Down Sdg - Shrewsbury - Sutton Bridge Jn

as listed

Sutton Bridge Jn - Shrewsbury Avoiding Line - Abbey Foregate Jn - Madeley Jn

as listed

Madeley Jn - Lightmoor Jn - (via Up Line) - Ironbridge

as listed

Ironbridge - Madeley Jn Down Refuge Siding

as listed

Madeley Jn Down Refuge Siding - Madeley Jn (Down Madeley Branch)

as listed
Madeley Jn (Down Madeley Branch) - Stafford Road Jct - Oxley Chord - Bushbury Jn (Down Main (booked DGL)) - Stafford - Union Grinding Wheel branch
as listed

Union Grinding Wheel branch - Stafford

as listed

Stafford - Crewe - Chester

Track requested and/or scheduled (and not covered on the day)…


Crewe Bank Incline & Headshunt, Bushbury Down Goods Loop
Sources : Alan Sheppard & Phil Pearson



Tour Review
(from Phil Pearson)
After another longish Saturday on the (N)Onllwyn Orbiter, Sunday offered the Branch Line Society's "Salopian" railtour. This took an otherwise unemployed First North Western Class 156 away from its normal haunts, on a tour of the lesser known parts of the Shropshire rail network, with a little bit of Staffordshire thrown in for good measure.
Departure was prompt at 11:32 and we pass by Chester TMD on the right. Nice to see other units on there (3 x Class 101s, a 156 and a 158) and not just the Class 175s. Presently we arrive at Hooton and make slow but stately progress through the station and into the run round sidings north thereof (these formerly used by oil traffic to/from the Stanlow Refinery). We make it right to the end of the line here, then return down the other track and back through the station, this manoeuvre making an early present for the track bashers amongst our party.
A spirited run back to Chester ensues, the remaining platforms of the old Upton station are noted (this was replaced by Bache station, located to the south), then we slow for our next rare track. This is the curve from Chester North Jct., around to Chester South Jct., this avoids Chester General station. Off then along the North Wales Coast main line for a short while to Saltney Jct., where we turn southwards on to the top end of the Marches line and towards Wrexham.
After a PU stop there, I note a Central Trains DMU stabled in a bay platform - does this happen often? We carry on to Chirk, passing the Kronospan sidings and note the now lifted sidings into the Cadbury-Schweppes site. We pass through Weston Rhyn, and then under the A483 road bridge (did anyone else notice this was Bridge 483A on the railway? - Coincidence or what?) and our arrival at Gobowen. Copious time is allowed here for the reversals needed to access the former Oswestry (and Blodwell Quarry) branch. However common sense prevails on the day and the railway staff on site here make sure that we make all the reversals and traversals (of the level crossing) are made swiftly and with the least delay to the road users - who surely must have been totally bemused to see the same train cross before them three times!
Through the station, wrong line and then on to the branch proper. We make it to the point known as "Commencement of Single Line Section", the track being unfit for use beyond here. The overbridge at Park Lane Halt can just be seen. We halt adjacent to an estate of what looks like sheltered accommodation, much curtain twitching then ensued!! Operationally, it makes sense to hold us here until the line becomes clear again (A service train passes towards Shrewsbury and one of the Margam - Dee Marsh steel trains goes the other way).
After more manoeuvres to regain the Shrewsbury line, we make good progress to Shrewsbury, where a swift reversal enables us to access the one of the two remaining roads open through Coton Hill Yard, along which we amble back to just beyond the shell of Coton Hill signalbox. We then retrace our tracks back to Shrewsbury, passing straight through the station, then reversing at English Bridge Jct. and coming to rest in one of the south facing bay platforms.
Time for a PNB for the crew and chance of a quick leg stretch for the tour participants.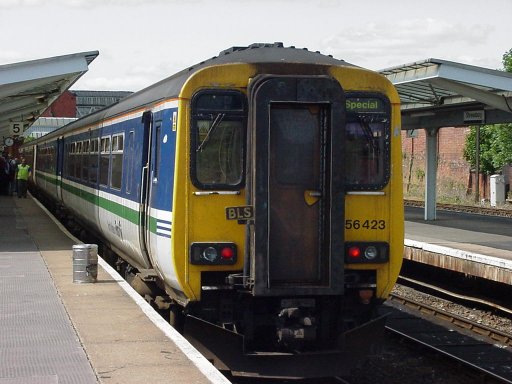 Class 156 423 rests at Shrewsbury during the BLS "Salopian Railtour" - 3rd June 2001
After the break we re-board the train, now positioned in a through platform and depart northwards for Crewe Bank Siding. This is covered to just beyond the signal box, due to the headshunt and incline down to the coal yard being unfit for our passenger train. We then pass back through Shrewsbury station, and on to Sutton Bridge Jct. where we reverse in order to cover the Shrewsbury avoiding line from English Bridge Jct. to Abbey Foregate Jct. Down below is a large car park, in which, on the far side is a low brick wall with a pedestrian walkway along the top of it. This marks the remains of the platform of Shrewsbury Abbey station, used by the Shropshire and Montgomeryshire Light Railway, a former Col. Stephens line, that wandered westwards from Shrewsbury to Llanynenych and a branch to Criggion.
We wind our way around on to the Wolverhampton line and then after a short run through open country we start to pass through Telford new town, which seems to go on for ever. With a reverse at Madeley Jct., we access the Ironbridge branch. Double track soon gives way to a single line gently passing along the edge of Telford new town to Lightmoor Jct. Here double track starts again, and this marks the beginning of the steep descent down to the River Severn . However due to a landslip in the embankment part way along, only the former up(hill) line is now in use. The gradient along here must be quite significant but I do not have a gradient profile to hand to quantify it.
We reach the Railtrack boundary and stop right on top of the River Severn on the Royal Albert bridge. A pleasure launch glides underneath as we await the return up the tortuous line to Lightmoor and Madeley. All too soon we have to leave this idyllic spot and return to Madeley Jct. Though not before we cover all but 10 yds of the Down Refuge Sdg at Madeley Jct. A reverse move puts us back on the Ironbridge branch, then we're off again towards Wolverhampton.
A rather slow approach to Oxley, where there is not a train to be seen in the sidings - this being on a Sunday too. Thoughtfully the resident Class 08 pilot has been hidden away too. At Stafford Road Jct. we venture left on to the Oxley chord, originally at this point the main line to Wolverhampton Low Level. As we cross the BCN canal, the new chord starts and approx. 300yds later we're back on the GW link to Bushbury Jct. Prior to the new chord line being opened in the mid1980s coal traffic from the Potteries had to reverse at Cannock Road Jct. in order to access the line back to Ironbridge P.S.
A minor hesitation marks our arrival at Bushbury Jct. But we're soon on our way. Wait - a minor hiccup - we're not routed via the Down Goods Loop as per the schedule. Later put down to Driver and Signalman error - they thought we were routed via the main line - but it's too late to do anything now and very soon we're speeding along through Gailey and Penkridge on the main line to Stafford.
At Stafford we're routed via the Royal Mail parcels platform, then on to the long disused former LNW line to Wellington (Salop). Retained to give access to the Universal Grinding Wheel siding, there hasn't been regular traffic here for years. We stop at the point the track disappears into the undergrowth, the crew change ends and we creep back to Stafford. This is our first set down point and what seems like half the train alight.
On the homeward leg now and we are routed by the slow lines up to Crewe then onward to Chester. We arrive back 50 minutes early, which illustrates the amount of padding in the schedule. Its the end of the tour, all in all a good day out on some lesser known parts of the system.
With many thanks to the officers of the BLS and the railway personnel involved with this railtour - your efforts were most appreciated.
Phil Pearson



Timings (Booked & Actual)
(from Phil Pearson)
M.C
Location
Booked
Actual

0.00
Chester General [P4]

11.32d

11.32d

0.36
Chester North Jn
?
11/34
5.11
Capenhurst
?
11/39
7.73
Hooton
?
11/44
8.33
Hooton RR Sdg
11.45 ~ 11.52
11.49 ~ 11.55
8.73
Hooton
?
12/00
11.55
Capenhurst
?
12/04
16.30
Chester North Jn
12*04
12/09
16.53
Chester South Jn
12*09
12/10
19.12
Saltney Jn
?
12/13
24.50
Rossett
?
12/18
29.08
Wrexham General [P1]
12.26a ~ 12.28d
12.25a ~ 12.27d
33.70
Ruabon
?
12/33
41.24
Gobowen Station (Up Platform)
12.44a ~
12.44 ~ 12.45
41.34
Gobowen North (Down Line)
~ 13.15d
12.46 ~ 12.59
41.76
Gobowen (Down / Up Branch)
13.23 ~ 13.30
13.04 ~ 13.49
42.38
Gobowen (Down Line)
13.38a ~
13.57 ~ 13.59
43.48
Gobowen Station (Up Platform)
~ 14.08d
14/00
53.04
Baschurch
?
14/10
60.52
Shrewsbury [P4]
14.28a ~ 14.32d
14.19 ~ 14.22
61.32
Coton Hill Yd Headshunt
14.39 ~ 14.45
14.30 ~ 14.47
62.12
Shrewsbury
?
14/53
62.40
English Bridge Jn
?
14.59 ~ 15.00
62.62
Shrewsbury [P5]

14.52a ~

15.02a ~ ECS

--
Shrewsbury [P4]

~ 15.52d

ECS ~ 15.55d

63.25
Crewe Bank S.B. (Down Siding)
15.57 ~ 16.28
16.00 ~ 16.27
63.68
Shrewsbury
?
16/32
64.16
English Bridge Jn
?
16/33
64.56
Sutton Bridge Jn
16.38 ~ 16.43
16.37 ~ 16.39
65.16
English Bridge Jn
?
16/42
65.41
Abbey Foregate Jn
?
16/44
75.60
Wellington (Up Through)
?
16/54
79.47
Telford Central
?
16/58
80.68
Madeley Jn
17.10 ~ 17.18
17.01 ~ 17.05
84.64
Lightmoor Jn
17*33 ~ 17*38
17.17 ~ 17.19
86.64
Ironbridge
17.53 ~ 18.03
17.26 ~ 17.31
88.64
Lightmoor Jn
18*20 ~ 18*25
17.39 ~ 17.40
92.60
Madeley Jn

18.43 ~

17/52
93.00
Madeley DRS
~
17.54a ~ 17.55d
93.20
Madeley Jn

~ 19.08

17.59 ~ 18.07
99.50
Cosford
?
18/13
103.68
Codsall
?
18/17
107.15
Oxley SB
19/20
18:22 ~ 18:23
107.27
Stafford Road Jn
?
18/24
108.38
Bushbury Jn (DGL) (Dn Main)
19*33 ~ 19*43
18:31 ~ 18:34
116.27
Penkridge
?
18/40
122.14
Stafford Royal Mail Platform
19/58
18:52 ~ 19:06
122.71
UGW Line Limit
20.01 ~ 20.06
19.11 ~ 19.16
123.48
Stafford [P5] or [P6] ??
20.09a ~ 20.15d
19.27a ~ 19.31d
128.73
Norton Bridge
?
19/38
139.79
Madeley S.B.
?
19/49
143.18
Betley Road
?
19/52
146.27
Basford Hall Jn
?
19/55
148.05
Crewe [P11]
20.42a~20.48d
20.02a~20.03d
158.65
Beeston Castle
?
20/14
169.16
Chester General [P4]
18.07a
20.25a
All distances, in miles and chains (M & C) have been extrapolated from Quail/SA.
Other than this, no attempt has been made to verify the mileages given (best estimates in italics).



Back to "The Railtour Files"