26th May 2001
Pathfinder Tours
York / The Tyke Trekker
| | |
| --- | --- |
| Locos Used | 47774, 56103, 60069, 67005 'Queen's Messenger' & 67010 |
| Stock Used | 3125+3122+1692+3112+3140+3098+21272+1863+5009+4927+5040+4963+5029 |
Route :
1Z42 : Yeovil Junction to York
1Z91 : York to York
1Z43 : York to Yeovil Junction
| | |
| --- | --- |
| Loco(s) | Route |
| 47774 | Yeovil Junction - Yeovil Pen Mill - Castle Cary - Frome - Westbury |
| 67010 | Westbury - Trowbridge - Bath Spa - Bristol Parkway - Cheltenham Spa - Abbotswood Jn - Stoke Works Jn - Barnt Green - Kings Norton - St Andrews Jn - Landor St Jn - Water Orton - Burton-on-Trent - Derby - Chesterfield - Beighton Jn - Masborough North Jn - Aldwarke Jn - Swinton - Moorthorpe - Pontefract Baghill - Ferrybridge North Jn - Church Fenton - York |
| 56103 (1) | York - Church Fenton - Ferrybridge North Jn - Knottingley West Jn - Knottingley South Jn - Shaftholme Jn - Doncaster - Decoy South Jn - Rossington Colliery Jn |
| 60069 (2) | Rossington Colliery Jn – Decoy South Jn - Doncaster Royal Mail Terminal |
| 56103 (1) | RMT – Decoy South Jn - St Catherines Jn |
| 60069 (2) | St Catherine's Jn – Low Ellers Curve Jn - Potteic Carr Jn - Decoy South Jn - Doncaster - Shaftholme Jn - Temple Hirst Jn - Selby Canal Jn - Hambleton East Jn - Hambleton North Jn - Colton Jn - York |
| 67005 | York - Colton Jn - Temple Hirst Jn - Shaftholme Jn - Doncaster - Hexthorpe Jn -Mexborough - Swinton - Aldwarke Jn - Wincobank Jn - Sheffield - Dore Station Jn - Chesterfield - (reverse of outward route) - Westbury - (reverse of outward route) - Yeovil Junction |
Notes :
(1) : 60069 on rear.
(2) : 56103 on rear.
(3) 47774 used to Westbury in the morning as the driver did not "sign" 67's.
(4) Marketed as "York" for passengers wishing to alight at York for free tiem in the city.
Source : Daniel Bound (joined/left train at Barnt Green)



Tour review
(by Daniel Bound)
This tour was originally planned to cover track on the northern side of Doncaster to Rossington Colliery and it's yards, with both Two way goods line being covered as well as Belmont yard. This was changed to include Low Ellers curve because of an EWS mistake in the Christmas tour "The Siberian Hamster". So now Belmont yard was cut and we approached Rossington from the South, reversing at St. Catherine's Jct. and the RMT platform. Then it was discovered that the Rossington branch itself was out due to the poor condition of the track! (Who gave permission to run over the line in the first place? EWS control is not that far away to check is it?) To compensate, Selby Garden curve was added to the itinerary. Are you all still with me? Two days before the tour and in the middle of a postal strike, I checked Pathfinders website to check the times. Not another change, I hear you say! Well yes, we now approach from the North through Decoy yard and then do the reversals to cover Low Ellers. Phew! I think we got there!
The morning of the tour arrived, a sunny day and a 2 hour drive from London to Barnt Green ensued, stopping at services on the way to stock up on supplies! Barnt Green is a lovely photogenic station, and the lines can be seen stretching away in both directions. A few minutes before our departure time of 9:04 the now familiar triangle of lights appeared in the distance and 67010 gradually drew closer. (A dud for many onboard having worked the first 67 railtour back in July 2000, and the Pathfinder tour in April!)
We departed on time and headed east, crossing the lines just before Kings Norton to take the 'Birmingham avoiding line'. Early running saw us checked at St Andrew's Jct. awaiting a path onto the main line. Once away we passed Saltley TMD, with celebrity 60081 prominent in front of a line of 66's. Now accelerating quite fast we passed 57012 on a Southampton bound freightliner at Washwood heath. We passed Virgin's deserted 'Central Rivers' depot, lots of lines but devoid of any units! Our excellent run saw us enter Derby, our last pick up point, almost 20 minutes early, giving us a chance to stretch our legs and get some photos.
On time we departed Derby and headed on the down main, passing the beautiful green fields and hills of Derbyshire and the Peak district. We kept on the down main, and just after Chesterfield we crossed over to join the 'old line' towards Barrow Hill. At Staveley sidings and Treeton Jcts. we slowed down due to track work on the up line. This engineering work meant our early running was now a delay as we rejoined the down main at Masborough Jct.
The 67 was now opened up again to try to regain some time. We continued straight on through Swinton onto the down Pontefract. Our speed was too great for the crossover just before Moorthorpe station, as the entire coach lurched to the left, I fear for anyone holding tea or coffee at this moment! We continued straight on again towards Pontefract and Ferrybridge power station. Ferrybridge depot was passed with 08514 looking very smart in its new EWS livery. Various dilapidated shunters were scattered around the rear of the depot. At Milford Jct. we crossed over onto the down Normanton for our run into York. Our mini-tour locos 56103 (again!) and 60069 were passed at Holgate sidings as we arrived into platform 9.
After attaching the locos, and Pathfinder letting some very dubious North Lincolnshire characters of gothic persuasion onboard, we departed with 56103 for our tour to Doncaster. Taking the main line then going left at Colton Jct. towards Church Fenton, passing 66161 and 140 that had appeared at Milford. Taking the down Pontefract we slowed on our approach to Ferrybridge North Jct., passing Ferrybridge depot for the second time in the same number of hours. Here we went left towards Knottingley and taking the lines behind the station went on towards Doncaster. Knottingley had its many lines of 66's with 215, 103 and 055 visible. We stopped before Thorpe level crossing, awaiting a path onto the busy East Coast. Here the VSOE was seen going north. We joined the ECML for the 5 miles into Doncaster.
We crossed right across the station and took the two way goods 2 line around the back of the station. The down/up west slow 2, was taken to access the yards. Here a surprise and bonus, the up west reception lines (originally advertised then dropped) around Belmont yard! Here we started to loose time as we stopped while the driver talked to 2 EWS men. We continued on the up west reception then onto the up flyover, taking the link towards the Rossington branch. We stopped just short of the points on the line nearest the main line.
60069 then took over for the short run back to the RMT platform. 66513 passed us while we waited for the line towards St. Catherine's Jct. We headed for the South Yorkshire Joint Line, crossing over before reversing back towards Low Ellers Curve Jct. Now the real highlight for many, as 60069 went right and took the heavily overgrown (but now somewhat cut down!) Low Ellers Curve towards Potteric Carr Jct. and on to reception sidings number 1. The timings that the North Eastern region had provided were somewhat dubious giving us 2 minute to cover Low Ellers when it actually took 6! Next we went past Doncaster Depot with it's rows of withdrawn 58's and 56's slowly rotting away and took the transfer line before going through platform 1 at Doncaster station. We then crossed over again onto the up main line heading back towards York. Our track was not yet over for the day, as at Temple Hurst Jct. we diverged right onto the Selby line, before heading left and taking the Canal Garden curve. Continuing on passing cricket matches we then rejoined the main line again by taking the Hambleton East to Hambleton North Jct. curve. The 60, now some 30 minutes down, had some work to do, unfortunately by the time we arrived at York we should have been departing! A revised time of 16:15 was quoted, even that seemed ambitious! The aforementioned dubious characters then left the train, to allow more 'normal' people back on board, and just after 16:20 our new 67, 67005 'Queen's Messenger' departed York on our homeward journey.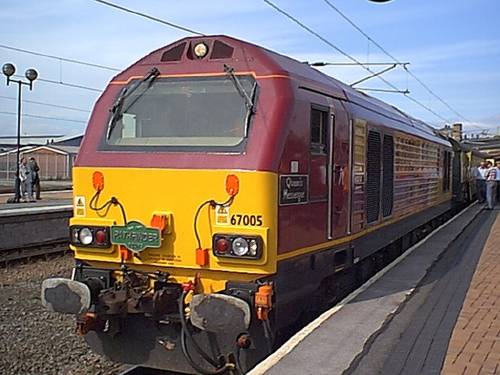 67005 ready to leave York (photo: Daniel Bound.
Even though we were 40 minutes down, judging by our outward journey no one was worried, and as we started back down the mainline the 67 started to eat into the minutes. We crossed over and ran through platform 4 at Doncaster as we headed west through Mexborough and Swinton and on into Sheffield. We went straight through platform 6 and by the time we passed through Chesterfield we were one minute early! The 67 may be quiet, but they do make excellent railtour machines, I can think of one or two railtour this year when I wish we'd had one on the front. We arrived at Derby 5 minutes early, but some dithering by the signallers (we were due to stop here for 10 minutes anyway) saw us depart some 7 minutes early.
Further signal check on the approaches to Birmingham saw us loose time and when we turned left at Landor St. Jct. to retake the camp hill line we were 5 minutes down. When we arrived back at Barnt Green we were almost 10 minutes down. A quick toot from the 67 signalled the departure and I watched the train disappear into the distance, as I walked back to my car for the journey south.
This was another excellent railtour by Pathfinder, for once covering more track than advertised. I wonder if this is going to be the way of the future, with operators' not advertising planned routes for fear of not covering them? Maybe Pathfinder and Hertfordshire along with EWS and Railtrack should sit down and formulate a plan whereby advertised routes will be covered. We learnt on the tour today that the 'Onllwyn Orbiter' railtour is now not going to Onllwyn, but Ebbw Vale! If railtour operators have to submit plans months in advance, then shouldn't Railtrack and EWS guarantee routes and timings months in advance? No more of this receiving tickets on the day of the tour.
Hmmm, I feel better now!!
Daniel Bound



Timings (Booked & Actual)
(from Melvyn Teale & David Clark)
M.C
Location
Booked
Actual
Booked
Actual
M.C
0.00
Yeovil Jn
05.15d
?
22.23a
?
277.29
1.59
Yeovil Pen Mill
05.20a ~ 05.22d
?
22.16a ~ 22.18d
?
275.50
13.35
Castle Cary
05.38a ~ 05.40d
?
22.02a ~ 22.04d
?
263.74
27.37
Frome
05.58a ~ 06.00d
?
21.39a ~ 21.40d
?
249.72
33.17
0.00
Westbury
06.17a ~ 06.40d
?
21.27a ~ 21.29d
?
244.12
4.03
Trowbridge
06.47a ~ 06.49d
?
21.18a ~ 21.19d
?
240.09
16.62
Bath Spa
07.07a ~07.09d
?
20.55a ~ 20.57d
?
227.30
27.43
North Somerset Jn
07/23
?
20*20a ~ 20*38d
?
216.49
31.61
Filton Jn
07/30
?
20/11
?
212.31
33.00
Bristol Parkway
07.36a ~ 07.38d
?
20.06a ~ 20.09d
?
211.12
37.50
Westerleigh Jn
07/44
?
20/01
?
206.42
45.63
Charfield
07/53
?
19/53
?
198.29
59.08
Standish Jn
08/02
?
19/45
?
185.04
66.05
Barnwood Jn
08*10a ~ 08*16d
?
19/39
?
178.07
71.48
Cheltenham Spa
08.30d
08.31
19.30a
19.50
172.44
78.59
Ashchurch
08/38
08/37
19/24
19/42
165.33
89.46
Abbotswood Jn
08/45
08/47
19/17
19/33
154.46
100.63
Stoke Works Jn
08/52
08/55
19/10
19/25
143.29
102.76
Bromsgrove
08/55
08/57
19/08
19/22
141.16
106.37
Barnt Green
09.03a ~ 09.04d
09.02 ~ 09.04
19.03a ~ 19.04d
19.13 ~ 19.15
137.53
111.45
Kings Norton
09/16
09/14
18/55
19/05
132.45
116.60
Bordesley Jn
09/22
09/21
19/50
18/57
127.30
117.06
St Andrews Jn
09/30
09.23a ~ 09.30d
18/49
18/54
127.04
117.44
Landor Street Jn
09/33
09/33
18/43
18/52
126.46
123.50
Water Orton
09/39
09/38
18/37
18/44
120.36
133.22
Tamworth
09/51
09/45
18/29
18/33
110.60
140.50
Wichnor Jn
09/56
09/50
18/24
18/27
103.32
146.13
Burton-upon-Trent
10/02
09/54
18/24
18/27
97.69
142.30
Stenson Jn
10/12
09/59
18/14
18/09
91.52
157.14
Derby
10.18a ~ 10.20d
10.05 ~ 10.20
17.57a ~ 18.07d
17.55 ~ 18.01
86.68
167.07
Ambergate
10/36
10/35
17/43
17/44
76.75
177.15
Clay Cross South Jn
10/45
10/43
17/35
17/37
66.67
181.25
Chesterfield
10/48
10/48
17/32
17/33
62.57
190.53
Beighton Jn
11/06
11/06
-
Dore Station Jn
17/11
17/23
54.27
-
Sheffield
16.50a ~ 17.06d
17/17
50.37
-
Wincobank Jn
16/41
17/12
47.62
197.29
Masboro' North Jn
11/09
11/12
199.53
Aldwarke Jn
11/11
11/16
16/31
17/07
42.74
201.64
Swinton
11/13
11/19
16/28
17/05
40.63
209.55
Moorthorpe
11/19
11/26
216.53
Pontefract Baghill
11/26
11/33
218.57
Ferrybridge North Jn
11/27
11/36
222.66
Milford Jn
11/30
11/39
227.15
Church Fenton
11/35
11/46
-
Mexborough
16/25
17/03
39.49
-
Hexthorpe Jn
16/20
16/59
34.44
-
Doncaster
16/13
16/53
32.43
-
Shaftholme Jn
16/09
16/51
28.24
-
Temple Hirst Jn
16/00
16/42
19.24
???
Ulleskelf
11/36
11/47
232
Colton Jn
11/40
11/50
15/49
16/32
5.41
237
York
11.45a
11.58
15.42d
16.25
0.00
M.C
Location
Booked
Actual
0.00
York
12.31d
12.36
5.41
Colton Jn
12/38
12/47
10.58
Church Fenton
12/44
12/52
15.07
Milford Jn
12/57
12/59
19.16
Ferrybridge North Jn
13/10
13/08
?
Knottingley West Jn
13/12
13/10
20.26
Ferrybridge South Jn
13/14
13/12
30.35
Shaftholme Jn
13/25
13/31
34.54
Doncaster
13/29
13/40
37.16
Doncaster Decoy South Jn
13/35
13/55
38.23
0.00
Rossington Colliery Jn
13.40a ~ 13.45
14.05 ~ 14.09
?
Doncaster Decoy South Jn
13/50
14/29
1.48
0.00
Doncaster RMT
13.56 ~ 14.01
14.20 ~ 14.30
1.15
0.00
St Catherines Jn
14.07 ~ 14.12
14.35 ~ 14.38
0.38
Low Ellers Curve Jn
14/16
14/41
1.39
Potteric Carr Jn
14/18
14/47
3.34
Doncaster
14/24
15/02
7.53
Shaftholme Jn
14/28
15/08
16.53
Temple Hirst Jn
14/37
15/21
21.26
Selby Canal Jn
14/43
15/31
21.58
Selby West Jn
14/45
15/33
24.56
Hambleton East Jn
14/53
15/40
25.22
Hambleton North Jn
14/55
15/41
33.26
Colton Jn
15/03
15/50
38.67
York
15.11a
15.58