26th May 2001
Cheshire Railtours
The Dartmoor Prince
| | |
| --- | --- |
| Loco Used | 47778 'Irresistible' |
Route :
1Z80 : London Victoria to Meldon Quarry
1Z?? : Meldon Quarry to London Victoria
| | |
| --- | --- |
| Loco | Route |
| 47778 | London Victoria - Stewarts Lane - Clapham Junction - Streatham Jn - Haydons Road - Wimbledon - Surbiton - Woking - Basingstoke - Andover - Salisbury - Gillingham - Yeovil Junction - Honiton - Exeter St David's - Crediton - Okehampton - Meldon Quarry |
| 47778 | Meldon Quarry - (reverse of outward route) - London Victoria |
Source : John Clifford (on the train throughout)



Tour Review
(by John Clifford)
This was originally advertised as leaving Victoria at 0730 & getting back mid-evening. When the ticket arrived it was a 0655 departure & back not mid evening but midnight (almost), actually 2350. I had booked on it as I had never had 47 haulage between Streatham Junction & Wimbledon nor between Cowley Bridge Junction & Meldon Quarry.
Anyway this meant leaving my home station of Hatfield on the first train at 0502 and left Kings Cross on the 0011 which I caught only because it left late. The 0011 terminated at New Barnet with a bus connection onward arriving at Hatfield at about 0130. Now, I know this is not long compared with trips undertaken by some people but as I will soon qualify for a Senior Citizen's Railcard I haven't got the stamina I had in my twenties.
If you think this is a long moan, you'd be right. I feel I've been around long enough to give an opinion.
Back to the trip which ran well and we got back to Victoria 4 minutes early. However I was seated in the front coach with a couple and their uncle who had persuaded them to come along. The coach contained a number of 47 bashers and I have no objection to them, per se, but there was one long-haired individual who seemed to have consumed too much alcohol and who could speak only in a loud voice. About every forth word started with f.... (it wasn't forty seven). Also despite the stewards collecting rubbish regularly, he threw his rubbish out of the window.
The 3 others seated in my bay said that they would not be going on any more Cheshire tours and, so far, I haven't either.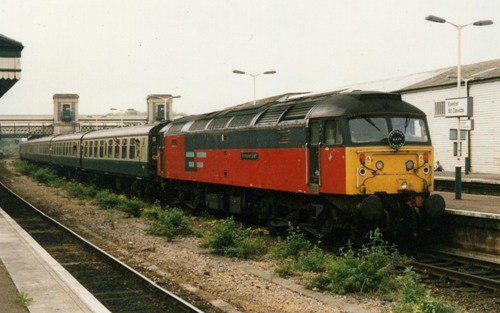 47778 at Exeter St Davids with the outward leg (photo: Keith Mantle)


Timings (Actual with some booked)
(from John Clifford)
| | | | | | |
| --- | --- | --- | --- | --- | --- |
| Location | Booked | Actual | | Booked | Actual |
| Victoria | 06.55d | 06.55 | | 23.50a | 23.46 |
| Battersea Pier Jn | - | 06/58 | | - | 23/41 |
| Stewarts Lane Jn | - | 07/00 | | - | 23/40 |
| Longhedge Jn | - | 07/02 | | - | 23/39 |
| Pouparts Jn | - | 07.04a ~ 07.05d | | - | 23/37 |
| Clapham Junction | 07.09d | 07.08 ~ 07.09 | | 23.32a | 23.33 ~ 23.35 |
| Balham Jn | - | 07/14 | | - | 23/28 |
| Streatham Jn East | - | 07/16 | | - | 23/27 |
| Steatham Jn North | - | 07/17 | | - | 23/26 |
| Wimbledon | 07.29d | 07.27 ~ 07.28 | | 23.15a | 23.17 ~ 23.19 |
| Raynes Park | - | 07/38 | | - | 23/11 |
| Surbiton | 07.40d | 07.42 ~ 07.43 | | 22.59a | 23.03 ~ 23.04 |
| Hampton Court Jn | - | 07/46 | | - | 23/01 |
| Weybridge | 07.51d | 07.52 ~ 07.53 | | 22.45a | 22.53 ~ 22.54 |
| Byfleet | - | 07/55 | | - | 22/51 |
| Woking | 08.01d | 08.01 ~ 08.02 | | 22.35a | 22.45 ~ 22.46 |
| Woking Jn | - | 08/04 | | - | 22/44 |
| Farnborough | 08.14d | 08.15 ~ 08.16 | | 22.22a | 22.32 ~ 22.33 |
| Fleet | - | 08/21 | | - | 22/27 |
| Basingstoke | 08.31d | 08.31 ~ 08.32 | | 22.06a | 22.14 ~ 22.16 |
| Worting Jn | 08/37 | - | | 22/09 | - |
| Andover | 08.52d | 08.51a ~ 08.53d | | 21.46a | 21.53 ~ 21.54 |
| Tunnel Jn | - | 09/09 | | - | 21/37 |
| Salisbury | 09.12d | 09.16 ~ 09.18 | | 21.26a | 21.30 ~ 21.34 |
| Wilton Jn | - | 09/22 | | - | 21/20 |
| Wilton South | - | 09/23 | | - | 21/19 |
| Tisbury | - | 09/34 | | - | 21/11 |
| Gillingham | - | 09/42 | | - | 21/03 |
| Templecombe | - | 09/48 | | - | 20.45 ~ 20.56 |
| Yeovil Junction | - | 09.59 ~ 10.00 | | - | 20.26 ~ 20.32 |
| Chard Jn | - | 10/19 | | - | 20/10 |
| Honiton | - | 10/40 | | - | 19.22 ~ 19.52 |
| Pinhoe | - | 10/51 | | - | 19.00 ~ 19.05 |
| Exmouth Jn | - | 10/53 | | - | 18/58 |
| Exeter Central | - | 10/55 | | - | 18/56 |
| Exeter St Davids | - | 10.58 ~ 11.08 | | - | 18.42 ~ 18.53 |
| Cowley Bridge Jn | - | 11/11 | | - | 18.30 ~ 18.37 |
| Crediton | - | 11/20 | | - | 18/22 |
| Okehampton | 12.05a | 11.55 ~ 12.42 | | 17.50d | 13.26 ~ 17.48 |
| Meldon Quarry | - | 12.50a | | - | 13.15d |