12th May 2001
Pathfinder Tours
The Freightliner Phoenix
| | |
| --- | --- |
| Locos Used | 56060, 58045, 59205, 60074, 66097 & 92035 |
| Stock Used | 5025+5030+5029+4963+5040+4927+5009+17056+3112+3122 (5) |
Route : (4)
1Z41 : Crewe to Lowestoft
1Z42 : Lowestoft to Crewe
Loco(s)
Route
56060

Crewe - Stafford - Wolverhampton - Dudley Port - Galton Jn - Birmingham New Street - Coventry - Rugby - (1) WCML (via Weedon) - Watford Junction - Wembley Europort

60074

Wembley Europort -

Harlesden Jn - Gospel Oak - Junction Road Jn - Harringay Park Jn - Harringay - Alexandra Palace - Hertford North - Stevenage - Hitchin - Royston - Cambridge - Ely Reception
58045
Ely Reception - Ely - Ely North Jn - Thetford - Trowse Jn - Whitlingham - Brundall - Lowestoft
66097
Lowestoft - Saxmundham - (2) - Westerfield - Ipswich - Colchester
59205
Colchester - Shenfield - Stratford - Channelsea North Jn - Dalston Jn - Camden Road East Jn - Gospel Oak - Harlesden Jn - Wembley Europort
92035 (3)
Wembley Europort - (reverse of outward route) - Crewe
Notes :
(1) Was booked via Northampton but line reported closed for engineering works.
(2) A stop was made between Wickham Market and Melton to repair a broken brake pipe.
(3) with 56060 dead-in-tow.
(4) A difference of opinion on the headcodes used - initially reported as 1Z41 (Crewe to Lowestoft) and 1Z42 (Lowestoft to Crewe), Mike Tetlow has the headcodes as 1Z43 & 1Z44?
(5) Mike Tetlow had the rake as 12 coaches suggesting two coach numbers were missing from the formation however Jonathan Juby has confirmed "the train had 10 coaches, all in chocolate and cream, when I saw 66 097 being replaced by 59 205 at Colchester".
Sources : David Clark (on the train throughout), Mike Tetlow & Jonathan Juby



Tour Review
(by David Clark)
This was one of the tours that had been planned a year or so ago, but due to problems with the non-availability of RETB the tour was postponed. And then Freightliner suffered traction problems, and the tour was to use EWS locos vice Freightliner....
Basically the tour was from Crewe to Lowestoft via the WCML, North London Line, Harringay Curve, the Hertford Loop, Cambridge, Wensum Curve in to Lowestoft via Brundall.
While the return was via Ipswich, GE Main Line and back via the WCML, both legs utilising a variety of traction.
Wednesday 8th May
I found out at work that the tour was to depart Crewe at 03.58!!! YES 03.58, "yes a bit of an early start then" was someone's quote. Tickets arrived too on this day!!!!!!
Friday 11th / Saturday 12th May
I tried getting some sleep but due to the heat I stayed up. We left Scunthorpe at 0100 and arrived at Crewe at 0320 with a few familiar people around. 56060 was sat on the stock but we were located at the back of the train. The usual suspects turned up and gathered near me, including one who had stopped overnight at Crewe!!!!
We departed Crewe at 0401 with darkness all around and headed South down the Main Line and were early on our schedules, but at Stafford we were held for time to allow a late running 1C00 Willesden PRDC to Carlisle Train pass us before we headed down to Birmingham. Further pick ups were had at Wolverhampton, Birmingham New Street, Birmingham International and Coventry.
The schedules showed us via Northampton, but the up-to date schedules showed us via Weedon. We were informed that the Northampton loop was shut. So we approached Rugby with various locos seen and two TPO vehicles in the bay. We departed Rugby at 0635 just as 90148 / 90141 were seen on a southbound Freightliner. Did I tell you that Freightliner had a traction shortage???? Two 90s on a Freightliner. Hmmm. Nice shortage!!!! Various other freightliner locos were seen too.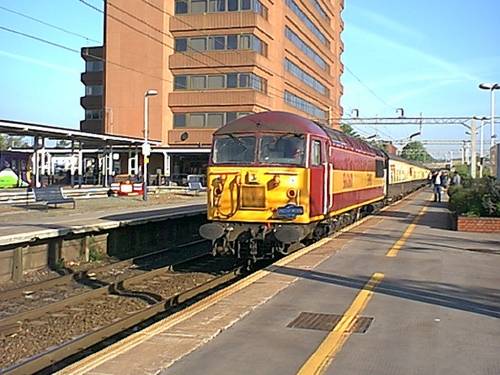 56060 arrives at Watford Junction. Photo : Daniel Bound
Our final pick up point was at Watford Junction where we arrived at 0742 and the Southern party joined our train. Yep, the final two suspects turned up and the joking / good natured banter stepped up a gear. These guys were to have 10 miles off the grid. Between Watford Junction and Wembley quite a few engineers trains were seen with 66s at the helm. By Wembley Central we slowed down for the loco change at Wembley Yard. With the changes at Willesden, I am unable to say which lines we used in the Quail map!!!!!!
The 56 was detached, and placed in the holding sidings. Now some rumours existed saying there would be a Freightliner 47 coming down from Colchester. I don't know who are worse, those people telling the rumours, or those believing. I was in the position to know the grid would be going back later on in the day.
60074 was duly attached, and we departed Wembley at 0830 via South Departure, Up and Down High Level Goods, passed the PRDC, passed Willesden Reception, Harlesden Jct and came up on to the North London Line passing through Hampstead Heath Tunnel, Gospel Oak, and arrived at Harringay Park Jct. The Harringay Curve was required track for quite a few people on the tour that I know, but I had it while I was still in nappies. But the train did the curve, and now a lot more people don't need it do they Mr Thornton?? Oh sorry, you were not on the tour!!!!! (Yeah, OK - I missed the curve...this time - I was about 4,000 miles away at the time so I was not exactly in a "position of strength"!! Here I am on the same day at the controls of Wheeling & Lake Erie #3049 [EMD SD40-3]...where would you rather have been?)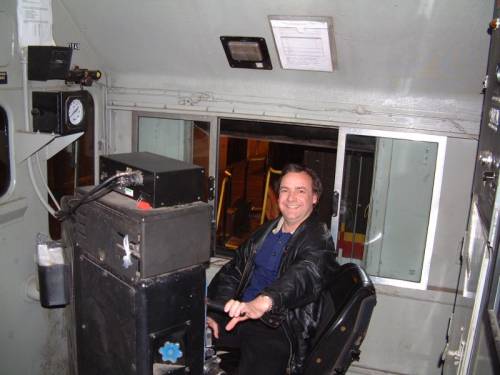 Saturday May 12th was Cup Final and trains ran from Liverpool / London to Cardiff, and various charters were seen at Ferme Park awaiting their next call to the station of departure. We went on to the Hertford Loop, from Stevenage though we went via Letchworth, Royston, Camridge (1019) and finally arrived at Ely Reception at 1038.
58045 which Pathfinder had been after for a while (as it was declared a failure on Siberian Hamster [16/12/00] at Bescot) was attached and the 60 went out to a siding behind the station. We departed Ely reception at 1103. The weather was extremely hot, and we had problems with our window, until someone finally opened it after concerns that his fist would go straight through it!!!!!! At Ely North Jct we took the line to Norwich and to be honest it wasn't the most interesting parts of the tour. We approached Trowse Jct (1205) and crossed the bridge and took the Wensum Curve for which I required and headed towards Brundall, passing loads of low lying land with rivers and stuff. Norwich Crown Point contained no 31/4s or 03s. Nor the vast allocation of first generation DMUs that I remember it for.
We left the Berney Arms branch to Great Yarmouth at Reedham, and again passed some really lovely place, with riverside pubs doing brisk trade, and the rivers looking pretty calm and more attractive than sitting on a train from 4am till 11pm!!!!!
We approached Lowestoft with quite a few locals out too see us and mark the moment. We arrived at 1250, and 58045 was viewed at the buffers, and 66097 was spotted as the loco for the next leg. But first things first.
FOOD!!!!!!!!!
We wandered in to Lowestoft and found the shopping area with no problems and found the favourites of Woolworths, WH Smiths and other bits and pieces. Oh we also missed the Socialist Alliance who were preaching in the town centre.
The KFC meal was good, and made our way back to the train. The next leg was a "ying ying" with RETB down to Ipswich / Colchester.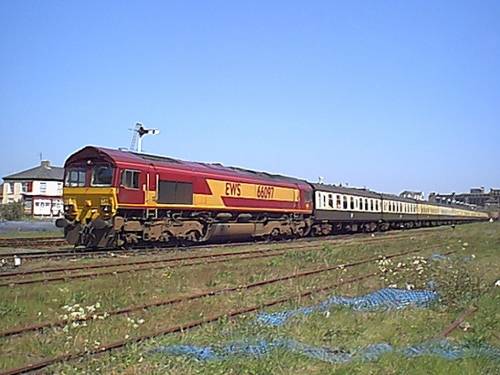 66097 prior to departure from Lowestoft. Photo : Daniel Bound
Quite a few people were last minute as usually, with photos and stuff. Pity the train didn't leave without them!!!!!! So we departed at 1436 and headed along the line which had caused so much trouble in the first tour as RETB was required and 47s don't have any!!!!! Well we departed with 66097 ying ying away (Sounds more like a Japanese Washing Machine). Everything was going to plan, until between Wickham Market and Melton when we suddenly were ground to a halt.
Ah, the Southampton Docker!!!!!!
A request came over the tannoy system for a pair of pliers / tweezers. To cut a long story short, the brake pipe coupling had failed, and so the local farmer and plumber came out and helped remove the old brake pipe, and all helped us together with EWS, Railtrack and Anglia all playing a vital part in the repair.
We were on the go again by 1657. We passed through Ipswich at 1728 with numerous Freightliner 86s seen. Why were they not on the tour from Colchester to Wembley Yard??? We were due to change locos at Colchester Up Goods Loop, but in the end we were put in to platform 4. It was quite strange as with numerous trains in the area, it was difficult to get the 66 off. But 59205 was duly attached, and once the shed had come off we set off on our merry way again (93 late).
With the 59 making light weight of the trailing 12 coaches we increased our speed. Just before Shenfield we were stopped to allow a 321 unit off the Southend line in to the station. And as we understand there had been some problems on the GE Main Line with regards to the Overhead Wires. The 321 unit departed Shenfield to our displeasure, but after it leaving, we did too, but the unit was stood on the Up Passenger Loop, while we stormed passed it, causing various gestures swapped between the trains!!!
We were kept on the main line until near Maryland, and by that time it was clear that all the electric trains heading in to London were on the "electric" lines as we overtook an Anglia 86 on a Norwich to Liverpool Street working. HELLFIRE MOVE NUMBER 1!!!
An additional stop was made at Stratford due to the late running of the tour (84 minutes late) and went to Wembley via the North London line, and heading back on to the same route across London as the morning. We arrived in to Wembley Yard at 2017, and the 59 was detached and the 92 / 56 combination attached. And then for the first time there was some proper noise (albeit coming from the 92) (apart from certain tour participants in our coach).
We departed Wembley Yard at 2046 and soon picked up speed. Due to major engineering work the fast lines had been removed (wooops!!!!) at Harrow causing all down trains to use the slow lines. A few moments before 90012 had passed our train and a few heads were turned at the site of a attractive young lady. But we all thought that would be the end of that. At Harrow South Jct we overtook it again!!!! HELLFIRE MOVE NUMBER 2!!!
We bade farewell to some colleagues at Watford and set off on our merry way again. They by the way scored the "Low Level Relief Lines" (previously known as Low Level Goods) in Wembley Yard on their way to Clapham Junction. Speed again was picked up smartish but between Milton Keynes Central and Wolverton we braked and suddenly stopped. Hmm. We passed through Rugby, made the set downs at Coventry, Birmingham International, Birmingham New Street (79 late), Wolverhampton and Stafford. However, at Coventry a suspect was seen on the station, just to do the 92 to Birmingham International!!! Well he had just done 6 37s in South Wales that day, 2x37/0s, 2x37/4s and 2x37/5s.
We departed Stafford going well, until we passed Norton bridge. We were then reduced to a crawl all the way to Madeley due to Major Engineering work taking place in / around the area. Various Freightliner 66s were seen, and so we finally arrived at Crewe at 0025. Our move then was the local travel lodge...
On reflection it was a really good and varied tour. Both EWS / Pathfinder need to say well done for sticking with it, and Railtrack for some of the regulation which was unreal on the day, Anglia for the Carriage Brake Pipe, The local farmer / Plumber in Wickham Market for their help. Its sounding more like a role of honour at the Oscars than a Railtour review. The 4am departure though spoiled it, and meant lots of people had to go without sleep!!!!!! But with the variety of traction on offer, the countryside it was a well worth day out.
Well Sunday morning saw my dad and I drive back to Scunthorpe via Woodhead and South Manchester. I was wondering if I ever will see a charter on the Woodhead line again??? (albeit not with 76s). Arrival back at Scunthorpe was 1125am.. Time for bed...
David Clark (2001)



Timings (Booked & Actual)
(from David Clark & Phil Pearson)
M.C
Location
Booked
Actual
Booked
Actual
M.C
0.00
Crewe
03.58d
04.01
22.56a
00.25
159.01
1.64
Basford Hall Jn
04/05
04/04
22/52
00/20
157.07
8.06
Madeley
04/10
04/09
22/44
00/14
150.75
19.08
Norton Bridge
04/24
04/18
22/35
23/54
139.76
?
Stafford No.5
04/30
04/25
?
?
?
24.37
Stafford
04.31a ~ 04.34d
04.25 ~ 04.34
22.25a ~ 22.28d
23.44 ~ 23.45
134.44
?
Stafford No.4
04/35
04/35
22/24
23/43
?
38.14
Bushbury Jn
04/53
04/47
22/09
23/30
120.67
39.25
Wolverhampton North Jn
04/55
04/50
22/07
23/28
119.56
39.68
Wolverhampton
04.58a ~ 05.04d
04.52 ~ 05.04
22.03a ~ 22.05d
23.24 ~ 23.26
?
45.28
Dudley Port
05/10
05/12
21/55
23/14
113.53
48.73
Galton Jn
05/14
05/15
21/51
23/10
110.08
50.51
Soho South Jn
05/15
05/17
21/49
23/08
108.30
52.52
Birmingham New Street
05.21a ~ 05.24d
05.21 ~ 05.24
21.40a ~21.44d
22.58 ~ 23.03
106.29
53.26
Proof House Jn
05/26
05/26
21/37
22/55
105.55
56.37
Stechford
05/30
05/30
21/33
22/50
102.44
60.70
Birmingham International
05.37a ~ 05.44d
05.35 ~ 05.44
21.26a ~ 21.27d
22.40 ~ 22.44
98.11
71.46
Coventry
05.57a ~ 06.03
05.55 ~ 06.06
21.14a ~ 21.15d
22.24 ~ 22.26
87.35
83.05
Rugby
06/17
06*27a ~ 06.35d
21/03
22/09
75.76
92.35
Long Buckby
06/35
DIV
102.04
Northampton
06/46
DIV
?
Weedon
DIV
06/47
20/52
22/10
63.12
111.25
Hanslope Jn
06/58
07/00
20/42
21/50
50.03
118.07
Milton Keynes Central
07/05
07/06
20/34
21/36
43.21
121.26
Bletchley
07/11
07/09
20/27
21/34
40.02
129.56
Ledburn Jn
07/18
??/??
20/18
21/27
31.52
136.19
Tring
07/27
07/23
20/10
21/21
25.09
150.37
Watford Junction
07.39a ~ 07.42d
07.42 ~ 07.52
19.53a ~ 19.54d
21.03 ~ 21.05
10.71
156.42
Harrow & Wealdstone
07/50
08/03
19/47
20/56
4.66
159.68
Wembley Central
07/56
08/10
19/43
20/47
1.40
161.30
Wembley Europort
08L03a
08.14
19L34d
20.46
0.00
0.00
Wembley Europort
08L28d
08.30
19L00a
20.17
60.34
?
Willesden Reception
08/34
08/36
18/54
20*07a ~ 20*09d
?
0.48
Harlesden Jn
08/38
08/37
18/48
20/05
59.66
1.48
Kensal Green Jct Low Level
08/42
08/40
18/43
20/02
58.66
5.50
Gospel Oak
08/47
08/52
18/31
19/50
54.59
M.C
Location
Booked
Actual
6.32
Junction Road Jn
08/51
08/54
8.54
Uppr Holloway
08/55
08/56
9.69
Harringay Park Jct
08/58
09/01
10.11
Harringey
08/59
09/02
?
Ferme Park
09/00
09/05
11.60
Alexandra Palace
09/05
09/09
16.51
Gordon Hill
09/10
09/18
26.30
Hertford North
09/22
09/31
34.78
Langley Jn
09/33
09/44
35.62
Stevenage
09/37
09/45
40.11
Hitchin
09/43
09/51
42.67
Letchworth
09/46
09/54
53.09
Royston
09/56
10/05
63.43
Shepreth Branch Jn
10/01
10/16
66.12
Cambridge
10/13
10/19
67.11
Coldham Lane Jn
10/15
10/21
80.39
0.00
Ely Reception
10L32 ~ 11L10
10.38 ~ 11.03
1.42
Ely
11/11
11/05
?
Ely North Jn
11/14
11/08
16.02
Brandon
11/31
11/28
23.20
Thetford
11/38
11/37
37.69
Attleborough
11/53
11/50
43.42
Wymondham
11/59
11/55
52.50
Trowse Jn
12/12
12/05
53.06
Trowse Swing Bridge Jn
12/13
12/06
54.52
Whitlingham
12/17
12/09
58.45
Brundall
12/26
12/16
64.76
Reedham
12/34
12/24
74.77
Oulton Broad North Jn
12/50
12/46
76.24
0.00
Lowestoft
12L55a ~ 14L35d
12.50 ~ 14.36
2.09
Oulton Broad South Jn
14t40a ~ 14t42d
14/43
8.38
Beccles
14/53
14/51
13.06
Brampton
15/00
14/59
16.78
Haleswoth
15t07a ~ 15t08d
15/05
22.16
Darsham
15/15
15.13 ~ 15.14
26.43
Saxmundham
15t22a ~ 15t32d
15.21 ~ 15.32
33.08
Wickham Market
15/41
15/41
37.23
Melton
15/48
17/02
38.53
Woodbridge
15t50a ~ 15t53d
17/06
45.31
Westerfield
16t03a ~ 16t07d
17.21 ~ 17.22
48.09
Ipswich East Suffolk Jn
16/10
17/25
48.72
Ipswich
16/18
17/28
58.16
Manningtree
16/32
17/38
65.79
0.00
Colchester
16/45
17L50 ~ 18L18
0.60
Colchester Up Goods
16L47 ~ 17L05
18/21
5.03
Marks Tey
17/13
18/28
13.04
Witham
17/21
18/35
21.87
Chelmsford
17/31
18/42
30.87
Shenfield
17/43
19*02 ~ 19*04
37.62
Gidea Park
17/49
19/16
43.75
Ilford
17/56
19/22
45.40
Forest Gate Jn
17/58
19/23
46.64
Maryland
17/59
19/26
47.20
Stratford
18/03
19.27 ~ 19.28
47.62
Channelsea North Jn
18/06
19/29
50.60
Dalston Jn
18/16
19/37
53.23
Camden Road East Jn
18/24
19/44
53.48
Camden Road Jn
18/27
19/46
Timings continue in first table.