7th April 2001
Pathfinder Tours
London / The Marshes Marauder
| | |
| --- | --- |
| Locos Used | 33021, 73131 & 73133 |
| Stock Used | 5029+4963+5040+4927+5009+21272+3098+3140+3112 |
Route.
1Z41 : Crewe to Dungeness
1Z81 : Dungeness to Crewe
Loco(s)
Route
33021

Crewe - Kidsgrove - Stoke-on-Trent - Stafford - Wolverhampton - Birmingham New Street Proof House Jn - (1) - Water Orton - Nuneaton - Bedworth - (1) Coventry - Leamington Spa - Banbury - Reading - Acton Main Line

33021 (2)

Acton Main Line - Acton Wells Jn - Mitre Bridge Jn - Kensington Olympia - Clapham Junction - Crystal Palace - Beckenham Junction - Sevenoaks - Tonbridge - Robertsbridge - Hastings - Ashford

73133 & 73131 (3)
Ashford - Appledore - Dungeness
33021 (4)
Dungeness - Appledore - Ashford - Maidstone East - Otford Jn - Swanley Jn - Catford - Brixton - Kensington Olympia - Mitre Bridge Jn - Acton Wells Jn -

Acton Main Line

33021

Acton Main Line

- Reading - Banbury - Leamington Spa - Coventry - Birmingham International - Birmingham New Street - Wolverhampton - Stafford - Stoke-on-Trent - Kidsgrove - Crewe
Notes .
(1) Booked route was via Stechford & Birmingham International.
(2) 73131&73133 on rear from Acton Main Line to Ashford.
(3) 33021 on rear.
(4)73131 & 73133 on rear.
(5) Marketed as "London" for passengers wishing to alight at Kensington Olympia and enjoy free time in London.
Sources: Phil Pearson (on train throughout) & Gary Thornton



Tour reviews
(1) By Phil Pearson (full tour)
(2) by Daniel Bound (London - London).
Alarm clock set for 03.30, a swift rise (designed not to wake my better half), ablutions and breakfast, pile into the car and away at 04.15. Must be a railtour day, Yep, a long railtour day!! My wife's last words the night before, after querying the alarm time, were "you're out of your tree!!". Sometimes you just wonder - is it me or are all rail enthusiasts mad to be up at this hour?
Arrived in Crewe in good time for the advertised departure at 05.30. Stock is already in Platform 5, but no loco visible at either end. Walk to the front just as 33021 arrives to couple on to the south end. Dodge the numerous photographers to get a glimpse of the engine on the train and then off to record the coach numbers and find my seat in Coach "J" - the last coach. The rolling stock is lovely and warm, with window dripping wet though, and my companion for the day is already seated opposite, so greetings are exchanged. I'm seated on the right hand side of the train facing the direction of travel (what bliss!!).
Departure from Crewe is bang on time, and I'm mildly surprised when the carriage sheds drift past on my side. Of course, I'd forgotten, we're routed via Stoke-on-Trent (rather unusually) today with a pick-up at Kidsgrove to boot. It's still dark outside and our first timing point, Barthomley Junction - the end of the single line from Crewe - has to be located with some concentration. Then a stop, what signals - at this time of day? No, it turns out that Kidsgrove has short platforms and being at the back of the train, we're well off them. A couple of minutes down now, but dawn is slowly breaking over the Potteries as we glide into Stoke-on-Trent. Since my last visit they've redone the overall roof, and quite smart it looks too. A vast improvement, love to see it in daylight.
Marcroft Engineering is passed on the right, then the Trent & Mersey canal is seen meandering to and fro. A TRS is encountered at Meaford, presumably for Gauge Corner purposes? At Stone, we diverge right to head for Norton Bridge, and immediately right there's the rather sad sight of an Foot & Mouth pyre at a nearby farm, looks rather creepy in the early morning light. Tough time for the farmers too, I guess. Speed so far has been lacking, have we a problem?, is the engine being kept for later in the day? - or is it merely slack timings or restrained driving? Max speed to this point is 68 mph.
We join the WCML at Norton Bridge and proceed to Stafford and another PU stop. Good, next the racing stretch to Bushbury Junction, we'll get a move on. Well did we? Sadly no, max along here is 72mph, resign myself to a dawdle until later in the day - perhaps? At Bushbury Juntion we turn right to run up the hill to Wolverhampton and then sail through as we don't pick up there today. How Kidsgrove offers more passengers than Wolverhampton is anybody's guess - has me stumped anyway.
We drift into Birmingham New Street, a smart stop here sees us away 11 minutes late. At Proof House Junction, I point out the disused viaduct to the right and explain to my companion that it was built and never used for its intended purpose (as a link between the GW at Bordesley and the LNW/Mid at Proof House) the LNW reneging on the agreement after the GW had built their half - but there was a headshunt on to the viaduct in steam days.
We use the new Stour Valley lines - opened last August Bank Holiday. Hmm impressed. But wait. what now. we swing right, then descend, we're on the Derby lines, where the hell are we going? What about the Brum International stop. The PA growls out that due to a derailment at Tile Hill/Canley, we're being diverted via Nuneaton and Bedworth. Hmm, that's rare loco hauled track. We pass Saltley depot with several 66s and others on shed, much better that when I last passed that way. We look up right to Alstom's Works (formerly Metro-Cammell) to see new trains for destined all parts, 175s for First North Western, 458s for South West Trains, Class 460 Gatwick sets, Class 334 Strathclyde EMUs, they're certainly bashing 'em out these days - even if Railtrack only have one man and a dog accepting them!! Washwood Heath Yard is full of freight and the (oil or bitumen) tanks are in at Bronford Bridge sidings.
We swing right at Water Orton and pass the proposed station site at Coleshill, then Hams Hall to our left, and we swing right again at Whitacre Junction. Next Daw Mill Colliery, an amazing survivor, I always think, is passed on the left and on to Arley Tunnel. Expensively rebuilt in the 1990s, speed through here seems up to the 75 mph limit - miles better than the old speed limit of 20 mph, before the rebuilding. We descend down past the old (and soon to be resurrected) flyover and into Nuneaton. Passing slowly through, we turn right and start the climb up to Bedworth. Drat, I miss Bedworth Station, but see the M6 bridge and adjust the passing time accordingly. Always a dawdle along here, but the various mechanical signalling (and boxes) make up for it.
We arrive at Coventry and PU their passengers plus the ones bussed from Brum International. There's a 90 and a 325 in the station - they won't be going far (via Rail-Gen, I discover later that they do indeed make it to Nuneaton, albeit with 66 haulage). We depart 33 minutes late - have we missed our path on the single line to Leamington? We creep towards Park Junction. Hurrah, we get the peg and carry on, we must be following something, we speed up. Pretty countryside once out of Coventry, but I miss the loop at Kenilworth (why no station - the town's big enough) is it reversibly signalled? Must be. We slow for Milverton Jct and glide round on the embankment to Leamington Spa and another pick up.
We're still 33 minutes late (how apt) and commence the always enjoyable journey down to Didcot. The sun is out now and what had been a rather dreary day up north has turned into a glorious spring day in the Midlands. I start to look out for Greave's Sidings. In the tour brochure the (always) excellent description mentions the sole surviving earthwork of the Coventry & Great Western Railway (started in 1865 and with very little built), we start to slow, I see what I think is the earthwork, it's a TRS, and we slow right down to 20 mph past something I wanted to see - great!!
We make good progress down the Cherwell valley, through flooded meadows which give the game away that this bright spring morning is respite indeed from what has been a rather rainy week (or winter). We slow through Banbury but soon speed up again. I see the signal box still stands at Aynho Junction, though very vandalised. Is it listed I wonder? Further on, the water tower at the old Heyford airbase (Pathfinder take note) is on the skyline and once again the train brakes for a TRS, right through Heyford station. Here we discover the steep cant on our track as at this slow speed the carriage leans severely to the left. We get an excellent view of the canal, then crash, tinkle. My companions wine glass slides off the table and on to the floor. Hmm - much prefer beer myself.
We continue via Oxford, see the much maligned virtual quarry at Hinksey - no locos though - and note the track has gone on the remains of the Abingdon branch. We take the avoiding line at Didcot North Junction, pass the GWS depot on the right and its eyes right for the well stocked stabling point. At Didcot East Junction the newly installed, Virgin sponsored, crossovers are seen but not used - the growing roar of a Paxman engine slightly later - indicate why we remain on the slow lines (oh? - OK then, relief lines, after all we're on pucka GW territory now). An enquiry from a nearby spotter after the front power car number, hell I put 'em on tape, forget 'em once they're on there and worry about 'em when I get home - I can't remember what it is. Someone suggests 43134, he settles for that. Not to worry though, as by Reading we've caught it up and he has a second chance.
The yards to the west of Reading contain a variety of stored and condemned wagon stock, our pace here means only a selection are noted for later. We stop at Reading at 09.46 only 38 late. Smart station stop required. The adjacent HST gets the whistle and departs. We stand waiting for the off. A whistle and we're away at 09.50 (35 late), but still on the relief lines. I go for a beer and miss Twyford, junction for the Henley-on-Thames branch.
We pass Maidenhead, I point out to my companion the Sounding Arches, Brunel's bridge over the Thames. Next we cross the new flood relief channel, designed to keep the feet of Maidenheadians (ites ?) dry. I had wondered how they had managed to get it through what is probably the most expensive real estate in the country, but even the hardest nosed land owner could probably see the benefits of a flood relief channel here.
Onward towards the great metropolis, but we remain on the relief lines. We approach Slough, "Come friendly bombs fall on Slough", Betjemens poem tumbles round in my head - somewhat cynically, you might think. We get to Dolphin Junction and guess what, we cross to the fast lines. Why Dolphin Junction? We ain't near the sea. Bet it was a pub, yes must have been, didn't see any dolphins on the Slough arm (of the Grand Union Canal) when we cruised it some years ago.
The oil sidings at Langley are empty ('cept for a cripple) as we pass, then we cross the (bright and shiny) metals of the Colnbrook branch. We don't see a train, but wait a minute, we're at West Drayton and we see a 66 held on the branch awaiting the road. We pass an oil train with 60012 hauling. At Southall there seems little in the West Yard, and the old MPD is reasonably empty, save for some Metro-Cammell pullmans and a green painted industrial shunter at the far end. We cross back to the relief lines, at Southall East and pass the Plasser works in the triangle to the west of West Ealing. Slowing all the while, we reach Acton Yard and settle on the Goods Lines to await our assisting engines for the run over the Southern Region.
Shame, as is usual at this point, a jumbo stone train is blocking the view of the stabling point. Drat!! Various poses and movements from the spotters are called for here to get the locos thereon. We arrive some 38 minutes late. And wait. And wait. 60012 passes with its oil train. HSTs, 165s and 166s pass all the while, together with 332s swishing by. The rumble of 4SRKT diesels becomes apparent. 73131 & 73133 are attached at the rear. Some assisting engine move this, Acton Yard - Ashford and Dungeness - Acton Yard, all dead in tow. At least it'll give our 33 something to think about as well as the nine bogies.
We get the road at 11.05 (45 minutes late), trundle up the hill to Acton Wells Junction, around past South Western Sidings (where we were booked to wait 31 minutes) Willesden shed appears, will we see any of the new 66/7s that recently arrived? Nothing at the west end - then a black 08 - then partly hidden - yes! - 66707 and wait, wait, 66706 are seen - wonderful!! We trundle on to the West London line, through Mitre Bridge, across the GWML, past North Pole EPS depot, (73XXX to the right, 376XX to the left) then down past the Scrubs and into the motorway hinterland (Buddliea Unlimited) to Kensington Olympia, arriving there at 11.18, only 8 minutes late now, time travel or what.
And in the best traditions of the horse racing commentary I hand over to our Southern Region correspondent boarding at Kenny O.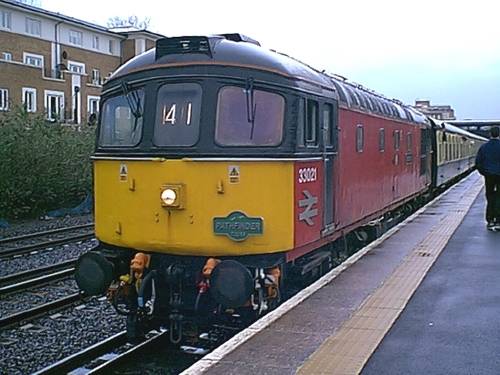 33021, the main tour loco for the day, is seen at Kensington Olympia.
Photo : Daniel Bound
A change of reviewer as our 'normal' tour reviewer had a trip to Northallerton a few weeks ago and has not been feeling well since. He's been wearing some strange black clothes recently and dances differently, but don't worry folks I took him to the buffet car during the tour and knocked some sense into him!
Due to railtrack southern zone limiting the train size to 12 the pair of 33's was cut to a single and the number of coaches to 9. But still a pair of the dwindling ED's to Dungeness was still an exciting prospect to look forward to. This was a nice easy tour starting from Kensington Olympia at a very reasonable hour. So a nice easy jaunt to Clapham Junction to meet up with some friends (see previous paragraph) who had travelled slightly further than Wimbledon.
A quick jaunt on 313102 saw us arrive at Kensington with 45 minutes to spare. The usual suspects were soon to join us on platform 3 awaiting the arrival. Eurostar 3205 and 3206 reversed at Kensington on Hertfordshire's Paris tour, that would have been an interesting route but would have cut down on the little time they have in Paris! As we were to discover the main line between Tonbridge and Ashford was closed but why they did this route is a bit unknown.
Any ideas anyone?
The tour was slightly late with red 33021 at the helm, and EWS liveried 73131 and mainline liveried 73133 at the rear. We departed towards Clapham Junction taking the West London lines through platform 17 and off towards Balham. Here we went straight on past Streatham Hill and through platform 2 at Crystal Palace, onto the single line towards Beckenham Junction. Briefly viewing the highly successful Croydon Tramlink on our left before we rejoined the main line towards Tonbridge.
Despite a fine performance from 33021, running on the chatham fast then onto the down fast Tonbridge loop/Down fast through Orpington and then Sevenoaks, we were still running about 10 minutes late. A set down at Tonbridge for passengers going to the Kent and East Sussex railway saw 37248 Midland Railway Centre sitting in the middle of the station. A host of engineer's stop signs were visible as we left and headed south towards Tunbridge Wells. Due to our late running we were held just before Somerhill Tunnel for an electric unit. The climb that followed really took a lot out of our crompton, and we struggled all the way to the coast. A 'respite' was had as the land flattened out as we headed towards the marshes from Ore to Appledore on the single un-electrified line.
After Appledore, the train came to a halt. Everyone feared the worst especially after an announcement that there was a fault with the engine! After giving the loco a quick kick, it burst into life and we headed into Ashford. A quick reversal (less than 5 minutes for photos, when will railtour companies put in photo stops for the fare paying customers? If it weren't for us there would be nothing to photograph and Pathfinder wouldn't make money. Which must be lots looking at the average price of the next batch of Pathfinder tours) saw the 73's power back down the Hastings lines towards Appledore. Here we turned right and headed off down the very straight 9 mile Dungeness branch line. There wasn't a lot to see apart from counting how many times varying cars caught up with us to get photos and videos of us trundling past at 20mph. Lydd town station (the only one on the line) is amazingly intact, platform edges and a quite impressive station building. Approaching Dungeness the Hi-Vis vest of an official came into view, but all was OK as we continued past and pulled up to the gates of the loading pad, as far as anyone could get, congratulations Pathfinder!
Again 33021 fired up and we started our return to London, back to Ashford to pick up customers who had visited the K&ESR, and right towards Maidstone East. Eurostars were passing us on their diverted route at very frequent intervals. The 33 was keeping very good time, we were still about 10 – 15 minutes late. We went straight through Maidstone East and on to Otford before joining the up Chatham fast lines through platform 4 at Swanley. We crossed over to the slow lines after St Mary Cray, so we could take the Catford loop after Shortlands. A very slow run but with obviously about 20 minutes of recovery time, saw us running just about on time as we passed Nunhead. We kept straight through Peckham Rye past Cambria and East Brixton Junctions, until we crossed over onto the Up Atlantic lines, through Clapham and Wandsworth Road to take the down Ludgate/ down Kensington out towards the West London Lines. Kensington Olympia was reached on time, and everyone in our coach detrained for a very wet journey home!
Overall a very enjoyable tour, once again covering all advertised track and running to time. But maybe with the increasing prices of Pathfinder tours a black cloud hangs overhead, where you have to choose to spend £55 or £60 to cover a few pieces of track. Simpler tours with simpler traction (a la Hertfordshire averaging £25 or £30) could be the answer. But then again there maybe a lot of rich rail enthusiasts out there… Who knows?
Observations of the Southern jaunt extra to Daniel;
Tramlink 2542 (yellow Amey livery) viewed near Birkbeck, with 2533 (brown Nescafé livery) at Beckenham Junction
Sevenoaks 8 minutes late
Train observed at Tonbridge was double-headed 37s 116 in BR blue with Transrail branding (Named Sister Dora) and 248 in Mainline blue (named Midland Railway Centre).
Dungeness branch speed limit is 20 mph with 5 mph at open crossings, there were fourteen in total from Appledore to Lydd Town.
After Lydd airport, air terminal of the rail-air-rail "Silver Arrow" air link to Le Touquet, the trackbed of the pre-1937 branch to New Romney could clearly be seen curving away left through the shingle, bleached fence posts on either side marking the way.
At Dungeness the locos reached to within 20 yards of the gates to the nuclear loading facility. At this point the branch could be seen curving away to New Romney, built in 1937 this realignment was designed to be nearer the holiday camps on the coast. Passenger trains lasted until 1967 here.
***Meanwhile back at Kensington***
We bade goodbye to the passengers leaving here and started the long journey back to Crewe. At North Pole, a flagman could be seen on the GWML Up Fast line, were there problems up ahead (on other lines)? At Willesden, I was ready to grice the depot, looking out for more 66/7s, but ended up instead with a good view of an 87 plus train passing on the Down Fast. Drat. Double Drat.
A ginger descent down from Acton Wells Junction saw us held on the bank for a Virgin 47 and its Cross Country train, then we made for the end of the yard and detached our "assisting engines", there for the ride, weren't they!!
We are held here for 33 minutes, awaiting the road. An announcement is made on the PA - they haven't forgotten us, we'll be away shortly. Finally departing at 19.21, we're 11 minutes down but we make good progress - on the relief lines only - to Reading. We make all but three minutes up by here and then settle down for the run through the dark to Crewe. Time is kept more or less, certainly from what I could see, to within 10 minutes of booked time all the way back. BTW the driver from BNS to Crewe certainly wasn't hanging about, made up for the earlier cautiousness.
One minor bit of excitement though, when leaving Birmingham New Street, we pass 67010 heading the other way, on the Pathfinder trip from Penzance, not many times you see that, two Pathfinder trips passing one another.
All in all a good day our, marred only by the lack of photographic possibilities for participants, and as alluded to by Daniel above, the £10-£15 hike in prices for future tours - I do hope they're as good as this!!



Timings (Booked & Actual)
(from Phil Pearson)
M.C

Location

Booked
Actual
Booked
Actual

M.C

0.00
Crewe

05.30d

05.30

00.15a

00.16

193.63

3.64
Barthomley Jn
05/36
05/38
00/09
00/08

190.07

6.13
Alsager
05/40
05/41
00/05
00/07
187.40
8.52
Kidsgrove
05.44a ~ 05.46d
05.47 ~ 05.48
23.57a ~ 23.59d
00.00 ~ 00.01
185.11
15.03
Stoke-on-Trent
05.55a ~ 05.57d
06.00 ~ 06.01
23.47a ~ 23.48d
23.51 ~ 23.52
178.60
22.11
Stone
06/06
06/12
23/36
23/40
171.52
25.67
Norton Bridge
06/12
06/19
23/30
23/34

167.76

31.16

Stafford
06.18a ~ 06.21d
06.29 ~ 06.30

23.20a ~ 2322d

23.24 ~ 23.25

162.47

44.73
Bushbury Jn
06/33
06/47
23/04
23/10
148.70
46.04
Wolves North Jn
06/35
06/48
23/02
23/09
147.59
46.47
Wolverhampton
06/38
06/50
23/00
23/08
147.16
52.07
Dudley Port
06/44
06/57
22/52
22/57
141.56
55.52
Galton Jn
06/48
07/01
22/48
22/54
138.11
57.30
Soho South Jn
06/49
07/02
22/46
22/52
136.33
59.31
Birmingham New Street
06.55a ~ 06.58d
07.07 ~ 07.09
22.38a ~ 22.41d
22.42 ~ 22.46
134.32
60.05
0.00
Proof House Jn
07/00
07/12
22/35
22/38
133.58
?
Stetchford
07/04
DIV
22/30
?
130.47
?
Birmingham International
07.11a~07.20d
DIV
22.21a~22.23d
22.28~22.29
126.14
0.71
Landor Street Jn
DIV
07/15
7.05
Water Orton
DIV
07/23
9.52
Whitacre Jn
DIV

07/29

20.16
Nuneaton
DIV
07/44
23.62
Bedworth
DIV
07/52

30.31
78.25
Coventry
07.31a ~ 07.33d
08.04 ~ 08.06
22.02a ~ 22.05d
22.00 ~ 22.08

115.38

83.03
Kenilworth
07/35 (!)
08/14
21/50
21/47

111.52

86.53
Milverton Jn
07/40
08/18
21/44
21/42

107.10

87.59
Leamington Spa
07.47a ~ 07.49d
08.21 ~ 08.22
21.35a ~ 21.40d
21.37 ~ 21.39

106.04

99.08
Fenny Compton
07/59
08/38
21/24
?

94.55

107.68
Banbury
08/06
08/47
21/13
21/14

85.75

112.72
Aynho Jn
08/12
08/55
21/05
21/07
80.71
118.63
Heyford
08/17
09/03
20/56
21/00
75.00
127.52
Wolvercote Jn
08/27
09/13
20/47
?
66.11
130.43
Oxford
08/30
09/16
20/40
20/45
63.20
140.10
Didcot North Jn
08/41
09/28
20/30
20/29

53.53

141.17
Didcot East Jn
08/44
09/30
20/28
20/28
52.54
157.77
Reading
09.08a ~ 09.15d
09.46 ~ 09.50
19.59a ~ 20.02d
20.03 ~ 20.05

35.66

162.74
Twyford
09/22
09/56 ?
19/51
19/56

30.69

169.56
Maidenhead
09/27
10/02
19/44
19/49
24.07
175.39
Slough
09/33
10/08
19/34
19/39
18.24
184.69
Southall
09/41
10/21
19/21
19/29
8.74
185.33
Southall East Jn
09/42
10/22
?
19/28
8.30
187.34
West Ealing

09/47

10/25

?
19/26

6.29

189.00
Acton West

09/51

10/29

19/15
19/23

4.63

189.54
Acton Main Line

09L55a~ 10L 20d

10L33 ~ 11L05

18L46a ~ 19L10d
18.48 ~ 19.21

4.09

190.26
Acton Wells Jn

10/23

11/10

18/37
18/38

3.37

190.56
Willesden SW Sidings
10P29a~ 11P 00d
11/12
?
18/36

3.14

191.39
Mitre Bridge Jn
11/06
11/14
18/30
18/34
2.24
191.76
North Pole Jn
11/07
11/15
18/29
18/32
1.68
193.63
0.00
Kensington Olympia

11.10a ~ 11.12d

11.18 ~ 11.20

18.23 ~ 18.25

18.25 ~ 18.28

0.00
80.10
M.C
Location
Booked
Actual
2.63
Latchmere Jn
11/17
11/26
3.09
Clapham Junction
11/20
11/28
9.08
Crystal Palace
11/34
11/42
12.14
Beckenham Junction
11/41
11/48
15.79
Bickley Jn
11/47
11/55
18.32
Orpington
11/51
11/59 ?
26.56
Sevenoaks
12/00
12/08
34.09
Tonbridge
12.07a ~ 12.08d
12.18 ~ 12.19
38.79
Tunbridge Wells
12/16
12/35
54.14
Robertsbridge
12/34
12/51
65.36
Bo-peep Jn SB
12/49
13/05
67.00
Hastings
12/53
13/09
78.00
Rye
13X12a ~ 13X17d
13.31 ~ 13.33
84.94
Appledore
13/27
13/43
93.25
0.00
Ashford International

13.56a ~ 14.01d

14.09 ~ 14.14

8.41
Appledore
14P20a ~ 14P21d
14.29 ~ 14.30
15.42
Lydd Town
15P01a ~ 15P16d
15.02 ~ 15.14
17.45
0.00
Dungeness

15.11a ~ 15.21d

15.22 ~ 15.29

2.03
Lydd Town
15P26a ~ 15P36d
15.38 ~ 15.44
9.04
Appledore
16P16a ~ 16P18d
16.18 ~ 16.20
17.45
Ashford International
16.32a ~ 16.36d
16.40 ~ 16.41

36.66
Maidstone East
16/58
17/08
52.09
Otford Jn
17/17
17/29
59.31
Swanley Jn
17/27
17/39
67.05
Shortlands Jn
17/41
17/49
71.74
Nunhead
17/59
18/02
74.56
Brixton
18/05
18/10
76.03
Factory Jn
18/12
18/13
76.42
Longhedge Jn
18/14
18/15
77.27
Latchmere Jn
18/17
18/18