10th March 2001
Irish Traction Group
The West's Awake
| | |
| --- | --- |
| Locos Used | IE : 073, 081, 123, 127, 133, 135, 184 & 185 |
Route :
| | |
| --- | --- |
| Loco | Route |
| 185 | Dublin Heuston - Islandbridge Jn |
| 135 + 127 | Islandbridge Jn. - Dublin Connolly - Booterstown (1) |
| 135 (1) | Booterstown - Dun Laoghaire - Bray |
| 081 | Bray - Dublin Connolly - Islandbridge Jn |
| 133 + 123 | Islandbridge Jn. - Portarlington - Athlone - Claremorris (2) |
| 123 + 133 | Claremorris - Athlone (3) |
| 073 | Athlone - Portarlington - Islandbridge Jn. - Dublin Connolly - Bray |
| 073 | Bray - Dublin Connolly - Islandbridge Jn |
| 184 | Islandbridge Jn. - Dublin Heuston |
Notes :
Tour advertised to run with 2 x 121 Class locos.
(1) 127 failed, 135 worked forward with 127 dead-in-tow.
(2) Trip to Westport abandoned due to late running and engineering works.
(3) Trip to Galway abandoned, due to late running.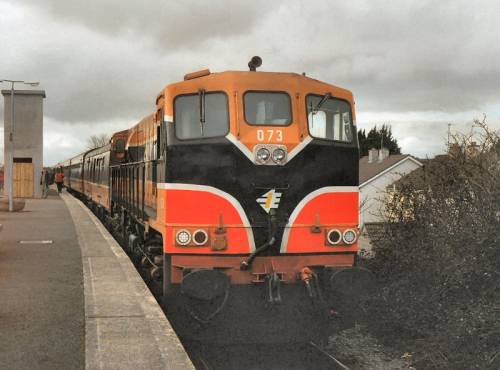 073 at Athlone (photo: Jonathan Wilcox)
Source : Jonathan Wilcox
(joined tour at Dun Laoghaire first time round, left at Connolly last time round)



Tour Review
(by Jonathan Wilcox)
Yet another Irish tour - which was advertised to cover the two main routes in the north west of Ireland with two pairs of 40-year-old 121 Class GMs. Still needing just one operational 121, my Dad and myself decided to book on this tour. However, a reply to a posting on Irish-gen e-mail group suggested 122 was still awaiting overhaul and was being used as works pilot at Inchicore. Shame.
To be honest, I didn't have that much faith in the connection between the ferry and the tour at Dun Laoghaire. It's advertised to take 99 minutes but it's usually nearer to 2 hours. Still, we arrived in plenty of time to be greeted with the Gardai (Irish police) and some Department of Agriculture types - and a Wheelie-bin. For those reading this in a couple of years time, we are now in the height of the Foot and Mouth Disease "epidemic" which has not reached Ireland - yet. Anyway, these Irishmen (and women) were checking - then chucking - our sandwiches and packed lunches etc. - no meat or dairy products are allowed in - and luckily mine were egg and onion, so I was okay. I wonder how many others got through?
We safely made the "empties" down to Bray for a number of reasons - the number one being that tour loco 127 had failed en route at Booterstown, a few miles up the coast, leaving 135 to work down with 127 dead. A few bashers decided to do the man of steel move and take the Dart up to Booterstown to intercept the tour - and failed dismally! On the way to Bray, we were notified that the pair of Bo-Bo's would be replaced by an 071 Class which had followed us down from Connolly depot. I had hoped it would have been 077 (my highest mileage Irish loco at the time with 705 miles), but in the end it was 081. That was okay as she's one of my favourites anyway. At Dun Laoghaire we collected the participants who had missed the tour, and set off into the city. On Connolly shed was 077 and also 170 (one of my last seven operational Irish locos for haulage). We continued round through Drumcondra, then took the freight only route to Islandbridge Junction, just outside Heuston station. We pulled up alongside 078, which proceeded to head off towards Connolly. However, she then was stopped on the Liffey Bridge and came back in our direction and as good as buffered up to the last coach. However, as we were in the front one we all thought she was being hooked on. We were soon proved wrong when 123 and 133 stormed away, leaving 078 to follow us (given the choice I'd have had 078 rather than the scrappers!).
We were by now just over an hour late, and continued to lose time heading down the Cork main line. At Portarlington we took the single track route up to Athlone, where we arrived 75 down. From here the "emergency timetable" was in operation - i.e. photo stops in the "middle of nowhere" cancelled because of the risk to the farm animals. We were staggering like an 08 on load 7 up the Lickey, rather than an almost level run with a pair of Bo-Bo's. A few times we were stopped, and at milepost 120, 15 miles from Claremorris, 133 was reported to have shut down (now where have I heard that before?). We finally arrived at Claremorris 2 hours, 16 minutes and 37 seconds late. We were greeted with the sight of 157 (which I share my birthday with, thankfully not in the same year though - 1962) which was on the Ballina stock. This wouldn't be running today though because of engineering work. Although we were allowed to take photos here, we weren't allowed off the station, disinfectant mats were placed at the bottom of the footbridge to complement those already fitted inside the stock. 151 was also discovered up a siding. The Westport jaunt had been cancelled because we were too late - a Plasser & Theurer vehicle (704) had been booked to follow us down from Westport to Claremorris - once that had passed two bridges the possession would begin and the bridges were to be replaced. Quite a few angry people complaining about this, as they needed the line, but I'd done it back in November 1998 on an ITG tour with 141 and 173, and again in 1999 with an ex-works 075. I'd also been as far as Manulla Jn a few times on top of that and been to Ballina instead, locos which spring to mind are 155, 160 on the shuttle, and a FO (Fridays Only) move which involved 215 from Heuston - Foxford (cringe) for a wait in the middle of nowhere for 184. We returned the next day with 084 from Manulla to Portarlington on the early up Westport service.
We tottered back with the pair and, on arrival at Athlone, the gen was confirmed that we wouldn't be going to Galway. 073 had been sent up from Inchicore to replace the pair which exited rather faster than we'd got used to. We had an extended photo stop here, but I'm not sure if we were allowed off the station or not. Still, 073 looked very nice in the bright sunlight, and whilst there the two main line Galway trains passed each other. The down train was supposed to be fixed to be 075, but in the end it was 213 which passed 229. During the trip to Galway which didn't materialise, we would travel through Athenry, where loads of farmers and countryside people were congregating to express their disgust that a train of 300 or so Brits was due to pass through their presently non-F&MD fields. Because people from the suburbs of Birmingham have all been wandering across diseased farmland, have we? The photo stop here had been cancelled and we had been warned that on no account should we leave the train.
We enjoyed a good thrash behind 073 down to Portarlington. We were actually on time here and even departed 29 seconds early (wow). We managed to lose time on the Cork main line, and at Hazelhatch we were stopped with the loco and the first two coaches in the up loop. We then proceeded to traverse the whole of the loop, then as soon as the last vehicle had come out, we stopped (in the station). Strange, but it kept the track bashers happy. We saw loads of the new railcars on Inchicore (only 2811 and 2819 actually identified), and got into Connolly 17 down and left 10 down. Despite this, we arrived in Bray 32 seconds early!
Most of the participants had leapt at Dun Laoghaire on the way down to get a bite to eat before the ferry, then some more after we'd come back from Bray, but we stayed on to Connolly where 073 made a more than spirited departure away to Islandbridge. A short wait here until the Suburban service to Pearse came in. We were hoping for this to be a push pull, but it was a six car Sparrow unit. We only needed the middle two, so the mile long journey to Pearse was spent in these. From there we got on a Dart for the final six miles back to Dun Laoghaire.
All in all, it was quite a good tour but the fact that it didn't cover most of the advertised route was a shame. However, I'm sure we would have done if a certain 071 from Connolly shed had been sent down to Islandbridge in the first place, and taken the tour throughout. Then it would have been a good tour.



Back to "The Railtour Files"