10th February 2001
Hertfordshire Rail Tours
The Southampton Docker
Route :
1Z80 : London Victoria - Southampton Eastern Docks
1Z94 : Southampton Eastern Docks - London Victoria
| | |
| --- | --- |
| Loco | Route |
| 73108 | London Victoria - Stewarts Lane Jn - Longhedge Jn - Clapham Junction - Barnes - Richmond - Twickenham - Feltham - Staines - Addlestone Jn - Woking - Fleet - Winchester - Eastleigh - Southampton Airport Parkway - Northam Jn - Southampton Eastern Docks |
| 73108 | Southampton Eastern Docks - (reverse of outward journey - Woking |
| 73108 + 73109 | Woking - Basingstoke |
| 73108 + 73109 | Basingstoke - Reading - Slough - Acton Main Line - West London Jn - Mitre Bridge Jn - Kensington Olympia - Latchmere Jn - Longhedge Jn - Stewarts Lane Jn - London Victoria |
Notes :
The return run was scuppered by a fire in Wimbledon Signalbox. Arrival back into Victoria was a mere (!) 298 minutes late!!
Source : David Clark
(on the train throughout)



Tour Review
(by David Clark, photos by Daniel Bound)
How many people have heard the song about "Bob the Builder??" Well Bob as you will find out did "fix it" later on in the day.
However, this tour was to Southampton Eastern Docks with a Class 73 out and back via Barnes, Staines, Woking, Winchester (for people to go to the city) and Eastleigh. Well, it was the same route and timings as last year.
We drove down to Cockfosters, and caught the tube to Kings Cross and took two buses for a "Tourist" view of London on our way down to Marble Arch and Victoria (well I was with a bus crank!!!). I met up with some friends at Witherspoons at the station, for which it was Pub move number 1. The view there enabled us to view the comings and goings on the Chatham Side of Victoria, while a few of us shared a bit of gossip before it was time to go to the platform.
Anyway, the stock approached with 47721 "Saint Bede", quite funnily enough a school in Scunthorpe!!!! Would you believe that 73108, the same loco as last year was the train loco for this year's tour??? Ironic really, the same loco, same destination, same train and the same people!!!!! Well the train departed on time as we WEAVED our way through West London in to the posh parts of Virginia Water, Staines and out to Woking where 8005/8006 were seen. On very slack schedules we were either running on time or late!!
Another Juniper was seen at Basingstoke, and we headed down the Bournemouth line. At Winchester, we dropped off some passengers who wanted to go there and not Southampton. Maybe the better choice!!!! We departed Winchester and passed by Eastleigh Yard, the works in which 309s were seen and approached Northam Jct and headed in to Southampton Eastern Docks.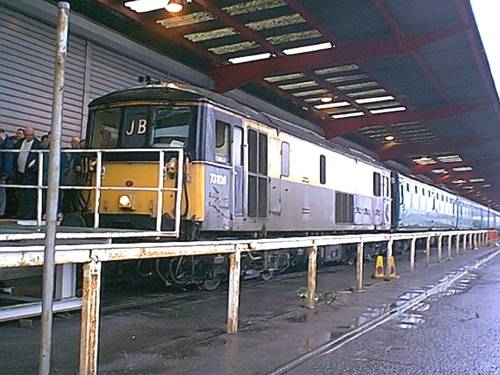 73108 at Southampton Eastern Docks station
We hit the buffers at 15:17 and it was piddling it down!!!!! So where do you go in Southampton when its raining??? Well we tried the Marina Village but it was shut and there was nothing to do except eat over priced fish and chips at Harry Ramsdens. So it was time for pub move number 2!!! We sat and watched the footy scores coming in with Scunthorpe having beat York, and Everton having beat Leicester!!! It pleased me, but other results didn't please Daniel!! (did they????). We also had a meal, although it was long enough waiting but the meal was really worth it!!
So we walked back to the train in the rain, and stood around (albeit not knowing that a few hours later that's all we would be doing!!!!). We departed Southampton Eastern Docks at 18:00, had a little kid singing Bob the Builder, and on passing Eastleigh noticing that most of the locos had come off depot and had managed to get themselves in to the yard. After Basingstoke the return was to be the same as the outward, and thus straight forward.
HOWEVER………
After Pirbright Jct we were informed that there was a signal problem in the Woking area and that trains were queuing up at each signal section. However, just outside Woking Station we were informed that the situation was worse than expected and that Wimbledon box was on Fire. Basically most of the South West Routes out of Waterloo were unavailable.We came in to Woking station at 20:02 and rumours began to circulate about what was to occur. At one point we had left the train when all seemed to be lost, to make our way in to London. Anyway, the following routes were rumoured.
Woking – Guildford (rev) – Epsom – Sutton – Streatham – Clapham Junction – Victoria
Woking – Guildford – Redhill (rev) – Gatwick Airport (rev) – Victoria
Woking – Basingstoke – Eastleigh – Chichester – Hove – Gatwick Airport – Victoria But in the end they decided on the following:
Woking – Basingstoke (rev) – Reading – GW Main Line – Acton – Willesden West London Jct – Mitre Bridge Jct – Latchmere Jct – Longhedge Jct – Victoria. All of which required 73109 "Battle of Britain" (with the nickname of BOB). Road coaches had been sought, but due to the short time requested were unable to find any. There thing was, the train could not go anywhere near the Wimbledon signalling area, so Reading – Ascot – Staines – Waterloo was out of the question.73108 had already departed and run round the train for the journey to Guildford. 73109 came out of the Bay platform and was finally put on to the train. The timing sheet was to disappear out of the Window!!!!! We departed Woking 2hrs and 15 minutes after we arrived, and the ED's gave an electrifying performance to Basingstoke where the fun and games didn't end. The two locos were required to run round but due to a points problem had to go to Micheldever to Run Round!!!!!! So we ended up being sat in Basingstoke for one hour!!! We finally departed Basingstoke at 23:51 out to Reading on diesel power. 2 ED's were utilised because it was feared that one on diesel would not get there with 12 coaches and the generator car (oh and up Acton Bank!!!).We arrived at Reading at 00:14, and departed at 00:15. The ED's departed Reading and gave a good steady performance as they accelerated along the GW Main Line not getting overtaken once!!! (that was probably because there was nothing else still out at that time of the night!! - Gary).
A crew change was taken at Acton Main Line, with a 66 seen also on engineers. Quite a few engineers trains were seen in the Acton and Southall areas. Another rumour was that we would require banking up to Acton Wells Jct. Anyway, we departed unaided and headed up the bank to be held up at the top!!!! So 2x73s on diesel with 13 coaches unaided on a hill climb. Acton Wells Jct was passed at 01:16, and may I say that there was a Dunkirk Spirit in our coach (well our area anyway!) with lots of mickey taking, banter and laughter evident. With the locos back on juice at Mitre Bridge Jct we headed down the West London Line to Kensington Olympia, Latchmere Jcts, Longhedge Jct, Stewarts Lane Jct and finally arrived at Victoria at 01:38 nearly 5 hours late (well 298 minutes late actually). Not bad timing!!! Hertfordshire Railtours, had organised together with EWS Taxis to get people to their destinations like Northampton, Kings Lynn, Bristol (Why not change at Reading?) and Chester!!!!!! The lasting impression of the tour, was of both 73108 and the "South West Trains thunderbird" 73109 sat in enemy territory in Victoria station!!!
So at 2am, we departed in Taxi on a taxi ride to Cockfosters witnessing the various sights and sounds that London had to offer. What amused me was the amount of traffic on the streets of London at 0200 in the morning! Lots of taxis, buses and limousines. We headed out via Marble Arch, St John's Wood, Swiss Cottage, Finchley, East Barnet and finally getting to Cockfosters at 02:40. We finally arrived back in to Scunthorpe at 06:00!!!! Time to depart for another railtour I think!!! We arrived some 24 hours after getting up!!!! For me though, it was time for bed, as some of the early morning paper people were heading out to carry out their duties.
What can be said about the Railtour as a conclusion??? The weather was pretty poor, the people who I was sat with were boring!!! (only joking Daniel!!!!), and the loco was the same as last year. Oh, with Wimbledon box having a barbecue, and 73109 pulling the train on what may be its first / last charter in to Victoria (does anyone know if 73109 has been there before as SWT Thunderbird or done a charter???), this provided the tour to be very interesting!!! Quite a few engineers who had started their work looked at us in shock!!!!
So as everyone asks about Bob the Builder, Can he Fix it??? The answer to that after Saturday night / Sunday morning (together with 73108) was YES HE CAN!!!!!!!!!! So long live Class 73's.
David Clark (2001)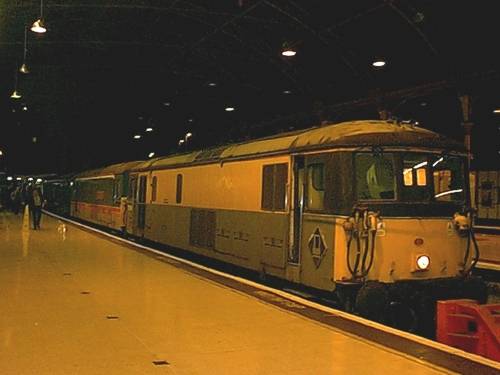 73108 & 73109 - journeys end.... a staggering 298 minutes late!!!!!!!!!!!!



Timings (booked & actual)
(by David Clark)
M

Amended
M

Timing Point
Booked
Actual

0.00
-
LONDON VICTORIA
12:25d
12:25a
0.79
-
Grosvenor Bridge Jct
12/28
12/31
1.36
-
Stewarts Lane Jct
12/31
13/32
1.58
-
Longhedge Jct
12/38
12/34
2.75
-
Clapham Junction
12/41
12/39
6.08
-
Barnes
12/46
12/45
8.58
-
Richmond
12/49
12/51
10.23
-
Twickenham
12/53
12/56
12.36
-
Feltham Jn
12/57
13/00
13.69
-
Feltham
13/01
13/02
18.03
-
Staines
13/10
13/10
22.11
-
Virginia Water
13/17
13/18
27.02
-
Addlestone Jn
13/26
13/29
27.84
-
Byfleet and New Haw
13/28
13/32
31.79
-
WOKING
13*33a ~ 13*35d
13/37
32.08
-
Woking Jn
13/36
13/38
37.00
-
Pirbright Jn
13/41
13/44
40.69
-
Farnborough (Main)
13/51
13/48
43.90
-
Fleet
13/55
13/50
55.13
-
Basingstoke
14/9
14/9
57.73
-
Worting Jn
14/19
14/18
73.89
-
WINCHESTER
14.38a ~ 14.39d
14.34 ~ 14.37
76.62
-
Shawford Jn
14/43
14/42
80.87
-
Eastleigh
14/52
14.50a ~ 14.52d
82.18
-
SOUTHAMPTON AIRPORT PARKWAY
14c55a ~ 15c00d
14/57
84.62
-
St. Denys
15/03
15/01
85.67
-
Northam Jn
15/07
15/2
86.54
-
SOUTHAMPTON DOCK GATES
15*12a ~ 15*15d
15.07a ~ 15.08d
87.43
0.00
-
SOUTHAMPTON EASTERN DOCKS
15.28a ~ 17.59d
15.17a ~ 18.00d
0.89
-
Southampton Dock Gate
18*11a ~ 18*14d
18.08
1.76
-
Northam Jn
18.19a ~ 18.20d
18/22
2.81
-
St Denys
18/22
18/24
6.56
-
Eastleigh
18/28
18/33
10.41
-
Shawford
18/32
18/37
13.54
-
Winchester
18/35
18/40
29.59
-
Worting Jn
18/52
18/56
32.30
-
Basingstoke
18/57
18/58
43.53
-
Fleet
19/06
19/07
46.74
-
Farnborough
19/10
19/11
50.61
-
Pirbright Jn
19/15
19/17
55.35
-
Woking Jn
19/20
20/00
55.64
0.00
WOKING
19.22a
20.02a ~ 22.17d
DIV
0.29
Woking Jn
DIV
22/19
DIV
5.21
Pirbright Jn
DIV
22/27
DIV
8.90
Farnborough
DIV
22/31
DIV
12.11
Fleet
DIV
22/35
DIV
23.34
BASINGSTOKE
DIV
22.51a ~ 23.51d
DIV
28.32
Bramley
DIV
23/59
DIV
31.59
Mortimer
DIV
00/03
DIV
37.11
Southcote Jn
DIV
00/08
DIV
37.98
Reading West
DIV
00/10
DIV
38.95
READING
DIV
00.14a ~ 00.15d
DIV
43.72
Twyford
DIV
00/24
DIV
50.54
Maidenhead
DIV
00/31
DIV
52.34
Taplow
DIV
00/33
DIV
53.96
Burnham
DIV
00/34
DIV
56.37
Slough
DIV
0/39
DIV
58.55
Langley
DIV
00/42
DIV
60.13
Iver
DIV
00/44
DIV
61.56
West Drayton
DIV
00/45
DIV
64.02
Hayes and Harlington
DIV
00/48
DIV
65.67
Southall
DIV
00/50
DIV
67.45
Hanwell
DIV
00/52
DIV
68.27
West Ealing
DIV
00/53
DIV
69.17
Ealing Broadway
DIV
00/54
DIV
70.52
ACTON MAIN LINE
DIV
00.59a ~ 01.10d
DIV
70.66
Acton East Jn
DIV
01/12
DIV
71.07
Acton Wells Jn
DIV
01/16
DIV
71.67
WEST LONDON JN
DIV
01.18a ~ 01.22d
DIV
72.27
Mitre Bridge Jn
DIV
??.??
DIV
72.61
North Pole Jn
DIV
01/24
DIV
74.51
Kensington Olympia
DIV
01/26
DIV
75.72
West Brompton
DIV
01/28
DIV
77.28
Latchmere Jn (No. 1)
DIV
01/31
55.64
-
Woking
19/22
DIV
59.59
-
Byfleet and New Haw
19/27
DIV
60.38
-
Addlestone Jn
19/36
DIV
65.29
-
Virginia Water
19/54
DIV
69.42
-
Staines
20/04
DIV
73.76
-
Feltham
20/10
DIV
75.09
-
Feltham Jn
20/12
DIV
77.22
-
Twickenham
20/15
DIV
77.78
-
St Margarets
20/15
DIV
78.87
-
Richmond
20/17
DIV
81.37
-
Barnes
20/25
DIV
84.70
-
Clapham Junction
20/30
DIV
85.87
78.21
Longhedge Jn
20/33
01/32
86.09
78.43
Stewarts Lane Jn
20/36
01/34
86.66
79.00
Battersea Pier Jn
20/39
01/36
87.45
79.79
LONDON VICTORIA
20.41a
01.38
Key;
a : arrival time
c : crew change
d : departure time
L : locomotive change
/ : passing time
* : operational stop
Thanks to David Clark for producing this somewhat complicated tabulation (complicated because of the diversion enforced due to the fire in Wimbledon Signalbox!).



Back to "The Railtour Files"