20th January 2001
Hertfordshire Rail Tours
The Hundred of Hoo
Route :
1Z87 : London Victoria to Grain
1Z88 : Grain to Thameshaven
1Z89 : Thameshaven to London Victoria
| | |
| --- | --- |
| Loco(s) | Route |
| 66239 (1) | London Victoria - Factory Jn - Denmark Hill - Peckham Rye - Nunhead - Lewisham - Eltham - Dartford - Hoo Jn - Isle of Grain |
| 66163 (2) | Isle of Grain - (reverse of outward route) - Factory Jn - Longhedge Jn - Clapham Junction - Barnes - New Kew Jn - Kew East Jn - Acton Wells Jn - Willesden Junction HL - Kensal Green Jn - Gospel Oak - South Tottenham - Woodgrange Park Jn - Barking - Rainham - Tilbury Town - Thames Haven Jn - Thameshaven Siding No.1 |
| 66239 (1) | Thameshaven Siding No.1 - (reverse of outward route) - Woodgrange Park Jn - Forest Gate Jn - Stratford - Channelsea South Jn - Dalston Jn - Camden Road - Gospel Oak - Kensal Green Jn - Willesen Junction HL - Mitre Bridge Jn - Kensington Olympia - Latchmere Jn - Longhedge Jn - Stewarts Lane Jn - London Victoria |
Notes :
(1) 66163 on rear.
(2) 66239 on rear.
Source : David Clark (on the train throughout)



Tour Review
(by David Clark)
No, not the name of 60042, but the Hertfordshire Tour to both the Isle of Grain and Thameshaven. So, as both branches were required, it was not a hard decision to book on to the tour.
Anyway, with timings in hand, Saturday morning saw us drive down to Lincoln and down to Peterborough. Well that was until we encountered heavy thick fog. Plan two came in to operation, which was to go down the M1. Still some fog, but it was manageable.
Arrival at Hendon was just before 8am. And by 9am, we were in Victoria having breakfast. Anyway, a few words (or was it banter Daniel???) about Newcastle United and football in general, so the stock arrive at 09.46 with 66163 at the helm. Near enough, as the stock arrived in to the station 66239 turned up from Old Oak Common TMD and was attached to the train. Well, a problem ensued, with the coupling the wrong one. We had coach M booked, and just as I thought we were in the front coach on departure from Victoria. So I was to listen to 66239 for most of the day.
After losing our path we departed Victoria at 1037, and took the "Down Stewarts Lane", Voltaire Road Jct, Brixton, Cambria Jct, Nunhead, Lewisham and took one of the three lines to Dartford. We took the middle line via Blackheath in to Dartford, Gravesend and passed Hoo Junction at 1147. Noted were 37717, 37047, 09019, 09024, 73110 and 66063 (there was a further unidentified "tractor" and "Doughnut").
It was time to score some track. The line was flat across the Isle, with quite a few photographers lining the route especially on the flood walls!!! Quite a few container lorries were seen heading in to Thamesport. Vast Industrial complexes were seen at Grain. We were stopped at the entrance for the Foster Yeoman Terminal.
It was revealed that some aggregates came from Scotland by ship all the way down to the Isle of Grain, and then transported by train to wherever it was needed. I suppose it is quicker than using train all the way from Scotland at the moment!!!
At 1238 we departed Grain with 66163 at the helm. As the Baker shows, Grain to Thameshaven is only a few miles apart. But if you required to travel by train it is approximately 80 miles. We trundled back along the branch, dropping off the token at Cliffe Signal D12 (on the Jct for Cliffe). We passed Hoo Junction with the same locos visible at 1312, with Horns blasted between 66163 and the approaching 66248. We were informed that a Freightliner train would be awaiting at Hoo Junction, and it was passed near Gravesend with a Class 47 at the helm. I think that Freightliner should convert 47s in to 57s. Logical, but expensive. They will go for more 66s I fear.
We kept on crawling in to the deficit in the schedules and by Lewisham were just one down (oh we returned via the same route as outbound). Again we crossed over the maze of lines to / from Lewisham and passed Peckham, Nunhead and took the Atlantic Lines just after Denmark Hill and passed through Wandsworth Road and at Factory Jct we headed out to Longhedge Jct where we were held. Well, those that were on the Urban Suburban of 1999 will remember we were held here for quite a bit of time.
Anyway, we departed and headed under the maze of lines from Waterloo and pulled in to Clapham Junction for a crew change only. Well, some people decided to get off, because the Thameshaven branch wasn't required. Those that alighted are very naughty people. We departed at 1433 and headed out to Barnes, took the Hounslow Loop as afar as New Kew Jct, round on to Kew East Jct to South Acton (required track). We took the North London Line as far as Gospel Oak, and took the line down to South Tottenham, Barking. We then headed out to Dagenham Dock to the huge Ford Complex (for how much longer???). In Dagenham Dock quite a few "Gronks" were seen. These being 08799, 08762, 08393 AND 08913. In the Freightliner terminal at Tilbury quite a few locos were seen. The following were noted; 57009, 57007, 86614, 86634 and 47302. We left the LTS lines at Thameshaven Junction at 1613 and headed down the branch. Either side of the line was oil terminals (most of which were closed) and those on the right hand side (facing travel) were to be demolished and built in to a new port. Either side of the line were loads of 4 wheeled tanks, bogie tanks etc….. If you get your quails out as we passed the Ground Frame, we were in the far left hand siding in the Thameshaven complex, and the loco came to a rest at the buffer stops (literally).
After a short break, departure from Thameshaven came at 1635. We joined the LTS lines again, and headed out to Tilbury, Barking, Woodgrange Park, where an unofficial stop was made for people, and on to the Great Eastern Main Line to Stratford, from where there was anther Operational stop for crewing purposes, but an unofficial set down stop. We headed out to Channelsea Nth Jct, Lea Jct, Dalston Jct, Camden Road East Jct, Camden Road Jct, Gospel Oak and Willesden High Level. From here, we crawled along the West London Line to Kensington Olympia where we used the bi-directional down platform.
From Latchmere Junction 27 minutes were allocated for the 2 miles in to Victoria. We were held, just before the Battersea Reversible, and headed round in to Grosvenor Bridge Jct and back to Victoria at 1849 (4 early).
On arrival we headed out to Hendon, not before we went passed Hendon and did the Northern line to Edgware and back thus scoring some track. I finally got back in to my bed at 2330 after encountering more fog.
Another good tour by Hertfordshire, with an interesting itinerary and reliable traction (although I think 60042 would have been more suitable for Isle of Grain, with a Ripple Lane 37 for Thameshaven???). Next stop Manchester on January 27th with Pathfinder.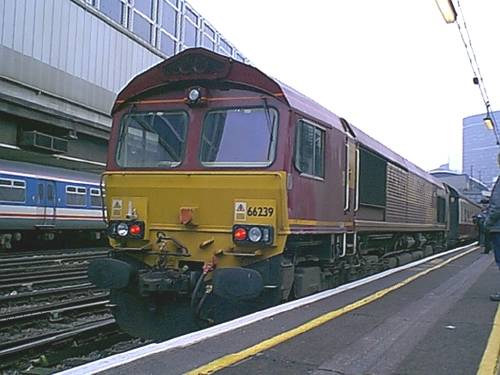 66239 at the other end of the train. (photo : Daniel Bound)


Timings (Booked & Actual)
(from David Clark & John Broderick)
| | | | |
| --- | --- | --- | --- |
| M.C | Location | Booked | Actual |
| 0.00 | Victoria | 10.21d | 10.37 |
| 2.05 | Voltaire Road Jn | 10/26 | 10/42 |
| 3.08 | Brixton | 10/27 | 10/46 |
| 3.70 | Cambria Jn | 10/29 | 10/48 |
| 5.77 | Nunhead | 10/32 | 10/52 |
| 7.63 | Lewisham | 10/40 | 11/00 |
| 8.54 | Blackheath | 10/45 | 11/02 |
| 10.70 | Eltham | 10/50 | 11/09 |
| 15.50 | Barnehurst | 10/57 | 11/17 |
| 17.15 | Crayford C Jn | 11/03 | 11/21 |
| 18.34 | Dartford Jn | 11/05 | 11/25 |
| 18.61 | Dartford | 11/06 | 11/27 |
| 25.44 | Gravesend | 11/17 | 11/40 |
| 28.68 | Hoo Jn | 11/22 | 11/47 |
| 29.30 | Cliffe Signal D12 | 11*27 ~ 11*30 | 11.52 ~ 11.54 |
| 40.00 | Isle of Grain | 12.15 ~ 12.25 | 12.32 ~ 12.38 |
| 50.50 | Cliffe Signal D12 | 13*05 ~ 13*08 | 13.16 ~ 13.17 |
| 51.12 | Hoo Jn | 13/12 | 13/22 |
| 54.36 | Gravesend | 13/21 | 13/28 |
| 61.19 | Dartford | 13/36 | 13/36 |
| 61.46 | Dartford Jn | 13/37 | 13/40 |
| 62.65 | Crayford C Jn | 13/39 | 13/43 |
| 64.30 | Barnehurst | 13/42 | 13/46 |
| ? | Eltham | 13/49 | 13/53 |
| ? | Blackheath | 13/54 | 13/58 |
| 72.17 | Lewisham | 14/02 | 14/03 |
| 74.03 | Nunhead | 14/06 | 14/09 |
| 75.13 | Crofton Road Jn | 14/08 | 14/12 |
| 75.58 | Denmark Hill | 14/09 | 14/13 |
| 77.68 | Voltaire Road Jn | 14/13 | 14/18 |
| 78.13 | Factory Jn | 14/13 | 14/20 |
| 78.52 | Longhedge Jn | 14/15 | 14/21 |
| 79.60 | Clapham Junction | 14/18 | 14.26 ~ 14.33 |
| 82.73 | Barnes | 14/23 | 14/41 |
| 85.20 | New Kew Jn | 14/28 | 14/48 |
| 85.59 | Kew East Jn | 14/31 | 14/49 |
| 86.39 | South Acton Jn | 14/39 | 14/51 |
| 86.43 | South Acton | 14c40a ~ 14c42 | 14/52 |
| 88.25 | Acton Wells Jn | 14/48 | 14/56 |
| 89.10 | Willesden Junction High Level | 14/50 | 15/00 |
| ? | Kensal Green Jn LL | 14/51 | 15/02 |
| 93.37 | Gospel Oak | 15/01 | 15/10 |
| 94.12 | Junction Road Jn | 15/04 | 15/12 |
| 94.50 | Upper Holloway | 15/06 | 15/14 |
| 95.65 | Harringay Park Jn | 15/09 | 15/17 |
| 97.39 | South Tottenham | 15/22 | 15/22 |
| 103.59 | Woodgrange Park | 15/39 | 15/33 |
| 105.21 | Barking | 15/43 | 15/40 |
| 108.28 | Dagenham Dock | 15/47 | 15/46 |
| 110.33 | Rainham | 15/49 | 15/48 |
| 113.61 | Purfleet | 15/53 | 15/53 |
| 116.53 | West Thurrock Jn | 15/57 | 15/57 |
| 117.49 | Grays | 16/00 | 16/00 |
| 119.27 | Tilbury Town | 16/03 | 16/02 |
| 124.20 | Thameshaven Jn | 16/11 | 16/13 |
| 128.20 | Thameshaven Siding No.1 | 16.20 ~ 16.30 | 16.30 ~ 16.35 |
| 137.13 | Tilbury Town | 16/47 | 17/03 |
| 138.71 | Grays | 16/50 | 17/06 |
| 139.67 | West Thurrock Jn | 16/53 | 17/07 |
| 142.59 | Purfleet | 16/57 | 17/10 |
| 146.07 | Rainham | 17/01 | 17/15 |
| 148.12 | Dagenham Dock | 17/05 | 17/17 |
| 151.19 | Barking | 17/14 | 17/22 |
| 152.61 | Woodgrange Park | 17*18 ~ 17*20 | 17.26 ~17.27 |
| 153.22 | Forest Gate Jn | 17/29 | 17/29 |
| 153.64 | Forest Gate | 17/31 | 17/31 |
| 155.02 | Stratford | 17/33 | 17.37 ~ 17.39 |
| 155.45 | Channelsea East Jn | 17/37 | 17/43 |
| 158.42 | Dalston Jn | 17/44 | 17/52 |
| 161.05 | Camden Road East Jn | 17/50 | 17/58 |
| 161.30 | Camden Road Jn | 17/53 | 18/00 |
| 162.41 | Gospel Oak | 17/56 | 18/03 |
| 166.48 | Kensal Green Jn LL | 18/10 | 18/13 |
| 166.70 | Willesden Junction HL | 18/12 | 18/14 |
| 167.42 | Mitre Bridge Jn | 18/15 | 18/17 |
| ? | North Pole Jn | 18/16 | 18/18 |
| 169.67 | Kensington Olympia | 18/20 | 18/29 |
| 172.50 | Latchmere Jn | 18/26 | 18/36 |
| 175.35 | Longhedge Jn | 18/28 | 18/42 |
| 173.65 | Stewarts Lane Jn | 18/43 | 18/43 |
| ? | Grosvenor Bridge Jn | 18/46 | 18/46 |
| 175.21 | Victoria | 18.53a | 18.49 |