6th January 2001
Pathfinder Tours
The Power Porter
Originally planned to have run on 19/08/2000.
| | |
| --- | --- |
| Locos Used | 47376 'Freightliner 1995', 56007, 60023 & 92015 |
| Stock Used | 5378+5365+5009+4927+5040+4963+1863+21272+3112+3140+3098+6310 |
Route :
1Z38 : Manchester Piccadilly to Tower Colliery
1Z39 : Tower Colliery to Manchester Piccadilly
| | | |
| --- | --- | --- |
| Train | Loco(s) | Route |
| ECS add-on | 56007 | Crewe - Manchester Piccadilly |
| tour | 47376 | Manchester Piccadilly - Heald Green - Wilmslow - Crewe - Stafford - Bushbury Jn - Bescot Stadium - Aston - Birmingham New Street - Selly Oak - Kings Norton - Barnt Green - Stoke Works Jn - (direct route) - Abbotswood Jn - Cheltenham Spa - Bristol Parkway - Severn Tunnel - Severn Tunnel Junction - Magor - (to down relief line) -Newport |
| tour | 47376 (3) | Newport - Cardiff Central - Radyr Branch Jn - Ninian Park - Radyr - Pontypridd - Aberdare - Tower Colliery |
| tour | 60023 (4) | Tower Colliery - (reverse of outward route) - Newport |
| tour | 47376 | Newport - (via up relief, Bishton Flyover) - Severn Tunnel Junction - (reverse of outward route) - Abbotswood Jn - Worcester Shrub Hill - Droitwich Spa - Stoke Works Jn - (reverse of outward route) - Kings Norton - St Andrews Jn - Proof House Jn - Birmingham New Street |
| tour | 92015 (5) | Birmingham New Street - Dudley Port - Wolverhampton - Bushbury Jn - (reverse of outward route) - Manchester Piccadilly |
| ECS add-on | 56007 | Manchester Piccadilly - Crewe |
Notes :
(1) A tour that was originally scheduled to run in 2000, it suffered many changes of plan and losses of freight lines it was supposed to traverse. In the end it ran, though Pathfinder gave back £10 of the tour fare as it ended up a pale shadow of the original spec. The letter accompanying the tickets described the tour as "The Power Porter (version 6.1)!".
(2) The ECS at each end of the day was available to passengers for an "add-on" fare.
(3) 60023 on rear.
(4) 47376 on rear.
(5) 92015 added atop 47376 as the 47 was declared low on fuel.
(6) The stock movement from Crewe to Manchester and back was made available for travellers for a small additional charge. The outward leg was hauled by 56007 with 47376 on the rear. The return working also utilised 56007, with the 92 and 47 on the rear.
Source : Gary Thornton (joined and left train at Barnt Green)



Tour Review
(by Gary Thornton)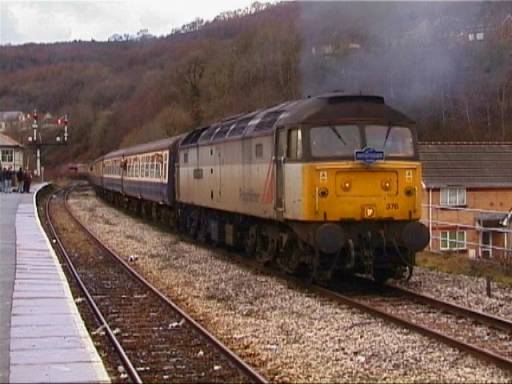 47376 "Freightliner 1995" powers past Abercynon.
(photo : Steve Marshall, Globe Videos).
The railtour Pathfinder probably wish they'd never organised! Originally planned to run in early 2000 it was to cover several freight branches in South Wales, all of which I required :
Worcester Goods Lines
Ford Company branch at Bridgend
Dock Street Branch (Newpot)
ABP Newport
Fifoots Point
Bishton Flyover
First to go was the line at Bridgend but it was replaced by Tower Colliery (no good for me, did it with a pair of 33's in 1995). The tour was then postponed because Tower was not available. Shortly after an ABP Newport Docks was withdrawn from the itinerary. Oh, and somewhere along the way the Worcester Goods Lines were also lost also. Despite all this I didn't cancel my booking, though in the week leading up to the tour I very nearly did when I heard that Fifoots had also gone - in other words only Tower and the Bishton Flyover were left!! Two things kept me on it - a £10 voucher that arrived with the ticket (to be used against another tour) and the fact I was on to score the Freightliner class 47 - and I only need 10 more of the class to have had half of them for haulage. Quoted in the days leading up o the tour was 47301, then 47295, and 60081, then 60023 as assisting engines - all required. The stock was getting from Crewe to Manchester with quoted 56051 (could also be done at a small additional cost) - although this was required too, the 02.30 start, and similar return time (Sunday morning), put me off that one!
I arrived at Barnt Green along with a few other acquaintances to learn the choice of spoon had changed again - 47376 "Freightliner 1995" was working the train. A quick check of the book and I was still smiling as it was also a winner. 56007 had done the morning run to Manchester (required, but can't get them all).
47376 duly arrived about 20 minutes down and on our little group got on and headed down to our seats in coach A at the front. Well, not all actually, two of our group decided the bar was nearer and headed that way instead!
As we headed south coach A (somewhat unusually a mark 2 TSO) was pretty chilly - what passed for train heating as we had got on had given up altogether well before Cheltenham Spa. We later heard the train heat generator had died! We picked up further passengers at Cheltenham and Bristol Parkway before heading for the big hole in the ground that takes you to another country - no, not the Channel Tunnel, the Severn Tunnel.
After passing Severn Tunnel Junction we were routed onto the own relief line at Magor - good news for me as this piece of line is shown in the Baker Rail Atlas and I required it. Bit of a stagger along here and we eventually pulled into Newport about half an hour down. A pause here as 60023 was added to the back of the train. Good - at least one of the engines rumoured to be working had produced!
Fairly fast run to Cardiff and we then managed to get through Cardiff Central station without being stopped. Loads of 37's, 47's and 66's noted as we passed Canton depot. We were routed via Ninian Park to gain access to the Valley Lines route to Radyr. Here we were halted to allow a Valley Lines service train past - a service to Aberdare....the same line we were about to take!! Although we thought this would mean a slow journey as we followed the "stopper", it actually wasn't so bad. That said, by the time we waited in the loop at Abercwmboi to allow it to pass us going the other way, we were running an hour late.
Past Aberdare and the pace slowed as there are a couple of TMO (Train Man Operated) level crossings. We made it right into the colliery, 47376 stopping just short of the run-round loop. As per the norm these days it was a case of not being allowed off the train - though as it was raining heavily I'm not sure too many people were that upset.
Some very liberal timing heading south actually saw us catch up our lateness and we even arrived back at Abercwmboi almost on time. We didn't need all the booked waiting time here before the northbound service train (a class 143 pacer) arrived so we actually left a few minutes early. We continued in this vein all the way to Newport where a break of just over an hour as scheduled. During this time 60023 was removed and 47376 run-round and attached to the other end of the train. Someone also managed to kick the train heat generator back into life during the layover, so things were a bit warmer the rest of the way home!
As booked, the Bishton Flyover was traversed, so at least I could fill in a bit more track in my Rail Atlas.
Somewhere on the way to Bristol Parkway a rumour began to circulate that 47376 was short of fuel and, so the rumour went, a class 92 was to be added at Bescot. 92015 or 92025 were being quoted....or 66204. All required by your truly but I didn't really fancy a late night wander around the Midlands to score one more locomotive. As we wended our way towards Worcester Shrub Hill it was confirmed (as much as any of these rumours are) that 92015 would be added at Birmingham New Street. As the next booked stop was Stafford (at 21.08, if on time) I decided that this would be one 92 that "got away" until another time.
My favourite stretch of track now - 47376 had to get up the big hill (Lickey) from Bromsgrove to Barnt Green. There was another rumour that the driver had asked for the direct route so as to give a straight run, but we had gone via Worcester as booked. Once turned back out onto the mainline at Stoke Works Junction there is only just over two miles to gain speed before hitting the bottom of the 3 mile 1-in-37 climb to the summit. All credit to the 47, we topped the summit at about 15mph - 376 was fair screaming though!
I left the train at Barnt Green where it was running about 10 minutes early - not a bad day out, though in my mind perhaps it was questionable value for £32.50 for what had turned from a very good freight line tour initially into a straight out-and-back run to Tower Colliery. Others, particularly those requiring the line to Tower, however may not agree with my view.
Gary Thornton.



Timings (Booked & Actual)
(from Gary Thornton, David Clark and Phil Pearson)
M.C
Location
Booked
Actual
Booked
Actual
M.C
0.00
Manchester Piccadilly
06.18d
06.18
22.48a
22.37
193.10
0.58
Ardwick Jn
06/20
06/21
22/45
22/34
192.32
2.25
Slade Green Jn
06/22
06/24
22/43
22/31
190.65
8.32
Heald Green
06/30
06/34
22/33
22/18
184.58
11.57
Wilmslow
06/38
06/40
22/21
22/10
181.33
13.21
Alderley Edge
06/40
06/42
22/18
22/08
179.69
25.72
Sandbach
06/51
06/54
22/07
21/57
167.08
29.46
Crewe Sydney Bridge
06/57
07/01
22/03
21/54
163.44
30.42
Crewe
07.04a ~ 07.15d
07.05 ~ 07.15
21.41a ~ 22.00d
21.40 ~ 21.51
162.48
32.26
Crewe Basford Hall Jn
07/24
07/19
21/38
21/35
160.64
38.48
Madeley
07/30
07/26
21/31
21/28
154.42
49.50
Norton Bridge
07/41
07/36
21/18
21/18
143.40
54.79
Stafford
07.48a ~ 07.49d
07.47 ~ 07.49
21.08a ~ 21.11d
21.07 ~ 21.09
138.11
68.56
Bushbury Jn
08/02
08/11
20/49
20/49
124.34
71.24
Portobello Jn
08/10
08/15
74.23
Darlaston Jn
08/14
08/18
75.41
Bescot Stadium
08/16
08/28
79.78
Perry Barr North Jn
08/22
08/35
82.20
Aston
08/30
08/43
84.20
Proof House Jn
08/35
08/48
-
Wolverhampton North Jn
20/46
20/47
123.23
-
Wolverhampton
20/42
20/46
122.60
-
Dudley Port
20/33
20/35
117.20
-
Galton Jn
20/27
20/30
113.55
-
Soho South Jn
20/24
20/28
111.77
84.76
Birmingham New Street
08.38a ~ 08.41d
08.52a/08.56d
20.11a ~ 20.19d
20.06 ~ 20.23
109.76
88.27
Selly Oak
08/46
09/04
-
Proof House Jn
20/08
20/02
109.22
-
St. Andrews Jn
20/06
19/58
108.25
-
Bordesley Jn
20/03
19/56
107.79
90.41
Kings Norton
08/49
09/06
19/55
19/45
102.64
95.49
Barnt Green
08.56a ~ 08.57d
09.14 ~ 09.16
19.44a ~ 19.46d
19.35 ~ 19.37
97.56
99.12
Bromsgrove
09/02
09/21
19/38
19/27
94.13
101.25
Stoke Works Jn
09/04
09/27
19/32
19/24
92.00
-
Droitwich Spa
19/27
19/17
87.65
-
Tunnel Jn
19/20
19.07 ~ 19.08
82.53
-
Worcester Shrub Hill
19/24
19/06
82.06
-
Norton Jn
19/15
18/57
79.01
112.42
Abbotswood Jn
09/15
09/38
19/04
18/55
78.19
123.29
Ashchurch
09/26
09/48
18/50
18/45
67.32
130.40
Cheltenham Spa
09.34a ~ 09.36d
09.55 ~ 09.56
18.38a ~ 18.41d
18.35 ~ 18.38
60.21
13603
Barnwood Jn
09/43
10/03
18/32
18/28
54.58
136.70
Gloucester Yard Jn
09/44
10/04
18/31
18/26
53.71
143.00
Standish Jn
09/49
10/10
18/22
18/20
47.64
156.25
Charfield
10/00
10/20
18/10
18/09
34.36
162.66
Yate
10/07
10/27
18/04
18/04
27.75
164.38
Westerleigh Jn
10/10
10/30
18/01
18/02
26.23
169.08
Bristol Parkway
10.17a ~ 10.18d
10.48 ~ 10.50
17.51a ~ 17.54d
17.52 ~ 17.55
21.53
170.30
Patchway
10/21
10/53
17/47
17/48
20.31
173.76
Pilning
10/24
10/56
17/42
17/44
16.65
179.62
Severn Tunnel West
10/31
11/01
17/36
17/38
10.79
180.72
Severn Tunnel Junction
10/34
11/07
17/35
17/37
9.69
190.61
Newport
10L50a ~ 11L15d
11.25 ~ 11.42
16L18a ~ 17L20d
16.07 ~ 17.21
0.00
39.03
191.44
Gaer Jn
??/??
11/45
16/13
16/04
38.20
192.18
Ebbw Jn
??/??
11/46
16/11
16/02
37.46
195.71
Marshfield
11/23
11/52
16/05
15/56
33.73
202.41
Cardiff Central
11/34
12/10
15/54
15/49
27.23
203.02
Radyr Branch Jn
11/36
12/12
15/50
15/48
26.62
203.24
Penarth Curve North Jn
11/37
12/14
15/48
15/46
26.40
203.40
Ninian Park
11/38
12/15
15/47
15/45
26.24
207.27
Taffs Well
11/51
12/33
15/32
15/32
20.45
209.19
Pontypridd
11/57
12/43
15/26
15/23
14.74
218.35
Abercynon North
12t04 ~ 12t06
12.53 ~ 12.56
15t16 ~ 15t18
15.16 ~ 15.16
11.29
223.17
Abercwmboi
12.22 ~ 12.27
13.10 ~ 13.28
14.38 ~ 15.00
14.42 ~ 14.58
6.47
225.64
Aberdare
12t35 ~ 12t38
13.35 ~ 13.36
14t12 ~ 14t30
14.34 ~ 14.34
4.00
229.64
Tower Colliery
13.20a
14.03
13.30d
14.08
0.00