9th December 2000
Hertfordshire Rail Tours
The Grassington Dickensian Festival
Loco Used
67006
Stock Used
4977

+

5023

+

5037

+

5027

+

4986

+

17023

+

1679

+

3150

+

3123

+

3114

+

1696

+

3127

+

3125
Route :
1N50 : Kings Cross to Rylstone
1A51 : Rylstone to Kings Cross
| | |
| --- | --- |
| Loco | Route |
| 67006 | Kings Cross - (via ECML) - Newark North Gate - Collingham - Boultham Jn - Pyewipe Jn - Gainsborough Lea Road - Bessacarr Jn - Doncaster - (via ECML) - York |
| 67006 | York - (via ECML) - Kings Cross |
Notes :
Tour originally supposed to go to Skipton and then along the freight branch to Rylstone (for onward coach travel to Grassington). A brake problem on one coach caused massive delays just north of Peterborough, forcing abandonment of the original tour route. The train ended up at York for a break of about three hours. The train had taken almost NINE hours to get from Kings Cross to York!
Taken from a letter, from HRT, dated Tuesday 12th December 2000.
"Subsequent inspection has confirmed that a bracket which protects the brake gear had been struck heavily, causing it to come into contact with the dynamo pulley. This is an extraordinary occurrence, indeed we have never previously known anything similar in over 20 years of tour operation."
Source : Daniel Bound (on the train throughout)



Tour Review
(By Daniel Bound)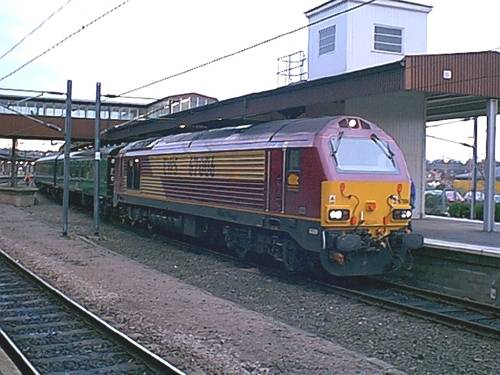 67006 at York....not Grassington! (photo : Daniel Bound)
Question, where is Grassington? Answer, 32 miles north of Doncaster on the East Coast mainline. Confused? Read onů.
Time: 05:30am. Date: 9th December 2000. Place: My bedroom, alarm now going off. Groan loudly, sit up, shake girlfriend, another loud groan (not mine).
05:45, walking down hill towards underground station, silence, not yet woken up.
06:05, tube rumbles into station trek towards Kings Cross has begun in earnest.
06:45 arrive at Kings Cross, girlfriend moans about the time and her lack of money; she has now gained consciousness.
90035 at the buffers of platform 6, walk down the platform towards the loco, ham and cheese baguette in hand. Sound of GM engine and shape of a 67 draws closer. 67006 comes into view, excellent, my first class 67 haulage. Walk back down and enter coach. Girlfriend falls asleep in coach. Silence. GNERstar 3301+3302 and 47744 were in the station.
07:03 and the 67 pulls away, the one and only time we were to be on schedule! The omens were bad, we had lost 3 minutes at Finsbury Park, and then 5 minutes by the time Alexander Palace was passed. We were routed all the way on the slow lines from Holloway south junction and only crossed onto the fast lines after the first pickup at Potters Bar (+15 minutes). The 67 was at last opened up and some fine running was achieved in the sunlight which was now rising fast. We slowed up passing Welwyn Garden City, and again crossed onto the slow lines after the viaduct; at some points the train was hardly moving, so serious were the restrictions. We and ran this way until we reached Huntingdon and the 67 opened up once more for the run into Peterborough.
Peterborough had 56084, 58013, 60080, and 66167 on the stabling point. This is when all the fun and games began! Leaving Peterborough we gained speed but then we slowed down and stopped just before Helpston Junction. An announcement was made that a check was being made to one of the coaches, as we had hit something south of Peterborough. After an hour people realised that something serious had happened. 56089 passing on a northbound rail train. Another announcement, the object had caused the brakes to lock on and we were waiting for fitters from Peterborough. After another hour the guard had sorted the problem (with a big stick and hammer!) and the fitters had to check the work was safe before we were able to proceed. Another 30 minutes and the fitters finally arrived, (Had they walked from Peterborough?) they took one look and after another 5 minutes we departed from Helpston and were at last heading north only 150 minutes late!!
Officials from Hertfordshire came through the train announcing we would not be going to Grassington as our delay was too great but we were given two options. Cape the tour now and return to London (great after our half five escapades!!) or visit Lincoln's street market (as we were heading that way). The majority obviously wanting a day out, chose Lincoln, so we pulled into Claypole loop to work out timings, etc. After we moved off (now 170 minutes down) and crossed over at Newark onto platform 3 and headed off in the direction of Lincoln. It soon transpired that all again was not well, and rumours spread that the driver didn't know the route into Lincoln. Sure enough at Boultham Junction we turned left and continued towards Doncaster (on our original route). Where were we going? This was a return to the infamous mystery excursions of years ago! It wasn't until we approached Doncaster that a plan was apparently being formulated.
Approaching Doncaster on the down Lincoln line, we crossed the East Coast and came around past the Royal Mail Terminal on the down flyover lines, onto down west slow number 2 and into Doncaster platform 4. Doncaster depot held 66125, 66157, 66161, 66182, 66205, 60086 and 67016. A freightliner 66 was glimpsed in We were then told York was our final destination where we would have 3 hours at a continental market in York's main street. Hmmm, where was the branch line? Never mind, at least my girlfriend had stopped moaning (York is one of her favourite places!). A spirited run by 67006 up the mainline saw us arrive in York at 14:53.
Now you may think that Hertfordshire's problems were over, but not today! 6 minutes late in leaving York, we had a storming run to Doncaster, where we arrived 16 minutes early. But an 8-minute late departure saw us miss our slot in the single line workings south of the station, where again we stood for almost 45 minutes! Extra locos at Doncaster were 66004, 66151, 66156, 66223 and 66232. A very slow run back to London saw us lose more and more time and we eventually arrived back 67 minutes late! Quite appropriate!
60090 and 60080 top 'n' tail on ballast to meet us back at Kings Cross.
Overall, Hertfordshire made the best out of a problem that was totally out of their hands and to this I commend them. The constant speed restrictions on the East Coast must have GNER tearing their hair out, how they still manage to run some semblance of a service with this going on is beyond me. I would have preferred a different ending to my first 67 railtour, but it could have been a lot worse!
Daniel Bound



Timings (Booked & Actual)
Location
Booked
Actual
Booked
Actual
M.C

0.00

Kings Cross
07.03d
07.03
22.18a
23.25

188.40

0.55

Belle Isle
??/??
??/??
22/15
23/23

187.65

2.41

Finsbury Park
07/10
07/13
22/10
23/18

185.79

4.78

Alexendra Palace
07/15
07/20
22/05
23/12

183.42

12.57

Potters Bar
07.25a ~ 07.27d
07.38 ~ 07.40
21.50a ~ 21.52d
22.57 ~ 23.01

175.63

20.25

Welwyn Garden City
07/36
07/54
21/42
22/45

168.15

23.68

Woolmer Green Jn
-
-
21/36
22/39

164.52

27.45

Stevenage
07.47a ~ 07.49d
08.08 ~ 08.10
21.25a ~ 21.27d
22.30 ~ 22.32

160.75

31.74

Hitchin
07/56
08/19
21/20
22/21

156.66

44.10

Sandy
08/11
08/29
21/09
22/08

144.30

58.70

Huntingdon
08/25
08/43
20/58
21/57

129.70

76.29

Peterborough
08c41a ~ 08c43d
09.02 ~ 09.07
20.35a ~ 20.37d
21.27 ~ 21.29

112.11

84.64

Tallington Jn
08/57
11/28
20/18
21/16

103.76

99.61

Stoke Jn
09/16
11/43
20/02
21/03

88.79

105.38

Grantham
09/29
11/51
19/54
20/54

83.02

109.56

Barkston South Jn
09/35
12/01
19/46
20/45

78.64

116.13

Claypole DPL
-
12.09a ~ 12.22d
-

120.08

Newark North Gate
09.47a ~ 09.49d
12.30 ~ 12.39
19/33
20/32

68.32

-

Retford
-
19/12
19/27

49.71

-

Loversall Carr Jn
-
19/02
19/10

36.40

120.59

Newark Crossing East Jn
09/51
12/41
-

135.25

Boultham Jn
10/07
13/13
-

136.10

Pyewipe Jn
10/10
13/15
-

150.06

Gainsborough Lea Road
10/26
13/32
-

150.66

Gainsborough Trent Jn
10/28
13/34
-

167.69

Bessacarr Jn
10/46
14/00
-
-

-

171.27

Doncaster
10c50a ~ 10c52d
14.11 ~ 14.15
18c57a ~ 18c58d
18.41 ~ 19.06

32.43

203.70

York [P10]
DIV
14.53a
DIV (18.00)d
18.06

0.00

(176.15)
Adwick Jn
10/58
DIV
18/52
DIV

(309.57)

(181.24)
South Kirkby Jn
11/02
DIV
18/46
DIV

(295.48)

(187.23)
Hare Park Jn
11/08
DIV
18/39
DIV

(289.49)

(188.52)
Crofton West Jn
11/11
DIV
18/37
DIV

(288.20)

(189.64)
Calder Bridge Jn
11/14
DIV
18/35
DIV

(287.08)

(190.34)
Turners Lane Jn
11/16
DIV
18/34
DIV

(286.38)

(193.56)
Altofts Jn
11/21
DIV
18/31
DIV

(283.16)

(195.13)
Methley Jn
11/23
DIV
18/28
DIV

(281.59)

(202.76)
Engine Shed Jn
11/33
DIV
18/19
DIV

(273.76)

(203.28)
Whitehall Jn
11/35
DIV
18/17
DIV

(273.44)

(203.73)
Wortley Jn
11/42
DIV
18/15
DIV

(272.79)

(209.53)
Apperley Jn
11/49
DIV
18/05
DIV

(267.19)

(213.19)
Dockfield Jn
11/53
DIV
18/01
DIV

(263.53)

(213.45)
Shipley
11/56
DIV
18/00
DIV

(263.27)

(219.60)
Keighley
12/09
DIV
17/51
DIV

(257.12)

(228.75)
Skipton
12/25
DIV
17L25a ~ 17L40d
DIV

(247.77)

(229.22)
Skipton Middle Jn
12L30 ~ 12L55
DIV
17.15 ~ 17.20
DIV

(247.50)

(238.36)
Swinden Quarry
13.50a
DIV
16.35d
DIV

(238.36)
All distances, in miles and chains (M & C). No attempt has been made to verify the mileages given.
Mileages in brackets are the booked route Doncaster to Rylstone (Swinden Quarry) to Doncaster.
Doncaster on the return was 305m 45ch and London Kings Cross was 461m 42ch.



Back to "The Railtour Files"