9th December 2000
Fragonset Charters
The Lindum Deltic
| | |
| --- | --- |
| Loco Used | D9000 "Royal Scots Grey" |
| Stock Used | 17018+99712+5198+5191+1861+4905+4973+4960+35470 |
Route :
1Z55 : Shirley - Lincoln Central
1Z45 : Lincoln Central - Peterborough
1Z46 : Peterborough - Lincoln Central
1Z56 : Lincoln Central - Shirley
Shirley - Henley-in-Arden - Bearley Jn - Stratford-upon-Avon
Stratford-upon-Avon - Bearley Jn - Hatton West Jn - Hatton North Jn - Solihull - Tyseley - Bordesley Jn - St Andrews Jn - Proof House Jn - Birmingham New St
Birmingham New St - Proof House Jn - Landor St Jn - Water Orton - Nuneaton - Hinckley - Leicester - Loughborough - Trent - Nottingham - Newark Castle - Boultham Jn - Lincoln Central
Lincoln Central - (reverse of outward route) - Landor St Jn - St Andrews Jn - (reverse of outward route) - Stratford-upon-Avon
Stratford-upon-Avon - (reverse of outward route) - Shirley
Whilst at Lincoln a mini-tour ran.
This was available to the tour participants, or as an entirely stand-alone tour for the local population.
Deltic 9000 was used throughout. Route details as follows;
Lincoln Central - Sleaford - Spalding - Peterborough
Peterborough (reverse of outward route) - Lincoln Central
Source : Gary Thornton.
(joined/left train at Stratford-upon-Avon)



Tour Review
(by Gary Thornton)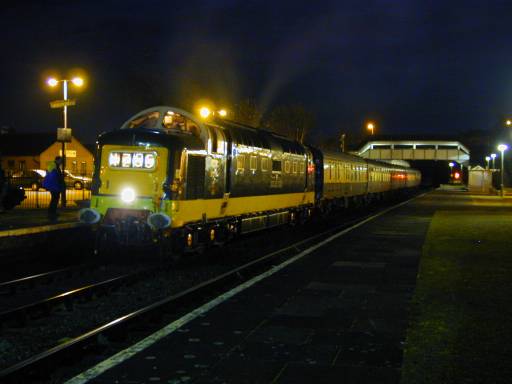 D9000 waits to leave Stratford-upon-Avon on the final leg to Shirley.
Saturday - 6am start (again). Not a very welcome one on this particular occasion as I was still getting over a bad cold and had just had a very sleepless night! Never mind, I still made it to Stratford-upon-Avon in time to join my chosen railtour on this day - Fragonset Charters "The Lindum Deltic". My first loco haulage of the year had been D9000 "Royal Scots Grey" so it was quite fitting to have another outing behind the same loco as the year approached a close.
This particular tour started had commenced at Shirley in the Birmingham suburbs - surely one of the most unusual locations that any Deltic-hauled railtour has started?? Had I been a bit healthier I dare say I'd have made the earlier start and been on it from Shirley!
Plenty of time at Stratford to photograph and video "RSG" running round the train - 9 mark 1 coaches from "Vintage Trains" based at Tyseley then it was time to climb aboard and find our seats. Coach A - at the rear from Stratford, but soon to be at the front as there was another run-round scheduled on arrival at Birmingham New Street. Unfortunately there was a support coach hooked on next to coach A, so we would actually be second information behind the Deltic. I later heard there had been a minor "incident" shortly after leaving Shirley - the smoke alarms in the support coach had been activated - apparently by the exhaust fumes from D9000!
Our tickets hadn't turned up (timings and seat location had been got by phone) and when one of the stewards in our carriage came to check our tickets it seemed there was somewhat of a communication breakdown within the organisation - the steward being from Vintage Trains (the stock provider) and not Fragonset Charters. Still, all was easily resolved as he had a seating plan and Tony (who had booked us on) was able to confirm who we were to his satisfaction. We hadn't however booked onto the afternoon "mini-tour" but the steward couldn't help us out there. A Fragonset representative soon appeared and tickets for the add-on were soon secured.
Heading for Birmingham we acted as a "semi-fast", picking up at various stations more used to seeing only plastic DMU's stopping. Some negotiation with the two gentlemen booked in the same seating bay as myself and Tony was successful and they moved a little further up the coach, to swap with two friends of ours (Pete and Jonathan) who then came and sat with us. Pete was a top Deltic-man in service days (like, nearly 60,000 miles worth of haulage under his belt!) so the conversation naturally was somewhat "historic".
At Birmingham New Street it was all off to watch "RSG" running-round onto our end of the train. Time for the windows open now - but with a mix of bashers and "normals" in coach A, would there be any complaints....? Thankfully there weren't so the discussions took place to a decent background soundtrack as D9000 traced her way past Proof House Junction and Saltley depot (08418, 37379, 47826, 66007, 66049 & 66189 noted). Loads of new plastic cluttering up the Alstom works at Washwood Heath (better in there than out in service!) but no numbers noted. The liveries gave away the presence of 175's, 334's and 458's.
The next pick-ups were at Nuneaton then Leicester. We arrived into the latter 23 minutes down (no particular reason, just minutes lost here and there) but the stop soon went beyond the booked two minutes. Way past in fact. Rumours soon circulated that we were waiting a conductor for the onward route but it wasn't known when he'd arrive. Time to stretch the legs and kick the camera into life then! Eventually a gentlemen in EWS jacket came striding up the platform - he'd arrived from Toton depot by taxi apparently and had replaced the original conductor who hadn't appeared.
We continued on our way almost three-quarters of an hour down - 37692, 58005, 66152 & 66187 being spied on the depot as we eased out of the platform. Between here and Trent Junction was a chance (well, the chance actually) for some fast running, despite a booked pick-up at Loughborough. 89mph was the highest speed recorded by Jonathan. By Nottingham our lateness had crept up a bit more and we stayed similarly shy of right-time until we approached Newark Castle. Here we stopped, and stayed stopped for some time.
The first indication I got of the reason was from a friend who was on the North Wales Coast - he called me to tell me that the Hertfordshire railtours outing (to Grassington for the Christmas market) was running almost three hours late and was, as a result, being diverted to Lincoln instead (it actually never got there either - it ended up at York - but that's another story). I called another friend who I knew was stood on Collingham station a little further ahead, waiting to photograph our passing, to tell him to expect a class 67 through quite soon. He called me back minutes later to confirm 67006 had just passed them heading east. We soon got on the move and I soon got my chance to wave (!) at David stood on the platform at Collingham.
We eventually threaded our way into Lincoln Central station at 13.36 (against the booked 12.17). Our wait was to be brief, just two minutes - sufficient to ditch the "normals" and collect new passengers for the mini-tour. The wait however was anything but brief - we had to wait another conductor. The replacement we got at Leicester was not "passed" for Lincoln to Peterborough!
Half an hour later we finally got away, now just short of two hours behind plan. Funny though, no-one was really complaining as it was just a pleasant day out with "Mother Napier" at the helm, timekeeping wasn't so important. Tony and Jonathan were disappointed that we took the line through Sleaford station - both of them requiring the avoiding line.
As we approached Peterborough I did a bit of thinking - for me this tour was quite amazing in that I was "claiming" almost every mile of the day as "new for a Deltic" (i.e. route over which I'd not been Deltic hauled before). What was, for the record, dud was;
Proof House Jn - Birmingham New St : 13/04/97, D9000 on the "Cross Country Deltic" railtour
Newark Crossing East Jn - Boultham (former junction to St Marks line) : 14/08/80, 55021 on service train to Cleethorpes
Pyewipe Jn - Peterborough : 17/08/80, 55017 on diverted service train
Ahh, memories!
Dusk was arriving as we got to Peterborough, platform 3. A longer than planned run-round was made. As D9000 headed north on the down fast she was overtaken by a 91 going into platform 4. I paid it no attention but Pete laughed as he had noticed it was 91025 - the only class member I still needed for haulage! Thoughts of a fast run over to platform 4 were abandoned as I didn't fancy having to try and catch up the tour again! 91025 lives to be claimed another day!!
A quieter journey back for us as we were now at the back of the train. The acceleration away from Sleaford created one of "those moments" for me - I've always thought a Deltic sounds very different when heard from the back of a train rather than the front and on a cold, still, evening the exhaust sound also takes on quite an eerie quality - I'm sure anyone with a lot of Deltic miles under their belt will know what I mean. Anyway, everything sort of "came together" as we left Spalding - it was cold, it was dark, we were running well late, I was still feeling unwell.....but I simply didn't care: I was stood at a door window, D9000 singing away at the far end of the train, I felt totally "at peace with the world" (and I'd not touched a drop of alcohol all day!!).
Thanks to loads of recovery time on the return leg to Lincoln, plus a theoretical break of over an hour, we finally left Lincoln Central only 34 minutes late. We retraced our outward route and it was all quite uneventful really. At Saltley we diverted from the mornings route as there was not a set-down stop advertised at Birmingham New St. We instead took the direct route through to St Andrews Junction, thence retracing our route home. Arrival into Stratford-upon-Avon was at 21.35, or 62 minutes late if it really mattered (it didn't as far as I am concerned). A group of us watched the run-round and departure (21.59) as "RSG" made her way back to Shirley and tours end.
Verdict : Another splendid day out - well done to the organisers for coming up with something just different enough to make it interesting for "normals" as well as enthusiasts.
Gary Thornton.



Route, Distances and Timing's (Booked & Actual)
Miles
Location
Booked
Actual
:
Booked
Actual
Miles
0
Shirley
07.25d
??.??
:
21.20a
??.??
148
10
Henley in Arden
07.38a/07.40d
??.??/??.??
:
21.05a/21.08d
??.??/??.??
138
Bearley Jn
07/47
??/??
:
21/00
??/??
18
Stratford-upon-Avon
07.52a/08.07d
07.56a/08.17d
20.33a/20.53d
21.35a/21.59d
130
Bearley Jn
07/47
08/24
:
20/24
21/23
Hatton West Jn
08/36
08/35
:
20/14
21/04
Hatton North Jn
08/38
08/36
:
20/12
21/02
34
Dorridge
08.48a/08.50d
08.51a/08.52d
:
20.00a/20.02d
20.50a/20.50d
114
37
Solihull
08.56a/08.58d
08.58a/08.59d
:
19.52a/19.52d
20.43a/20.44d
111
41
Tyseley
09.04a/09.06d
09.07a/09.09d
:
19.44a/19.46d
20.34a/20.36d
107
Small Heath Jn
09/08
09/14
:
19.33a/19.40d
20/31
Bordesley Jn
09/12
09/16
:
19/29
20/25
St Andrews Jn
09/16
09/18
:
19/25
20/23
Proof House Jn
09/20
09/22
(direct route)
45
Birmingham New St
09.22a/09.42d
09.25a/09.54d
(direct route)
Proof House Jn
09/44
09/56
(direct route)
Landor St Jn
09/46
09/58
:
19/22
20/21
53
Water Orton
09/54
10/06
:
19/16
20/06
95
Whitacre Jn
09/57
10/11
:
19/10
19/59
67
Nuneaton
10.12a/10.14d
10.25a/10.26d
:
18.50a/18.53d
19.46a/19.48d
81
Hinckley
10/22
10/32
:
18/41
19/37
Wigston North Jn
10/37
10/47
:
18/28
19/24
85
Leicester
10.41a/10.46d
10.54a/11.29d
:
18.18a/18.22d
19.13a/19.16d
63
Syston South Jn
10/52
11/37
:
18/12
??/??
Sileby Jn
10/54
??/??
:
18/09
??/??
98
Loughborough
10.58a/11.00d
11.46a/11.48d
:
18.02a/18.04d
18.58a/18.59d
50
Trent South Jn
11/09
11/56
:
17/55
18/48
Trent East Jn
11/10
11/58
:
17/54
18/46
Mansfield Jn
11/16
12/05
:
17/49
18/34
113
Nottingham
11.18a/11.21d
12.09a/12.14d
:
17.45a/17.47d
18.27a/18.31d
35
Netherfield Jn
11/27
12/19
:
17/40
18/19
132
Newark Castle
11/44
12/47
:
17/22
18/02
16
Newark Crossing
11/49
12/51
:
17/21
18/00
Newark Crossing East Jn
11/49
12/52
:
17/21
18/00
Boultham Jn
12/08
13/23
:
16/57
17/34
West Holmes Jn
12/09
13/32
:
16/56
17/32
148
Lincoln Central
12.17a
13.36a
:
16.54d
17.28d
0
0
Lincoln Central
12.19d
13.57d
:
15.47a
17.20a
57
Pelham St
12/20
13/59
:
15/36
17/18
Sleaford North Jn
12/46
14/26
:
15/11
16/52
21
Sleaford
12/50
14/32
:
15/07
16/48
36
Sleaford South Jn
12/52
14/36
:
15/04
16/44
40
Spalding
13/13
14/58
:
14/38
16/20
17
Werrington Jn
13/29
15/15
:
14/14
16/00
57
Peterborough
13.35a
15.24
:
14.05d
15.53
0
Key;
a : arrival time
d : departure time
R : Run-Round/reversal of direction
/ : passing time
All distances, in miles and chains (M & C), are taken from the timing sheet given out on the train. No attempt has been made to verify the mileages given, though one way of the main tour cannot be as the route was different (out and back both however given as 148 miles).



Back to "The Railtour Files"