11th November 2000
Past Time Rail
The Edinburgh Explorer
| | |
| --- | --- |
| Loco Used | 90028 |
| Stock Used | 4916+4996+4915+1813+35469+3100+3144+1671+3119+3132+80041+3131+3133 |
Route :
| | |
| --- | --- |
| Loco | Route |
| 90028 | Bletchley - Northampton - Rugby - Coventry - Stechford - Aston - Bescot - Bushbury Jn - Stafford - (via WCML) - Carstairs South Jn - Haymarket - Edinburgh Waverley |
| 90028 | Edinburgh Waverley - (reverse of outward route) - Stafford - Lichfield - Tamworth - Nuneaton - Rugby - Northampton - Bletchley |
Notes :
(1) Tour was originally due to start and finish at Euston but this was changed due to engineering works.
(2) Train was routed via Bescot on outward leg as Railtrack were not sure if the Trent Valley route would be re-opened in time (after flooding). In the event it was and this was known late on the Friday so the return route was made via the Trent Valley. In the morning the Nuneaton passengers were bused to Coventry and Lichfield ones to Stafford. In a bizarre twist, on arrival at Rugby we were routed to go via the Trent Valley line and it took 15 minutes to get agreement to go via Coventry & Bescot as planned!
(3) The train was re-timed 60 minutes earlier due to the numerous speed restrictions imposed in the wake of the Hatfield derailment. In the event it took two hours longer than might have been expected to get to Edinburgh. Ditto on the way back - arrival into Northampton was at 00.38 Sunday morning!
Source : Gary Thornton.
(joined/left train at Northampton)



Tour Review
(by Gary Thornton)
After a railtour the previous Saturday and the intervening six days spent bashing in Hungary & Croatia it was back to the UK and my 8th day on the rails! Arriving home at 10pm on the Friday night I wasn't too enthralled that this tour had been retimed a whole hour earlier - 06.25 departure from Northampton! Mind you, London passengers were faced with having to make their own way to Bletchley or Milton Keynes as the train was no longer starting at Euston because of engineering works.
I awoke about 4am and ended up getting up and downloading my e-mails (all 119 of them!) then checking up on a few newsgroups that I "lurk" on. Am I sad or what...? With that done I wandered down to the station to arrive about 6pm and meet up with my travelling companions for the day. No need for breakfast as we had chosen the full dining option.
90028, still in SNCB livery, (and a required haulage for me - good start to the day) arrived on time but departed a few minutes late. We settled back in coach M and waited for the coffee to appear, which it soon did. An early announcement was made that we would be travelling via Stechford and Bescot on the outward journey - caused by the Trent Valley line being shut the previous day. Nuneaton passengers had to be bused to Coventry and Lichfield ones to Stafford. We stopped for a while at Rugby - why? Erm, the signaller decided as the Trent Valley line was open that we should be routed that way, despite the fact some of our passengers were en-route by road from Nuneaton to Coventry! Took almost quarter of an hour to resolve that one before we finally set off towards Coventry.
Shortly after we'd picked up at Coventry and breakfast arrived - this lasted almost all the way to Crewe! Well stuffed we settled back to watch the scenery speed, or not as the case may be, past us. As we passed the yards north of Carlisle I scored 66128 for sight - just a handful of EWS sheds to go now and I'll have cleared them. Shortly after and our light lunch (soup and rolls plus a Danish Pastry) appeared.
Despite the hour early departure, arrival into Waverley station was almost an hour down - this did not bode well for the return leg which hadn't been retimed. Freedom to do what we wanted during the three and a half hours we still had in Edinburgh - for some this time was taken up with a trip to see the Royal Yacht "Britannia".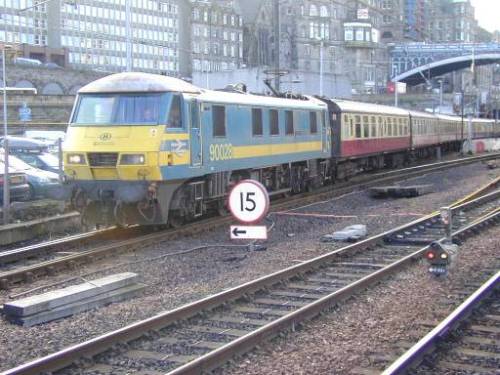 90028 departs Waverley station for Craigentinny depot with the empty stock.
I chose to prop-up the end of one of the platforms for the duration - which proved profitable as I scored 156457, 170417 & 170420 for sight. I also noted a misformed Turbostar - 50412 (required sight!) + 56408 + 79408.
Departure was on-time approaching half-five, 90028 still "up-front". We were soon into our evening meal (tomato soup, roast beef, bread & butter pudding, cheeseboard, coffee & chocolates), all washed down with a bottle of wine. After that the remainder of the journey became a bit fuzzy as I finally gave in to the tiredness I was suffering! We staggered back, obeying the multiple speed restrictions and loosing time constantly. It was obvious our arrival back into Northampton would be well late compared to the 22.50 as booked. At 22.50 we were just passing through Norton Bridge! From Stafford we did take the Trent Valley line but we only made it as far as Nuneaton before we ran out of Saturday!!
Final arrival back into Northampton was at 00.38 on Sunday morning, not that we were bothered as it had been an enjoyable day out with loads of good food.
Gary Thornton.



Route, Distances and Timing's (Actual only)
Location
Outward
:
Return
Bletchley
-
:
-
Hanslope Jn
-
:
-
Northampton
06.23a/06.28d
:
00.38a/00.41d
Long Buckby
06/44
:
00/28
Rugby
07.05a/07.19d
:
00/17
Coventry
07.32a/07.34d
B'ham International
07/50
Stechford
07/56
Aston
08/01
Bescot Stadium
08/12
Bushbury Jn
08/25
Nuneaton
23.57a/00.00d
Tamworth
23/42
Lichfield Trent Valley
23.27a/23.29d
Colwich
23/16
Stafford
08.37a/08.40d
:
22.58a/23.01d
Norton Bridge
08/47
:
22/50
Crewe
09.06a/09.08d
:
22.23a/22.28d
Weaver Jn
09/35
:
21/57
Acton Grange Jn
09/40
:
21/49
Warrington Bank Quay
09.44a/09.46d
:
21/46
Wigan North Western
10/05
:
zzzzzzzzzzzz
Preston
10/21
:
21.15a/21.17d
Lancaster
10/42
:
20/57
Carnforth
10/47
:
20/52
Oxenholme
10/57
:
20/35
Penrith
11/32
:
19/53
Carlisle
12.08a/12.09
:
19.22a/19.34d
Lockerbie
12/29
:
18/58
Carstairs South Jn
13/16
:
18/14
Haymarket
13/44
:
17/32
Edinburgh Waverley
13.47a
:
17.28d
Key;
a : arrival time
d : departure time
/ : passing time
A time in brackets is approximate.
No timing sheet or mileages were given out by Past Time Rail for this tour.



Back to "The Railtour Files"