28th October 2000
Hertfordshire Rail Tours
The Humber Docker
| | |
| --- | --- |
| Locos Used | 47635, 66159, 67017 & 67026 |
| Stock Used | 4925+5023+5037+5007+5027+4986+17023+1679+3150+3123+3114+1696+3127 |
Route :
1N50 : Kings Cross to Saltend (Old Sidings)
1Z90 : Saltend (Old Sidings) to York
1A51 : York to Kings Cross
| | |
| --- | --- |
| Locos | Route |
| 67017 | Kings Cross - Hertford North - Stevenage - (via ECML) - Retford High Level - Loversall Car Jn - Flyover West Jn - Doncaster Royal Mail Platform |
| 66159 (1) | Doncaster Royal Mail Platform - Doncaster - Shaftholme Jn - Knottingley South Jn - Knottingley East Jn - Hensall - Goole - Gilberdyke - Hessle - Hessle Road Jn - Springbank North Jn - Hedon Road Sidings - Saltend Old Sidings |
| 47635 (2) | Saltend Old Sidings - Hedon Road Sidings |
| 66159 (1) | Hedon Road Sidings - Hull Steel Terminal (Quay 12) |
| 47635 (2) | Hull Steel Terminal (Quay 12) - Hedon Road Sidings - Springbank North Jn |
| 66159 (1) | Springbank North Jn - West Parade North Jn - Anlaby Road Jn - Hessle - Gilberdyke - Selby - Gascoigne Wood Jn - Milford Jn - Castleford - Normanton - Turners Lane Jn - Oakenshaw South Jn - Cudworth North GF (Monk Bretton) |
| 47635 (2) | Cudworth North GF (Monk Bretton) - Oakenshaw South Jn - Crofton East Jn - Pontefract Minkhill - Milford Jn - (3) - Gascoigne Wood Jn - Hambleton South Jn - Temple Hirst Jn - Shaftholme Jn - Doncaster - Doncaster Up Goods |
| 67026 | Doncaster Up Goods - Loversall Carr Jn - (via ECML) - Stevenage - Hertford North - Kings Cross |
Notes :
(1) 47635 on rear.
(2) 66159 on rear.
(3) re-routed due to late running - should have gone from Milford Jn to York via Church Fenton & Colton Jn. A loco change back to a class 67 was due at York then we were to return south on the ECML. Despite this the train was still 2 hours 11 minutes late leaving Peterborough on the return leg. Late running primarily caused by;
(a) 55 minute late departure from Kings Cross (stock delayed out of Bounds Green due to failed GNER rake blocking up depot exit).
(b) speed restrictions in wake of Hatfield derailment.
(c) waiting ground staff at Turners Lane Junction.
Source : Gary Thornton (joined/left train at Peterborough)



Tour Review
(by David Clark, photos by Gary Thornton)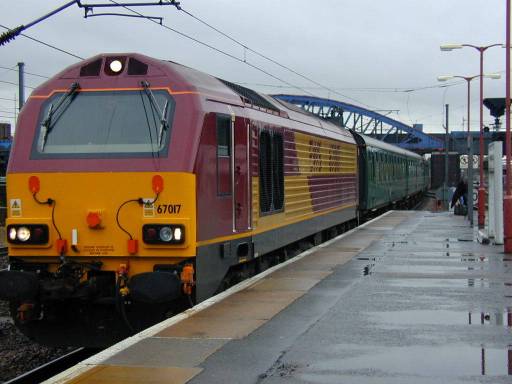 67017 pulls into Peterborough station on the morning run north, already an hour late.
After visiting Immingham and Grimsby Dock areas in March it was time to visit Hull Docks and Monk Bretton via a very unorthodox route for Hertfordshire Railtours. When the tour was advertised it said that we were going to Hull docks via Knottingley East Curve, and on to Saltend returning via the Hull Steel Terminal and out to Monk Bretton via Selby, Castleford, and Altofts Jct, and thus returning to York via Crofton East Jct, Pontefract Monkhill, and Church Fenton. After the Hatfield crash, it was clear that the tour would either be cancelled due to lack of paths up the main line, or the tour would be diesel hauled throughout but via the Hertford Loop. The day before the tour (Friday) it was found out that the traction for the tour would be a 67, 66 and 47. Hmmm, first 67 haulage.
A pretty early start saw us drive to Peterborough and find out that there had been a few problems at Bounds Green. Not a good start to the day!!! Anyway the buffet became a meeting point for a number of us before the train arrived. The train finally arrived in to Peterborough at 10.45 after rumours that 67017 had failed!!! Who made that up was probably a spoon crank!! Anyway 47778 came through on a Footex from Newcastle to Stratford for their team playing at West Ham.
We departed at 10.48 and a number of 58s, 66s, 31110 and 37717 were seen on Peterborough depot. The tractor was sat there on a breakdown train. Numerous engineers trains were in evidence with numerous 66s heading down to Peterborough as we headed up to Doncaster. There were a number of Temporary Speed Restrictions en route to Doncaster and as we approached St. Catherine's Jct the feather showed the far left line in to Down Decoy. This meant that the tour was going in to the RMT Terminal. So both ways in to the RMT had been had as 47635 and 66159 were attached to the train. We departed at 1220 before heading through Doncaster Station up to Shaftholme Jct and on to the line to Knottingley. At Knottingley Sth Jct we took the line on to the East curve which was required track for me. We then headed out to Snaith following the dinner time service from Leeds to Goole via Knottingley. After Goole it was on to the main Doncaster to Hull line.
For a number of people they had never seen the Humber Bridge and I bet they thought it was awesome. At Hessle Road Jct we took the line leading to the docks and Boothferry Park. What can I say about it??? Urghhhh!!!! It was a shed, a decrepitated football ground. Anyway back to the tour. Most of the homes were very old in places. A couple of days earlier we had been told that this route was notorious for vandalism and trespassing. Numerous pubs were seen in Hull together with one that had been created out of a Mark 1 coach!!!
We picked up the token at Hessle Road Signal HR49 and headed around the east end of Hull. The scenery on both sides was totally different with one side having housing estates and green fields while the other side was the Industry and Hull Docks. We passed through dock security with passports at the ready!!! 09014 and 08676 were sat in the dock entrance. Would it have been better for top 'n' tail gronks around the docks???
The journey through the docks was slow but interesting, and on approaching Hedon Road sidings numerous wagons were evident. We stopped short at Saltend due to the track condition and reversed for 47635 to take us back to Hedon Road Sidings. The next part of the tour was may be the highlight as we traversed through the "proper" part of Hull Docks. We passed through the dockside, through the steel terminal and on to the quayside. Water was everywhere to be seen. We were even swimming in it as the 66 caused quite a few ripples through the water!!
Back for spoon haulage through the dockside taking note of the new buildings for the ferries, through the estates and when we got back to Springbank Nth Jct it was 1629 75 minutes down. When the tour was advertised it said that we were going to Hull docks via Knottingley East Curve, and on to Saltend returning via the Hull Steel Terminal and out to Monk Bretton via Selby, Castleford, and Altofts Jct, and thus returning to York via Crofton East Jct, Pontefract Monkhill, and Church Fenton. Nowhere in the brochure was there a mention of Springbank Jct to Walton St Jct and traversing the Anlaby road curve. According to Gary Thornton, the curve on to Walton Street has been traversed by very few passenger trains (did I say that? Hmmm, must've done...Gary) and so is very big track. So with the train full Hertfordshire didn't even have to advertise the track just in case there were problems.
So we departed Springbank Nth Jct, taking the line to Walton St Jct, where the residents of Hull were hot happy about a charter blocking the exit from Hull. So, we then took the Anlaby Road curve, thus scoring more track and as Railtrack Metals go, I only need the Tilcon branch in Hull now. By the time we were on the banks of the Humber, only 30 minutes from my home, the weather had deteriorated. Rumours then spread that one of the windows in a coach had been smashed by the people of Hull. What pleasant people!!!
We left Humberside via a different route and took the line out to Selby thus leaving the main line to Doncaster at Gilberdyke. We passed Wressle and Howden and at Selby stopped for a crew change, people also got off the train here as well. The route to Monk Bretton was via Milford Jct, Castleford, Normanton, Turners Lane Jct but at Calder Bridge Jct we stopped and waited. And waited. A solitary 155 passed us as the signal still remained at Red.
Word came out that a white rose service had brought the wires down at Stevenage and that all four lines were blocked!!! No sign of our current problem though ending. Anyway, finally a green aspect came on and we departed to Oakenshaw Jct and Oakenshaw Sth Jct before heading along the branch to Monk Bretton. However, at the time we got there it was dark. Lovely!!!
Departure came at 1905 but instead of going to York we were heading to Doncaster in order to cut the delay taking the line to Pontefract, Milford Jct, Hambleton West to Sth Jcts and down the Main Line to Doncaster with 47635 in charge. It performed faultlessly. We arrived at P3 in Doncaster for people to depart. We took the goods lines to Doncaster Up Decoy passing Doncaster Carr before stopping near Doncaster Europort. The loco change took 20 minutes and 67026 came on to the train. We then departed on to the last leg to Peterborough. We arrived at 2219 (2 hours late) and that GNER were in a right old mess.
Anyway I got home at 00.30 totally knackered by still with the ability to reflect on the tour. Apart from the speed restrictions after the unfortunate event at Hatfield, and the lack of AC electric, although the other diesel locos made it worth while, the tour was excellent. With the highlight being advertised route including the Hull Steel Terminal, Saltend and Monk Bretton. But the biggest plus was the unadvertised track of the Anlaby Road Curve and Springbank to Walton St Jcts. So a big thank you and well done to all parties in what couldn't have been a easy time for everyone!!! In fact over the next few months will be a testing time for charter operators due to un planned engineering work carried out over the network and the necessity of temporary speed restrictions.
David Clark (2000 - Well nearly the end of!!!)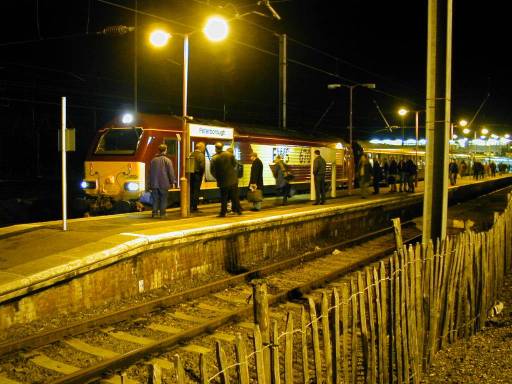 Peterborough again, almost 12 hours later but a different loco - 67026 this time, heading south.
The train was 2 hours 11 minutes late leaving for London.



Timings (Booked & Actual)
(from Gary Thornton & Alan Costello)
| | |
| --- | --- |
| | |
Location
Booked
Actual

155.48

Decoy North Jn (Royal Mail Platform)
10L57 ~ 11L20
12.00 ~ 12.23

157.32

Doncaster
11/25
12/30

161.51

Shaftholme Jn
11/29
12/37

171.60

Knottingley South Jn
11/44
12/54

172.00

Knottingley East Jn
11/54
12/56

175.65

Whitley Bridge
12/00
13/02

181.20

Snaith
12/09
13/14

184.05

Rawcliffe
12/13
13/21

188.05

Goole
12/20
13/28

194.62

Gilberdyke
12/32
13/36

201.20

Brough
12/40
13/43

209.64

Hessle Road Jn
12/50
13/53

211.22

Springbank North Jn
12/55
13/59

213.15

Hessle Road Signal HR49
13t00 ~ 13t02
14.03 ~ 14.06

216.58

Hull Docks Security Gates
13t17 ~ 13t19
14.21 ~ 14.32

217.35

Hedon Road Sidings
13*24 ~ 13*35
14/37

218.39

BP Saltend Old Sidings
13.50 ~ 14.00
14.50 ~ 14.55

219.43

Hedon Road Sidings
14.15 ~ 14.20
15.04 ~ 15.07

220.09

Hull Steel Terminal (No.12 Quay)
14.30 ~ 14.35
15.26 ~ 15.29

220.55

Hedon Road Sidings
14/45
15/41

221.32

Hull Docks Security Gates
14t50 ~ 14t52
15.46 ~ 15.50

224.75

Hessle Road Signal HR49
15t07 ~ 15t09
16.16 ~ 16.19

226.68

Springbank North Jn
15.15 ~ 15.20
16.30 ~ 16.31

227.50

West Parade North Jn
15/23
16/42

227.74

Anlaby Road Jn
15/34
16/44

231.65

Hessle
15c39 ~ 15c41
16/51

234.43

Ferriby
15/46
16/54

237.39

Brough
15/50
16/57

243.77

Gilberdyke
15/57
17/06

258.00

Selby (additional SD)
16c10 ~ 16c12
17.20a ~ 17.22d

261.47

Hambleton East Jn
16/23
17/29

264.40

Gascoigne Wood Jn
16/26
17/35

265.78

Milford Jn
16/28
17/38

271.70

Castleford
16/35
17/47

274.48

Altofts Jn
16/40
17/53

277.70

Turners Lane Jn
16/47
17/59

278.40

Calder Bridge Jn
16/50
18.02 ~ 18.35

279.08

Oakenshaw Jn
16/51
18/37

279.53

Oakenshaw South Jn
16/53
18/40

283.22

Royston Jn
17/00
18/47

285.32

Cudworth North Jn (Monk Bretton)
17.10 ~ 17.15
18.55 ~ 19.04

287.62

Royston Jn
17/25
?

291.31

Oakenshaw South Jn
17/32
19.19 ~ 19.23

292.45

Crofton East Jn
17/35
19/28

298.70

Pontefract Monkhill
17/44
19/37

299.65

Pontefract Monkhill Goods Jn
17/46
19/39

300.44

Ferrybridge North Jn
17/49
19/43

304.53

Milford Jn
17/54
19/49

??

Gascoigne Wood Jn
DIV
19/53

309.02

Church Fenton
17/59
DIV

314.19

Colton Jn
18/04
DIV

319.60

York
18L09a ~ 18L40d
DIV

325.21

Colton Jn
18/47
DIV

333.25

Hambleton North Jn
18/53
DIV

??

Hambleton West Jn
DIV
19/58

??

Hambleton South Jn
?
20.01 ~ 20.02

339.04

Temple Hirst Jn
18/57
20/07

348.04

Shaftholme Jn
19/05
20/15

352.23

Doncaster [P3a]
19/07
20.23a ~ 20.28d

??

Doncaster Up Goods
DIV
20L37 ~ 20L57
timings continue in first table.
Notes :
From Monk Bretton the tour was booked to run to York for a short break then back down the ECML. Due to late running the train was re-routed from Milford Junction via Gascoigne Wood and Hambleton Junctions thence south on the ECML, omitting the York stopover. Despite the change of route the train was still running very late with an expected arrival time back into Kings Cross around midnight.



Back to "The Railtour Files"