9th September 2000
Vintage Trains
(Birmingham Snow Hill to Kingswear)
| | |
| --- | --- |
| Loco Used | steam : 35005 'Canadian Pacific' |
Route :
| | |
| --- | --- |
| Loco | Route |
| 35005 | Birmingham Snow Hill – Jewellery Quarter – Smethwick Galton Bridge – Stourbridge junction – Kidderminster – Droitwich Spa – Worcester Shrub Hill – Abbotswood Jn – Cheltenham Spa – Standish Jn – Yate – Westerleigh Jn – Bristol Parkway - Filton Jn – Dr Days Jn – West Somerset Jn – Bath Spa - Westbury – Castle Cary – Cogload Jn – Taunton – Exeter St Davids – Newton Abbot – Paignton – Kingswear |
| 35005 | Kingswear – (reverse of outward route) – Cogload Jn – Bridgwater – Uphill Jn – Worle Jn – Bristol Temple Meads – Dr Days Jn – (reverse of outward route) – Birmingham Snow Hill |
Notes :
(1) Gordon Jakes comments: The original concept for this train was that it should run direct from Bristol Temple Meads to Taunton in both directions. In the event due to "pathing difficulties" the outward train was diverted via Bath Spa, Westbury and the Berks and Hants. This not only resulted in more steam hauled miles but also an extremely early start from Birmingham! A special note was handed out to all passengers by Vintage Trains – "Please don't vilify Railtrack for this; with the ever growing demand for train paths it is getting more difficult to fit in one off old steam trains and Railtrack GW Zone have worked very hard to fit us in at all … In order to fit into schedules we have had to reroute… and this has extended the mileage on the day to a total of 450½ miles which is believed to be the highest mileage totally steam hauled railtour to be offered in the last 30 years". Furthermore, on this tour, 'Canadian Pacific' passed its 1 millionth mile in service since its introduction way back in 1941. Yet again 35005 put up a sterling performance and despite a number of signal checks was never more than a couple of minutes behind schedule. The section from Paignton to Kingswear was run on the infrastructure owned by the Paignton and Dartmouth Railway. A optional hours cruise on the River Dart at Dartmouth was available.
Source : Gordon Jakes (on the train throughout)



Photo Review
(all photos: Gordon Jakes)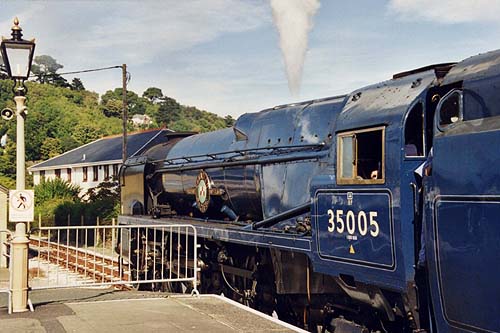 35005 before departure at Kingswear.
(the one million mile achievement is recorded below the loco number)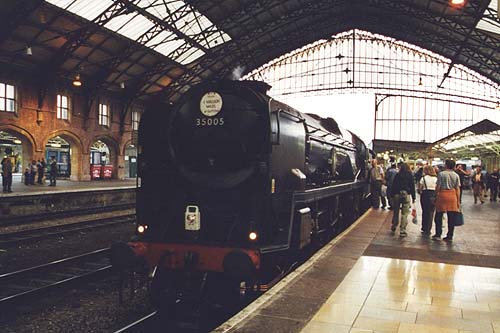 35005 at Bristol Temple Meads on the return journey.
(the one million mile achievement is also recorded on the route disc)


Timings (Booked & Actual)
(from Gordon Jakes)
M.C
Location
Booked
Actual
Booked
Actual
M.C
0.00
Birmingham Snow Hill
04.56d
04.56
22.47a
22.38
210.37
0.48
Jewellery Quarter
05/00
?
22/43
22/33
?
3.05
The Hawthorns
05/05
?
22/38
22/30
?
3.62
Smethwick Galton Bridge
05/09
05/06
22/34
22/28
?
3.77
Smethwick West
05/11
?
22/32
?
?
6.54
Rowley Regis
05/16
?
22/27
22/24
?
12.01
Stourbridge Junction
05.24a ~ 05.26d
05.23 ~ 05.26
22.17a ~ 22.19d
22.11 ~ 22.13
?
18.51
Kidderminster
05/38
?
22/00
22/02
?
22.29
Hartlebury
05/43
05/42
21/54
21/57
?
28.07
Droitwich Spa
05.52a ~ 05.54d
05.52 ~ 05.54
21.47a ~ 21.49d
21.48 ~ 21.50
?
33.25
Tunnel Jn
06/03
?
21/28
21/40
?
33.55
Worcester Shrub Hill
06.07a ~ 06.09d
06.07 ~ 06.11
21w00a ~ 21w32d
20.55 ~ 21.32
?
36.71
Norton Jn
06/16
06/17
20/53
20/48
?
37.53
Abbotswood Jn
06/18
06/19
20/51
20/46
?
48.30
Ashchurch
06/29
?
20/40
20/36
?
55.51
Cheltenham Spa
06.38a ~ 06.41d
06.38 ~ 06.41
20.28a ~ 20.31d
20.24 ~ 20.28
?
61.14
Barnwood Jn
06/49
?
20/20
20/14
?
62.01
Gloucester Yard Jn
06/50
?
20/19
20/12
?
68.17
Standish Jn
06/56
06/57
20/13
20/05
?
81.36
Charfield
07/09
?
20/03
?
?
88.06
Yate
07/15
?
19/54
?
?
89.49
Westerleigh Jn
07/19
07/17
19/50
19/46
?
94.19
Bristol Parkway
07w27 ~ 08w12
07.25 ~ 08.14 [DGL]
19/43
19/41½
116.18
95.38
Filton Jn
?
?
19/40
19/39
114.79
98.38
Stapleton Road
?
?
19/34
?
111.79
99.35
Dr Days Jn
08/24
?
19/32
?
110.02
99.60
North Somerset Jn
08/27
08/29
110.35
Bath Spa
08.43a ~ 08.46d
08.46 ~ 08.48
112.61
Bathampton Jn
08/52
08/53
127.17
Westbury
09/15
09/11
131.77
Clink Road Jn
09/23
09/19
146.63
Castle Cary
09/37
09/35
-
Bristol Temple Meads
18w55a ~ 19w28d
18.55 ~ 19.28
110.36
-
Parson Street
18/48
18/47
108.52
-
Worle Jn
18/32
18/32
93.56
-
Uphill Jn
18/29
18/29½
90.63
-
Highbridge & Burnham
18/23
18/23½
83.42
-
Bridgwater
18/17
77.20
169.66
Cogload Jn
09/52
09/55
18/12
70.44
174.28
Taunton
10/05
10.01 ~ 10.04
18/08
65.56
175.51
Silk Mill Crossing
10w13 ~ 11w05
10.09 ~ 11.05
-
-
-
188.44
Tiverton Parkway
11/24
11/22
17/54
?
54.41
203.68
Cowley Bridge Jn
11/44
11/35
17/39
17/42
36.15
205.08
Exeter St Davids
11*46 ~ 12*05
11.38 ~ 12.04
17w13 ~ 17w35
17.13 ~ 17.38
34.75
215.50
Dawlish Warren
12/22
12/18
17/00
16/58
24.33
225.21
Newton Abbot
12/40
12/29
16/48
16/48
14.62
231.15
Torquay
?
?
13/38
?
8.68
233.28
Paignton
12*55 ~ 13*04
12.50 ~ 13.01
16*30 ~ 16/33
??.?? ~ 16.33
6.55
240.03
Kingswear
13.45a
13.44
15.45d
15.53
0.00