7th - 8th July 2000
Pathfinder Tours
The Skirling Postie
| | |
| --- | --- |
| Locos Used | 09023, 37411, 37419, 56103, 60100, 66200, 90141 & 92016 |
| Stock Used | 3125+3122+3112+3140+3098+21272+5009+1863+4927+5040+4963+5029+4902 |
Route :
1Z36 : Sheffield to Millerhill Yard
1Z38 : Millerhill Yard to Sheffield
| | |
| --- | --- |
| Loco(s) | Route |
| 66200 (1) | Sheffield - Chesterfield - Toton Centre - Loughborough - Leicester - Nuneaton - Water Orton - Landor Street Jn - Birmingham New Street - Dudley Port - Wolverhampton - Stafford Royal Mail Platform - Norton Bridge - Crewe |
| 92016 (2) | Crewe - (via WCML) - Warrington Bank Quay - Warrington Royal Mail Platform - (WCML) - Shieldmuir Royal Mail Platform - Motherwell - Braidhurst DGL |
| 37411 + 37419 | Braidhurst DGL - Mossend South Jn - Mossend West Jn - Shotts - Midcalder Jn - Haymarket - Edinburgh Waverley |
| 60100 (3) | Edinburgh Waverley - Haymarket - Gorgie Jn - Niddrie West Jn - Niddrie South Jn - Millerhill Yard |
| 90141 | Millerhill Yard - Monktonhall Jn - (via ECML) - Chevington UPL - (via ECML) - Newcastle - King Edward Bridge South Jn - Tyne Yard |
| 09023 (4) | Tyne Yard - Tyneside Royal Mail Platform |
| 90141 | Tyneside Royal Mail Platform - Low Fell Jn - (via ECML) - York station avoiding curve - (via ECML) - Doncaster (2 way goods 1) - Decoy North Jn - Doncaster Royal Mail Platform |
| 56103 | Doncaster Royal Mail Platform - Decoy North Jn - Bridge Jn - Hexthorpe Jn - Mexborough - Thrybergh Jn - Aldwarke Jn - Rotherham Masboro - Sheffield - Chesterfield - Toton Centre - Loughborough - Leicester - Nuneaton - Water Orton - Landor St Jn - Birmingham New Street - Dudley Port - Wolverhampton - Stafford - Norton Bridge - Crewe |
Notes :
(1) 66200 worked the stock from Crewe to Sheffield which was available for passenger use at a small additional cost. This run took place on the Friday evening. The main tour left Sheffield just before 11pm (Friday) and arrived into Leicester just after midnight. The remainder of the tour was run on the Saturday with booked arrival back at Crewe at 23.30, though it was running over 30 minutes early at Nuneaton.
(2) 47749 coupled between the 92 and stock but did not provide traction (was dead from Crewe to Carlisle and only started up there to provide ETH). Removed with the 92 at Braidhurst DGL (adjacent to Motherwell depot).
(3) 37411 + 37419 on rear.
(4) 90141 on rear.
Source : Gary Thornton (joined at Leicester on outward leg/left at Nuneaton on return leg)



Tour Reviews
(by Gary Thornton, Selby & Melvin Teale)
Being an overnight tour I decided to leave the car at home and use public transport to reach the tour - this was achieved via two buses and a Midland Mainline Turbostar which got me to Leicester! Time for a pint before closing time and a chat back on the station before the tour arrived just after midnight. As well as some freight track it was also covering the Royal Mail platforms at Stafford, Warrington, Shieldmuir, Tyneside and Doncaster! I'd booked in 1st for a bit of comfort, though in the end very little sleep was actually had. 66200 got us to Crewe (the plan was to have used D172 "Ixion", but it wasn't well) then 92016 took over with 47749 dead-in-tow as a barrier vehicle (annoying for those who needed it for haulage I guess - I didn't). Next loco change was alongside Motherwell depot - an half-hours affair from 8.30 to 9am when we gained 37411 & 37419 for the journey to Edinburgh. I scored one of my very last 08's for sight as 08731 was in the withdrawn line. About 75 minutes in Edinburgh - just time to do some Turbostar spotting and get a bite to eat- then 60100 took us to Millerhill via Haymarket and the "suburban" line. Lost the tractors here for 90141 for a run down to Doncaster via the York avoiding line. At Tyne Yard we paused to have 09023 tow us into the Tyneside Royal Mail platform. At the Royal Mail Platform (south of Doncaster station) we traded 90141 for 56103 for the run home, via Sheffield then setting down at stations in the same order we'd picked up at almost 24 hours before! I baled at Nuneaton from where I'd arranged a lift home.
I scored all but the 37's for haulage and new track for me was Haymarket Central Jn - Gorgie Jn, Niddrie West Jn - Millerhill - Monktonhall Jn, York avoider and Bridge Jn - Hexthorpe Jn. The track associated with all the Royal Mail platforms was also new. A top "day" out!
Gary Thornton.
So, over now to another reviewer....Selby....
Your number 1 reviewer (eh?) is back, and what a tour to review!
This was an ambitious tour to say the least. Bearing in mind that Pathfinder has had to postpone or cancel more tours than NASA has space shuttle missions. In addition, a couple of those that have run this year ran into serious difficulties. So, was this tour an example of an operator that planned a complex enticing itinerary just to get the bookings in, regardless of what actually happened on the day? Or, was it an example of a brave ambitious operator that has had a bad run of luck of late, and this tour was going to put them back in their rightful spot as the UK's number one? Read on, and you will find out.
D-7
An e-mail arrived advising me that 46035 was not going to be on the tour and a class 66 would work its leg instead. Good news for me. The e-mail also advised that the 92 would now work up the WCML, and the 90 would now work down the ECML. This was the opposite situation to what had been advertised, but presented no disappointment.
D-2
I received an e-mail stating that the route was not going to be as advertised, but the details were sketchy. I feared the worst.
D-1
The tickets and timings arrived on the mat the day before the tour was due to depart. This was because RAILTRACK were late in timing the train, and indeed the ECML section had not yet been timed, therefore we were supplied only with estimated return timings. Not ideal. The letter also confirmed the gen that I had received previously, however the good news was that the big track seemed OK, and the only major change was that the destination had been swapped from Stirling to Edinburgh. An excellent move by Pathfinder. It meant that we would still get a break for something to eat, and still get back at a decent hour, and to top it all the only track that was to be missed was common passenger track anyway. Things were looking good.
The engine gen at this time was: 08577 in Tyne yard. 60096 to Millerhill. And the rest was unknown.
D
The engine gen on the afternoon of the tour was: 66200* 92??? 37418+427 60100 90141 08577 56037
*Earlier in the day 56051 was allox, not 66200, now the circumstances behind this change all smell as fishy as a bucket of Mackerel to me, but for obvious reasons I will move on with no further comment.
A 40min car drive from Selby saw me arrive at Sheffield station just before the tour at 22:35 on the Friday. 66200 rolled in on time with a few people on the "ECS". This was possible because Pathfinder had allowed people to travel on the positioning stock move from Crewe to Sheffield for £5. I boarded the train and found my seat, which was located in the second coach behind the engine. I opted for the first class option with it being an overnight trip, and was pleasantly surprised by how well done out the carriage was. Some of the other first class carriages were rather tatty in comparison.
So, sat back and relaxed, we sped southwards through the darkness. (The route can be determined from the timings sheet provided by Gary, therefore I will assume you will know the booked route of the tour.) We passed from Friday into Saturday around the Loughborough area. The only points between Sheffield and Crewe worthy of a mention are:
We were routed via the wrong line between Nuneaton and Daw Mill crossover, passing a Turbostar that was on the right line, maybe the Turbostar had failed?
37428 was stood amongst the other engines on Saltley.
The booked route through Stafford Royal Mail platform was covered in a smooth non-stop move. Some gen was updated enroute, and that was that the 92 would be 92016. There had been some gen that it would be 92032 as this was coupled to 47781 at Crewe, however this was a red herring as this 47 had just dragged that 92 to Crewe for attention. Also the ELR was holding its diesel week, and 57009 and 47052 were allox to take part. These were replacements for an unavailable 66/5. Freightliner could not supply a 66/5 because their new arrivals were not yet passed for traffic, and indeed our tour passed them all lined up in Basford Hall yard.
Arrival in Crewe was early, no surprise there as we had been given 4 hours 40 min to cover just 152 miles. Even Del Boy's van could have kept up with those timings! These slack timings did not prove to be a pain though, as when we were stood waiting time it was always at a station platform so people could get off, stretch their legs, get some night photos etc. 66200 was uncoupled from the front of the train and departed L/E northbound disappearing into the darkness, then 47749 came out of the darkness dragging 92016 and was coupled to the train and then shut down.
With the PU points now behind us, we stormed on towards Carlisle, deviating only to cover the booked route through the Warrington Royal Mail platform. When I say stormed, I mean stormed. I thought the 92 was going to shake the stock apart as we raced up the WCML at daybreak. I managed to get some sleep only to wake as we slowed for Carlisle. Here the 47 was started up to provide some ETH, and the stock was watered during our 1-hour layover.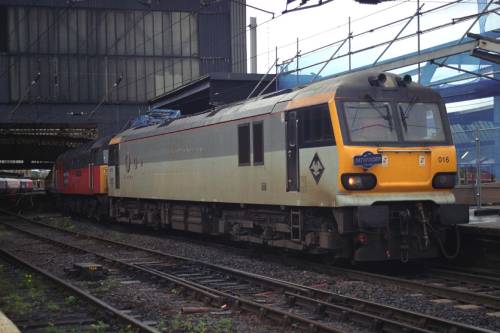 92016 & 47749 see the day in at Carlisle (photo: Gary Thornton)
The station played host to 3x66 1x86/87/90. Back on board and it was off into Scotland and more sleep for me. This time I awoke as we stormed through Carstairs. I stayed awake, even though my body didn't like it, as I wanted to view our passage through Shieldmuir Royal Mail platform. This was done, again non-stop with apparent ease. 3 Royal Mail terminals down, 2 to go!
We came to a stand in Braidhurst loop for our booked engine change from 92+47 to 2x37. Braidhurst loop is along side Motherwell depot, and 33019 37054/409/410/423 90018/020/021/022 and loads of 66's etc were visible on the shed. The gen was that our tour was allox 37418+427 forward, however that pair had been reallocated to a SRPS tour to York during the night, therefore our tour produced the surprise pair 37411+419. This was a disappointment as although we were resigned to the fact that we were going to get an ETH pair, we still hoped that it would be a "Scottish pair" i.e. 37405 etc.
The other gen for Saturday 08th July at 09:00 was:
37405 on Royal Scotsman.
37408 on Fort Bill sleeper.
37418+427 on the SRPS tour to York.
47052+57009 0Z52 (L/E to the ELR)
47709 1M02
47712 1E31
47741 1C05
47742 1O71
56103 1Z38 (Our tour! So this was in place of the previously quoted 56037)
66074 on the Harry Potter book special
66247 on the HRT to Lancaster.
So with the engine change completed ahead of time, Pathfinder contacted control to request an earlier slot to Edinburgh to allow us to have a longer break there. This was granted, and we were on our way. Another Brownie point for Pathfinder! Now 37's are my favourite locos, and everyone must have experienced a Scottish driver thrashing a 37/4 in Scotland. In my days of doing the WHL etc behind 37/4's I thought that the driver's handbook must have been a book of empty pages, save for one line of text on the first page which read, "When faced with a signal to proceed, apply full thrash". End of handbook. Our driver must have been from Tilbury; he drove like a girl. Honestly, 2x37 on the front, green aspects, and I was in the second coach from the front and the 66 during the night was louder! So after a dull ride, losing our 15min advantage in the process, we arrived in Edinburgh at the booked time. What a wasted opportunity.
With everyone grateful of the break, people dispersed in different directions, with most of us going straight to Princess Street for some breakfast under fine weather. Back at the station 60100 arrived L/E and was coupled on to the rear of the train. 90026 was in the bay platform having worked up on the sleeper, and 37405 was present with the Royal Scotsman luxury train.
We departed on time behind 60100 with the 37/4's DOR still on the train, via the suburban lines to Millerhill yard. Most people required 60100, it had worked before on a HRT trip in South Wales, but most of us were on a Pathfinder train that day! So 60100 was much appreciated.
The trip via the suburban line was slow to start with, but then when the temporary speed restrictions were behind us, the 60 shot round the Edinburgh suburbs like a roller coaster. A very good run was enjoyed, slowing only as we approached Millerhill yard.
Millerhill yard was an excellent coup by Pathfinder. In the past they have had their requests to cover this track denied, as have many other operators. However, Pathfinder persevered, and this day got their reward. Millerhill hosted 6x66 2x47/7 and 5x37 including 37097/405/520/698. The Royal Scotsman was parked in a siding having travelled ecs from Edinburgh. We were booked to lose the 60 and the 37's here in favour of 90141, and this happened, the only problem being that we were given 1 hour and 13 minutes to do this! Well this isn't quite true, I am sure the booked engine change time was a lot shorter, however we were held to wait for our slot on the fast and busy ECML. A little a head of time we crept out of the yard, to wait at the signal that gave us permission to join the ECML. Millerhill yard track was in the bag, and I was very pleased.
RAILTRACK may have been delayed in timing our 1Z38 down the ECML, but what a fantastic job they did. Our passage down the line was like a well-oiled machine. Timed to perfection. Picture the scene, we are storming down the up fast behind 90141, bang on time we enter Wooden Gate Junction loop (Actually it was Chevington UPL we'd gone into - we were running early) to allow a GNER service to pass, bang on time it appears and storms past, and then we are away again straight out behind it and storming south. After a crew change at Newcastle we headed for Tyne yard, and came to a stand in the south siding. Amongst the locos at Tyne Yard was 90031 sporting its new EWS livery ready to receive its new name at the Old Oak Common open day. A surprise was in store for us as 09023 was coupled to the back of the train instead of the expected 08577. It was still a winner, and proceeded to drag us back north and into the Tyneside Royal Mail platform. More required track in the book!
The gronk was then uncoupled from the now back of the train, and we regained the up fast on the ECML again behind 90141. Still the timings were spot on as we passed 47712 on 1E31 at Durham. Another slick move was made at York; we moved over on the up slow in order to travel through the yard, a GNER service (91028) overtook us on the up fast, we then passed through the yard non-stop on greens all the way, overtaking 91028 that was now stopped in the platform in York station. 37418+427 stood on the ecs of the SRPS tour, and a single virgin HST power car on a wheel skate (43121) were spotted in Holgate sdgs. As we accelerated on the up Leeds line 91028 overtook us again on the up main, and then we were switched in behind it to travel on the up main to Doncaster. All of the moves were done non-stop, a fantastic job.
At Doncaster we were routed via the two-way goods line, and along with the demic 20's and 37's in the works yard were 66059/061/152/157/168 in for cab modifications. Next, the down/up west slow was taken and then into the Doncaster Royal Mail platform. I was hoping to cover the up west reception line round the back of Belmont yard in order to access the Royal Mail platform, but this wasn't to be. A shame as that is very big track. Stood waiting for us was 56103 that dropped on the back of our train after we came to a stand. 90037 stood alongside us in the bay platform L/E. We left 90141 behind and headed for Sheffield via the rare but dud Bridge Junc. curve with 56103 providing the power. The entire booked freight track had been covered, and considering the complex itinerary, that was no easy task!
It was a very pleasant evening as 56103 thrashed and clagged its way home, taking me back to Sheffield station a little ahead of time. I alighted from the train, got in the car, and arrived home at 19:45 a very happy man. The entire booked track was covered, I scored the engines that I expected to score, and the tour ran to time.
In Summary: An Excellent tour, Pathfinder is back in pole position.
Ian Loveday (Selby)
...and, to wind up, another short review by a passenger who was on board from Sheffield to Nuneaton only, Melvin Teale;
A rather cool (for July) Friday evening found me on Sheffield station awaiting what should have been a nostalgic run down the Midland Main Line with a "peak". Nevertheless, most of us already knew that Ixion was still under repair and so a "shed" was to be the substitute. As it turned out the 66 performed rather well with sustained gains on the schedule. At 22.34, some 8 minutes earlier than planned, a big red 66200 trundled into Sheffield Midland platform 6, even though it had reportedly left Crewe some 25 minutes down; being rather boringly routed via Derby, Chesterfield and the "old road", to be facing in a southerly direction at Sheffield. We left bang on time at 22.53, passing various northbound Midland 125s, which had apparently being delayed by a freight train failure in the Leicester area, between Sheffield and Chesterfield. We arrived at Chesterfield some 3 minutes up, and then made a spirited run to Toton, where we came to a dead stop some 7 minutes before schedule. This good news for the spotters on board was somewhat tainted by the fact that 08528 and a rake of coal hoppers had thoughtlessly paused between us and the locos! After a 2 minute pause a further "thrash?" saw us arriving at Leicester some 10 minutes early!
Engines seen were-
Toton- 08528 (passing), Shed- 66165, 58043, 58019, 66026, 37042, 37045 and 60009
Leicester - Shed- 66141, 60042, 60086 and 60011. Passing- 66201.



Timings (Booked & Actual)
Thanks to Phil Pearson, here are the actual times for the "ECS" move to Sheffield. Please use the "back" button to return to this page. Below are the main tour times :
M.C
Location
Booked
Actual
0.00
Sheffield
22.53d
22.53
3.70
Dore Station Jn
23/01
23/00
12.20
Chesterfield
23.10a ~ 23.11d
23.07 ~ 23.12
16.30
Clay Cross South Jn
23/18
23/17
24.51
Pye Bridge Jn
23/27
23/25
28.51
Langley Mill
23/32
23/29
33.31
Trowell Jn
23/41
23/34
36.56
Toton Centre
23/43
23.36a ~ 23.38d
39.24
Trent South Jn
23/50
23/43
46.74
Loughborough
23/58
23/50
54.42
Syston South Jn
00/07
23/59
59.33
Leicester
00.13a ~ 00.17d
00.03 ~ 00.17
62.49
Wigston North Jn
00/25
00/23
74.00
Hinckley
00/40
00/35
78.19
Nuneaton
00.51a ~ 00.55d
00.45 ~ 00.57
88.63
Whitacre Jn
01/10
01/17
91.48
Water Orton
01/18
01/23
97.54
Landor Street Jn
01/32
01/31
99.19
Birmingham New St
01.38a ~ 02.00d
01.38 ~ 02.00
101.20
Soho South Jn
02/06
02/05
102.78
Galton Jn
02/08
?
106.43
Dudley Port
02/15
02/10
112.03
Wolverhampton
02.24a ~ 02.29d
02.19 ~ 02.34
113.57
Bushbury Jn
02/34
02/37
127.34
Stafford Royal Mail Platform
02/56
02/52
132.63
Norton Bridge
03/05
02/59
143.65
Madeley
03/15
??/??
150.07
Basford Hall Jn
03/27
03/14
151.71
0.00
Crewe
03L30a ~ 03L55d
03.19 ~ 03.55
8.66
Winsford Signal Box
04/04
04/06
17.20
Weaver Jn
04*11a ~ 04*25d
04/12
22.24
Acton Grange Jn
04/30
04/16
24.11
Warrington Bank Quay
04/32
04/18
?
Warrington Royal Mail Platform
04/36
04.23a ~ 04.25d
27.47
Winwick Jn
04/41
04/28
35.71
Wigan North Western
04/49
04/38
43.42
Balshaw Lane
04/59
04/44
45.44
Euxton Jn
05/01
04/46
51.01
Preston
05/16
04/51
71.79
Lancaster
05/33
05/11
73.71
Morecambe South Jn
05/35
05/12
78.07
Carnforth South Jn
05/39
05/15
91.07
Oxenholme Lake District
05/49
05/24
103.56
Tebay
06/00
05/36
123.19
Penrith
06/16
05/51
141.08
Carlisle
06p33a ~ 07p09d
06.08 ~ 07.09
149.65
Gretna Jn
07/17
07/17
166.74
Lockerbie
07/33
07/29
180.48
Beattock
07/45
07/40
190.72
Beattock Summit
08/02
07/48
198.78
Abington
08/10
07/54
214.61
Carstairs
08/25
08/06
217.16
Lanark Jn
08/31
08/08
225.17
Law Jn
08/40
08/14
?
Shieldmuir Royal Mail Platform
08/45
08/22
230.48
Motherwell
08/54
08/32
231.30
0.00
Braidhurst Loop
08L57a ~ 09L23d
08.37 ~ 09.08
0.71
Mossend South Jn
09/26
09/12
1.22
Mossend East Jn
09/27
09/13
2.19
Holytown Jn
09/29
09/15
11.75
Benhar Jn
09/46
09/29
23.76
Midcalder Jn
10/01
09.41a ~ 09.53d
33.25
Slateford Jn
10/09
10/04
34.51
Haymarket
10/11
10/08
35.70
0.00
Edinburgh Waverley
10L14a ~ 11L26d
10.13 ~ 11.26
1.19
Haymarket
11/29
11/30
1.66
Haymarket Central Jn
11/31
11/32
2.17
Gorgie Jn
11/32
11/33
2.72
Craiglockhart Jn
11/36
11/35
8.05
Niddrie West Jn
11/45
11/44
8.60
Niddrie South Jn
11/47
11/46
9.56
0.00
Millerhill Yard
11L50a ~ 13L03d
11.51 ~ 12.49
2.07
Monktonhall Jn
13/09
12.58a ~ 13.09d
13.52
Drem
13/19
13/23
24.77
Dunbar
13/29
13/31
37.06
Grantshouse
13/44
13/41
43.06
Reston
13/50
13/46
53.28
Berwick-upon-Tweed
13/59
13/53
?
Belford LC
14/12
14/06
85.39
Alnmouth
14/25
14/18
?
Wooden Gate Jn
14*27a ~ 14*37d
14/20
?
Chevington UPL
?
14.29a ~ 14.38d
103.58
Morpeth
14/52
14/51
118.34
Heaton South Jn
15/08
15/07
120.28
Newcastle
15*14a ~ 15*18d
15.14 ~ 15.19
121.02
King Edward Bridge South Jn
15/21
15/22
123.07
Low Fell Jn
15/24
15.27a ~ 15.28d
123.50
0.00
Tyne Yard
15L28a ~ 15L48d
15.34 ~ 15.41
0.43
Low Fell Jn
15/55
15/45
1.13
0.00
Tyneside Royal Mail Platform
15L58a ~ 16L08d
15.51 ~ 16.00
0.50
Low Fell Jn
16/12
16/04
2.08
Birtley Jn
?
16.06a ~ 16.16d
11.74
Durham
16/29
16/29
21.70
Ferryhill South Jn
16/39
16/39
33.77
Darlington (up main)
16/49
16/48
48.11
Northallerton
17/01
17/00
55.71
Thirsk
17/08
17/06
68.47
Tollerton Jn
17/19
17/16
76.36
Skelton Jn
17/28
17/26
77.61
York Yard South Jn
17/31
17/28
83.11
Colton Jn
17/39
17.37a ~ 17.38d
92.00
Hambleton North Jn
17/43
17/46
96.74
Temple Hirst Jn
17/48
17/50
103.74
Shaftholme
17/55
17/58
108.13
Doncaster (2 way goods 1)
17/59
18/04
109.77
Decoy North Jn
18/02
18/09
110.29
0.00
Doncaster Royal Mail Platform
18L06a ~ 18L26d
18.11 ~ 18.24
1.57
Bridge Jn
18/38
18/28
3.35
Hexthorpe Jn
18/42
18.34a ~ 18.35d
8.40
Mexborough
18/47
18/43
100.71
Thrybergh Jn
18/50
18/47
12.69
Aldwarke Jn
18/51
18/48
15.71
Holmes Jn
18/58
18/52
17.62
Wincobank Jn
19/03
18/55
20.74
Sheffield
19*09a ~ 19*20d
19.02 ~ 19.10
24.64
Dore Station Jn
19/28
19/18
33.14
Chesterfield
19.38a ~ 19.40d
19.29 ~ 19.32
37.24
Clay Cross South Jn
19/46
19/37
45.45
Pye Bridge Jn
19/55
19/45
49.45
Langley Mill
19/59
19/48
54.25
Trowell Jn
20/08
19/52
57.50
Toton Centre
20/14
19/54
60.18
Trent South Jn
20/22
20/09
67.68
Loughborough
20/35
20/16
75.36
Syston South Jn
20/45
20/23
80.27
Leicester
20.55a ~ 20.57d
20.31 ~ 20.33
83.43
Wigston North Jn
21/04
20/39
94.74
Hinckley
21/24
20/54
99.13
Nuneaton
21.34a ~ 21.36d
21.02 ~ 21.11
109.57
Whitacre Jn
21/51
??/??
112.42
Water Orton
21/56
21/32
118.48
Landor Street Jn
22/03
21/42
120.13
Birmingham New Street
22.08a ~ 22.13d
21.57 ~ 22.13
122.14
Soho South Jn
22/18
22/20
123.72
Galton Jn
22/20
?
127.37
Dudley Port
22/25
22/25
132.77
Wolverhampton
22.33a ~ 22.36d
22.33 ~ 22.36
134.51
Bushbury Jn
22/42
22/39
148.28
Stafford
22*55a ~ 23*02d
22.52 ~ 22.55
153.57
Norton Bridge
23/10
23/02
164.59
Madeley
23/20
23/11
172.65
Crewe
23.30a
23.20