1st July 2000
Vintage Trains
(Birmingham to Poole)
| | |
| --- | --- |
| Locos Used | 47575 & steam: 35005 'Canadian Pacific' |
| Stock Used | 35470+??? |
Route : 1Z60 throughout
| | |
| --- | --- |
| Loco | Route |
| 35005 | Birmingham Snow Hill – Birmingham Moor Street – Tyseley – Solihull – Dorridge – Leamington Spa – Banbury – Oxford – Didcot Parkway – Reading West Jn – Southcote Jn – Basingstoke - Winchester - Eastleigh |
| 47575 | Eastleigh – Southampton Central – Brockenhurst - Bournemouth - Poole |
| 35005 | Poole – (reverse of outward route) – Birmingham Snow Hill |
Notes :
(1) Gordon Jakes comments: Problems with watering 35005 at Oxford UDPL caused a loss of path on the outward journey but 35005 made up some time and was less than 20 minutes late at Eastleigh. 35005 was detached at Eastleigh in the outward direction in order to facilitate servicing and turning. Some high speed running was experienced on the return journey north of Oxford but eventually this was to no avail as service trains prevented an early arrival. The commentary provided by Vintage trains quoted that a total of 307 miles was covered behind 35005 involving the consumption of around 8 tons of coal and 18,000 gallons of water! An excellent day out with 35005 at its best.
Source : Gordon Jakes (on the train throughout)



Photo Review
(all photos: Gordon Jakes)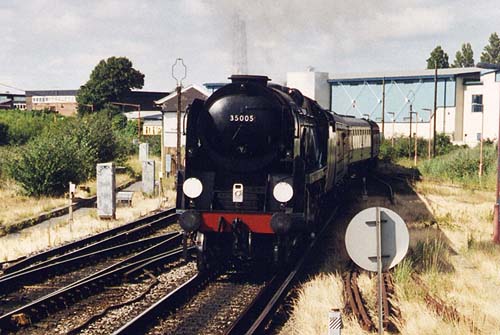 35005 enters Poole station with the train, prior to starting the return journey.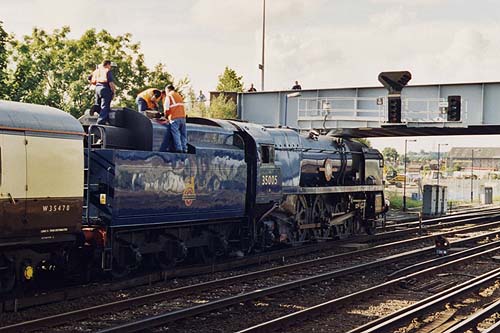 35005 during the watering stop at Eastleigh, en-route homewards.


Timings (Booked & Actual)
(from Gordon Jakes)
M.C
Location
Booked
Actual
Booked
Actual
0.00
Birmingham Snow Hill
07.56d
07.56
22.39a
22.36
0.50
Birmingham Moor Street
07/59
?
22/36
?
2.57
Small Heath South Jn
08/03
?
22/33
?
3.31
Tyseley
08.06a ~ 08.09d
?
22.25a ~ 22.28d
??.?? ~ 22.25
7.11
Solihull
08.15a ~ 08.18d
?
22.15a ~ 22.18d
22.12 ~ ??.??
10.41
Dorridge
08.24a ~ 08.27d
?
22.05a ~ 22.08d
22.03 ~ 22.05
16.65
Hatton North Jn
08/38
?
21/56
?
17.22
Hatton
08/39
?
21/55
?
23.29
Leamington Spa
08/48
08/48
21/47
21/45
34.40
Fenny Compton SB
09/02
09/03½
21/35
?
43.20
Banbury
09.18a ~ 09.20d
09.18 ~ 09.20
21.20a ~ 21.23d
21.11 ~ 21.13
48.34
Aynho Jn SB
09/29
09/29
21/12
21/05½
54.15
Heyford
09/36
09/36
21/06
?
63.04
Wolvercot Jn
09/46
09/46
20/55
?
65.75
Oxford
09.53a ~ 09.55d
09.53 ~ 09.55
20.46a ~ 20.49d
20.46 ~ 20.47
66.36
Oxford UPL
09w58 ~ 10w20
??.?? ~ 10.50
20w02 ~ 20w43
19.56 ~ 20.43
75.36
Didcot North Jn
10/34
11/01
19/45
?
76.26
Didcot Parkway
10*37 ~ 10*40
11.04 ~ 11.06
19*40 ~ 19*42
19.32 ~ 19.35
92.40
Reading West Jn
11/03
11/27
19/11
19/11
93.76
Southcote Jn
11/06
11/29
19/08
19/07
102.65
Bramley
11/17
11/37
18/58
?
107.53
Basingstoke
11/25
11/44
18/50
18/52
110.13
Worting Jn
11/29
11/48
18/45
18/42
126.29
Winchester
11/45
12/03
18/18
18/23
?
Shawford
?
? [SL]
?
?
133.27
0.00
Eastleigh
11L56 ~ 12L16
12.15 ~ ??.??
17w44 ~ 18w04
17.46 ~ 18.05 [SL]
5.63
Southampton Central
12/26
??.?? ~ 12.55
17/32
??.?? ~ 17.33
8.35
Redbridge
12/32
?
17/25
?
19.31
Brockenhurst
12/47
13/16
17/14
?
24.47
Bournemouth
13.08a ~ 13.11d
13.42 ~ ??.??
16.51a ~ 16.54d
?
37.16
Branksome
13/16
?
16/47
?
40.27
Poole
13.21a
?
16.40d
16.39