2nd June 2000
VSOE (Northern Belle)
Birmingham Lunch Excursion
| | |
| --- | --- |
| Loco Used | 55019 |
| Stock Used | 6310+3174 "Glamis"+3182 "Warwick"+1566+3267 "Belvoir"+3273 "Alnwick"+1953+ 3275 "Harlech"+3247 "Chatsworth"+17167+10729 |
Route :
Birmingham International - Stechford - Aston - Bescot Stadium - Wolverhampton - Bushbury Jn - Stafford - Norton Bridge - Crewe - Chester - Wrexham General - Shrewsbury - Wolverhampton - Bescot Stadium - Aston - Stechford - Birmingham International
Source : Gary Thornton (on the train throughout)



Tour review
(by Gary Thornton)
A completely different day out for me! A while ago a friend of mine experienced a not-so-good outing with Regency Rail and by way of compensation he was offered two complimentary tickets for a future tour. I was the lucky recipient of the other ticket. I can honestly say this is the first railtour ever that I've turned up for dressed in a suit and tie!
This particular trip was the first public run for the new Venice Simplon Orient-Express "Northern Belle" train service. Being as the start point was local to both Ralph and myself, we chose this outing to use the tickets that Ralph had been given. We were both hoping for it to be Deltic hauled and were pleased to hear a few days before that it was indeed booked to have 55019 "Royal Highland Fusilier" at the helm.
With departure from Birmingham International at 11.45 it meant a nice lazy start for me. A walk to my local station saw me on the 09.48 service which arrived into International about 10.30, allowing time to view a few trains. Stunned to see that about half of the station canopy at Rugby has been removed!
Shortly after I got to International and 55019 appeared with the stock and rolled into platform 1. Whilst waiting for "RHF" to run-round I was a little surprised to see a Freightliner 66/5 running in "light-engine". I was rather pleased though to see it was 66504, my last one for sight! Ralph appeared about this time so we nattered whilst watching RHF pottering about the station. Took a couple of photos then wandered over to get on the train.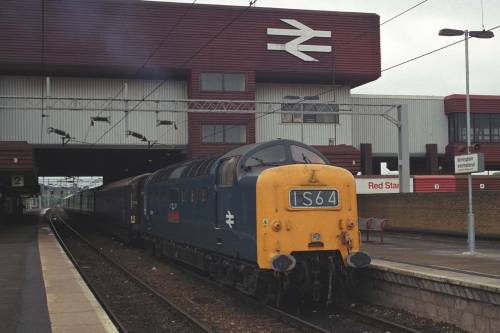 55019 backs on to the stock after running round (photo: Gary Thornton)
Being "sold" as the Orient Express, it would be expected that the standard of service would be very high - and we weren't disappointed. Approaching our carriage ("Warwick") we were met at the door by a steward and shown to our seats. A few seconds later and a waiter came to see us settled in and then another appeared to fill our champagne glasses. There was a plate of canapés for us to nibble on too. Now this I could get used to!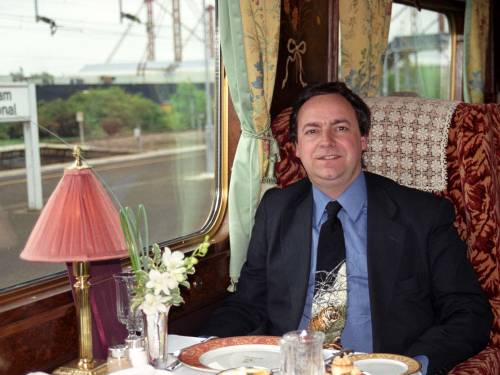 I think this is the one & only time I've ever worn a suit on a railtour!
Departure from International was dead on time at 11.45 and we headed off northwards. The tour had a very slack schedule (why rush with this level of service?) so 55019 was not exactly tested. We turned off at Stechford and headed for Bescot Stadium via Aston. Passing the Alstom works (former Metro-Cammell) we were amazed to see the sidings absolutely crammed full with new vehicles. Also noticed was the vestibule end of a Channel Tunnel Sleeper coach - was it a full carriage bodyshell in process of being cut up we wondered??
Nothing much to see passing through Bescot. Unusually we were routed to Stafford via Wolverhampton station rather than "direct" via Portobello Junction. From Stafford we were on the slow line to Crewe and this was taken quite slowly. We were stopped for a short while approaching the station, then at the station too. Only "spot" of any note was 67009 in the station. 57011 was also noted running in.
What am I doing - here's me rambling on about what was to be seen outside the carriage window when I really should be describing what we were enjoying eating!
Our starter sounded somewhat different ~
Chilled Champagne and Strawberry Soup
First surprise when it arrived was that it was cold. The soup was ladelled into the bowl then some champagne poured over the top. I can assure you however that it tasted absolutely superb.
I opted for red wine to go with the main course :
Pan Seared Breast of Guinea Fowl Stuffed with Sage and Apple, Buttered Pencil Asparagus, Medallion of Roast Potato, Roast Yellow and Red Pepper, Sweet Port Sauce
....again, superb. Ralph had opted for the vegetarian option and also said that that it was very good.
The level of service was impeccable - the wine glass was kept topped up throughout and the waiters were never intrusive.
Next came :
Brown Sugar Meringue Nests with Raspberries and Blueberries Served with a Pestachio Cream
By this time we were on our way towards Chester, passing the loco works as we left Crewe (I raised my wine glass to you as we passed your office Bruce!). After Chester we headed for Wrexham then Shrewsbury. The only unexpected event of the day occurred just after Eyton Level Crossing when we made an emergency brake application from about 30mph. Luckily there was nothing to wet or messy on the table at the time! Ralph got up to go to a door window and confirmed that 55019 was sitting with both engines dead. This sounds like a repeat of the two occasions on the DPS tour on 13th May when we stopped suddenly - I suspected a fuel starvation problem then, but now presume it must be something else as the fuel gauge was on 750 gallons at International.
After a few minutes we were on the move again, continuing to amble through Shrewsbury and onward to Wolverhampton. By now we'd moved onto :
Selection of Great British Cheeses with Home-made Chutney and Warm Parmesan Bread
...and also fresh honey. This was then followed by :
Coffee from Columbia and Bendicks Bittermints
Hmmm... After all that plus numerous glasses of wine I was felling quite mellow!
From Wolverhampton we re-traced our outward route back to Birmingham International where we arrived just after 5pm. I had no time to view 55019 as right behind us was a Silverlink service to Northampton!
Verdict : What can I say? Good food, wine and superb service - all in coaches that are probably the most luxurious in the UK at the moment. Simply a great day out (and all the better for being free too!).
Gary Thornton.
No timings provided - and I was too busy eating and drinking to consider noting any down!



Back to "The Railtour Files"