14th May 2000
Pathfinder Tours
The Torbay Quarryman
| | |
| --- | --- |
| Locos Used | 31601, 31602, 66009 & 66108 |
| Stock Used (3) | 4902+5040+4927+5009+1863+21272+3140+3098+17159 |
Route :
1Z36 Crewe to Newton Abbot
1Z36 Newton Abbot to Meldon Quarry
1Z37 Meldon Quarry to Paignton
1Z38 Paignton to Crewe
| | |
| --- | --- |
| Loco(s) | Route |
| 31601 + 31602 | Crewe - Stafford - Bushbury Jn - Bescot Stadium - Aston - Proof House Jn - Birmingham New Street - Selly Oak - Barnt Green - Bromsgrove - (direct route) - Cheltenham Spa - Yate - Bristol Parkway - Filton Jn - Bristol Temple Meads - (direct route) - Tainton - Exeter St Davids - Newton Abbot |
| 31601 + 31602 | Newton Abbot - Exeter St Davids |
| 66009 (1) | Exeter St Davids - Okehampton - Meldon Quarry |
| 66108 (2) | Meldon Quarry - Okehampton - Exeter St Davids - Newton Abbot - Paignton |
| 31601 + 31602 | Paignton - Newton Abbot - (reverse of outward route) - Crewe |
Notes :
(1) 66108 on rear.
(2) 66009 on rear.
(3) Mike Hunt questions the coaching stock listed above; at Newton Abbot he noted the following in the rake - 3150+3107+3115+3149.
Sources : Richard Hughes (joined/left train at Birmingham New Street) & Mike Hunt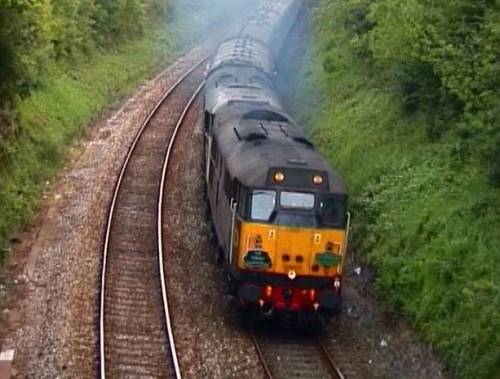 31601 & 31602 at Torre on the Paignton branch on the return leg of the tour.
(photo : Steve Marshall, Globe Videos).


Tour Review
(by Richard Hughes)
Sleep, a friend of mine says, is vastly overrated. So why not book on two tours in one weekend? You can always bank on the advertised starting and finishing times as being absolutely reliable, can't you? I already knew that the Pathfinder tour was due back in Crewe well after midnight, over an hour later than originally advertised, so I wouldn't be getting an awful lot of zeds on Sunday night, after making my way home to Blackpool, before having to get up at 6.00 for work. It would have been nice, therefore, to have an early night on Saturday. However, the best made plans of mice and men.....
So this episode really begins on the Saturday, on the DPS tour (see Gary's review for an explanation of the farce near Leeds). An enjoyable day, with exemplary timekeeping, so good in fact, that I decided not to leave the train at Manchester Victoria (and get home early), but to carry on via Wakefield and Sheffield to Stockport, where I naively assumed that the plus 10 connection for my last train home would be safe. So of course some deity watching over the world contrived to make the Deltic 50 minutes late, as I should have been able to predict. The upshot of all this was that my DPS-member chum Nick and I had to get a taxi to his house in Leyland, arriving about 01.00, and I had to spend a semi-comfortable night sleeping on his couch.
Next morning, my thoughtful host provided me with breakfast, and even made me some sandwiches for the day ahead. Before long two reprobates were hammering on the door, Chris and Steve, who completed our party for the tour, and we were soon being driven by Chris along the M6 bound for Crewe. A gloriously sunny day and a pair of 31s at the head of your train ought to cheer anyone up, and so it was at Crewe, where Fragonset engines 31602 + 31601 stood gleaming in the sunshine. Do black engines gleam? Anyway, use your imagination. We departed 2 minutes late at 08.13, and thrashed out of Crewe in a southerly direction.
A glance at the timing sheet confirmed my suspicion that the schedule was even slacker than the normal generous railtour allowances, but no-one seemed to have told the driver, who was apparently determined from the outset to see what his engines could do. There was a slowing at Norton Bridge, where two 66s and a 60 on ballast duties were passed, but subsequently a clear road and high speed running resulted in waiting time at every pick-up point. At Birmingham, we were even given the road ahead of a Manchester - Plymouth Virgin Cross-Country train. Stops of 10 minutes or more at stations gave those who wanted plenty of time to take a few photographs. At Cheltenham, whilst waiting for departure time, the Virgin train could be seen behind us waiting to get into the station, and as it was by now clear that we were holding it up, I presumed we would be looped at Barnwood Jn to let it past, but we were inexplicably allowed ahead of the VXC train all the way.
We sped ever southwards, with a faultless performance from the engines, in brilliant sunshine until approaching Exeter, when it became suddenly very misty, and remained so for the rest of the journey to Newton Abbot. We arrived 7 minutes early, despite a 3 minute stop outside the station. Shortly afterwards, the VXC train which had followed us all the way from Birmingham finally managed to get past our train. I wonder how many times I've sat on a motionless railtour waiting for an all-shacks unit to stagger out of the way, and now, when it wouldn't have delayed the tour at all to have let this class 1 train ahead, a crankex was allowed to delay the service train considerably. Any kind of logic there?
Newton Abbot was playing host to a Festival of Transport, with all sorts of attractions, and displays of transport of varying kinds reportedly scattered around town, including kettles working shuttles on the Heathfield line and, of course, the Torbay & Dartmouth Railway. I'm afraid steam never held much attraction for me, I'm more of a diesel man, but a brand new Class 67 on show at the station was nearly enough to make me change my mind. Don't get me wrong, I'm not a Luddite who declares anything new to be A Bad Thing, but, well, why do these things have to be so ABSOLUTELY HIDEOUS? I'm sure there's a very good technical reason for it, but they are.
Giving the festival a miss, we were stopping aboard for a run to Meldon Quarry, with, we had been promised, a 60 and 66 top & tail. Pathfinder's letter though, had informed us that a 60's RA is too high for the branch, and we would be getting a 37 instead, acceptable to most on board. 37673 had been quoted earlier on, but it was not to be. The 31s took us back to Exeter, and back into the sunshine, and were replaced by 66009 on the front and 66108 at the rear. Some people were a trifle miffed by these locos, but I was quite happy to accept two scratches, because at least the high mileage runs were with the 31s, just the way I like it. 66009 hauled the train with quiet efficiency (very quiet) along the branch, a pleasant ride through some pleasant scenery, all very, err... pleasant. My colleagues all needed the line, but I'd done it twice before, well-seasoned traveller that I am. I can't be certain, but I don't think we reached quite as far on this occasion, reversing somewhat short of the end of the line. Now it was 66108's turn in the limelight, as we retraced our route back to Exeter, running through non-stop, and back towards Newton Abbot.
The tour itinerary said that we would be turfed off the train at Newton Abbot, for the stock to run ECS to Paignton, but an announcement that the headcode for this section had been amended to class 1 and that we could therefore stay aboard, was unanimously welcomed. Once again, shortly after Exeter, bright sunlight gave way to a thick mist, which enshrouded us all the way to Paignton. Another P.A. announcement after stopping at Newton Abbot for a few minutes apologised for the delay at the station, and said that this was due to "platform staff incompetence". Whatever happened to diplomacy? We used the hour or so break in foggy Paignton to grab a bite to eat, and observe a 159 DMU and a kettle special both depart towards Newton Abbot, before our train reappeared with 31601 + 31602 once again in charge.
Paignton was left bang on schedule, but there was a delay at Newton Abbot because of a missing guard, and an unscheduled stop at Exeter, putting us 22 minutes down at the latter station. Then we really got going, with some very solid thrash as we climbed towards Whiteball Summit. Once through the tunnel, speed reached a sustained high speed, until signal checks brought us down to a crawl at Taunton, where we were routed through a platform loop for no readily discernible reason. Recovering from the check, there was plenty more fast running, and we were back on schedule by Cheltenham, and climbed the Lickey at a 20 mph minimum. Despite a 7 minute stand outside Birmingham New St., we left there early, and arrived back in Crewe little more than an hour later, 12 minutes early despite more checks approaching the station.
All in all, a very entertaining day, with plenty of thrash, a couple of required locos, and a
bit of new track for my companions. And some very odd Devon weather. Just the small matter now of getting home (reached at 03.30!) and the minor inconvenience of work shortly afterwards. Sleep? Who needs it?


Timing's (Booked & Actual)
(from Richard Hughes)
31602 + 31601 Crewe to Newton Abbot and Paignton to Crewe
M.C
Location
Booked
Actual
Booked
Actual
M.C
0-00
Crewe
08.11d
08.13d
00.27a
00.15a
248-14
8-06
Madeley
08/22
08/24
00/17
?
240-08
19-08
Norton Bridge
08/33
08/32
00/08
23/52
229-06
24-37
Stafford
08.39a ~ 08.42d
08.38 ~ 08.42
23.59a ~ 00.01d
23.45 ~ 23.45
223-57
38-14
Bushbury Jn
08/58
08/57
23/46
23/30
210-00
40-62
Portobello Jn
09/02
09/00
23/41
23/26
207-32
43-61
Darlaston Jn
09/06
09/04
23/37
23/23
204-33
44-79
Bescot Stadium
09/07
09/05
23/34
23/21
203-15
49-36
Perry Barr N. Jn
09/18
09/12
23/25
23/17
198-58
51-58
Aston
09/22
09/15
23/20
23-13
196-36
53-58
Proof House Jn
09/27
09/18
23/17
23/10
194-36
54-34
Birmingham New Street
09.40d ~ 09.30a
09.22 ~ 09.40
23.03a ~ 23.14d
23.03 ~ 23.07
193-60
57-65
Selly Oak
09/47
09/47
22/51
22/46
190-29
59-79
Kings Norton
09/50
09/50
22/44
22/44
188-15
62-32
Longbridge
10/03
09/53
22/42
22-42
185-62
65-07
Barnt Green
10.07a ~ 10.10d
09.56 ~ 10.09
22.37 ~ 22.39
22.35 ~ 22.38
183-07
68-50
Bromsgrove
10/14
10/13
22/31
22/29
179-44
70-63
Stoke Works Jn
10/16
10/15
22/29
22/27
177-31
82-00
Abbotswood Jn
10/25
10/23
22/20
22/20
166-14
92-67
Ashchurch
10/33
10-31
22/11
22/11
155-27
99-78
Cheltenham Spa
10.42a ~ 10.48d
10.37 ~ 10.48
22.00a ~ 22.03
22.00 ~ 22.03
148-16
105-41
Barnwood Jn
10/54
10/54
21/53
21/54
142-53
106-28
Gloucester Yard Jn
10/55
10/55
21/47
21/53
141-66
112-38
Standish Jn
11/02
11/01
21/40
21/47
135-56
132-24
Yate
11/21
11/16
21/17
21/33
115-70
133-76
Westerleigh Jn
11/24
11/18
21/14
21/30
114-18
138-46
Bristol Parkway
11.30a ~ 11.35d
11.24 ~ 11.35
21.05 ~ 21.08
21.21 ~ 21.23
109-48
139-65
Filton Jn
11/37
11/37
21/02
21/19
108-29
143-62
Dr. Days Jn
11/43
11/43
20/56
21/12
104-32
144-28
Bristol Temple Meads
11.45a ~ 11.48d
11.45 ~ 11.50
20.47a ~ 20.54d
21.08 ~ 21.11
103-66
161-13
Worle Jn
12/05
12/06
20/30
20/51
87-01
164-06
Uphill Jn
12/07
12/08
20/28
?
84-08
171-27
Highbridge & Burnham
12/12
12/13
20/20
?
76-67
177-49
Bridgwater
12/17
12/17
20/15
20/40
70-45
184-11
Cogload Jn
12/23
12/22
20/10
20/34
64-03
189-14
Taunton
12/27
12/26
20/07
20/29
59-00
203-28
Tiverton Parkway
12/40
12/38
19/55
20/16
44-66
218-54
Cowley Bridge Jn
12/53
12/49
19/40
20/02
29-40
219-74
Exeter St. Davids
12/57
12/51
19/38
19.53a ~ 20.00d
28-20
230-36
Dawlish Warren
13/10
13/01
19/27
19/43
17-58
240-08
Newton Abbot
13.30a
13.23a
19.15a ~ 19.18d
19.15 ~ 19.31
8-06

-

Torquay
19/05
19/04
2-08

-

Paignton
19.00d
19.00d
0-00
31601 + 31602 Newton Abbot to Exeter St. Davids
| | | | |
| --- | --- | --- | --- |
| M.C | Location | Booked | Actual |
| 0-00 | Newton Abbot | 13.54d | 13.56d |
| 9-52 | Dawlish Warren | 14/03 | 14/08 |
| 20-14 | Exeter St. Davids | 14.16a | 14.19a |
66009 (+ 66108 dead on the rear) Exeter St. Davids to Meldon Quarry
| | | | |
| --- | --- | --- | --- |
| M.C | Location | Booked | Actual |
| 0-00 | Exeter St. Davids | 14.48d | 14.49d |
| 1-20 | Cowley Bridge Jn | 14/52 | 14/53 |
| 6-76 | Crediton | 15.00a ~ 15.00d | 15.05 ~ 15.05 |
| 24-75 | Okehampton | 15.37a ~ 15.40d | 15.44 ~ 15.46 |
| 26-57 | Meldon Quarry | 15.50a | 15.55a |
66108 (+ 66009 dead on the rear) Meldon Quarry to Paignton
| | | | |
| --- | --- | --- | --- |
| M.C | Location | Booked | Actual |
| 0-00 | Meldon Quarry | 15.57d | 16.05d |
| 1-62 | Okehampton | 16.05a ~ 16.08d | 16.13 ~ 16.14 |
| 19-61 | Crediton | 16.43a ~ 16.43d | 16.49 ~ 16.49 |
| 25-37 | Cowley Bridge Jn | 16/53 | 17/00 |
| 26-57 | Exeter St. Davids | 16/56 | 17/03 |
| 37-19 | Dawlish Warren | 17/08 | 17/13 |
| 46-71 | Newton Abbot | 17.20a ~ 17.25d | 17.25 ~ 17.32 |
| 52-69 | Torquay | ? | 17/47 |
| 54-77 | Paignton | 17.48a | 17.53a |