6th May 2000
Pathfinder Tours
The Oil Leake
| | |
| --- | --- |
| Locos Used | 47780, 56131 & 58016 |
| Stock Used | 4939+4946+5008+4916+4996+1813+35469+3144+3100+3110 |
Route :
1Z36 : Reading to East Leake
1Z37 : East Leake to Reading
| | |
| --- | --- |
| Loco(s) | Route |
| 58016 | Reading - Didcot - Swindon - Chippenham - Bath Spa - Dr Days Jn - Stapleton Road - Bristol Parkway - Yate - Cheltenham Spa - Abbotswood Jn - Stoke Works Jn - Barnt Green - Kings Norton - St Andrews Jn - Birmingham New St |
| 56131 (1) | Birmingham New St - Proof house Jn - Landor St Jn - Water Orton - (2) - Kingsbury Jn - Tamworth - Burton-on-Trent (up goods) |
| 58016 (3) | Burton-on-Trent (up goods) - Lichfield Trent Valley HL Jn - (4) - Lichfield HL Goods Loop Jn - Down & Up Goods Loop |
| 56131 (1) | Down & Up Goods Loop - Lichfield HL Goods Loop Jn - Lichfield Trent Valley HL Jn - Branston Jn - Birmingham Curve Jn - Mantle Lane - Wigston North Jn - (5) - Wigston South Jn (Up & Down Slow) |
| 58016 (3) | Wigston South Jn (Up & Down Slow) - Leicester (Up & Down Slow) - Loughborough South Jn - East Leake |
| 56131 (1) | East Leake - Loughborough South Jn - Leicester (6) |
| 58016 (3) | Leicester - Loughborough - Trent South Jn - Sheet Stores Jn - Stenson Jn - Burton-on-Trent - Lichfield Trent Valley HL Jn - Lichfield City - Brownhills |
| 56131 (3) | Brownhills - Lichfield City - Lichfield Trent Valley HL (7) |
| 47780 (8) | Lichfield Trent Valley HL - Blake St - Aston - Proof House Jn - Birmingham New Street |
| 56131 | Birmingham New Street - Selly Oak - Kings Norton - (reverse of outward route) - Reading |
Notes :
(1) 58016 on rear.
(2) Booked route was via Whitacre Jn but direct route taken instead.
(3) 56131 on rear.
(4) Booked to go to Brownhills branch but abandoned due to lack of pilotman. Traversed curve to WCML instead and reversed to retrace our steps.
(5) Stopped on curve between Wigston North & South Jn's.
(6) Booked route was via Nuneaton and Lifford curve to Birmingham New St but we were re-routed as EWS/Railtrack had aranged for a traversal of the Brownhill line after all.
(7) Due to reverse and take Cross-City line to Birmingham - 58016 was however failed at this point due to a brake problem and we had to wait 90 minutes to be rescued.
(8) 58016 on front (not powering?) with 47780, 56131 (dead) on rear. Arrival at New St was 189 minutes late!!
(9) 58016 was due to take train back to Reading (via Selly Oak from New St) but owing to it failing, 56131 made the journey, the train going via St Andrews Jn.
Source : Gary Thornton (joined/left train at Birmingham New Street)



Tour review
(by Gary Thornton)
Back from Belgium and straight on to another UK railtour. My experiences on tours in April were, to say the least, unfortunate. How would this trip match up then? It was advertised to cover the Brownhills and East Leake freight branches as well as the Coalville through freight line - motive power being provided by a Class 56 and 58. From my perspective I needed both branches and also the curve onto the Coalville line so happily parted with my 40-odd quid. Joining at Birmingham New Street also gave the chance for a relatively late start and early finish too (famous last words...).
With almost perfect timing it also turned out that there would be the Fishwicks charter to Minehead in at New Street just a few minutes before us and this was due to be hauled by DRS traction. Sure enough I got a message just before getting to New Street that 20308 & 20311 were at the helm. Over to platform one to watch it arrive (what a lovely sound the pair of choppers made!) then we ducked over to platform 11 where our train had just arrived. 56131 had pulled in light engine and was to be our prime mover out of New Street - somewhere at the other end of the station was "bone" 016 which had brought the train up from Reading (and now relegated to the back of the consist).
Both locos were required haulages for me so the day was off to a good start....
Departure from New Street was bang on time and we headed for Burton-on-Trent via Water Orton, Whitacre Junction and Kingsbury Junction. Surprise by a few on board to see no sheds on Saltley then we had a chance to view all the new units waiting acceptance outside the Alstom works.
At Water Orton West Junction we took the "mainline" route to Burton-on-Trent so even at almost the earliest stage we had deviated from the booked route! Disappointing for anyone who required the Whitacre Junction to Kingsbury Junction stretch, I doubt the Pathfinder apology over the PA did much for them. Me, I got it for the first time a couple of weeks ago so wasn't so upset by the diversion! At Kingsbury Junction there was a Class 66 waiting the road north so presumably we'd been routed this way around it.
So here we are, running 20 minutes early and with a 7 minute reversal booked at Burton-on-Trent. Time for some photos? Nope - we pulled up in the up goods line which doesn't have a platform! Worst still, we were then told the new crew hadn't arrived so we would need to wait booked time.
.....and beyond......
We finally departed in the direction of Lichfield at 11.26, 15 minutes down. What an entertaining 45 minutes....not. Half the train seemed to have the same idea as me - use the dead time to visit the buffet for the first (or second, or third) beer of the day.
Sat now in the rear coach I was chatting to some friends as we approached Lichfield Trent Valley Junction where, out of the corner of my eye, I noticed the front of the train turning right and dropping away round the curve. Hang on - that's the curve to the West Coast Mainline - we're not supposed to be going that way! Oh no, here we go again.... We stopped in the "down and up goods loop" adjacent to the WCML. Dud track for me but I'll bet there were a few smiling faces from those who "scratched in" this piece of track (wasn't there Denzil...?).
A quick PA announcement was made to prove that "team orange" were also on the ball - no reason offered for the second diversion of the day but a promise to let us know as soon as they found out. A fellow passenger beat them by several minutes - he received a call on his mobile to say the crew did not know the Brownhills line and there was no pilotman available to escort us either, so we were not going and had been shoved where we were, out of harms way!
Pathfinders next announcement confirmed what those of us in coach A already knew - we were reversing here and heading off to East Leake. They had however requested that we be allowed to proceed in our now (potentially) early path and had also requested EWS and Railtrack "get their act together" (my words, not Pathfinders) and allow us to traverse the branch later in the day.
Our nearby passenger then received another phone call which suggested the "run early" plan was doomed to failure before it was started - some of the signal boxes on the Coalville line were not yet opened. Hmmmm, remind me, why do I spend loads of my hard earned cash just to travel around all day over dud bits of passenger track...?
We left to head back from whence we'd come about 40 minutes early but half of this was destroyed as we sat at Wichnor Junction waiting the road.
We then took the (required by me) curve onto the Coalville line a few minutes later, still not knowing how far we would get before grinding to a halt at a signal waiting for a signalman to turn up (or not, as the case might be...). Usual stagger over the Coalville line ensued but at least we were still about 20 minutes early. We made it as far as Bagworth Junction where we were booked a 20 minute pathing stop - the stagger meant we arrived just 1 minute ahead of plan....and take the 20 minute pathing stop we did. We left just 3 minutes up on schedule. By Knighton Junction a continued stagger at slow speed meant we were now 14 minutes behind plan. Great!
No choice here but to turn right and head south along the Midland Main Line, but only as far as Wigston South Junction where we would stop to reverse. This was achieved using the up/down slow line on the triangle between north and south junctions. No time was gained an we ran into Leicester still around quarter of an hour adrift. Some rare track through the station though - we were booked to traverse the up/down slow, which we did. Departing Leicester 66226 and 66214 were noted, along with another unidentified class member. 58042 and a couple of 60's were also seen. 66217 was then passed on a freight working. We continued along the reversible slow line to Syston South Junction where we took the down slow as far as Loughborough South junction. Here we branched off on to the East Leake (Hotchley Hill) line.
Some interest as we climbed past the back of the Brush works - 47825, 47221, a Class 92 [Alan Vickers says his son had it as 92040] and Deltic D9016 (the purple peril) were seen along with a class 56 ( the "works shunter" presumably?). We traversed this branch up to the British Gypsum works at East Leake where a brief pause was made before heading south again.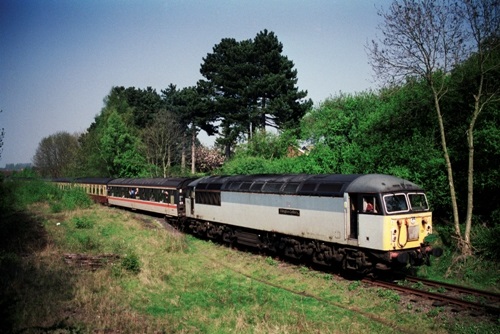 Craig Simmons provided this photo of 56131 at East Leake station
Our nearby colleague received another call around here to confirm that EWS/Railtrack were indeed intending to get us to Brownhills before our return to Birmingham. Route was to be to Leicester, reverse, then via Loughborough and the Castle Donnington line to Burton-on-Trent. Some generous scheduling got us back into Leicester about on time and at last we got a few minutes to grab a photo or two.
Time to throw the timing sheet away now (though some had already I suspect) as we went off onto bits of track not intended when the tour was originally planned! It was hoped we'd get to Lichfield City around 6pm where a set-down stop was arranged. Now maybe I'm being a bit thick, but quite why anyone would intend getting off before doing the Brownhills line rather baffles me. I'd have thought a stop after doing the line would have been more a more sensible plan. It was now being envisaged that we would get back to Birmingham at about 8pm - or about 110 minutes late. If the train could be routed via the Cross-City line however then about 30 minutes could potentially be saved. Not so much chance then of beating the years current lateness record of 165 minutes, set on 1st April by another tour operator.....
As we traversed the line to Brownhills I was conversing with several of the Pathfinder Stewards and one interloper from Mercia Charters (whose tours always run to time, don't they Denzil...?) discussing Belgian Railways, the trip over to Belgium the previous week and future plans for more trips (though Mr Morgan was keeping very tight lipped there).
On the way back to Lichfield Trent Valley it was confirmed that we would be reversing to take the Cross-City line which was good news for those with connections to make. We pulled up at the platform at Lichfield Trent Valley to make our reversal....
.....and we sat...and sat....
...then came a PA announcement - the gremlins had struck and 58016 was experiencing some brake fault or other. A few minutes later came the unfortunate news that the crew had failed 58016. We were stuck now waiting a rescue locomotive (but quite why 56131, still stuck at the rear of the train, wasn't run round wasn't ever explained).
Sunset over the flats of Lichfield was really exciting, honestly.
I was getting a bit bored by this time and as a result did something I'll not often admit to in public - I borrowed a copy of a certain very regularly published railway magazine from a fellow passenger for a read. Oh dear, how the mighty have fallen. I abandoned my subscription to said magazine about two years ago and I can't say I have ever regretted it. Scanning through the sad pretence for a railway enthusiast magazine that was before me confirmed I was right to quit when I did - if anything it was worse than I remember. This issue just seemed to be mostly full of news taken from other sources, adverts with little relevance to rail enthusiasts and a long rambling article about a railway station (nice pictures - but did it really have to take up so many pages?).
Gen suggested rescue from Saltley would be by 47789 (good - a required haulage) but in the event dud 47780 turned up. It was quickly coupled up and departure was made at 20.37 so it was looking now like the record for late running for a railtour in 2000 was going to be beaten! Fairly boring run to Birmingham New Street and arrival was (finally) at 21.21 - 3 hours and 9 minutes late. To achieve this the booked run in via the Lifford Curve was abandoned. Don't think too many people were all that bothered about that (though doubtless someone was looking forward to getting it "in the book").
Congratulations Pathfinder you are the new holder of the "latest tour award", having beaten the previous record by 26 minutes!
At New Street 47780 disposed of the errant bone and 56131 took the train on its way back to Reading (via same route as used in the morning). With a booked arrival of 22.16, and the train still over 3 hours late when it left, I'm glad I wasn't travelling back to Didcot (a usual joining point for me)!
Verdict : Actually a good tour, despite the trials and tribulations on the day. Again, the problems were not of the tour operators making, but at least on this occasion EWS and Railtrack did "get it together" and manage to make sure we did cover the "primary" track as advertised.
Gary Thornton.



Timings (Booked and Actual)
(from Gary Thornton & Alan Vickers)
Location
Booked
Actual
Booked
Actual

Reading
06.10d
?
22.16a
?

Didcot Parkway
06.28a ~ 06.30d
?
21.56a ~ 21.58d
?

Challow
06/39
?
21/46
?

Uffington
06/41
?
21/44
?

(140.62)

Swindon
06.53a ~ 06.56d
?
21.30a ~ 21.33d
?

Wootton Bassett Jn
07/03
?
21/24
?

Chippenham
07.14a ~ 07.16d
?
21.11a ~ 21.13d
?

Thingley Jn
07/19
?
21/08
?

Bathampton Jn
07/27
?
21/00
?

Bath Spa
07.30a ~ 07.33d
?
20.55a ~ 20.57d
?

North Somerset Jn
07/46
?
20*26 ~ 20*38
?

Dr. Days Jn
07/48
?
20/24
?

Stapleton Road
07/50
?
20/22
?

Filton Jn
07/54
?
20/18
?

Bristol Parkway
07.57a ~ 08.00d
?
20.14a ~ 20.16d
23.01 ~ ??.??

Westerleigh Jn
08/06
?
20/08
22/55

Yate
08/09
?
20/05
22/53

Charfield
08/15
?
19/59
?

Standish Jn
08/26
?
19/48
22/38

119.29

Gloucester Yard Jn
08/36
?
19*33 ~ 19*40
22/32

120.16

Barnwood Jn
08/37
?
19/31
?

125.59

Cheltenham Spa
08.44a ~ 08.52d
??.?? ~ 09.00
19.22a ~ 19.25d
22.23 ~ 22.25

132.70

Ashchurch
09/00
09/07
19/14
22/15

143.57

Abbotswood Jn
09/12
09/16
19/05
?

154.74

Stoke Works Jn
09/22
09/24
18/55
?

157.07

Bromsgrove
09/24
09/26
18/53
?

160.50

Barnt Green
09/29
09/30
18/50
?

163.25

Longbridge
09/35
09/35
18/48
?

165.58

Kings Norton
09/41
09/40
18/39
?

170.73

Bordesley
09/50
?
DIV
?

171.19

St Andrews Jn
09/51
09/50
DIV
?

172.16

Proof House Jn
09/54
09/52
DIV
?

Selly Oak
18/35
DIV

Birmingham New Street [P11]
09L57a ~ 10L11d
09.52 ~ 10.11
18L27d ~ 18L12a
21.21 ~ 21.31
Location
Booked
Actual

Proof House Jn
10/14
10/14

Landor Street Jn
10/16
10/15

Castle Bromwich Jn
10/24
10/20

Water Orton West Jn
10/29
10/21

Water Orton
10/31
10/21

Whitacre Jn
10/31
DIV

Kingsbury Jn
10/44
10/24

Tamworth
10/50
10/28

Wichnor Jn
10/58
10/34

Burton-on-Trent (Up Goods)
11.04 ~ 11.11
10.41 ~ 11.26

Wichnor Jn
11/17
11/36

Alrewas LC
11/22
11/39

?

Lichfield Trent Valley Jn
??.??
11/48

?
Low Level, Down & Up Goods line
DIV
11.49 ~ 11.54

Lichfield Trent Valley HL
11/28
DIV

Lichfield City
11t34 ~ 11t34
DIV

Brownhills
11.54 ~ 12.00
DIV

Lichfield City
12t17 ~ 12t25
DIV

Lichfield Trent Valley HL
12/30
DIV

?

Lichfield Trent Valley Jn
??.??
11/55

Alrewas LC
12/39
12/01

Wichnor Jn
12/46
12.04 ~ 12.26

Branston Jn
12/54
12/34

Birmingham Curve Jn
12/58
12/38

Moira West Jn
13/09
12.57 ~ 12.57

Lounge Jn
13/18
13/11

Mantle Lane
13/29
13/28

Bagworth Jn
13*40 ~ 14*00
13.39 ~ 13.57

Knighton Jn
14/21
14/35

Wigston North Jn **
14/25
14/39

Wigston South Jn **
14.28 ~ 14.32
14.40 ~ 14.48

Wigston North Jn
14/36
14/50

Leicester South Jn
14/42
14/53

Leicester (Up/Dn Goods) (Up/Dn Slow)
14c44 ~ 14c47
14.56 ~ 15.01

Syston South Jn
14/54
15/09

Sileby Jn
14/59
15/12

Loughborough South Jn
15/08
15/20

East Leake (British Gypsum)
15.40 ~ 15.50
15.46 ~ 15.55

Loughborough South Jn
16/25
16/22

Sileby Jn
16/33
16/29

Syston South Jn
16/39
16/36

Leicester [P4]
16.45a ~ 16.47d
16.47 ~ 16.54
At this point the booked and actual routes differ by 180 degrees - we were due to head south back to Birmingham via Nuneaton, but instead reversed and headed north again!
Booked route & timings :
| | | | |
| --- | --- | --- | --- |
| M.C | Location | Booked | Actual |
| 17.36 | Leicester [P4] | 16.47d | 16.54 |
| 20.52 | Wigston North Jn | 16/52 | DIV |
| 32.03 | Hinckley | 17/06 | DIV |
| 36.22 | Nuneaton | 17/16 | DIV |
| 46.66 | Whitacre Jn | 17/30 | DIV |
| 49.51 | Water Orton | 17/35 | DIV |
| 55.57 | Landor Street J | 17/43 | DIV |
| 56.15 | St Andrews Jn | 17/45 | DIV |
| 56.41 | Bordesley Jn | 17/49 | DIV |
| 61.08 | Lifford East Jn | 17/55 | DIV |
| 61.33 | Lifford West Jn | 17/58 | DIV |
| 62.03 | Selly Oak | 18/02 | DIV |
Actual route & timings :
| | |
| --- | --- |
| Location | Actual |
| Leicester [P4] | 16.54 |
| Syston South Jn | 17/01 |
| Sileby Junction | 17/03 |
| Loughborough South Jn | 17/07 |
| Trent South Jn | 17/13 |
| Sheet Stores Jn | 17.15 ~ 17.15½ |
| Stenson Jn | 17/48 |
| Burton-on-Trent | 17/55 |
| Wichnor Jn | 18/02 |
| Lichfield Trent Valley HL | 18/12 |
| Lichfield City | 18.15 ~ 18.15½ |
| Brownhills | 18.32 ~ 18.43 |
| Lichfield City | 18/57 |
| Lichfield Trent Valley HL | 19L02 ~ 20L37 |
| Lichfield City | 20/46 |
| Blake Street | 20/55 |
| Sutton Coldfield | 21/00 |
| Aston | 21/11 |
| Proof House Jn | 21/18 |
| Birmingham New Street [P10] (freedom!) | 21.21a |
** stopped on curve between Wigston North and South Junctions, therefore mileage is slightly reduced as South Junction was not reached. Ditto, the mileage from Wigston South Junction to East Leake should be slightly reduced, by same amount.
All distances, in miles and chains (M & C), are taken from the tour booklet. No attempt has been made to verify the mileages given. In the event most of the published mileages are totally incorrect based on the days events (irrelevant mileages are shown in brackets)! Those from Reading and Birmingham are representative of the mileage covered by 58016. East Leake to Leicester (56131) is OK too, otherwise its a case of getting your books and calculator out I'm afraid!



Back to "The Railtour Files"