15th April 2000
Pathfinder Tours
The Dorset Mariner
| | |
| --- | --- |
| Locos Used | 33103, 33109, 60007 & 66059 |
| Stock Used | 4902+5030+5025+5009+1863+4927+5040+21272+3122+3112+3098+3140 |
Route :
1Z36 : Crewe to Poole
1Z37 : Poole to Crewe
| | |
| --- | --- |
| Locos | Route (2) |
| 33103 + 33109 (3) | Crewe - Stafford - Wolverhampton - Dudley Port - Soho South Jn - Birmingham New Street - Proof House Jn - Bordesley Jn - Kings Norton - Barnt Green - Stoke Works Jn - - Abbotswood Jn - Cheltenham Spa - Standish Jn - Stroud - Swindon |
| 33103 | Swindon - Didcot Parkway - Reading West Curve - Basingstoke - Worting Jn - Eastleigh |
| 66059 (4) | Eastleigh - Southampton Central - Poole - Hamworthy (Ferry Terminal LC) |
| 60007 (5) | Hamworthy (Ferry Terminal LC) - Poole - Southampton Central - Eastleigh - Romsey - Laverstock South Jn - Laverstock North Jn |
| 33103 + 33109 (6) | Laverstock North Jn - Salisbury - Westbury - Bath Spa - Dr Days Jn - Bristol Parkway - Cheltenham Spa - Abbotswood Jn - Stoke Works Jn - Kings Norton - Selly Oak - Birmingham New Street - Proof House Jn - Aston - Bescot - Portobello Jn - Bushbury Jn - Stafford - Crewe |
Notes :
(1) Ran as "The Southampton Excursion" from Crewe to/from Southampton.
(2) Originally booked to cover Bournemouth West branch, this was abandoned before the tickets were issued. Also it was supposed to go from Hamworthy Quay to Poole (reverse) and then Furzebrook Oil Sidings - at the former the train only got part-way down the branch and the latter was not covered due to a freight train already on the branch. Instead passengers got to fester for two cold (and wet) hours on Poole station!
(3) 33109 failed at Swindon and removed.
(4) 66059 powering, 33103 providing ETS only. 60007 added to rear at Bournemouth.
(5) 66059 dropped off at Southampton Central and 33109 added back on with 33103.
(6) 60007 on rear to Salisbury only.
Source : Gary Thornton (joined/left train at Barnt Green)



Tour review
(by Gary Thornton)
Ever wished you hadn't bothered booking on a railtour? At 3pm on this particular Saturday afternoon that's just how I (and I suspect, many of my fellow passengers) were feeling.....
Advertised as covering Bournemouth West, Hamworthy Quay and Furzebrook branches and with a pair of "preserved" 33's at the helm I decided to go on this tour - though I would only "gain" Bournemouth West and Furzebrook as I've already travelled over the Hamworthy Quay line.
It seems the tour was fated from the start..... I contacted the Pathfinder office on the Wednesday as the tickets hadn't arrived - correct they said, we haven't had the confirmed timings yet. Be warned however, due to pathing problems the outward timings are likely to be 90 minutes earlier than advertised. Eek! I was already looking at a 6am start - looks like it would be another pre-5am wake up call. The tickets finally arrived on the Friday, which I didn't get until about 6pm as the postman comes after I leave for work. Imagine my annoyance to read that the Bournemouth West line was OFF as South West Trains had refused to allow us to traverse it - had PT told me that on the Wednesday I'd almost certainly have cancelled my booking. At 6pm on the Friday evening there wasn't much I could do without risking throwing away the £39.50 I'd spent as PT don't give credits for "no-shows" on the day. At least I could enjoy the 33 thrash - I was hoping that coach A, in which I was to be seated, would be at the front....
A 4.15am alarm call had me up and out to Barnt Green in time for the 6.32 departure. I arrived at about 6.15am in what seemed like a morning rush-hour - other tour participants who had come from far and wide. No-one seemed to much care for the early start.
At least the train turned up on time - often this isn't the case! 33109 and 33103 were at the front as expected and right behind them was my coach. Good, something has gone right anyway. Two friends were already sat in the same bay as me - they'd joined at Crewe at the rather unsociable time of 04.46! Conversation was somewhat difficult as all windows were open to enjoy the thrash from the pair of shredders. 33103 was, as usual, very noisy and being closest to the stock drowned out 33109. Next pick up point was Cheltenham Spa where another friend joined us. He was the last in our group - at least one other having cancelled because of the earlier departure time.
The run to Swindon from Cheltenham was very good - particularly from Stroud to the summit at Sapperton. Very loud! A 14 minute stop at Swindon gave the chance for a couple of photos but little else as it was raining quite hard. Departure time came....and went.... Oh dear, farce no.1 of the day about to unfold. It appears something vital had "dropped off" 33109 (or was in process of doing so). After much debate the decision was taken to remove 33109 to affect a repair. With no other loco available at Swindon we set off with just 33103 on the 12 loaded mark 1's.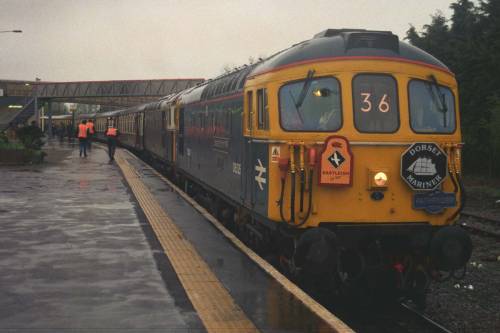 Swindon, before 33109 was dropped off for repair (photo: Gary Thornton)
At this point one of my colleagues noted the comments in the tour brochure;
"If you have a problem, please bring this to our attention as soon as possible since 'if we don't know it's broke, we can't fix it'"
Seems the loco crew just did what the brochure said....
The delay put us about an hour behind schedule. As might be expected, things were even louder up front! Rumours of another loco being added at Didcot proved wrong (although 37109 was sitting ticking over when we arrived). No, 33103 was left to lug the train on via Reading West Curve and Basingstoke to Eastleigh all on its own. And what a superb performance it put in - we approached Eastleigh just 30 minutes down having clawed-back half the deficit (probably partly as a result of slack timings I guess) only to be stopped. Arrghh! A class 66 was sat at the platform waiting for us. Time for farce no.2 of the day - we didn't want it! Seems Railtrack however would not let us go on any further without assistance. OK it was a required haulage but it was most definitely NOT welcomed by most on board. It was attached. From here on until Salisbury in the late afternoon 33103 only acted as a carriage heating supply. No thrash to enjoy as the "red deaths" are almost silent.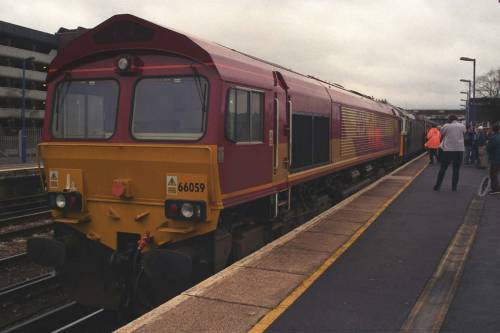 Red Death at Eastleigh - 66059 is bolted on to 33103 (photo: Gary Thornton)
At Southampton we dropped off and picked up passengers. In the event, those who'd chosen to see a bit of Southampton seemed to have made the best choice, despite the cold wet weather.....
On leaving Southampton we passed the Freightliner yards near Milbrook (where 47283, 57001, 57007 and 08077 were sighted) before arriving at Bournemouth. Here we paused whilst 60007 was added to the rear of the train - assisting engine to drag us off the Hamworthy Quay line then from Furzebrook to the Salisbury area. At least I also required the 60 for haulage, so had "scratched" both EWS locos on the tour.
It was only a short ride to the Hamworthy Quay line which starts at Hamworthy station. We staggered about 2 miles down the line until we reached Ferry Terminal Level Crossing. Here we stopped.
Farce No.3 unfolds.... We sat here for 36 minutes whilst discussions took place concerning how far we were allowed to go. Apparently we should have gone further but the local EWS personnel had not been told in time to make the required arrangements. After the wait we headed back from whence we had come. What a time waste - we were now back to an hour late. Never mind we thought, eliminate the hour or so fester (sorry, "break") at Poole and we'd be nicely on time again. It was cold and wet, I'm sure most people didn't want to get off the train anyway!
But get off we had to - it was decided the hours break would still be taken. A revised departure time of 14.30 was given over the PA. We all got off. It was cold. And wet. There was sod all to do but wait in the waiting room for the train to return. To add insult to injury it departed for Bournemouth West depot, the branch we had been refused!
Did we depart at 14.30? Erm no.
Not even 15.30....
Let farce no. 4 of the day commence...
A little after 14.30 an announcement was made that the train was still in the depot being cleaned and watered. Shortly after an another announcement was made that, "due to operating difficulties" the train would not now travel to Furzebrook. A revised departure time of 15.15 was given and the train would just head back to Southampton and "home". From comments I later heard it seems we were told about this change of plan before Pathfinder were! We also found out that the reason for being refused Furzebrook was that there was a freight train on the branch which was awaiting technical assistance.
So, my day looked like consisting of a 4.15am start and I wouldn't get any of the required track I was after. The promised thrash from the shredders had been curtailed too. What a complete waste of £39.50 (plus additional expense to get to Barnt Green) and a day out!
The train eventually returned at about 15.30 but had to be shunted to get to the correct platform for departure. As it pulled in the station announcer requested we hurry and board. Talk about wanting rid of us!!
We finally left Poole (in the wrong direction for Furzebrook) at 15.42, exactly two hours since we arrived. On arriving at Southampton we passed 33109 which had presumably been repaired successfully. During the stop we lost the 66 in favour of 33109 though we would have to wait a bit longer for the thrash as the pair were on the rear of the train. 60007 was still in charge as far as Laverstock North Junction. We got there via Eastleigh and Romsey. At Laverstock North Junction we reversed to get to Salisbury station where we lost 60007. Good, the shredders were now back in charge.
Our route home was via Westbury (08664, 66106, 59204 & 59101 seen), Bath Spa and Bristol Parkway to Standish Junction where we "re-joined" the outward route of our journey. The thrash up Filton bank was quite reasonable. We were by the way on-time at this stage. A long pause was made at Barnwood Junction to let a pair of scuds and a tram past us - but as this was a booked wait we departed early after the 21 minute fester.
At Cheltenham we had to wait for a passenger to be offloaded by medical staff - seems strange but this is the third recent tour on which someone has had to be taken off for medical treatment. In this case it was a woman who'd fallen earlier on in the day. We finally left Cheltenham Spa at 20.45, now 20 minutes late.
Just half an hour or so now to my getting-off point, Barnt Green, but at least we'd saved the best thrash to (nearly) last - the Lickey. With load 12 on and a straight run I did not expect the pair of 33's to be too troubled, but how wrong I nearly was....
We hit the bottom of the bank at a fair lick - I'd estimate over 60mph - but nevertheless the speed soon fell. Conversation was impossible in the leading coach except by shouting! Towards the summit and the speed was down to a crawl - regular emissions of a lot of black clag from 33109 seeming to suggest the reason why. It looked like 33103 was doing most of the work with 109 only cutting in every so often. A head at every window and a lot of smiling faces - this is what railtours are about! Would we actually make it to the summit, it was starting to look like we might actually not....
We eventually topped the summit at a speed of (I'd estimate) less than 10mph - possibly even as slow as 5mph, but difficult to tell in the dark. A fellow passenger confirmed the last 1/4 mile to the summit had taken us a whopping 72 seconds - an average speed of just 12.5mph, so my estimation of our speed at the top is probably fairly accurate.
As I scraped the ice off the car windscreen (!) at Barnt Green I watched the train depart - 33103 was indeed doing all the work with 33109 only adding supporting thrash at irregular intervals.
Verdict : Very much mixed feelings about this trip - yes the thrash (what we got of it) from the 33's was superb, however for me personally the day was somewhat marred by :
(1) the mega-early start - was there really any need for it?
(2) the failure to traverse the Bournemouth West branch...
(3) ...or the Furzebrook branch
(4) the use of 66059 to assist 33103
For others on board the fact we only got so far down the Hamworthy line was also probably a disappointment too.
Being fair on the Pathfinder Tours personnel I must say that on this occasion they too were very much victims on the day - it seems that yet again Railtrack and EWS have shown themselves to be almost completely disinterested in working to ensure a railtour actually achieves what it has been advertised to do - and what us customers have paid good money for. We were told by Pathfinder that a strong protest would be made to EWS and Railtrack concerning the unfortunate series of events - I wait with interest to see if it produces any form of recompense for those of us unfortunate to have experienced the full day tour. (In the end we did - but almost a YEAR later - those of us on the full tour were offered seats on the re-run, scheduled for 24th March 2001, free of charge).
It seems however that most of the other railtour operators are also experiencing similar difficulties at the moment. EWS and Railtrack should not forget that most of us choose to go on a railtour for very specific reasons - usually the locos being used and/or track being traversed. OK sometimes things do go wrong on the day, that we have to accept, and usually do - but these days it does seem to be on almost every tour that we do not get all the promised "goods" delivered....
With the other recent farces that have occurred on railtours (postponements, easily avoidable delays, deviations from booked routes, late confirmation of timings etc) there should be serious questions being asked about Railtrack and EWS's commitment to making railtours run to plan and the steps they are (or more appropriately, aren't) taking when things go wrong. In light of all the recent problems I suspect many (myself included) will be taking just a little longer in the future before deciding to book on more tours....
Gary Thornton.



Timings (Booked & Actual)
(from Gary Thornton & Simon Bennett)
M.C

Location

Booked
Actual
Booked
Actual

M.C

0.00

Crewe
04.46d
04.47
22.36a
22.56

197.39

1.64

Basford Hall Jn
04/52
04/51
22/32
22/52

195.55

8.06

Madeley
04/59
04/58
22/24
22/46

189.33

19.08

Norton Bridge
05/09
05/07
22/15
22/35

178.31

24.37

Stafford
05.16a ~ 05.18d
05.14 ~ 05.18
22.05a ~ 22.07d
22.26 ~ 22.28

173.12

38.14

Bushbury Jn
05/33
05/32
21/50
22/08

159.55

39.25

Wolverhampton North Jn
05/39
05/33

39.68

Wolverhampton
05/41
05/35

45.28

Dudley Port
05/49
05/43

48.73

Galton Jn
05/53
05/46

50.51

Soho South Jn
05/55
05/48
-
Portobello Jn
21/47
22/06

157.07

-
Darlaston Jn
21/40
22/00

154.08

-
Bescot Stadium
21/39
21/59

152.73

-
Perry Bar North Jn
21/32
21/54

148.34

-
Aston
21/29
21/52

146.69

-
Proof House Jn
21/25
21/48

144.69

52.52

Birmingham New Street
06.00a ~ 06.07d
05.53 ~ 06.07
21.20a ~ 21.23d
21.42 ~ 21.45

144.13

53.26

Proof House Jn
06/09
06/10

54.23

St. Andrews Jn
06/12
06/13

54.49

Bordesley Jn
06/14
06/14
-
Selly Oak
21/12
21/33

140.62

59.64

Kings Norton
06/23
06/22
21/07
21/30

138.48

62.17

Longbridge (no BMW's here...)
06/26
06/26
21/05
21/27

136.15

63.25

Barnt Green
06.30a ~ 06.32d
06.30 ~ 06.32
20.59a ~ 21.01d
21.21 ~ 21.23

133.40

66.68

Bromsgrove
06/35
06/36
20/53
21/13

129.77

69.01

Stoke Works Jn
06/38
06/38
20/51
21/11

127.64

81.69

Abbotswood Jn
06/47
06/47
20/42
21/02

116.47

92.56

Ashchurch
06/56
06/55
20/33
20/54

105.60

99.67

Cheltenham Spa
07.05a ~ 07.13d
07.02 ~ 07.14
20.22a ~ 20.25d
20.21 ~ 20.45

97.49

105.30

Barnwood Jn
07/20
07/20
19*49 ~ 20*14
19.50 ~ 20.11

92.06

106.17

Gloucester Yard Jn
07/21
07/21
19/47
19/48

91.19

112.27

Standish Jn
07/36
07/27
19/41
19/38

85.09
M.C

Booked

Actual

117.08

Stroud
07/41
07/39

128.22

Kemble
07/58
07/55

141.00

Swindon Loco Yard
08/11
08.09a 08.19d

141.77

Swindon
08.19a ~ 08.33d
08L20 ~ 09L17

152.61

Uffington
08/45
(09/32)

155.20

Challow
08/47
??/??

166.10

Didcot Parkway
08*56 ~ 09*00
09.58 ~ 10.00

182.24

Reading West Jn
09/16
10/19

182.65

Oxford Road Jn
09/30
10/20

183.60

Southcote Jn
09/32
10/22

189.12

Mortimer
09*39 ~ 09*53
??/??

191.19

Bramley
09/58
10/32

195.37

Basingstoke
10/05
10/41

197.77

Worting Jn
10*09 ~ 10*16
10/47

214.15

Winchester
10/32
11/03

216.68

Shawford Jn
10/35
11/05

221.13

Eastleigh
10/42
11L12 ~ 11L19

224.68

St. Denys
10/54
11/24

225.73

Northam Jn
10/56
11/26

226.77

Southampton Central [P4]
10.58a ~ 11.00d
11.28 ~ 11.32

229.48

Redbridge
11/10
11/36

240.44

Brockenhurst
11/24
11/46

255.60

Bournemouth [P3]
11L43 ~ 11L52
12.04 ~ 12.19

258.29

Branksome
11/57
12/24

261.40

Poole [P2]
12/02
12/29

263.55

Hamworthy
12*07 ~ 12*09
12.35 ~ 12.36

265.59
0.00

Hamworthy TC (actually Ferry Terminal LC)
12.17 ~ 12.24
12.45 ~ 13.21

2.04

Hamworthy
12*32 ~ 12*34
13.28 ~ 13.35

4.19
0.00

Poole [P1]
12.40 ~ 13.48
13.42 ~ ECS

7.08

Wareham
13*58 ~ 14*17
DIV

10.63
0.00

Furzebrook Oil Sidings
14.39 ~ 15.02
DIV

3.55

Wareham
15*24 ~ 15*27
DIV

10.63

Poole [P1]
15/37
ECS ~ 15.42d

13.74

Branksome
15/43
15/48

16.43

Bournemouth
15/53
15/54

31.59

Brockenhurst
16/11
16/14

42.55

Redbridge
16/24
16/26

43.26

Southampton Central [P1]
16.28a ~ 16.32d
16L30 ~ 16L47

44.30

Northam Jn
16/35
16/51

45.35

St. Denys
16/37
16/52

49.10

Eastleigh
16/44
16/58

56.22

Romsey
16/59
17/09

63.65

Dean
17/09
17/17

71.32

Laverstock South Jn
17/20
17.26 ~ 17.31

71.66
0.00

Laverstock North Jn
17.22 ~ 17.25
17.34 ~ 17.35

0.31

Tunnel Jn
17/26
?

1.38

Salisbury
17L29 ~ 17L47
17.48 ~ 17.54

3.32

Wilton Jn
17/51
17/58

21.28

Warminster
18/12
18/16

26.01

Westbury
18/19
18/21

31.25

Bradford Jn
18/28
18/28

40.47

Bathampton Jn
18/39
18/39

42.63

Bath Spa
18.43a ~ 18.46d
18.45 ~ 18.46

53.42

North Somerset Jn
18/58
18/59

53.65

Dr. Days Jn
19/01
19/00

54.62

Stapleton Road
19/07
19/03

57.62

Filton Jn
19/11
19/08

59.01

Bristol Parkway
19.13a ~ 19.15d
19.10 ~ 19.13

63.51

Westerleigh Jn
19/21
19/19

65.17

Yate
19/24
19/22

71.64

Charfield
19/30
19/27
Mileages to not allow for changes made on the day because of "events".
Timings continue in first table.



Back to "The Railtour Files"