29th January 2000
Hertfordshire Rail Tours
The Southampton Docker / The King Alfred
| | |
| --- | --- |
| Loco Used | 73108 |
| Stock Used | 3150+1679+3127+3123+3114+1696+17023+4925+5023+4986+5027+5037+5007+6311 |
Route :
| | |
| --- | --- |
| Loco | Route |
| 73108 | Victoria - Stewarts Lane Jn - Longhedge Jn - Clapham Junction - Barnes - Richmond - Twickenham - Feltham Jn - Staines - Virginia Water - Addlestone Jn - Byfleet & New Haw - Woking - Fleet - Basingstoke - Winchester - Eastleigh - Southampton Eastern Docks |
| 73108 | Southampton Eastern Docks - (reverse of outward route) - Victoria |
Notes :
(1) Also included tour option under the name 'The King Alfred'; alight at Winchester for exploring then buses to Southampton Eastern Docks for return working of main tour.
Source : Gary Thornton (on main tour throughout)



Tour Review
(by David Clark)
Another day, another tour! This was my second tour of the year, although I have travelled quite a lot so far this year. This trip was to see a tour from Victoria with one of EWS Class 73/1s to Southampton Eastern Docks by the route of the VSOE.
The previous night saw one of my mates come round and tell me that there was a freight loco out on a Virgin working. 47807 had failed out of 1V67, although it had performed faultlessly on 1E33 that afternoon. Traction quoted by a source was a 56, but this was changed to 37884. Departure from Doncaster was at 22:00, and after a good journey to Sheffield I managed to get home for midnight. My mate said to me "Only six hours sleep then!!".
Six o'clock Saturday morning came and I woke up feeling absolutely awful after only six hours sleep. A drive down to Peterborough saw us get there for 8:30 and boarded the 365 to Kings Cross. It was clear that this unit was not suited for the amount of people that were going to board the train. After Peterborough the train got packed and there was that much noise it was dreadful and the arrival at Kings Cross was greeted by "Thank goodness!!", and we headed for Liverpool Street.
It was decided that my dad and I would before the tour go and do the Jubilee Line Extension. So we went out to Stratford and boarded the tube for Green Park, and down to Victoria. We got to Victoria to take a unit out to Clapham Junction (3483/3479) and back to Victoria with 5813. At Victoria we were greeted by the announcement that the train was 75 late and had not left Bounds Green! Another departure to Clapham Junction was taken with 1803/1745. At Clapham Junction we were waiting for the unit back, when "PRAR" turned up and so we waited and talked. While there 47805 came through with 1O30 Manchester Piccadilly to Brighton.
Just outside Clapham Junction shed 119 was waiting for a path with a car train out of the Channel Tunnel. Another 455 was taken to Victoria. In Victoria 73108 was waiting at the station. This was the newly quoted tour loco after 73129 had been quoted o n Friday, but I understand that there had been problems with it which was good as 73108 was required for haulage and 73129 wasn't. Again we were told that the train had just left Bounds Green........
The announcement was made that the train was arriving and sure enough 47759 arrived with the RCS Green stock. 73108 soon followed and it was time to get on board for departure. Evidently, Canadian Pacific was on a tour that day. Maybe it should have taken the train to Southampton.
73108 departed Victoria (54 late) across Grosvenor Bridge round Stewarts Lane Jct in to Longhedge Jct. I approached this junction with trepidation, as on the Urban Suburban tour we got stuck here for 15 minutes. Today we came through the junction, and ran under both the Victoria and Waterloo lines and approached the Windsor platforms. There were four EPS Tractors on Clapham Jct yard. We passed through Barnes, Richmond, Twickenham, Staines and Virginia Water and round towards Addlestone Jct. Here we took the curve to Woking, on a line which takes one train a day. The first bit of required track for the day.
We joined the main line and had a quick journey down to Basingstoke. On Woking the Thunderbird was waiting in the platforms for any problems with South West Trains. After Woking I was joined by "GWOT" and PRAR. GWOT had posted gen about the tour and must have realised I was on the train. So PRAR found me and we ended up talking about 73s, Cromptons, Scunthorpe and sheds (our dislike for them). I was joined, just before Shawford by the master of this site (Gary Thornton) and so we were talking about everything from the tractors the night before, tours, Deltics and Northern Spirit.
We approached Eastleigh, no locos were seen but loads of wagons. We passed through the station and the loco sidings had two Brush Type 4s and a couple of sheds. We were soon passing St. Denys and down to Northam Jn. We were asked to not use the loos as we were travelling on a public road. The 73 was off the electric and on to the diesel. The train crept through the roads and down through the docks and as we travelled, the wind was quite rough as we made our way to Queen Elizabeth Docks. The Sea was choppy and Rover cars were on the dockside as we approached ships of many sizes. Southampton Eastern Docks was approached at 15:30 (only 15 down). People got off the train and photos were taken. We were following in the footsteps of royalty and the rich people who boarded the great liners across the Atlantic.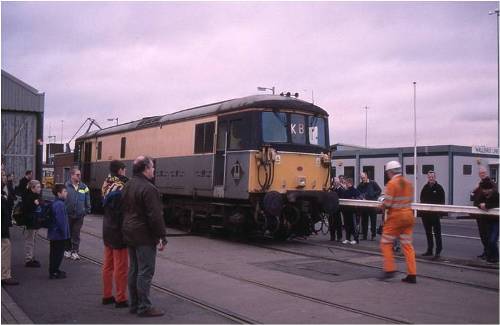 John and Claire Farrow look on as 73108 runs round the stock at
Southampton Eastern Docks (photo: Howard Parker)
We walked to the dockside and saw one huge naval vessel numbered L801 (for the ship spotters) and another ship which again was huge and was carrying Freightliner containers, which will probably be heading for Crewe, Trafford Park and Coatbridge on Monday morning. We walked into town along the wind swept docks, but before that we stood and watched as 73108 ran round the train. We found the town and shops but more importantly a fish and chip shop as well as loads of pubs. One Surprise was seeing a Manchester United department in Debenhams. No wonder Manchester United have loads of little kids with their tops on. Other people including the master of the site ventured across the harbour to the Hythe Pier Railway!! (as he says its another line bashed!!).
It was soon time to walk back to the train and walked in to the main terminal. This was a big building with a big waiting room. The train departed Southampton Eastern Docks at 18:00 for a more sedate journey back to Victoria. We passed Eastleigh and the sheds had disappeared. 66018 though was on the yard. From Eastleigh we passed two 66s and a Brush 4 on a liner. We joined the main line at Worting Jn and were put on the slow lines to Woking. While on the slow lines we ran quite quick. During this time I though we were running quickly but as I looked down the fast line a unit was seen fast approaching. A South West Trains 159 approached and quickly passed. The 73 sparkled all the way and we were soon approaching Addlestone Jn. We stopped here for five minutes to allow a 455 to come off Weybridge!! This unit was therefore going to stop all stations to Clapham Junction. Therefore for most of the remainder of the journey we were slow bur remained on-time due to the slack in timings. Indeed we had a schedule of 180 minutes to cover the 87 miles from Victoria to Southampton and the same for the return. Indeed on the outward journey we left Victoria 55 late and arrived at Southampton Docks only 15 late.
It was quite interesting flying through the suburban stations seeing people looking at a proper train. Between Barnes and Clapham Junction we were in the chase with a 455. The rest of the journey was quite uninteresting. Arrival back at Victoria was at 20.41. No end of people in 2nd class tried to run and catch their trains down to the South Coast with five minute connections. Indeed Gary Thornton had a bus to get from Finsbury Park to Potters Bar due to engineering work, which he had 20 minutes to get it (and I made it with a couple of minutes to spare! - Gary). We took the Victoria line to Kings Cross and in the end had plenty of time to catch our train to Peterborough. We ended up taking a pair of 365's to Peterborough. On Kings Cross was noted 90016 after a day on the Leeds diagram. Not required as I had it on the Friday from Doncaster to Leeds. Due to engineering work the line was shut between Alexander Palace and Stevenage. This meant diversion via the Hertford Loop. Arrival at Peterborough was at 22.40 and arrival back at Scunthorpe was at 12.30 for the second successive day. However, the verdict is a good one as it had been an interesting half day display by 73108 and a very interesting run along the docks.
David Clark



Timings (Booked & Actual)
(from Gary Thornton & David Clark)
| | | | | | | |
| --- | --- | --- | --- | --- | --- | --- |
| M.C | Location | Booked | Actual | | Booked | Actual |
| 0.00 | Victoria | 12.25d | 13.20 | | 20.41a | 20.42 |
| 0.73 | Grosvenor Bridge Junction | 12/28 | 13/23 | | 20/38 | 20/37 |
| 1.36 | Stewarts Lane Junction | 12/31 | 13/26 | | 20/35 | 20/36 |
| 1.66 | Longhedge Junction | 12/38 | 13/28 | | 20/33 | 20/34 |
| 2.74 | Clapham Junction | 12/41 | 13/30 | | 20/30 | 20/29 |
| 6.07 | Barnes | 12/45 | 13/35 | | 20/25 | 20/23 |
| 8.57 | Richmond | 12/49 | 13/38 | | 20/17 | 20/18 |
| 10.22 | Twickenham | 12/53 | 13/41 | | 20/15 | 20/14 |
| 12.35 | Feltham Junction | 12/57 | 13/44 | | 20/12 | 20/12 |
| 18.02 | Staines | 13/10 | 13/52 | | 20/04 | 20/05 |
| 22.15 | Virginia Water | 13/17 | 14/01 | | 19/54 | 19.51 ~ 19.54 |
| 27.06 | Addlestone Junction | 13/26 | 14/09 | | 19/38 | 19/39 |
| 28.06 | Byfleet & New Haw | 13/28 | 14/11 | | 19/27 | 19/28 |
| 32.01 | Woking | 13/33 | 14/17 | | 19/22 | 19/22 |
| 37.22 | Pirbright Junction | 13/41 | 14/24 | | 19/15 | 19/14 |
| 40.71 | Farnborough (Main) | 13/51 | 14/28 | | 19/10 | 19/10 |
| 44.12 | Fleet | 13/55 | 14/33 | | 19/05 | 19/07 |
| 55.35 | Basingstoke | 14/09 | 14/46 | | 18/57 | 18/56 |
| 57.75 | Worting Junction | 14/19 | 14/49 | | 18/52 | 18/54 |
| 74.13 | Winchester | 14.39a ~ 14.40d | 15.04 ~ 15.06 | | 18/35 | 18/37 |
| 76.64 | Shawford Junction | 14/43 | 15/09 | | 18/32 | 18/33 |
| 81.09 | Eastleigh | 14/52 | 15/13 | | 18/28 | 18/27 |
| 84.64 | St. Denys | 15/00 | 15/16 | | 18/22 | 18/21 |
| 85.69 | Northam Junction | 15/03 | 15/19 | | 18/20 | 18/15 |
| 86.56 | Southampton Dock Gates | 15.06 ~ 15.08 | 15.22 ~ 15.23 | | 18.13 ~ 18.15 | 18/09 |
| 87.45 | Southampton Eastern Docks | 15.15a | 15.30 | | 17.59d | 18.01 |